Search results for "new-mexico/"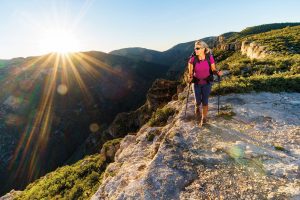 Pieced together from several existing trails, the GRT begins near the depths of New Mexico, not far from the entrance to Carlsbad Caverns National Park, and ends on the top of Texas—Guadalupe Peak, which at 8,751 feet is the highest summit in the Lone Star State.
The trail connects Carlsbad Caverns and Guadalupe Mountains national parks via the Lincoln National Forest, most famously the site of Sitting Bull Falls, which tumbles from a spring-fed creek over a mossy, 150-foot-high canyon wall. An oasis flowing year round, it fills clear pools where visitors come to relax, wade, and cool down in an otherwise desolate stretch of desert. If you've been hiking for nearly a week on the Guadalupe Ridge Trail, you've certainly earned a dip and drink from the falls.