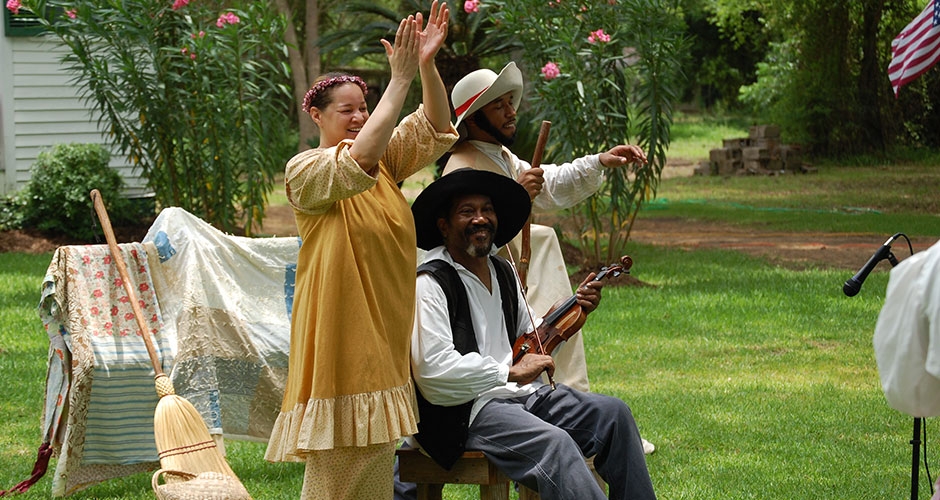 On June 19, 1865, Union General Gordon Granger arrived in Galveston and delivered the news to Texans that slavery had been abolished. All over the state the historic occasion is celebrated in a variety of ways: a parade rolling down the streets of Galveston; an Austin art show showcasing African American heritage; a music festival filled with soul; and, of course, a reenactment of Granger's famous speech.
Juneteenth Festival
San Antonio, June 1 & 2, 11 a.m.–11 p.m.
The two-day Festival includes musical acts, a health fair, children's activities, food, and lectures, all benefiting the Miller Child Development Center and other nonprofits.
Kickoff to Juneteenth
Richmond, June 9, 9 a.m.
Events like a reenactment of Union General Gordon Granger's speech at the 1860s Ryon Prairie Home and a historic recreation of George Ranch's famous Juneteenth barbecue make Richmond an ideal place to celebrate this historic holiday. Reservations are required, so plan ahead.
The Missouri City Juneteenth Celebration
Missouri City, June 11-16
The Missouri City Juneteenth Celebration offers five days of events and activities, kicking off with a golf tournament on June 11, and culminating with the annual Festival Under the Stars on June 16. The family-oriented fete features live music, a cultural and art event, parade, and carnival.
Juneteenth Rhythm and Ribs Festival
Round Rock, June 15, 7:30–11:30 p.m.; June 16, 2 p.m.–midnight
Round Rock's two-day, free and family-friendly celebration includes live music (including a set by headliner Doug E Fresh, a barbecue cook-off, health fair, moonwalks, pop-up boutiques, and more at the Lakeview Pavilion at Old Settlers Park.
Central Texas Juneteenth
Austin, June 16, Walk/Run: 9:30 a.m.; Parade, 10 a.m.
Following the Miss Juneteenth Pageant on June 9, the annual 2K walk/run and parade will be held on June 16, beginning at MLK Boulevard and Comal Street, and ending with a celebration in Rosewood Park.
Let it Ring Juneteenth Celebration
Austin, June 16, Noon-4 p.m.
In addition to hosting a permanent exhibit on Juneteenth, the Carver Museum marks the occasion with a family-friendly day of live music, crafts, food, a vendor marketplace, character interpretations, and more.
The Galveston Juneteenth Parade
Galveston, June 16, 7 p.m.
Why not spend Juneteenth in the town where the holiday originated? The island hosts festivities throughout the month to celebrate Juneteenth, including VIP galas, prayer breakfasts, a picnic in the park, and a downtown parade.
A Gulf Coast Juneteenth
Houston, June 19, 7:30 p.m.
Head to the Miller Outdoor Theatre in Hermann Park for the annual blues and creole music event featuring the musical stylings of the Soul Queen of New Orleans, Irma Thomas, and Grammy-nominated zydeco legend C.J. Chenier.
Juneteenth
Port Arthur, June 19, 6 p.m.
Port Arthur commences its revelry with a parade, starting at Stilwell and Procter Streets. The procession ends with vendors and activities at Barbara Jacket Park at Gilham Circle.
Juneteenth Heritage Celebration
Washington on the Brazos, June 23, 10 a.m.-4:30 p.m.
This town observes the historic occasion with exhibits, art displays, music, food, prominent guest speakers, and more, at the town's Visitor Center Complex, Conference Center and Education Center. This year's lineup features a riveting presentation by one of the first black rodeo cowboys, Myrtis Dightman, Sr., who was inducted into the Pro Rodeo Hall of Fame this past year.
From the June 2018 issue