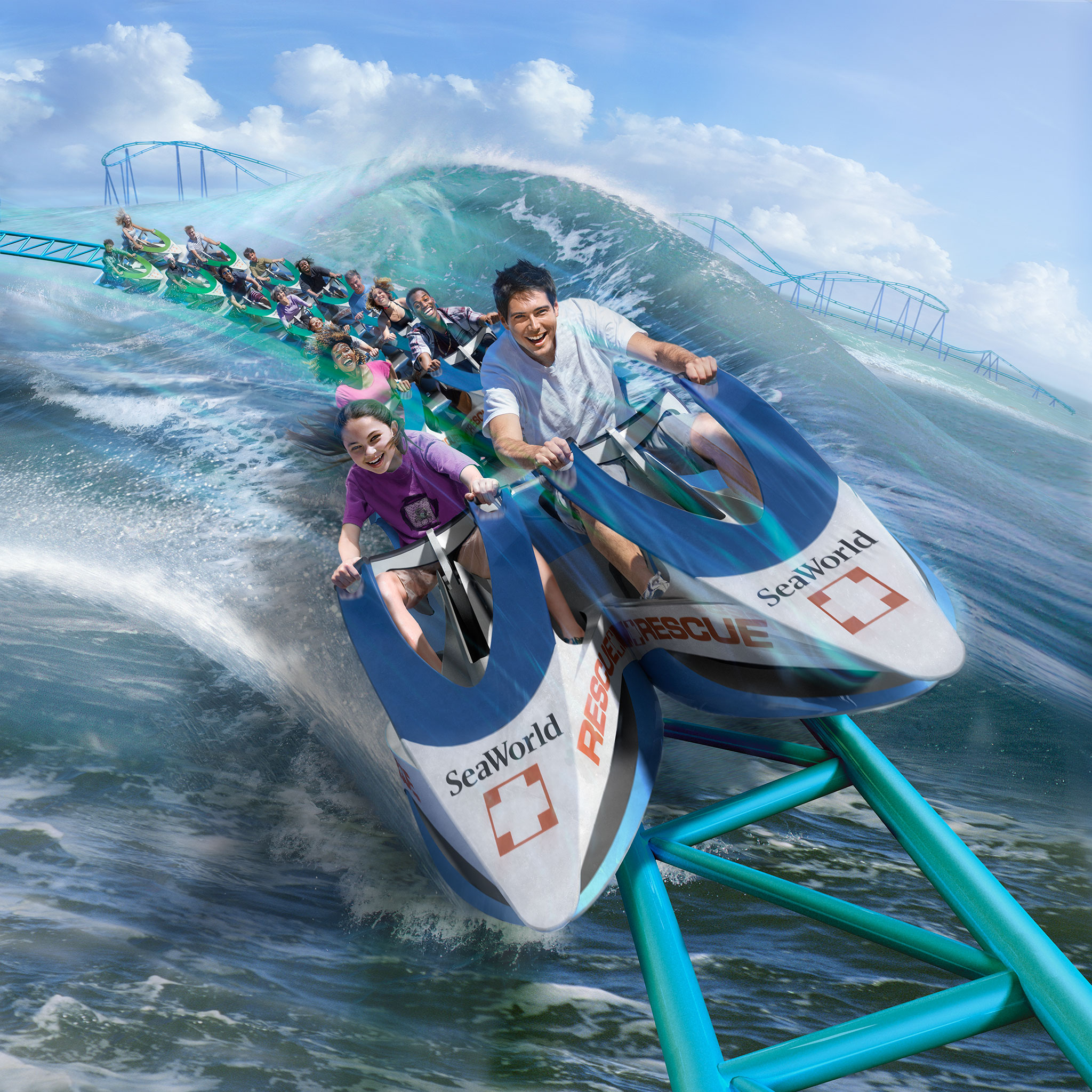 Monday mornings can be difficult. To combat that first-day-of-the-week blues, we'll give you something to anticipate with highlights of what's upcoming and new in the world of Texas travel.
Do you have news about your community or attraction that you'd like us to share with our readers? Send us the details. Please put Monday Mailbox in the subject.
SeaWorld San Antonio launches new ride
SeaWorld San Antonio's newest thrill ride, Wave Breaker, opened this past weekend to bring an exciting rescue coaster adventure of joining the SeaWorld Rescue Team in their quest to help an animal in danger.
Wave Breaker: The Rescue Coaster, named by USA Today as one of the Ten New Cool Rides expected in 2017, uses a jet-ski style car that is the first of its kind in North America. The coaster's unique design hugs riders in a straddled position as they grip the handle bars and race through a series of high-speed maneuvers, steeply banked turns, and a pair of pulse-pounding launches over water.
"Wave Breaker is an exciting and novel coaster for families to ride together, and adds to SeaWorld's strong lineup of top-rated coasters," says SeaWorld San Antonio Park President Carl Lum. "But what truly delights me is that this attraction best represents what SeaWorld is all about – it brings together the best of SeaWorld in one thrilling ride, and carries a message that leaves guests feeling inspired."
Guests board Wave Breaker: The Rescue Coaster in a queue themed with stories from some of the more than 30,000 rescues by the SeaWorld Rescue Team over the past 50 years. Before launch, riders are assigned a mission – a sea turtle, dolphin or sea lion rescue. After the mission briefing, riders grip the handlebars and prepare to race into action covering 2,600-feet of track. The ride launches directly over the water, creating the sensation that riders are racing across the park's lake. Each rescue mission takes a train of 16 riders through a more than three minute ride, reaching speeds of up to 44 mph and heights up to 61-feet.
"Wave Breaker provides a coaster experience unlike anything in the current theme park landscape," says SeaWorld Vice President of Theme Park Development Mike Denninger. "While other coasters feature dramatic changes in speed, once you hit Wave Breaker's first launch you are moving fast throughout the entire ride. When you combine that consistent high speed with the banked and serpentine turns throughout the ride track that is 90 percent over the surface of the water, you get an unparalleled ride experience
Battleship Texas reopens
The Battleship Texas State Historic Site reopened to visitors Saturday after a weeklong closure to repair leaks in its hull.
Battleship Texas, the last surviving U.S. battleship to have served in World War I and II, experienced a weeklong closure to repair several holes below the waterline on the starboard side of the hull, which caused the ship to list 8 degrees. A dive crew patched the leaks while staff pumped water from the ship. The battleship's list was returned to normal, and crews continued to monitor the condition of the ship.
When it was launched, Battleship Texas was the most powerful ship in the U.S. Navy. Today, the historic 103-year-old battleship, docked along the Houston Ship Channel, gives visitors a view into the life of sailors during the 20th century with historical representations and displays including the canteen, soda fountain, ward room and officer quarters.
The Battleship Texas is open daily from 10 a.m. to 5 p.m.
Salado's Stagecoach Inn restaurant reopens
Salado's historical Stagecoach Inn reopened its restaurant doors after a year-long renovation.
The property, which originally opened as the Shady Villa Hotel in 1861, hosted notables such as Sam Houston, Robert E. Lee, George Custer and Jesse James. Dion and Ruth Van Bibber converted the establishment to the Stagecoach Inn in 1943.
The new owners – developers Clark Lyda, Austin Pfiester and David Hays – bought the property in 2015 and collaborated with Austin-based La Corsha Hospitality Group to restore the landmark property.
Currently, only the new restaurant is opened, with Executive Chef Justin Holler at the helm promising to keep true to the restaurants roots, while also offering fresh takes on some of the classic menu items.
Still a work-in-progess are the Stagecoach's 75 hotel rooms and event space, which are anticipated to be ready by Spring 2018.
"Stagecoach Inn has been a sacred retreat for locals and travelers and we're thrilled to welcome everyone to the renewed and restored restaurant," says co-developer Clark Lyda. "This project has been such a gratifying experience and we're anxious for guests to see how our team has preserved the property's history while improving its atmosphere of gracious hospitality."
In addition to physical renovations to its structure, the Stagecoach Inn will also introduce a new a la carte menu including slow-smoked beer can chicken and tomahawk pork chop. The Stagecoach Inn's re-imagined guest rooms and additional meeting and event spaces will reopen in spring 2018.
Celebrities gather for baseball benefit
Fly balls, fast pitches and famous faces are the mark of Dirk Nowitzki's 2017 Heroes Celebrity Baseball Game, a fun day at the ball park while benefitting children's charities of the Dirk Nowitzki Foundation and the Heroes Foundation.
The event, set for 6:30 p.m. Saturday, June 24, at Dr Pepper Ballpark in Frisco, will include a celebrity lineup. The roster includes Dallas Cowboys' Dak Prescott, Dez Bryant, Ezekiel Elliott, Dan Bailey and more; tennis legend Andy Roddick; Dallas Mavericks' J.J. Barea, Seth Curry, Devin Harris and others; actor Geoff Stults; former Texas Rangers great Michael Young; and more.
Tickets range from $9-$22 and on sale online at TicketReturn, by phone at 972/334-1993 or at the Dr Pepper Ballpark Box Office during office hours.
From the July 2017 issue