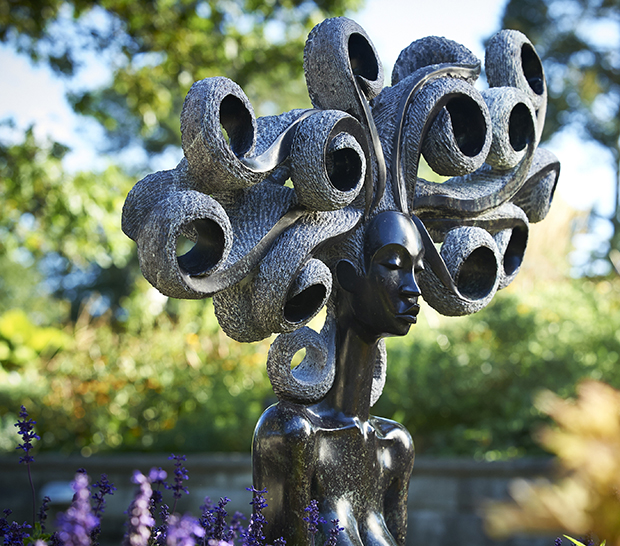 ZimSculpt. (Photo courtesy of Dallas Arboretum and Botanical Garden)
On the hunt for good things to do this long weekend? Hop around the state to see new art exhibits like "Zimsculpt" at the Dallas Arboretum and Botanical Garden, and Easter festivities like the one at the Sauer-Beckmann Living History Farm in Stonewall.
Austin: Apr. 12-16
The 13th annual festival champions adventurous contemporary works in theater, dance, film, music, literature, visual, and culinary arts at multiple locations. New this year is the Fusebox Eve benefit dinner on April 11.
Austin: Apr. 14-15
Catch the long-running Texas play in the town where it all started. This eclectic, dark comedy—written by Jaston Williams, Joe Sears, and Ed Howard—made its debut in Austin in 1981. The fictional storyline revolves around Tuna, "Texas' third smallest town, where the Lion's Club is too liberal and Patsy Cline never dies." All of the town's residents are portrayed by only two performers.
Victoria: Apr. 15
Head to downtown Victoria for a street festival includes music, fine arts and crafts, car exhibits, a petting zoo, quick-draw artists, food, and drinks.
Stonewall: Apr. 15
Celebrate Easter in the style of a traditional 1915 German farm family at the Lyndon B. Johnson National Historical Park. Create natural-dyed Easter eggs, lamb cake, and grass nests in the same fashion as early Texas settlers.
Dallas: Apr. 15-Jul. 31
The Dallas Arboretum and Botanical Garden premieres its new art installation, an exhibition of more than 200 modern Zimbabwean stone sculptures, or Shona. This weekend, meet two of the sculptors as they give a presentation on life in Zimbabwe and their artistic processes. As it falls on Easter weekend, the garden will also be hosting two Easter brunches, sack races, garden games, Easter portraits, and more family-friendly fun.
Fort Worth: Apr. 15-May 7
Launching this Saturday with a one-night special concert, Fort Worth Opera's 2017 festival season includes the regional premiere presentation of "Voir Dire," a new contemporary work set in a rural courthouse. Unfortunately, the hot-ticket show has already sold out all six of its performances, but there are plenty of other opportunities to indulge your inner virtuoso, including "Carmen"—a time-honored classic, Bizet's incendiary tale of tragic seduction—and the vibrant, contemporary "Cruzar la Cara de la Luna."
Waxahachie: Apr. 8-May 29
Experience the 16th century in all its British glory with 27 stages of live entertainment, jousting, falconry, music, 200-plus artists and craftspeople, games, rides and foods from around the world every weekend through May 29.
Austin: Apr. 8-Sep. 6
A new exhibit across the University of Texas at Austin campus—including the LBJ Presidential Library, the Blanton Museum of Art, and the Harry Ransom Center—is taking visitors deep inside the vault of the public university's museums and archives for a rare look at some of their most unusual, unexpected holdings. Where else could you see Santa Anna's memoir and Zelda Fitzgerald's ostrich feather fan in one go?