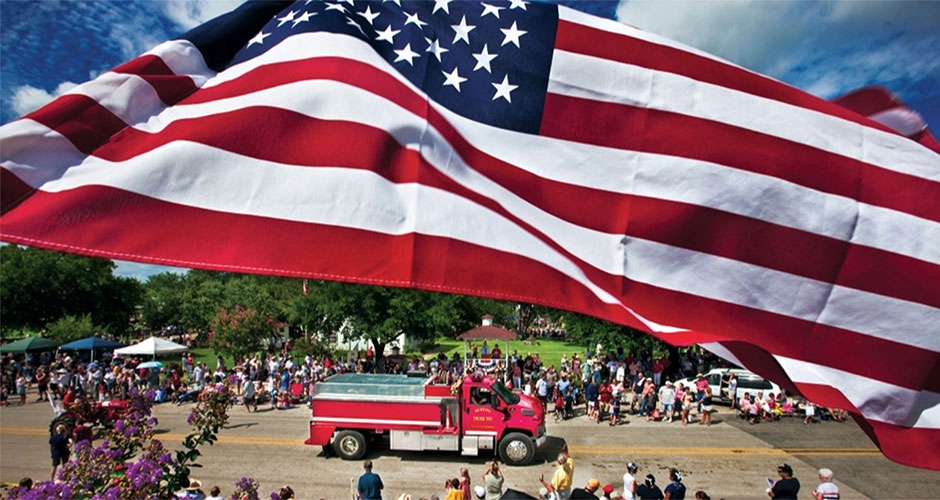 Everything's bigger in Texas, and that's certainly the case when it comes to celebrating our nation's independence. We've compiled the ultimate guide—more than 100 events—to help you plan the perfect red, white, and blue holiday weekend.
Can't find the event you're looking for? Check out the Texas Highways Event Calendar.
Addison: July 3
Rated one of the top five fireworks shows in the United States by the American Pyrotechnic Association, USA Today, and others, this celebration at Addison Circle Park features a choreographed, 30-minute, ground-launched fireworks show simulcast live on the radio. See fly-bys of World Class Warbirds from the Cavanaugh Flight Museum and enjoy food, games, music, and more.
Amarillo: June 29
Explore the science of combustion at this family-friendly, Independence Day celebration event at the Don Harrington Discovery Center.
Arlington: July 1
Lake Viridian will be the spectacular canvas for a firework display celebrating the birth of a nation. The Arlington community's celebration includes live music, food, adult-sized inflatables, a giant slide for children's activities and fireworks, and tons of family-friendly activities. The festivities will culminate with a fireworks display, set to music, over the lake. The event is free and open to the public.

Austin: July 4
The Austin Symphony hosts an annual, family-friendly concert of patriotic music at Vic Mathias Shores, culminating in a spectacular firework display over Lady Bird Lake.
Austin: July 4
This annual tradition returns to the Austin360 Amphitheater at Circuit of The Americas with performances by Willie Nelson & Family, Sturgill Simpson, The Head and The Heart, Ryan Bingham, Edie Brickell & New Bohemians, Margo Price, Jamestown Revival, The Wild Feathers, Lukas Nelson & Promise of the Real, Asleep at the Wheel, Particle Kid, Johnny Bush, David Allan Coe, Ray Wylie Hubbard, Billy Joe Shaver, Folk Uke, Raelyn Nelson Band, and more.
Bastrop: June 29-30
Friday, join the community in a 5K run, then listen to live music during the street dance. The Saturday evening festivities include children's activities, food, and skydivers in Fisherman's Park, and a fireworks display.
Beaumont: July 4
The Symphony of Southeast Texas once again joins the City of Beaumont for its annual July Fourth celebration. The orchestra's patriotic concert will be held at 8 p.m. outside on the Great Lawn and is free and open to the public. Following the concert, at 9 p.m., the festivities conclude with a grand fireworks display.
Bedford: July 4
Festivities begin at noon at the Splash Aquatics Center, then enjoy a children's pavilion area, live music, a classic car show, and watch fireworks at 10 p.m. at Bedford Boys Ranch Park.
Bedford: July 4
Cars compete for awards at the Bedford Boys Ranch Park. See the fireworks after the show.
Belton: June 29-July 7
This week-long celebration draws more than 50,000 people and features one of USA Today's top 10 parades in the country, the Festival on Nolan Creek, live music, a carnival, a patriotic program, and kickoff barbecue, with the PRCA Rodeo being the highlight of the celebration.
Big Spring: July 3
An annual celebration of Independence Day at the 400-acre historic Comanche Trail Park's amphitheater.
Boerne: July 4
Sponsored by the Boerne Fire Department, this fireworks show can be viewed in many places around town, but the best place is Boerne City Park. Bring chairs, picnics, and your American spirit.
Brownsville: July 4
This annual festival offers food, games, fireworks, and a special ceremony for veterans of the Armed Forces.
Canadian: July 4-7
Features a parade, turtle and duck races, art shows, rodeos, arts and crafts, dances, and more.

Canyon: June 1-Aug. 18
This family-friendly outdoor musical drama plays Tuesdays through Sundays in the picturesque Palo Duro Canyon State Park, with a special holiday fireworks show the week of July 4.
Cleburne: July 4
When it comes to a party, Cleburne does not miss a beat—music, food trucks, boating, and fireworks are coming to Lake Pat Cleburne beginning at 6:30 p.m. Head to the Cleburne Golf Links alongside Lake Pat Cleburne to hear music from the Shane Watson Band and enjoy food truck fare while waiting for the annual boat parade to begin at 8 p.m. The night will end with fireworks from the Lake Pat Cleburne dam.
Colorado City: July 4
Head to the airport bright and early to watch airplanes and eat breakfast. Then, enjoy an afternoon of free swimming at the city pool, horseshoe and washer pitchin' tournaments, a hot dog eating contest and a fireworks show to end the evening at Ruddick Park.
Comfort: July 4
Parade downtown at 10 a.m., barbecue, family activities, and vendors in Comfort Park.
Dalhart: July 4
Enjoy a fireworks show to celebrate the nation's independence at Rita Blanca Lake.
Dallas: June 30-July 1, 4
The Dallas Arboretum and Botanical Garden will host Independence Day events and activities with live blues music and $2 hot dogs and root beer floats.
Del Rio: June 29-30
The annual rodeo at Val Verde Fairgrounds raises funds for the Rotary Club of Del Rio's scholarships and other community projects.
Del Rio: July 4
A 5K, a chalk walk, and a full afternoon of live music at Dr. Alfredo Gutierrez Jr., Amphitheatre before a fireworks show to celebrate our nation's independence.
Del Rio: July 4
The parade travels through downtown Del Rio on South Main Street.
Denison: July 4
Enjoy concessions, entertainment, and fun for the whole family at Forest Park and Munson Stadium.
Denton: July 4
A spectacular fireworks show is set to patriotic music at the University of North Texas' Apogee Stadium.

Denton: July 4
Features the Liberty Fun Run and 5K, the American Pride Cookoff, the Yankee Doodle Parade, a free children's carnival, food, horseshoe tournament, and a craft show and sale in Quakertown Park.
Denver City: July 4
Enjoy this annual holiday picnic, car show, inflatable obstacle course, and fireworks display in Stuffy Moorhead Park.
Dripping Springs: July 4
Celebrate U.S. independence with a professional fireworks show in Dripping Springs Ranch Park.
Dumas: July 4
Teams from all across the Panhandle descend on Dumas to take part in this all-day elimination-style tournament. Cash prizes are awarded to the top four teams. The day is capped off with a dazzling fireworks display.
Eagle Pass: July 4, 7
On July 4, the downtown parade at 10 a.m. is followed by games, musical entertainment, and a fireworks display at Shelby Park. On the evening of July 7, join in on the 5K color run.
Edna: July 7
Event features an antique tractor show and parade, a kiddie tractor pull, a hot dog eating contest, and a fireworks display in Brackenridge Park and Campground.
Elgin: July 4
This annual event features a walking parade and a variety of activities on Main Street in historic downtown Elgin, concluding at Veteran's Memorial Park.
Ennis: June 30
Festival includes a bike parade and farmers market downtown and live music and fireworks at the Texas Motorplex.
Fort Davis: June 29-July 1, 4
Enjoy live music, entertainment, great food, arts and crafts, live music, and much more on the Jeff Davis County Courthouse lawn Friday through Sunday. Fireworks are Friday night, and there's a 5K fun run on July 4.

Fort Worth: July 4
2017 marks the 10th year of hosting this annual event on the Trinity River at Panther Island Pavilion. The event continues to grow each year with upwards of 70,000 folks enjoying this free, family-friendly event. It's the largest July 4 fireworks show in North Texas.
Fredericksburg: July 4
Enjoy a community parade down Main Street in Fredericksburg followed by a patriotic program at Marktplatz, a chili cook-off at Becker Vineyards in Stonewall, live music in Luckenbach, and a concert and fireworks at Lady Bird Johnson Municipal Park in Fredericksburg.
Friendswood: July 4
The parade will begin on Friendswood and Heritage Drives, and concludes at Stevenson Park. In the park after the parade, there will be rides, games, food, entertainment, and fun for the entire family. The evening event starts at 7:30 p.m. at Centennial Park featuring live entertainment by variety band "Chinatown." Fireworks will start at approximately 9:20 p.m.
Frisco: July 3-4
Enjoy great food, music, and fireworks during one of North Texas's biggest Independence Day celebrations at Frisco Square, and don't miss the Dachshund Dash and Hotter 'n Firecrackers Glow Run on July 3.
Galveston: July 4
The island has a parade with performers, floats, and military vehicles, followed by a fireworks show over the Gulf of Mexico.
Garland: July 4
Families will enjoy face painters, balloon artists, bounce houses, strolling entertainment, and more at Firewheel Town Center. The event will culminate with a patriotic fireworks display sponsored by the City of Garland at 9:15 p.m.
Gladewater: July 3
Close out the day with fireworks beginning at dusk over Lake Gladewater.
Granbury: July 3-4
For more than 40 years, the Granbury Chamber of Commerce has produced this sensational Independence Day celebration in the historic downtown square, featuring a hometown parade and extreme pyrotechnics fireworks show. This year's event includes the Kiwanis Firecracker 5K, D&D Rockin' Rods Classic Car Show, a concert on the square, and a top tier rodeo at the reunion grounds.
Grand Prairie: July 3-4
Experience the family fun park, fireworks, giveaways, and military discounts at Lone Star Park. Includes live horse racing.
Grapevine: July 4
Celebrate America's birthday in true patriotic style at the 36th annual event at Lake Grapevine.
Henderson: July 7
Features bounce houses, a giant water slide, food vendors, music, and fireworks at Lake Forest Park.
Hondo: July 4
An all-day festival providing fun and excitement for the whole family, including live music, water slides, food vendors, arts and crafts vendors, and a beautiful fireworks display.
Houston: July 4
Grab your lawn chairs and blankets for this one-of-a-kind patriotic event at Eleanor Tinsley and Sam Houston Parks that is done with a style that is all Houston. There will be a concert headlined by country music star Chris Young and a fireworks show.
Huntsville: July 4
Features family entertainment and a fireworks show at Kate Barr Ross Park.
Irving: July 4
It all starts in Irving's downtown Heritage District with a patriotic parade, live music, children's activities, and complimentary watermelon.
Jefferson Railway July Fourth Train
Jefferson: July 1-4
The historic railway offers a special holiday aboard a steam train, with a celebration of flags along the Big Cypress Bayou as the history of Independence Day unfolds in Narrated Historical Day Tours. For evening trains, enjoy a fireworks show and a cannon firing a dramatic "dragon's breath."
Jefferson: July 4
The festivities start off with a bicycle/tricycle decorating contest followed by a homemade ice cream contest, and a homemade cake and pie auction. A performance by the Shreveport Metropolitan Concert Band will lead into the Quaker State 500 Duck Race. Fireworks round out this patriotic event.
Johnson City: July 4
Celebrate the Fourth of July with a parade around the courthouse and fireworks and family fun at the Blanco County Fairgrounds.
Junction: July 3-4
Enjoy fireworks along the banks of the South Llano River in Junction City Park on July 3 and a parade on July 4.
Kaufman: June 30
Join in on the fun with karaoke, live music, inflatables, water slides, food vendors, street performers, and a fireworks show.
Kerrville: July 4
Enjoy food, vendor booths, the Guadalupe River, live music, a free concert featuring Robert Earl Keen, and fireworks at Louise Hays Park.
Kyle: July 4
Join in the holiday celebration with a 20-minute fireworks show at Plum Creek Golf Course. If you can see the water tower, you will have a great view of the fireworks.
Lake Jackson: July 4
A four-mile run through the neighborhoods of Lake Jackson along Oyster Creek. It is a USATF-certified course.
Lake Jackson: July 4
Fireworks in Dunbar Park to celebrate the nation's birthday.
Leakey: July 6-7
Enjoy a full weekend of Independence celebrations with a small-town parade, arts and crafts vendors, food vendors, and a rodeo.
Llano: July 4, 7
Head to Badu Park and enjoy jet ski racing, a barbecue cook-off, a car show, and more. Don't miss the fireworks over the Llano River on July 4.
Longview: July 4
Includes amusement rides, food, music, weenie dog races, and a fireworks show at the Maude Cobb Convention Center.

Lubbock: July 4
Event includes a day full of kids' games, live music, fireworks, food trucks/vendors, art, and more at Mackenzie Park.
Madisonville: July 4
A hometown celebration with a gigantic fireworks display, an antique automobile show, a fun-filled kids' zone complete with splash pad water park, food vendors, and live entertainment at Lake Madison Park.
Marathon: July 7
One of the most popular events in Brewster County has the distinction of being the longest running. This year, the dance coincides with the annual Chili Cook-Off.
Mesquite: June 30
Enjoy holiday fireworks and high-speed auto racing as part of Military Appreciation Night at Devil's Bowl Speedway.
McAllen: July 4
This event features a parade and an evening of entertainment and festivities including music, food, games, and more. Families from every corner of the Rio Grande Valley travel to witness the unique firework extravaganza dubbed the Concert in the Sky.
McKinney: July 1
Join the all-volunteer McKinney Community Band in the heart of the square—on the stage of the Courtroom Theatre. No tickets needed.
McKinney: July 4
The city's Fourth of July event starts with an all-American parade around the historic downtown square, followed by a block party. Fireworks and a concert are free of charge to the general public.
Midland: July 4
The day begins with the children's sidewalk parade. Evening activities include the family fun zone, a beer garden for adults, and a family-friendly variety concert in Hogan Park. The event concludes with one of the largest fireworks displays in West Texas.
Monahans: July 4
Includes a parade, craft and food vendors, swimming, sand dig, live entertainment, the Blistering Sands Bike Tour, and fireworks at Hill Park.
Nederland: July 4
Food vendors, a bike and wagon parade, entertainment, and fireworks at Doornbos Park.
New Braunfels: July 4
Wrap up the day with a free concert and a spectacular fireworks show on Landa Lake.
Odessa: June 30
The family-friendly street festival features live bands, entertainment, children's activities, food booths, and more. The highlight of the evening is a professional fireworks display choreographed to patriotic music.
Orange: July 4
This event at Riverfront Pavilion will include live entertainment as well as a fireworks show after dark. There will be food and drink vendors on site, as well as new and exciting children's activities. Coolers and chairs are welcome. This event is free to the public.
Ozona: July 4
This small town Fourth of July starts with food booths, games, and entertainment before the start of the Patriotic Parade. After sunset, there will be a fireworks display over the baseball fields.
Palacios: July 3-4
Enjoy the kids' parade, helicopter rides, re-enactment of the LaSalle landing, fireworks show, and more at East Bay Park.
Pearsall: July 4
Featuring Tejano and country music performer Rick Trevino and Pearsall's Last Minute Band with J.P. Gonzales. A day full of activities and fun at the City of Pearsall's Convention & Civic Center, including comedy, crafts, and fireworks.
Plano: July 4
Flags, floats, marching bands, drill teams, cheer squads, and more help celebrate Independence Day at this annual holiday parade on Independence Drive.
Plano: July 4
The 168,000-gallon salt water pool shaped like the Lone Star State will host its annual holiday pool party on July 4 from 12 to 6 p.m., featuring music, games, water volleyball, and a cannonball contest. Guests are permitted to bring coolers with non-alcoholic beverages and food, shade umbrellas, canopies, and camp chairs.
Plano: July 4
Wrap up your Fourth of July with this spectacular free fireworks display at Oak Point Park Amphitheater. Bring a blanket and a cooler (no alcohol please) or buy food from food trucks. A live DJ starts the music before the fireworks.
Port Arthur: July 4
Enjoy family-oriented events in the afternoon at Lamar State College.
Richmond: July 4
Try your hand at a variety of historic games and take a scavenger hunt through time as you pick up clues across George Ranch Historical Park and discover intriguing trivia about the American holiday. Enjoy a stirring reading of the Declaration of Independence underneath the shaded branches of the nearly 200-year-old oak tree at the 1930s George Ranch Home, then fill your stomach with an amazing feast.
Rockport: July 4
Get in the patriotic mood as you view the patriotic boat parade at noon. Best views are from Broadway adjacent to Little Bay.
Rockport: July 4
Best views are from Broadway adjacent to Little Bay. The Wendell Family Fireworks Show is held at dark.
Roscoe: June 30
Includes a parade, food and craft vendors, a mud bog, and live music. A fireworks show follows the street dance.
Round Rock: July 4
Fireworks, carnival rides, pig races, movies in the park, a parade, and more, beginning with music from the Austin Symphonic Band.

Round Top: July 4
The community has celebrated the Fourth of July every year since 1851, making it the longest-running Fourth of July celebration west of the Mississippi. The civil war-era cannon roars at 10:30 a.m., announcing the parade of handmade floats, antique cars and tractors, fire engines, trail riders, and longhorn cattle. Food includes delicious barbecue and sides.
San Angelo: July 4
See hourly artillery salutes from 10 a.m. to 3 p.m. on the Parade Ground at Fort Concho National Historic Landmark to mark the nation's birthday.
San Antonio: June 29-July 2
Vendors display and sell beautiful handmade merchandise along the San Antonio River Walk. Artisans are different for each show but usually include pottery, textiles, jewelry, woodwork, paintings, beadwork, and more.

Seguin: July 4
Join crowds of more than 10,000 people that line up along Austin Street for the annual parade. With more than a 150 entries including floats from local businesses, elected officials, churches, schools, military representatives, and more, the entire parade takes about two hours to roll by.
Snyder: July 3-4
Includes live music, an arts and crafts show, a carnival, vendors, fireworks, and a parade in Towle Park.
Sugar Land: July 7
Pack up your chairs and head to the plaza in Sugar Land Town Square to indulge in snacks and brews from Baker Street, and live country music from Tribute to George Strait to kick off your holiday weekend. Note: This will not include a firework ceremony, only live entertainment.
Sulphur Springs: June 30
Have a real old-fashioned family experience to celebrate our nation's birthday. Bring lawn chairs and join the crowd downtown on Celebration Plaza for music and family fun beginning with Saturday evening's concert of traditional marches and patriotic tunes performed by the North East Texas Symphony Orchestra and ending in a blaze of colors as fireworks explode in the sky above the historic Hopkins County Courthouse.
Taylor: July 4
Features a free firework display in Murphy Park that can be seen from anywhere in the park's vicinity.
Temple: July 4
The celebration at Miller Park includes live entertainment, arts and crafts, food, and games for the kids. The highlight of the evening is the amazing fireworks display. Bring your lawn chairs and picnic baskets to enjoy a free day of relaxation.
Texas City: July 4
Enjoy an evening full of fun at Bay Street Park with a live band and spectacular firework show.
Tomball: July 4
Celebrate American independence at the largest July 4th event in north Harris County. The celebration is a half mile of live music, vendors, food, fireworks, and fun, including a performance from Galveston's premier party band, the Mambo Jazz Kings. Gates open at 5 p.m. with fireworks around 9:30 p.m.

Waco: July 4
Enjoy a celebration of food, music and fireworks in Touchdown Alley at McLane Stadium. The fireworks are visible along both sides of the river and from areas around Baylor Campus and downtown starting at 9:15 p.m.

Waxahachie: July 3-4
Crape myrtles are a favorite local flower that just so happens to bloom as Independence Day rolls around each summer. Enjoy a concert and fireworks on Monday evening at Waxahachie Sports Complex, followed by a parade through historic downtown on Tuesday.
Wichita Falls: July 4
Join artists Hanna Belle Lecter, A.A. Bottom, and Sean McConnell in a free outdoor concert celebrating Independence Day.
Wimberley: July 4
The "Best Little Parade in Texas" features bands, horses, and floats through Wimberley Square. Small-town America at its best.