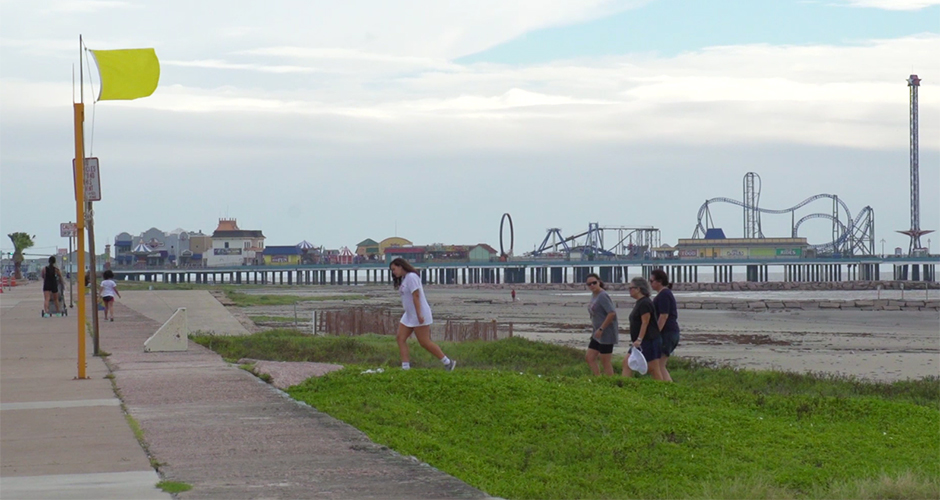 Updated 10 a.m. Monday, September 18: We care deeply about the communities that are undergoing challenges as a result of Hurricane Harvey. We will share updates as we receive them, and cannot wait to help get these communities back on their feet!
To our tourism partners

Let us know how you're doing and how we can help! We want to share updates about how your community is doing, how we can help your community, how to spread news about closures and openings, and when you are ready to start receiving visitors.

Read more on how to help Texans affected by Hurricane Harvey.

FEMA Disaster Recovery Center

Old Amegy Bank, 2401 Termini St., Dickinson TX 77539. Hours are from 7 a.m.–7 p.m. daily. Or find the Disaster Recovery Center near you.

Eligible residents may register for assistance through DisasterAssistance.gov, 800-621-3362 (voice, 711/VRS-Video Relay Service) (TTY: 800-462-7585). Multilingual operators are available (press 2 for Spanish), or the FEMA app available at fema.gov/mobile-app.

The following information is helpful when registering: Address of the location where the damage occurred, current mailing address and phone number, insurance information, annual household income, checking or savings account routing and account numbers and a description of damage and losses.

Disaster survivors can visit any of the centers for assistance. Locations of other recovery centers are online at www.fema.gov/DRC.

SBA's Disaster Assistance Customer Service Center can be reached by calling 800-659-2955, emailing [email protected] or visiting SBA's website at www.sba.gov/disaster. Deaf and hard-of-hearing individuals may call 800-877-8339.
Disaster Recovery Center to Open in Galveston County
A State of Texas/FEMA Disaster Recovery Center opened today (Monday, Sept. 18) in Dickinson (Galveston County) to offer in-person support to individuals and businesses in the counties included in the Texas federal disaster declaration for Hurricane Harvey and the subsequent floods.
Homeowners, renters and businesses in Aransas, Austin, Bastrop, Bee, Brazoria, Calhoun, Chambers, Colorado, Dewitt, Fayette, Fort Bend, Galveston, Goliad, Gonzalez, Hardin, Harris, Jackson, Jasper, Jefferson, Karnes, Kleberg, Lavaca, Lee, Liberty, Matagorda, Montgomery, Newton, Nueces, Orange, Polk, Sabine, San Jacinto, Refugio, San Patricio, Tyler, Victoria, Waller, Walker and Wharton counties may be eligible for help. Use FEMA's DRC Locator to find the neareast Disaster Recovery Center.
Recovery specialists from the Federal Emergency Management Agency (FEMA) and the U.S. Small Business Administration (SBA), the State and other agencies will be at the center to talk about assistance and to help anyone who needs guidance in filing an application.
SBA, the federal government's primary source of money for the long-term rebuilding of disaster-damaged private property, will have disaster assistance employees to help businesses and residents by answering questions about and helping to apply for SBA's disaster loan program.
If possible, homeowners, renters and businesses should register with FEMA before visiting a recovery center.
Disaster recovery centers are accessible to people who require assistive technology equipment including amplified telephones, phones that display text, amplified listening devices for those with hearing loss and magnifiers for those with vision loss. Video Remote Interpreting is available and in-person sign language is available by request. The centers also have accessible parking, ramps and restrooms.
Homeowners, renters and businesses in Aransas, Austin, Bastrop, Bee, Brazoria, Calhoun, Chambers, Colorado, Dewitt, Fayette, Fort Bend, Galveston, Goliad, Gonzalez, Hardin, Harris, Jackson, Jasper, Jefferson, Karnes, Kleberg, Lavaca, Lee, Liberty, Matagorda, Montgomery, Newton, Nueces, Orange, Polk, Sabine, San Jacinto, Refugio, San Patricio, Tyler, Victoria, Waller, Walker and Wharton counties may be eligible for help.
From the Beaumont Convention and Visitors Bureau:
Beaumont begins the process of recovery after weathering the storm that was Hurricane Harvey. We, together as a proud community and with fantastic volunteer support from fellow Texans and beyond, will diligently rebuild our beautiful, historic city in the following weeks and months.
We are very thankful for and proud of the first responders and all those who have tirelessly answered the call to keep our residents safe over the past week. We would like to specifically thank our Texas Tourism friends and partners, the Cajun Navy and all our Louisiana neighbors for their assistance.
Most Beaumont hotels are open and currently helping to house displaced residents and first responders. Their warm hospitality and the outpouring of human kindness from the staff of these properties makes us so proud. Local attractions, restaurants and businesses are starting to reopen. The Beaumont Convention & Visitors Bureau Office is in very good shape and our staff plans to be open to the public starting Wednesday, Sept. 6, 2017. We will be keeping up with our progress here for more information.
We are hard at work repairing the beautiful city of Beaumont and yes, we are #BeaumontStrong.
From the Corpus Christi Convention and Visitors Bureau:
Hurricane Harvey has left the Coastal Bend, however, we will continue to see its after effects.
Our neighbors to the north have received vast devastation. We are grateful that the damage in Corpus Christi is significantly less. We are thankful for your thoughts and prayers.
If it is necessary to make a visit to Corpus Christi, check online hotel booking engines for any availability.
If you have a previously-booked hotel reservation, check with the hotel before making the trip to Corpus Christi.
As a community we appreciate your support, thoughts and prayers. The Texas Coastal Bend will remain resilient in the aftermath of Hurricane Harvey.
Galveston tourism has made a full return to business with the reopening of the Galveston Railroad Museum on Wednesday. All Galveston beaches and major attractions are now open.
The museum, which is located downtown, was the only major attraction on the island that had remained closed this week due to flood damage caused by Hurricane Harvey. Galveston's beaches and most major tourist attractions received minimal damages from the storm and reopened last week in time for the Labor Day weekend.
In addition, 98% of businesses in historic downtown Galveston have reopened since the storm, according to a survey conducted by Galveston's Downtown Partnership.
"We are fortunate to have fared well through the storm and made a quick bounce back," said Kelly de Schaun, executive director of the Galveston Island Convention & Visitors Bureau and Galveston Park Board. "I think it really speaks to the resiliency of our community and our commitment to southern hospitality. We will roll out the welcome mat for whoever is ready. We know so many people value the island as a place to get away, relax and make priceless memories."
All of Galveston's beach parks have reopened and are following their normal post-Labor Day schedules. Parking fees have been waived along the seawall and downtown through Sept. 14.
This weekend, the island will continue with popular events like Artwalk and Music Nite on The Strand. Both events are free and will be held from 6-9 p.m. on Saturday in the island's historic downtown district. For more information, visit www.galveston.com.
From the Greater Houston Convention & Visitors Bureau:
City of Houston Mayor Sylvester Turner has established the Hurricane Harvey Relief Fund that will accept tax deductible flood relief donations for victims that have been affected by the recent floods.
Message from Greater Houston Convention and Visitors Bureau President Mike Waterman

Thank you all for your thoughts and prayers as we work through this catastrophic event for South Texas. The sun is up and shining on Houston today. Thank God! Here is where we stand today.
While vast parts of Texas are devastated and will take months/years to recover, the Downtown area in and around the George R Brown, often referred to as the Convention Campus, never flooded and we are running at 100 percent capacity. Both the Hilton Americas and Marriott Marquis are open and running at full capacity as are 95% of downtown hotels.
More than 500 hotels in and around the Greater Houston area are up and able to operate at full or close to full capacity.
Many have asked how they can help. The city of Houston has set up a link to donate.
From the September 2017 issue