Watermelon is the quintessential summer fruit. No cookout or poolside outing is complete without it. On its own merits, it's the perfect snack – especially for cooling down. But here are a few recipes that'll put new spins on the juicy fruit.
How to pick a good watermelon

Look for a firm, symmetrical watermelon free of bruises, cuts or dents

It should be heavy for its size. It's 92 percent water.

The underside should have a creamy yellow spot from where it sat on the ground and ripened in the sun.

Recipes, photos and tip used with permission from Watermelon.org.

From Texas Highways' Recipe Files
Layered Watermelon Popsicles

Watermelon popsicles that look just like watermelon. Popsicle molds are readily available in most department stores, but you can also improvise and use paper cups and popsicle sticks.
3 1/2 cups cubed seedless watermelon
5 1/2 tablespoons sugar, divided
1 tablespoon lemon juice
1/2 cup canned coconut milk, well shaken
6 medium kiwi fruits
1 tablespoon mini chocolate chips or raisins
Add watermelon, 2 tablespoons of sugar and lemon juice to a blender and blend until well pureed. Skim off foam and carefully pour into up to 10 popsicle molds filling to about 2/3 full. Cover with the lid and insert the popsicle sticks and freeze for 3 hours. Watermelon juice separates naturally so stir it gently every 30 minutes. Once the juice is slushed, sprinkle chocolate chips over the tops and push gently down to immerse, keeping some touching the insides of the molds.
After three hours, whisk coconut milk, 1 ½ tablespoons of sugar until sugar is dissolved and chill 30 minutes. You want a nice pourable consistency after chilling, not too thick. If it thickens too much stir in 1-2 tablespoons of cold water to thin.
Remove popsicles from freezer and pour about a tablespoon of coconut milk into an even layer over the watermelon layer. Return to freezer, uncovered, and chill for at least 45 minutes. Meanwhile, peel the kiwis (or cut tops and scoop out flesh) and transfer the fruit to the blender along with 2 tablespoons of sugar. Pulse until pureed. Pour through a mesh strainer to remove seeds and chill the puree for 30 minutes.
Take popsicles from freezer and top each with kiwi mixture, about a tablespoon each. Return to freezer and chill until popsicles are fully solid, about 2-3 hours.
To remove popsicles from molds, turn tray to the side and run plastic molds under warm water several seconds without letting water touch the kiwi at the top. Then slowly pull from molds.
Recipe source: Cooking Classy
Creamy Watermelon Sherbert
5 cups watermelon puree (about 1 large watermelon)
1 1/2 tablespoons unflavored gelatin
1 1/2 cups sugar
1/4 teaspoon ground nutmeg
1 1/2 cups milk
1 1/2 teaspoons fresh lime juice
Soften gelatin in ½ cup of the watermelon puree. Let stand 5 minutes at room temperature and then heat gently to dissolve gelatin. Cool slightly. Add remaining watermelon puree, sugar, nutmeg, lime juice and milk to gelatin mixture. Freeze in ice cream freezer according to appliance directions.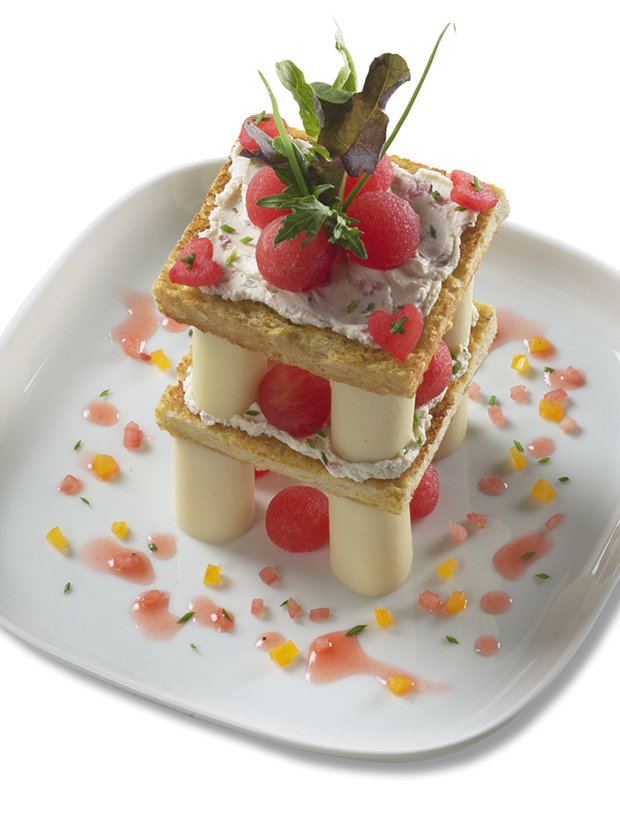 Hearts of Palm Tower
Makes 2 servings
16 large melonballer scoops of watermelon (yellow or red)
1 tablespoon fresh squeezed orange juice
1 tablespoon fresh squeezed lemon juice
1/2 teaspoon chopped mint
1/4 cup chopped watermelon
1 can/jar hearts of palm (14 oz.)
2 tablespoons herbed goat cheese (room temp)
1 teaspoon chopped garlic
1 tablespoon chopped scallion tails
2 teaspoons chopped basil
4 slices whole wheat bread toasted (crusts removed)
1 1/2 cups assorted mixed greens
Make watermelon balls with watermelon baller, and dispose of any seeds. Marinate melon balls in a bowl with orange juice and mint. Set aside at room temperature. Use leftover scraps of watermelon for dressing.
Cut four hearts of palm into 2-inch pieces. You will end up with 16 2-in pieces of hearts of palm.
Mix together cream cheese, chopped watermelon, goat cheese, garlic, scallion tails and basil. Season with salt and pepper, if desired. Spread on top of toast. Place four pieces of hearts of palm in center of the plate. Top with bread. Place four watermelon balls on top of each toasted slice of bread. Top small amount of mixed greens and toss with Watermelon Salad Dressing.
Frosted Watermelon Cutouts
Use your favorite cookie cutters for a fun way to get kids to eat more fruit – with or without the frosting.
1 watermelon seedless, cut into 1/2 to 3/4 inch thick slices
1 serving yogurt
1 serving granola or similar cereal
Using your favorite cookie cutters, cut shapes out of a ½- to ¾-inch thick slices of seedless watermelon. Or, if you prefer, use classic cut watermelon wedges. Frost with vanilla or other flavor yogurt. Sprinkle with granola.
Watermelon Gazpacho
Makes 4 servings.
5 cups chopped seedless watermelon
1/2 cup chopped yellow onion
1/2 cup chopped green peppers
1/2 – 1 teaspoon salt
1/4 teaspoon pepper
1 teaspoon cumin
1/2 cup chopped cilantro
2 teaspoons chopped jalapeno
1 tablespoon lime juice
1/4 teaspoon chili powder
1 cup finely chopped seedless Watermelon, reserved for garnish
1/2 – 1 cup finely diced avocado, reserved (optional)
Puree the first 10 ingredients in a blender until smooth. Adjust the seasonings as needed. Chill in the fridge for at least 1 hour. Stir in the finely chopped watermelon and avocado at serving time.
Chilled Watermelon Soup
Makes 6 servings.
6 cups seedless watermelon
1 1/4 cup coconut milk
1/3 cup flaked coconut
1 teaspoon coconut extract
1 large lime juice and zest from the lime
3/4 cup frozen or fresh blueberries
2 tablespoons water
1 tablespoon sugar
1/2 teaspoon vanilla
dash mint leaves
Place watermelon in a food processor, process until smooth. Add milk, coconut, extract, lime juice and zest, and pulse until well blended. Pour into a large bowl, cover, and refrigerate until ready to serve. (Can chill overnight.)
In a food processor, combine blueberries (thawed, if frozen), water, sugar, and vanilla. Process until smooth. Pour into a small pitcher and chill until ready to serve.
Pour chilled soup into 6 small serving bowls, drizzle with blueberry sauce, garnish with a sprig of mint.
Grilled Spicy Watermelon
Makes 8-10 servings
1 tablespoon lime zest
1/4 cup lime juice
1/4 cup honey
2 teaspoons garlic chili sauce
pinch salt
1 watermelon, medium sized
1 tablespoon fresh chopped cilantro
Preheat grill to high. In bowl, whisk together lime zest, juice, 3 tbsp (45 mL) of the honey, garlic chili sauce and salt.
Cut watermelon into 1-inch (2.5 cm) thick wedges. Lightly drizzle each side with remaining honey and place on grill. Grill until just browned, about 2 minutes per side. Place watermelon slices on a plate and drizzle with lime dressing. Garnish with cilantro.
Watermelon Pomegranate Green Tea
Makes about 6 to 8 servings.
4 cups watermelon puree
2 cups pomegranate juice
4 cups strongly prepared and chilled green tea
1 cup white grape juice
1 serving of ice
Mix ingredients together in a large container (except ice) and chill well. Stir before serving and serve over ice.
Watermelon Rind Pickles
4 cups water
1 tablespoon coarse salt
2 cups peeled watermelon rind (leave a thin layer of pink), cut into 1 x 1/2 x 2 inch pieces
3/4 cups granulated sugar
1 all spice berry
1/2 cup cider vinegar
4 peppercorns
4 whole cloves
1/2 teaspoon pickling spice
1 long slice of fresh gingeroot
1/4 teaspoon celery seeds
In large pot, bring water and salt to boil over medium high heat. Add rind pieces and boil until tender, about 5 minutes. Strain. Transfer rinds to a large metal bowl.
In saucepan, combine remaining ingredients. Bring to a boil over medium high heat, stirring until sugar dissolves. Simmer for 15 minutes, until slightly reduced. Pour over watermelon rinds in bowl. Place plate over top to keep rinds submerged in liquid. Cover and refrigerate for one day. Transfer to a glass jar and keep sealed in the refrigerator for up to 2 weeks.
Here's another recipe for Watermelon Rind Pickles.
Watermelon Pudding
Watermelon Pudding:
1/4 cup brown sugar
1/4 cup sugar
3 tablespoons cornstarch
1/8 teaspoon salt
1/2 cup whole milk
1 1/2 cups watermelon juice, unstrained (blend chunks on high until liquefied)
2 egg yolks
2 tablespoons unsalted butter
1 teaspoon vanilla extract
Watermelon-Mint Crème Fraiche:
3/4 cup crème fraiche
1/2 cup fine diced seedless watermelon
1 teaspoon minced fresh mint
Brown Butter Pistachio Crumble:
1/4 cup brown butter, strained and warm
1/4 cup graham crumbs
1/8 cup brown sugar
1/4 cup minced pistachios, toasted
pinch salt
For Watermelon Pudding:
Whisk together the sugars, cornstarch and salt in a saucepan. Pour ¼ cup of the milk into the sugar mixture, stirring to form a smooth paste. Whisk in the remaining milk, watermelon and egg yolks. Cook the pudding mixture over low heat, stirring continuously with a wood spoon until thickened, about 15 minutes. Do not allow it to boil. Remove form heat and stir in the butter and vanilla. Scrape the pudding into a bowl. Cover with plastic wrap, pressing the surface to make an airtight seal and prevent a skin from forming. Refrigerate until well chilled, about 1 hour. *Best practice is to add warm pudding into a serving vessel immediately, then cool. Makes 4-6 servings depending on serving size.
For Watermelon-Mint Crème Fraiche:
Blend ingredients together, use immediately.
For Brown Butter Pistachio Crumble:
Mix all ingredients together. Let cool for 10 minutes, then use as topping.
To Assemble Desserts:
While pudding is warm, add to a clear medium glass serving bowl. Let cool for at least 2 hours to set. Add second layer of the crème fraiche. This can sit overnight as long as they are covered completely and air tight to prevent smells and flavors seeping in to the pudding. Add the pistachio crumble right before serving. Can serve family style or divide into individual glasses or jars.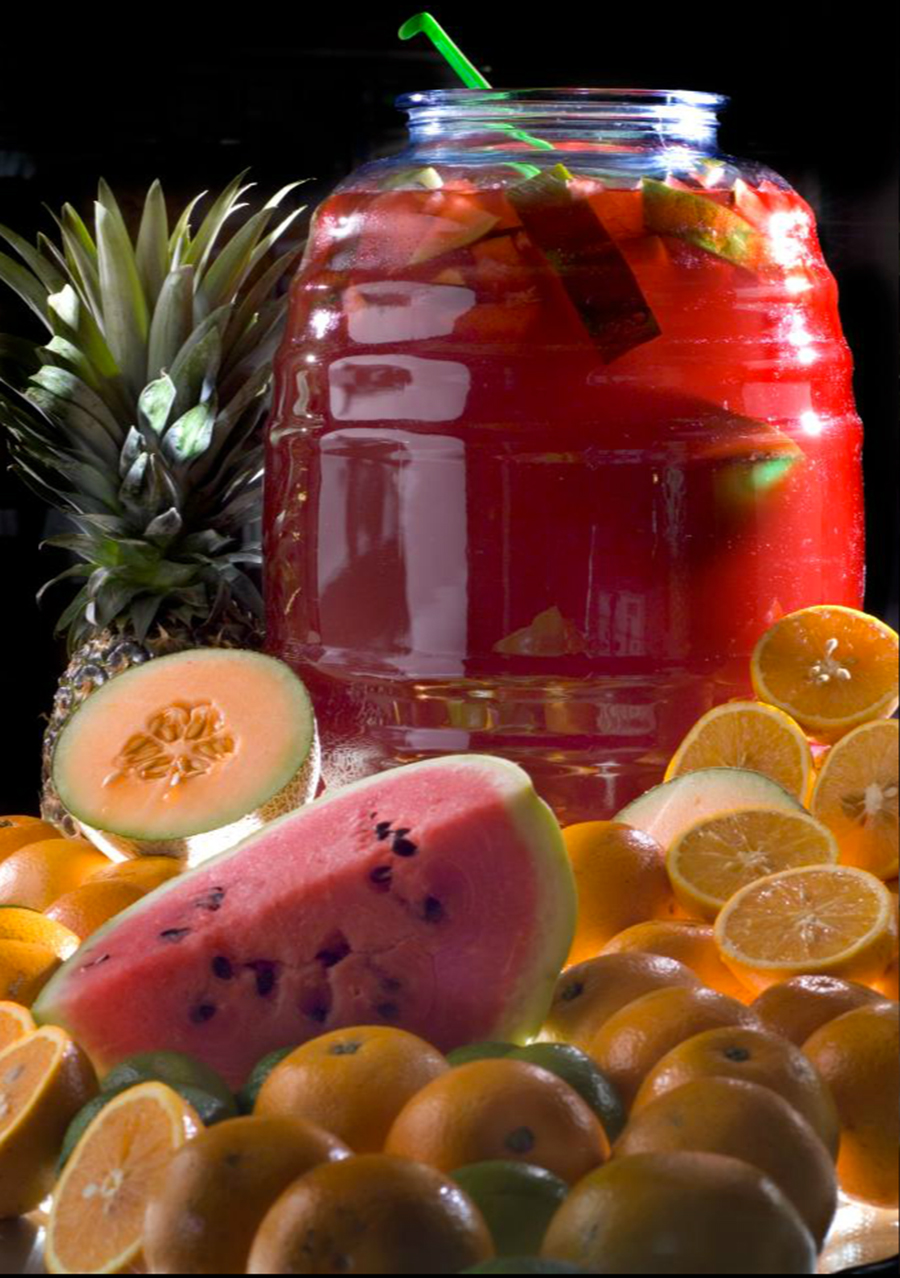 Agua frescas (Spanish: water refreshments)
1 cup finely chopped watermelon
7 cups coarsely chopped watermelon
6 cups watermelon juice
1/2 cup sugar
1 large lime, juiced
1 serving of water (if needed)
Combine all ingredients in a large serving pitcher. Garnish with watermelon wedges and mint.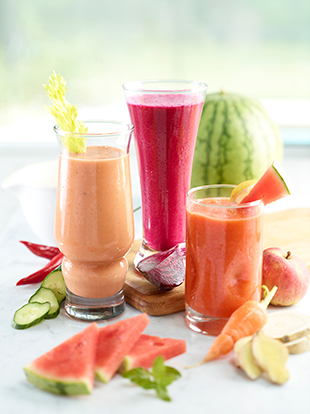 Watermelon Zapper
This juice can be made either with a conventional juicer or with a strong blender. The benefit of blending is all of the phytonutrients and antioxidants are retained, while much of this is lost when the pulp is thrown away with a conventional juicer.
2 cups watermelon cubes
1/3 large lemon, peeled
1 1/2 tablespoons peeled fresh ginger
2 medium carrots (cut into rounds for high-speed blender only)
Juice all ingredients in a conventional juicer or blender, placing watermelon in first then the remaining ingredients.
Turn blender on low until watermelon is liquefied then gradually increase speed and blend for 2 minutes.
From the August 2017 issue