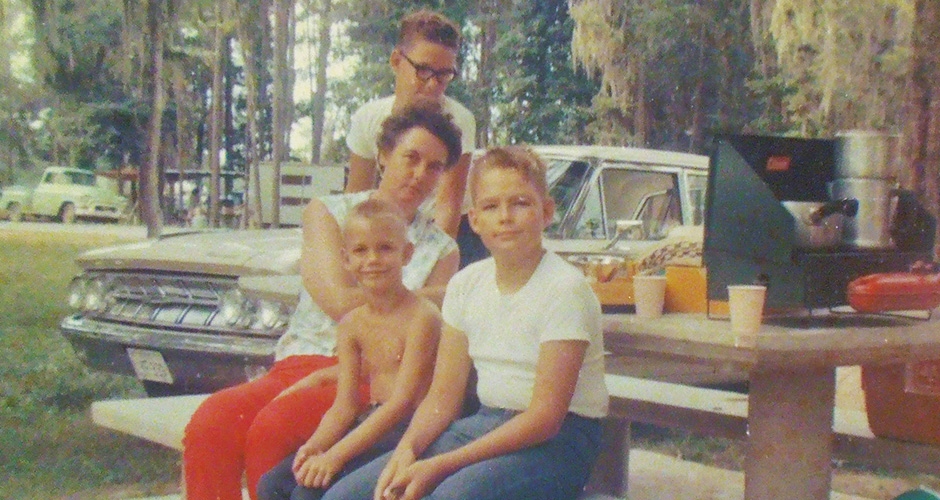 In celebration of Mother's Day, we asked our readers to share their favorite Texas road trip memories with their mom. We've rounded up some of the best stories from traveling across the Lone Star State.
We were there at the dam as lake Sam Rayburn was filling up. The dam is in the background (photo above). We camped at Lake Dam B also, now Sternhagen Lake, in 1964 or so.
– Gary Jackson
Mom and Dad took us to Six Flags every year. Mom packed wonderful lunches for a sit-down lunch at the picnic tables.Best memories ever. How I miss her, the deviled eggs, potato salad, sandwiches. Most of all, the way she showed her love for our large family.
– Rae Wooten
Going to Lubbock with my mom, my sons and my nephew for my great aunt's 100th birthday. Dad told me we couldn't drive the car over the speed limit (even though he does all the time). My nephew, who was in college at the time kept telling me to let him drive, and that grandpa would never know. LOL Mom wouldn't let him drive her car. We had a great time with family celebrating Aunt Margret.
-Teresa Thompson
We didn't really take road trips but twice a year we would drive from Sherman to Dallas. This was in the 50's and early 60's. My mother was directionally challenged. My younger sister and I thank heavens weren't. Late one afternoon after window shopping all day, we headed back home quite tired. As it got darker and darker our mother got more agitated. Suddenly I looked up and said, "mother that sign says Waco 10 miles"! To which she exclaimed, "Oh my God your father is going to kill me!" We made a u-turn and headed the herd back north and eventually reached Sherman by midnight.
-Rebecca Smith
My mother, aunts and I drove on a tour of the King Ranch in the 1960's. We were following a train of other cars on the rather boring tour for hours with no sign of stopping for lunch. We were starving and when the cars stopped, it turned out we hadn't gotten the memo to bring a picnic lunch! That was the end of the tour for us and we stopped at the first restaurant outside the ranch. I still remember how happy my mother and we were when the waitress put a brown ceramic crock of cheese and bowl of crackers on the table. Back in civilization at last!
– Carlotta Barnes
It was a short trip but Momma LOVED going to Lake Corpus in Mathis. She loved the water & when her granddaughters were old enough she'd take them too. She'd pack plenty of grub & kool-aid in a milk jug. Miss her smile & laughter
-Tinya Blair
Share Your Travel

Follow Texas Highways on Facebook and Twitter to take part in the latest Texas travel discussions.
So many. The best was a trip to Big Bend to camp with my Mom and Dad and my Mom's parents. We shared a great time with Mom and my Grandma
-Cheryll Weaver
Galveston Island was her favorite place to go in the summer. She loved going to the beach.
-Amanda Witter
Galveston: cheap motels on the Seawall like the Balinese.
-Suzanne Langton
Mom came from Nebraska. Stayed all winter so the plan was for me to drive her home in April on my vacation. We got as far as Dallas where her brother was buried and she changed her mind and wanted to see more of Texas so we drive to the coast and by then my vacation was over so she hopped a bus home. We saw the beauty of Texas wildflowers all over the south. We had a great trip.
-Beverly Barnt
Llano Texas we went to lake Buchanan then to coppers then a boutique called Foxy Lady.
-Peggy Cobb
Going to Galveston. Her favorite.
-Dalton Owens
We didn't really take road trips but twice a year we would drive from Sherman to Dallas. This was in the 50's and early 60's. My mother was directionally challenged. My younger sister and I thank heavens weren't. Late one afternoon after window shopping all day, we headed back home quite tired. As it got darker and darker our mother got more agitated. Suddenly I looked up and said, "mother that sign says Waco 10 miles"! To which she exclaimed, "Oh my God your father is going to kill me!" We made a u-turn and headed the herd back north and eventually reached Sherman by midnight
-Rebecca Smith
One spring break back in the mid-70s, we took a trip to Big Bend with my cousins' Boy Scout troop. While they were canoeing the Rio, we held down base camp with some of the other families. We cooked out, explored, visited w/other campers, explored, played in the river, explored. Had a lot of fun. When we left, since I was to start driver's ed that summer, she selected a long straight stretch of I-10 with light traffic and let me drive for a bit. It was a memorable trip because she was there. And because it was one of the last trips she and I would make together.
-Jere H. Madison
Taking her to Pedernales State Park. Her first camping trip, She loved it so much!.
-Mel Thomas
ANYWHERE we always had a good time no matter where we were!!! Love ya & miss ya mom!!!
-Connie Gibson Raynor
Mom and Dad took us to Six Flags every year…Mom packed wonderful lunches for a sit-down lunch at the Picnic Tables…Best memories ever. How I miss her, the deviled eggs, potato salad, sandwiches.Most of all, the way she showed her love for our large family
-Rae Wooten
So many… but the best was to Big Bend to camp with my Mom and Dad and my Mom's parents… Shared a great time with Mom and my Grandma
-Cheryll Weaver
Going to Lubbock with my mom, my sons and my nephew for my great aunt's 100th birthday. Dad told me we couldn't drive the car over the speed limit (even though he does all the time). My nephew, who was in college at the time kept telling me to let him drive, and that grandpa would never know. LOL Mom wouldn't let him drive her car. We had a great time with family celebrating Aunt Margret.
-Teresa Thompson
From the May 2018 issue