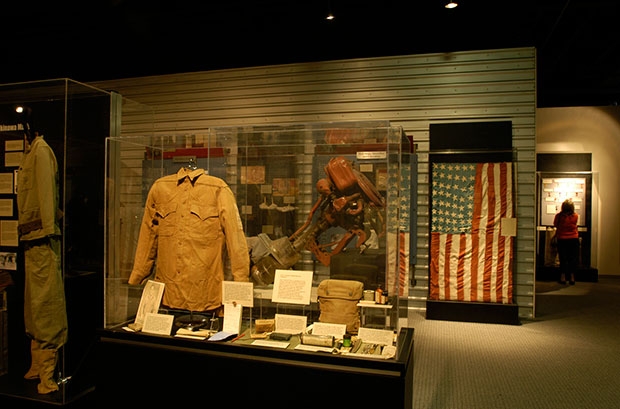 This Memorial Day weekend, there are lots of options across the state for celebrating the unofficial start of summer. But as we enjoy the festivities, it's important to remember those who have given the ultimate sacrifice.
For more events to choose from this Memorial Day weekend—including Victoria's Memorial Weekend Bash, and Wimberley's Red, White, and Blues on the Falls—head to the Texas Highways Events Calendar.
Many Texas cities have organized ceremonies and parades to honor those who lost their lives while serving in the country's armed forces. Here are just a few.
Richmond's George Ranch Historical Park explores the holiday's roots as Decoration Day. Attendees will help clean the graves of those who served in honor. The event, held on May 26 and 28, also includes a reading of James A. Garfield's 1868 Decoration Day speech, a riderless horse presentation, and a lunch inspired by authentic World War II USO menus.
In Sugar Land, people gather in Sugar Land Memorial Park for patriotic music, educational and commemorative activities, tributes from members of the community, and words of remembrance from local veterans.
Fredericksburg's National Museum of the Pacific War honors the day with its annual ceremony, welcoming Captain William J. Toti as this year's guest speaker. In 1987, he was the first submariner to be nominated by the Navy for astronaut mission specialist. Also in Fredericksburg, the Hangar Hotel hosts a USO-Style Memorial Day Hangar Dance on May 26, with proceeds benefiting USO Ft. Hood.
In San Angelo, the Fort Concho National Historic Landmark—established as an army post in 1867 and deactivated in 1889—honors the nation's fallen defenders with an hourlong ceremony. After the event, the fort will remain open until 5 p.m. so attendees can learn more about the post-Civil War military base.
Denison, the birthplace of President Dwight D. Eisenhower and Captain "Sully" Sullenberger (the commercial airline pilot who made headlines with his emergency landing on the Hudson River in 2009), holds a Memorial Day parade through downtown to salute fallen troops and celebrate the military.
In McKinney, elected officials honor fallen heroes in the historic Pecan Grove Cemetery, the final resting place of many soldiers dating back to the Texas Revolution, Mexican War, and Civil War.
From the June 2018 issue