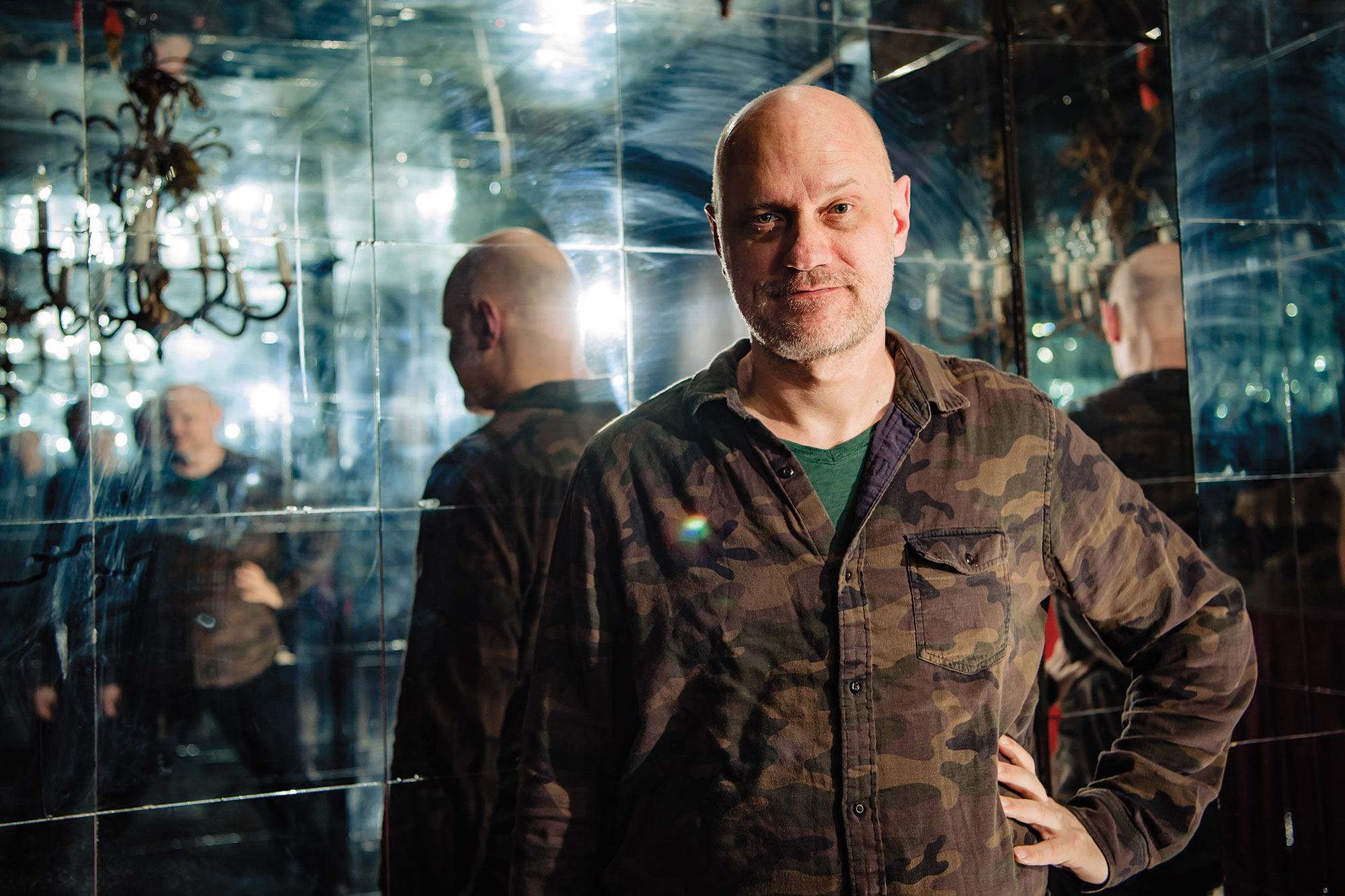 Loud chatter in the middle of a movie? No thanks—unless the comics of Master Pancake Theater are the ones doing the talking.
Created nearly two decades ago with inspiration from the popular TV comedy series Mystery Science Theater 3000—the original name was Mister Sinus Theater 300—Master Pancake offers an interactive experience at Alamo Drafthouse theaters in Dallas, Katy, San Antonio, and Lubbock, but primarily in Austin.
Master Pancake Theater

Call or visit the Alamo Drafthouse website or Master Pancake's Facebook page for
upcoming shows.
What's your writing process like?
The comedians get together about four times to sit, watch, and crack jokes. I bring a recorder, and we make note of moments. The first couple of viewings are straight through, then we get more pointed. After that, we do a "Mystery Preview" for a smaller crowd. Nothing goes right the first time, but it's a good test drive. The audience tells you what works.
Any memorable audience moments?
Once a month we do a "Choose Your Own Pancake." You have one minute to pitch a film [for the comedy show]. The audience votes; usually it's a tie, and we do a run-off to choose the winner–make your pitch without any verbs, do it as a limerick, a late-night infomercial. We did a "worst films of 2018," and the winner was a Jackie Chan film called Bleeding Steel. It was off everyone's radar, but it ended up being insane and great.
Let's riff on some Texas classics. Urban Cowboy:
I actually haven't seen it, but it's frequently requested. You can't go wrong with a Travolta movie. He's a Hall of Fame over-actor. There's a part in Grease when Olivia Newton-John comes out and Travolta goes, "Sandy?!" That's a great go-to line, even for Urban Cowboy. Like, Debra Winger appears onscreen–"Sandy?!" It always works.
Boyhood:
It's so long, but I guess boyhood itself is long, so it's perfect. It's set in Houston, yet there are scenes filmed at Dart Bowl. How could you take an Austin institution and pass it off as Houston? Dart Bowl's enchiladas are terrific, though.
Bonnie and Clyde:
I don't know if the kids would know Warren Beatty. There's a lot of shooting and driving. We could play "Yakkety Sax" at 1.5 times speed–you've got yourself a comedy right there.
Dazed and Confused:
It starts off with "Sweet Emotion," and how can you go wrong with a movie about young stoners in Austin? We get to make fun of the city's landmarks like Top Notch Hamburgers while also making fun of Hollywood babies like Ben Affleck. He seems like kind of a jerk, so he'd be fun to wail on. Matthew McConaughey is just gold. No matter what you say, it's funny because of his whole persona.
My favorite Master Pancake Theater joke features McConaughey, in fact. In Interstellar, there's a scene where he's in space, missing his family. He gets a video message from his daughter. We edited it to be the video of him winning an Oscar. So, it's cutting between him smiling and crying and a video of him celebrating. It's supposed to be sweet, but we turned it into him admiring himself. And it works great because of his personality.
From the June 2019 issue