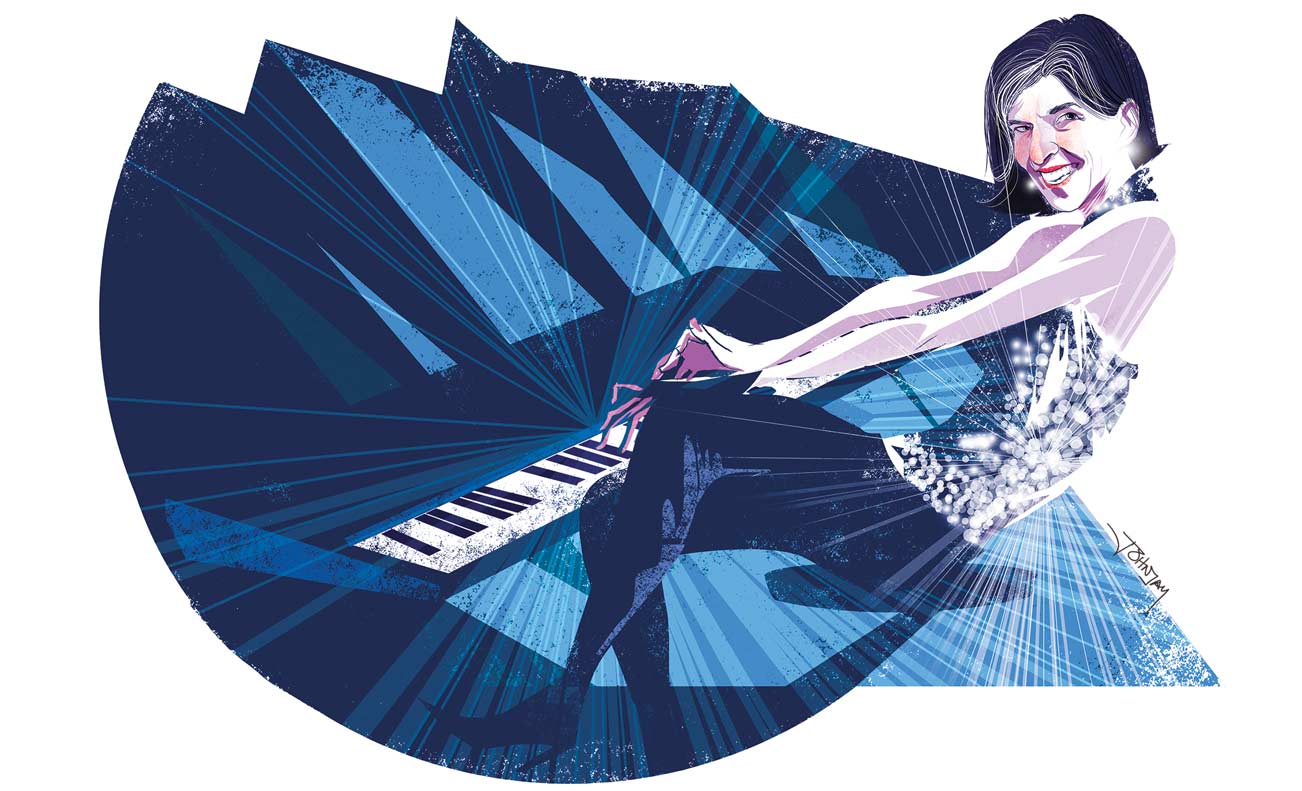 When Marcia Ball gets to rocking—her long fingers pounding out barrelhouse keyboard rhythms, knees bouncing to the beat, the band locked into the groove—it can be downright difficult to sit still. The Austin piano player has been getting people to their feet for decades with her joyful take on rhythm and blues and a voice steeped in Gulf Coast soul.
Born in Orange and raised in Vinton, Louisiana, a few miles east of the Sabine River, Ball moved to Austin in 1970, arriving in the midst of the city's hippie musical heyday. She fronted a redneck rock outfit called Freda and the Firedogs before striking out on her own in the mid-'70s for a career that's garnered five Grammy Award nominations.
Keep up with Marcia Ball

Upcoming Texas gigs include her Oct. 25 induction into the Austin City Limits Hall of Fame in Austin; Nov. 3 at Main Street Crossing in Tomball; and Nov. 17 at the Odeon Theater in Mason.
marciaball.com
This year, Ball released her 18th album, Shine Bright, and the Texas Legislature honored her as the Texas State Musician for 2018. And on Oct. 25, Austin City Limits will induct Ball into its Hall of Fame. "Marcia was one of the very first female artists on Austin City Limits, back in the day when even the Austin music scene was still pretty much a good old boys' club," says Terry Lickona, the show's executive producer.  "She created a style all her own that blended Texas roadhouse, Cajun swing, and New Orleans funk—and the amazing thing is she's still doing it, and even better, 50 years later."
Ball's roughly 100 shows per year often take her out of state, but she reserves time at home to dote over her grandchildren and support the local scene as a board member for two nonprofits, the Health Alliance for Austin Musicians, which provides health care for musicians, and Housing Opportunities for Musicians and Entertainers, which assists elderly, low-income musicians with their rent and utility bills.
This year, Ball released her 18th album, and the Texas Legislature honored her as the Texas State Musician for 2018. 
For her 70th birthday, Ball says she's planning a big bash in mid-February, with a weekend full of shows in Austin to raise funds for both nonprofits. Stay tuned for details.
Q: How did you find the piano?
A: My great-grandfather was a musician and a composer. This was in the 19th century. He was an early resident of Breaux Bridge, Louisiana; he was recruited there from Belgium as a pharmacist and ended up founding the town band in Breaux Bridge. And my grandmother played. The legend is as a teenager she played the music at the movie house in Lafayette. And then my aunt played beautiful piano. So then about the time I started school, the piano appeared.
Q: Did you ever consider switching to a more portable instrument?
A: No. I have a guitar, but it was just never my instrument. When I moved to Austin in 1970, we went down to Snooper's Paradise on Red River Street, where you bought your used appliances. And what we found was an upright piano, buried way back in the back. So before we bought a stove or a refrigerator, we bought a piano for $80.
Q: What brought you to Texas?
A: The need to not be in Baton Rouge, primarily. I'd gone to LSU, had been living there, working there. We were going to San Francisco, but we had quite a few friends in Austin so we stopped to visit. The first day we went to the lake, and the second day we went to Hamilton Pool, and the third night we went to a party over at the university where Bill Neely was playing guitar on the front porch. And by that time I just thought, "I don't need to go anywhere but here."
Q: How would you describe life in Austin at that time?
A: Idyllic. I think about it now because I'm not so different, what I like and what I want, what I appreciate. And Austin now is profoundly different. And I wonder what people find so attractive about Austin still. For one thing, in 10 minutes you were out of town. It was super liberal. It already had some music and clubs. There were anti-war marches, which wasn't going to happen in Baton Rouge. So there was all that, plus maybe more than anything there was the water.
Q: How would you compare the experience of working musicians now to the '70s or '80s?
A: I think it's hard for the ones starting out. You always had to travel to make a living. I don't know anybody, very few people, who could play in Austin and not travel. There was a heyday of lots and lots of clubs in the '70s, and I think it's cyclical over the decades in terms of opportunity and places to play. I don't think the music economy has kept pace with inflation. People are reluctant to pay a cover charge. You could get $300 for a gig in Austin in 1973, and you still consider yourself doing OK if you get $300 and pass the hat in Austin right now. I'd say it's pretty damn tough.
Q: Where are your biggest draws in Texas these days?
A: We do well in San Antonio, either at Jazz TX at the Pearl Brewery or at Sam's Burger Joint. The Kessler is good for us in Dallas. We've been doing great at a club in Tomball called Main Street Crossing. Also in that area is the Dosey Doe in The Woodlands. In Austin, Antone's is still my home away from home. Another little Texas venue I have loved playing is Fischer Haus [in Fischer].
Q: What have you learned about traveling comfortably?
A: Well, I can sleep like a baby on an airplane. The traveling started in earnest in 1975, I'd say, and from that time on I was either driving or I had a Rand McNally in my lap until GPS became ubiquitous. Now I have a hard time if the dot doesn't move. But basically I've navigated us all over the world with a paper map. And we like to pay attention to where we eat. We don't leave that much to chance.
Q: Such as?
A: The Czech Stop at 2 o'clock in the morning in West—there will be three or four bands there, the ones going between Dallas and Austin, all gassing up and getting kolaches and pigs in a blanket. And Weikel's Bakery and Hruska's on 71 going east. You know the vans just don't pass that—they're on autopilot.
Q: What's your inspiration for writing songs?
A: For the most part, I write from the sunnier side of my disposition, and so it's fun. Often what I do is I seek out the groove. I go for a tempo and type of song, a beat that I haven't overdone, or something that's intriguing, and I start with that. A hook and a groove—that's what makes a song for me. And boy if I have that, I don't have any trouble writing. I love to play with words.
Q: Most Texas musical luminaries are men. What are your thoughts on women in Texas music?
A: I'm happy to say that there is a tremendous increase in the number of women recognized, playing, surviving, and thriving in Texas these days. That's another difference between now and 1970. There were only a handful of us back then. That's part of the key to my success: getting here first and staying longer.