The 2017 SXSW Film Festival screened 258 films, including 130 features, that were selected out of 7,651 overall submissions. Even with those odds, "The Light of the Moon," starring Texas actress Stephanie Beatriz, took its place as the audience favorite among features. SXSW Film Festival made the winning announcement on Saturday, March 18.
We had a chance to visit with Stephanie and the film's writer/director Jessica Thompson about the film, its powerful message and, of course, we can't help but bring up our favorite subject – Texas.
Synopsis

In "The Light of the Moon," Bonnie (Stephanie Beatriz), a successful architect, is sexually assaulted while walking home from an evening out with friends. While emphatically denying its impact, she fights to regain normalcy and control of her life, sometimes relying on her sense of humor, but returning to her old life is more complicated than expected. The film looks at the resilience of the human spirit and the importance of relationships in the face of a tragedy. It is the feature film debut (written and directed) of Emmy-nominated Australian filmmaker Jessica M. Thompson.

You can take the girl out of Texas, but you can't take Texas out of the girl

Stephanie Beatriz may be on the Hollywood track, but there are some things even the land of fantasy can't offer.

The Food: The South by Southwest premier of The Light of the Moon was an opportunity to bring Stephanie Beatriz back to her home state.

"It's really nice to be home," she says. "I had lunch the other day with some friends that are from Austin and we had barbecue," she says with the afterglow that comes with having consumed well-smoked meats. And she admits, "My accent was coming back … hard!"

Barbecue isn't all she misses. She indulged in the essential breakfast taco this morning and talks about how much she misses Texas food – Tex-Mex, especially.

"You can't get Tex-Mex anywhere else. Nobody else knows how to do it. People can try to fake it, but unless you're from here, you don't know what you're doing." Fortunately, for Stephanie, she does have Home State, a Texas-owned restaurant near her home in Los Angeles where she goes for breakfast as often as she can.

The People: And Texas isn't all about the food. She waxes nostalgic as she thinks about living among Texans.

"I miss the friendliness and the kindness of people here. People are willing to help you out, and they're willing to stop and have a conversation with you at any time of the day. And it doesn't always happen in other places because things are moving so fast, but I miss that."

The Wildflowers: Perking up, as any Texan would, Stephanie adds she misses something else quintessentially Texan – the wildflowers. "I miss my bluebonnets and the Indian paintbrushes along the highway."

The Light of the Moon writer and director Jessica Thomson says, "We came across a field of these flowers in front of a church. I asked, 'What are those?! That is so cool!' The driver told us they were bluebonnets. They are so beautiful."

Stephanie is quick to interject, "But you never pick them. You just don't pick a bluebonnet. That's just wrong. It's not against the law, but it's against our soul."
Since 2013, Stephanie Beatriz has charmed audiences as the feisty and witty Detective Rosa Diaz in the Golden Globe and Emmy Award-winning TV show "Brooklyn Nine-Nine." Stephanie's acting chops allow her to go from comedy to drama naturally. Along with her dramatic role as Bonnie in "The Light of the Moon," Stephanie stars alongside Brie Larson, in the SXSW award-winning indie feature "Short Term 12." She also recently finished filming as one of the leads in Heather Graham's directorial debut, "Half Magic," and as  the voice of Gretie in "Ice Age: Collision Course."
On Paying Dues
"Jess and I joke all the time how people think you just appeared (on the acting scene), but it's such a progression," Stephanie says.
Stephanie, who grew up in Webster (Bay Area Houston), started acting in junior high. "I was kind of a shy, awkward kid, and we did a play in my 8th grade class. It was the first play I'd ever done. " She wanted to be the ingénue in this melodrama, but she didn't get the part. Instead, she was cast as the villain, who also happened to be male. But Stephanie rose to the acting challenge that started her on her acting path.
"I wore a top hat and handlebar moustache, and I just started to feel a real freedom when we would rehearse. There were a couple of things going on. The main one was that I could transform into somebody else. I can slide into somebody else's life, and that was my first taste of it."
"It was like nothing I'd ever felt before, she adds. "I was so addicted to it. I was addicted to the relationships between the audience and the performers and how one can't exist without the other.
Apparently she succeeded. She laughs at a memory etched in her brain, when the following day, someone told her how awesome her brother (which she doesn't have) was in the production.  Her parents are certainly proud.
Stephanie says, "My parents drove from Houston to Austin to watch "The Light of the Moon" at SXSW."  They emigrated from Argentina to Texas when I was 2 and became U.S. citizens a couple of years after that. It's a big deal to them because they sacrificed so much to come to the United States and make a life here in Texas, and so for them to see their kid kind of make good is really incredible for them. I can see it coming off of them. Even though my dad has a little bit of a macho wall up, but I could tell he was real proud. At the after party he was two sheets in, telling stories to everyone and having a great time. They're really proud."
Big Break
Even having paid her early acting dues, Stephanie's first big break outside of New York theater turned out to be a pretty notable one – as the feisty and witty Detective Rosa Diaz in the popular Golden Globe and Emmy Award-winning TV show "Brooklyn Nine-Nine."
"The reality is, sometimes, you're just in the right place at the right time. It's the right mix of things and you happen to be at that audition. I can't tell you how many times, by the skin of my teeth, I got a job that someone else fell out of and I was the next choice. You want to be as prepared as possible, but also a huge amount is luck."
But there is definitely some accounting for talent. The comedic role in Brooklyn Nine-Nine and her role as a rape victim in "The Light of the Moon: are vastly different animals. As an actress who takes her craft seriously, Stephanie says, "My favorite actors are the ones that can straddle both sides, like Bryan Cranston, for example. He started out in the sitcomiest of sitcoms (Malcolm in the Middle). And then created this iconic dramatic character that we all know (Breaking Bad). People like that – those are the kind of careers that I want to emulate in my life. That's the kind of work that I want to try and do on both sides.
Thompson adds, "One of the reasons I chose Stephanie for the role was because Bonnie does have a real comedic timing. She has a pretty dark sense of humor and she uses humor as a coping mechanism. She's a complex character and we all use humor to get out of tough situations. So that was one of the reasons I thought Stephanie was right for the role – because I'd seen her in Brooklyn Nine-Nine and I also knew that she had the dramatic ability (her background in the New York theater).
The Light of the Moon – A Movie with a Voice
"The rape … that all happens in the first 10 minutes. The film is actually what happens after that," Thompson says. "It follows her for six weeks. Bonnie is in every single scene, and it's all told from her perspective. It's basically about how something like that affects you and your relationship with yourself, other people, and your career. And it kind of just sits in that trauma, that recovery and that acceptance."
Thompson was inspired to do the film after a couple of her friends experiences sexual assaults by strangers within six months of each other. "I know that's not the norm. Eighty percent of rape is by an intimate partner – by someone that is known to the victim, but it happened to my friends. Seeing these strong, independent New York women going through that, and trying to navigate that … that helped with the writing."
Using her experience in creating documentaries, Thompson says she did "Research, research, and more research."
She went to rape survivor meetings (with attendees' approval), met with some one-on-one, and met with doctors, police, district attorneys, social workers and more.
"I wanted to make sure that I told it in the most realistic way possible. Not being a rape survivor, myself, I felt I owed it to victims of sexual assault and survivors, to get it right," Thompson says.
She adds, "There is some self-shame that Bonnie has to deal with. She shouldn't feel that self-shame, but sometimes we do, even when we know we shouldn't. The thing is, Bonnie is a really smart, professional woman and she knows she shouldn't be blaming herself. She knows there's no one to blame, but the person that did this to her, but she can't help it. We're complex humans."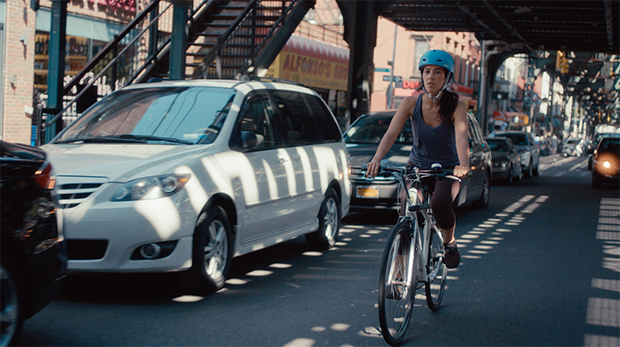 "She also doesn't want to play the victim," Thompson says. "In the film, she says, 'I don't want to be a part of this sisterhood of rape victims.' She doesn't want people to rub her shoulder and look at her with sad eyes. She's a strong woman and she thinks she can just deny that this happened."
Stephanie adds, "In playing Bonnie, I remember feeling this deep feeling of rejecting the idea that it even happened to Bonnie. Just putting it away. I don't want to think about it. I don't want to talk about it. I don't want to rehash it. I don't want to imagine it. It didn't happen. I don't want it to have happened. So, if I don't address it, I can let it die away like a memory or something."
So how does an actress get into the character of a rape victim while also trying to get into the headspace of denying such an event occurred?
"There are a lot of layers to playing that character, and I just used the script. Jessica did so much research, so Bonnie's world is in that script," says Stephanie. "For me, it wouldn't have been useful to talk to anyone because my character isn't an expert at sexual assault. This is the first time through the experience for Bonnie, so for me, as an actor, I needed to be fresh."
Thompson chimes in, "I think that's why Stephanie did such a wonderful job at playing the role because she has that diversity in her acting experience. It made my job very easy. "
Stephanie also has some personal inspiration behind her role.
"One of the reasons I did the film," Stephanie says, "was because, after I read the script, I was really moved by it. I have a friend that is a rape survivor – an incest survivor, actually – and she's realized and recognized what's happened to her, and has started toward healing. It's been really hard to watch, and really hard to be a witness to because she's had some really dark times. There were echoes of that all through filming."
"I sent it to her, and asked her to read it with a warning that if she can't get through it, I'd understand. She wrote me back right away and said, "Please do this film. I need you to do this film. Survivors need you to do this film. "
"When I started to write the film two years ago, the subject was already relevant. Now it's even more relevant," as she points to movements such as the Women's March. She hopes the film serves it's own role as an activist.
"Now, more than ever, we need stories like that. We have people who are not standing for even a small amount. I'm hoping this film, among many other things, will empower people to step up and take action – even if not for themselves.
Crowds have responded to the film. After the film's first screening, organizers of Austin's Woman's March, held a smaller version in acknowledgment of the film. But there were quieter moments of praise, as well. After an audience Q&A session with the filmmakers, a woman approached Thompson explaining that she had planned to go to another SXSW film screening at the theater, but was moved to see "The Light of the Moon" after reading its premise. With tears of gratitude and pain, she talked of her personal experience with sexual assault and thanked Thompson for tackling such an important story.
Thompson says she's only received positive feedback about the film, so she feels sure the film will be picked up for wider distribution. " Definitely by a video-on-demand platform, but hopefully in the theater. Two hundred people seeing it at a festival is very powerful, but you always hope that thousands of people can see it, and that it will make a bit more of an impact. "
From the April 2017 issue