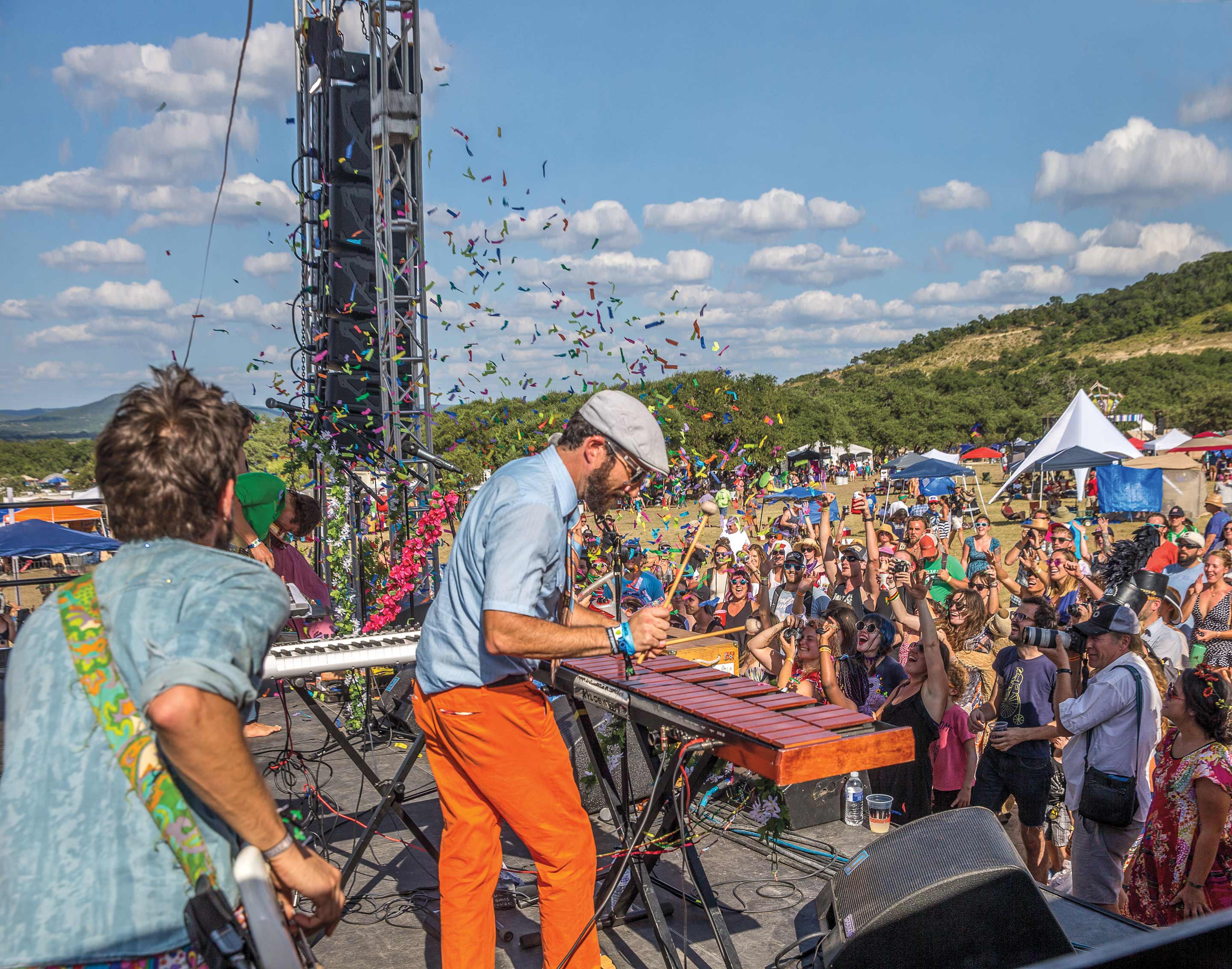 Utopiafest is leaving behind the land of perfection for what it hopes are greener pastures. For its 10th iteration, taking place Nov. 1-3, the family-friendly, camping music festival is moving from a private ranch in Utopia, in the vicinity of Uvalde, to an outdoor event space in Burnet, near lakes Buchanan and Inks. This comes with several advantages organizers believe are integral to the long-term preservation of the festival, chief among them it will cut down the drive time by two-thirds for fest-goers from Austin, where 75 percent of past attendees have hailed.
Utopiafest 2018

Reveille Peak Ranch
Nov. 1-3
utopiafest.com
"I know there are a lot of people in Austin who have always wanted to go but the three hours can be prohibitive," says Travis Sutherland, who hatched the original Utopiafest on his family's Four Sisters Ranch with some musician friends and a meager crowd of 200, eventually growing it to more than 2,000. "We hope it's just a little bit more accessible for people to make the trip."
The new location, Reveille Peak Ranch at 105 County Road 114, will also enable Utopiafest to sell alcohol, as the event moves out of a dry county and into a wet one. No longer will fest-goers have to worry about packing enough cold beer to survive the weekend. B.Y.O.B. still will be allowed in the campgrounds, but wine and beer from local vendors will be available for sale. There is even special Utopian Festival Ale concocted by Austin's Zilker Brewing. Beverage and food sales are seen as crucial to establishing much-needed revenue stream beyond ticket sales.
Among the other upgrades are cleaner facilities to combat complaints about the sad state of portable toilets in past years and, for those who don't want to camp, or don't want to miss the West Virginia-Texas football game, daily shuttle service to and from Austin throughout the day.
Reveille was actually the second new location for Utopiafest. Sutherland had previously settled on a ranch about 10 miles away from Reveille. The original plan was to move to a bigger space and deviate from the festival's tradition of capped attendance to allow as many as 6,000 tickets to be sold this year. That spawned complaints from the community about a potential "mass gathering," which led to logistical and safety concerns. At the last minute, Sutherland—fearing the possibility of not even being able to host Utopiafest this year—came across Reveille Peak Ranch.
"To be honest," Sutherland says, "it was nothing short of miraculous, really—the opportunity that presented itself."
The festival is forecasted to be roughly the same size and scope as it has always been. Count on a cozy setting in which to catch headliners Lukas Nelson, son to Willie and collaborator with Lady Gaga on the A Star Is Born soundtrack; and Patty Griffin, a 2011 Grammy winner and 2007 Americana Music Association's "Artist of the Year."
They join a menagerie of more than 40 acts, including Valerie June, a soul singer who has recorded with Dan Auerbach of the Black Keys; Mad Skillet, the side project of Medeski, Martin & Wood pianist John Medeski; and the Big Ol' Nasty Getdown, featuring members of Earth, Wind & Fire, George Clinton & Parliament Funkadelic, Sly & The Family Stone, Living Colour, and the Meters, among many others. For attendees who buy a special Thursday night pass, Grandmaster Flash, a DJ who brought hip hop to the forefront in the mid '70s, will spin a set on his turntable. Not a single act is to be missed because Utopiafest schedules performers on two stages at staggered times.
The challenges Utopiafest faces as it tries to maintain operations, even grow, are common with other free-range, or camping, festivals in Texas. Last year, the Old Settler's Music Festival, the 30-year-old roots music festival, moved to a new location in Tilmon, southeast of Lockhart, because it had outgrown the Salt Lick Pavilion and Camp Ben McCulloch, in Driftwood. But in its first year at the new location, daily ticket sales took a hit.
"Tilmon's not that far, and with the toll road the drive is pretty easy from all parts of Austin," Jean Spivey, executive director of the festival, says. "But there's still a perception that it's far. We faced that 16 years ago when we first went to Driftwood. People just have to do it once."
Sound on Sound Fest, an indie rock, hip hop, and hardcore music festival born out of Fun Fun Fun Fest, a 10-year-old festival in downtown Austin, faced a tougher fate. As part of a deal with the investors who bought Fun Fun Fun, Sound on Sound set up at Sherwood Forest Faire, in McDade, about 40 minutes east of Austin. The new festival happened as planned in 2016, despite considerably lower ticket sales than Fun Fun Fun, but organizers canceled the 2017 iteration at the last minute due in part to an investor pulling out—and no 2018 version is planned.
"It is a challenge to get people out of their comfort zone of downtown Austin," Graham Williams, co-founder of Sound on Sound and Fun Fun Fun, says, "but it was also a selling point for some. It definitely affects attendance the same way I'm sure a big concert may do better at a downtown venue versus, say, the H-E-B Center at Cedar Park."
People are more inclined to spend their dollars on festivals tethered to a major city, like Austin City Limits Music Festival in Austin, Homegrown Music and Arts Festival in Dallas, Neon Desert Music Festival in El Paso, and In Bloom Music Festival (formerly Free Press Summer Fest) in Houston. They come with the added luxuries of nearby hotels and restaurants. Free-range festivals, meanwhile, require greater commitment, if not a leap of faith. That makes them vulnerable. While new festivals are always cropping up, there are only a few that have stood the test of time. Utopiafest is one that has been able to engage a following. Another good example is Trans–Pecos Festival of Music + Love, which benefits from the cachet of Marfa.
Utopiafest's future success is dependent not on the amount of booze it offers, or if there is enough hand sanitizer in the bathrooms, or if attendees can get there and back on one tank of gas. The real test is its ability to foster community. That is a free-range festival's biggest selling point. At Utopiafest, there are numerous activities outside of the music that are designed to bring people together. Among them are health and wellness exercises, personal development workshops, and a disc golf course. Reveille Peak Ranch is also full of hiking and biking trails.
"We want to make it all about just connecting with people," Sutherland says. "And rejuvenation. And for lack of a better word, making the world, and individuals, better."