I have had some memorable museum experiences in my life: a foggy night encounter with a Rembrandt in East Berlin, a red wine and squid-fueled afternoon cooing over Degas at the Prado. But recently I was gifted with perhaps the single most perfect day I have ever spent in the company of great art: a balmy afternoon wiled away at the Nasher Sculpture Center in Dallas.
This sounds like hyperbole, but it is not. For weeks, I had wanted a way to put the rush of my life on pause, give myself a few hours peace from screens and responsibilities-to open the windows of my brain to big ideas.
When the opportunity arose to visit the Nasher, I was dismayed to note that it coincided with a Target First Saturday, the museum's monthly free admission day, chockfull of projects for young children. I love children and families-sometimes those of others more than my own-but I was sure that this day would not provide my island of solace. Still, I soldiered on in hopes of experiencing a few contemplative or uplifting moments.
Designed by Pritzker Prize-winning Italian architect Renzo Piano, the 55,000-square-foot structure is best described as translucent. The white travertine galleries are open to natural light through glass walls at each end and through a vaulted glass roof. The limestone wall are rough and pitted to the exterior, and honed smooth where they erve as a backdrop for the art. The roof is fitted with a sculptural aluminum grate that directs the traveling sun's rays.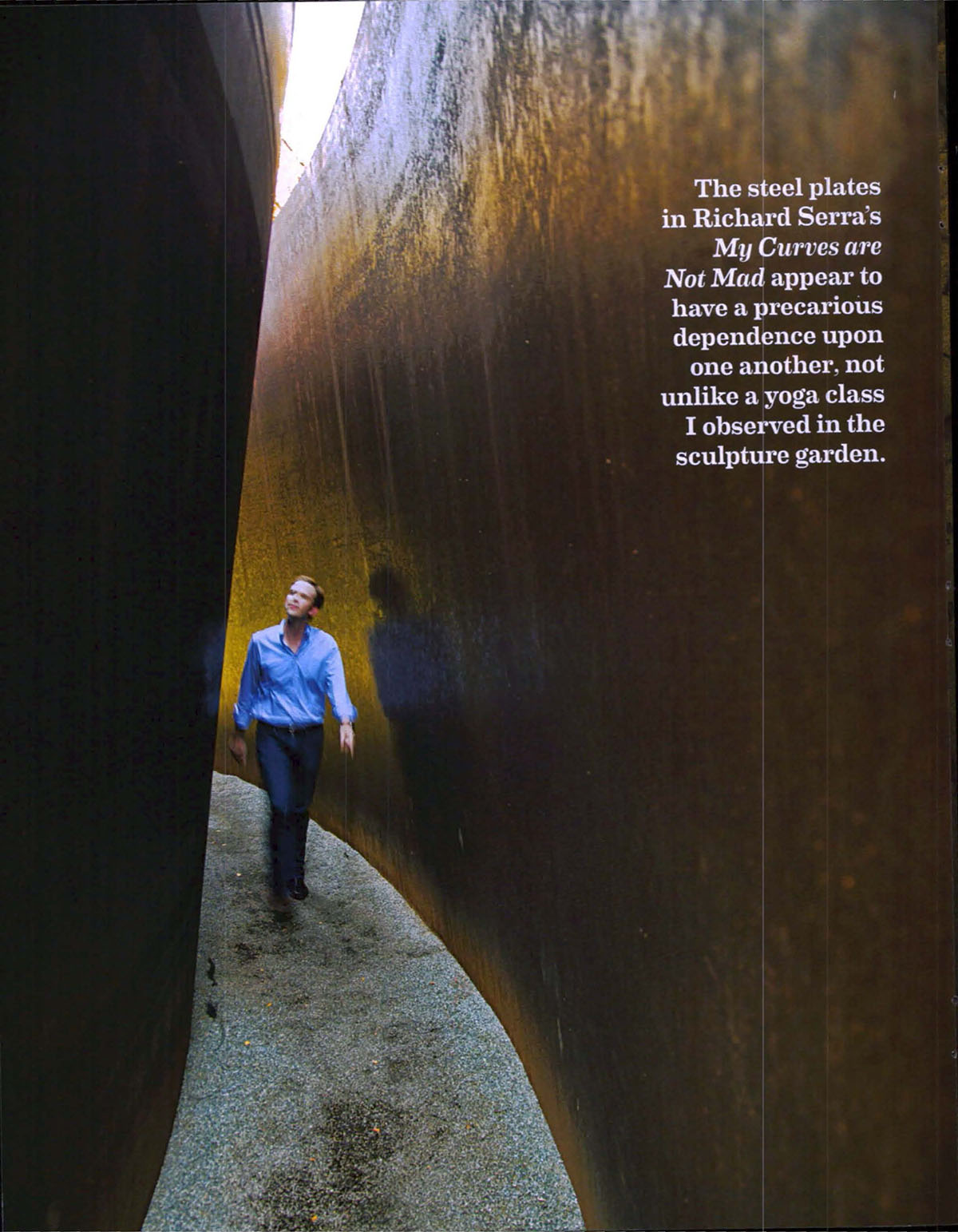 The thoughtful design infuses the space witl1 a light that tran – ports the viewer into a sort of spiritual embrace with the art. In fact, the light draws such focus to the art that the expansive galleries feel as intimate as a living room. Linked through the glass walls to an art-filled two-acre garden, inside and outside boundaries blur, making the interior spaces feel as roofless as the garden-exactly as the late Raymond Nasher desired. The museum's emphasis on light explains the uproar over the recent construction of the neighboring Museum Tower, a 42-story condominium building with a glass skin that reflects sunlight brightly onto the museum building and grounds. The situation has yet to be resolved as this story goes to press.
Opened in 2003, the Nasher Sculpture Center made real a decades-long dream of Dallas philanthropists Raymond and Patsy Nasher, who began collecting pre-Columbian sculpture in Mexico during the 1950s. When Patsy gifted Ray with a contemporary work by Jean Arp for his birthday in 1967, the couple's interest in art took a serious tum to collecting master works of modern and contemporary sculpture. Over the years, the collection blossomed to represent dozens of artists, with a special focus on Henri Matisse, Pablo Picasso, David Smith, Raymond Duchamp-Villon, Henry Moore, Joan Miro, and Alberto Giacometti.
Each of the world-class works acquired by the Nashers was desirable, and in hopes of one day housing the entirety of the collection, museums around the world came courting (and there was more than a little local desire as well). Ultimately, in the late 1990s, Ray Nasher decided to finance and build the $70 million center in the city where he had made his fortune in real estate and banking. He selected a site adjacent to the Dallas Museum of Art to build the Nasher Sculpture Center and bolster the progression of the now-thriving Arts District
During my visit, I noted the light, the stone, and the grace of the space. But I was also aware of the interaction of the visitors-mothers pushing strollers, fathers hoisting kids onto their shoulders, slowwinding chains ofhandholding children, and hooded pods of teenagers bobbing from artwork to artwork in slow-motion unison. The passing parade generated a happy hum, comforting in its rise and fall, the same way waves lapping the shore make a day at the beach relaxing. I soon realized that overhearing a parent's careful instruction on how to read a wall placard, and a child's unfettered response to the whimsy of a painted chair with an owl-like head by Joan Miro, or the impossible balance of Richard Serra's steel Inverted House of Cards, enhanced my experience in every way.
Standing before a series of lead relief panels by Jasper Johns, a young boy spoke first to his father in Italian, and then turned to me. "These are very strange;' he said. "There is a lot of black on black. That makes them hard to see. It takes work!" Spoken with the gravitas of a true critic.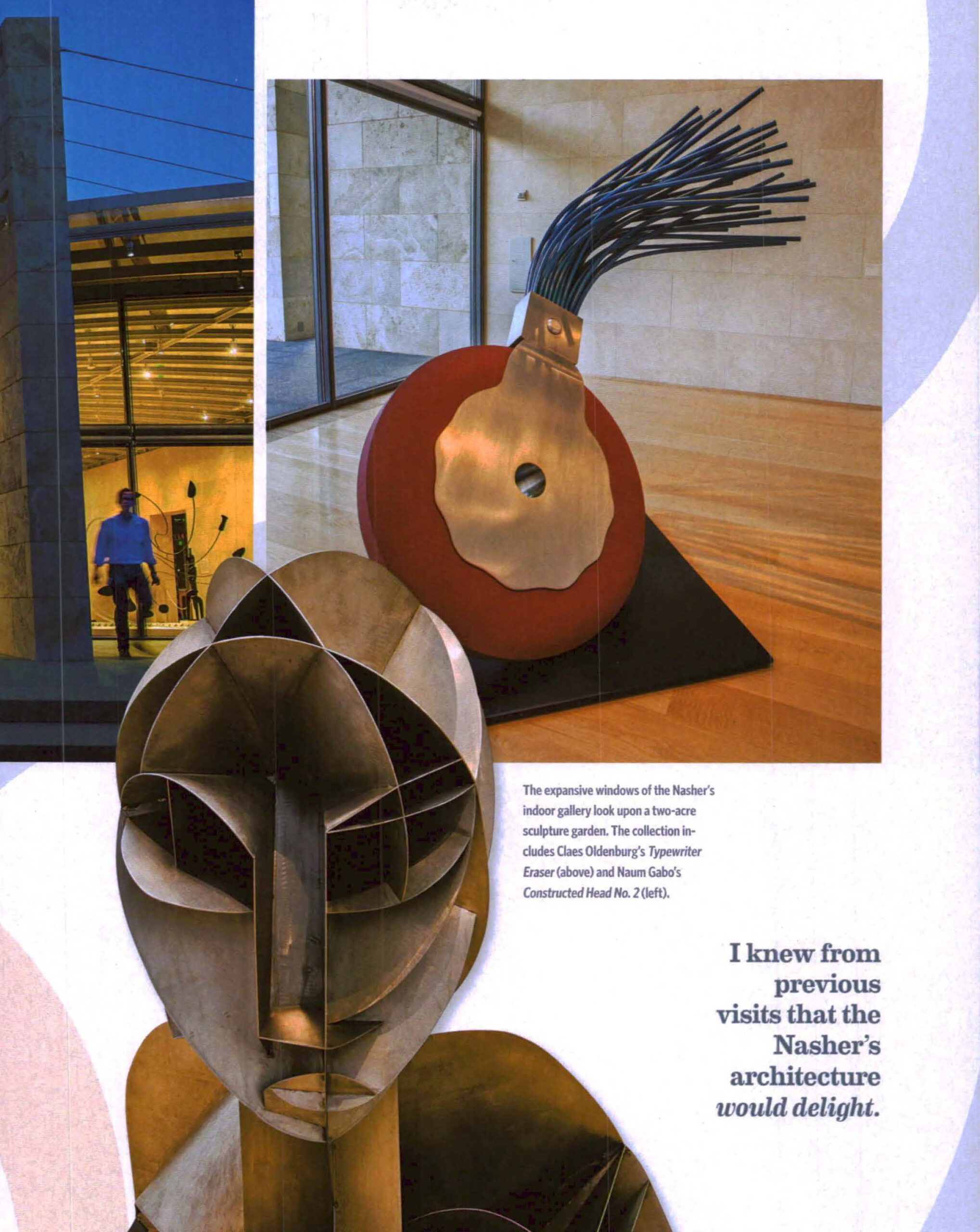 Staring down at The Spider, a reticulated, floor-mounted work by Alexander Calder, an elderly woman teased a guard: "I know I cannot touch it," she said. "But surely you do not begrudge my blowing on it." She then let out a giggly gust that caused the work to shimmer and shift.
Held fast in contemplation of Claes Oldenburg's Brobdingnagian typewriter eraser, I realized that this everyday object had been transformed to an artifact in my lifetime. Many roaming the gallery might not recognize its function, but will still find it fully satisfying as an artistic form. Entering the museum's garden gallery (a design collaboration between Renzo Piano and landscape architect Peter Walker), I passed a yoga class taking place alongside Richard Serra's My Curves are Not Mad, a paradoxically gentle bend of steel plates 44 feet long and 14 feet tall. The plates appear to have a precarious dependence upon one another, not unlike the yoga class. I stretched involuntarily, inspired by the exercisers now stilled in sculptural shapes.
When the soft give of damp soil met my first step off the sidewalk, I was aware not only ofhow relaxed I had become, but also how happy I felt to share this moment in time with so many other contented souls.
Crunching along the pea-gravel trail through the center of Serra's narrow steel canyon, I watched as a small child, exhorted by his father not to touch the velvety rust-red walls of the sculpture, bolted ahead, hands reaching for the sky. Following behind, I reached a point where-out of sight of entrances at either endI discovered dozens of tiny hand prints dusting the walls like prehistoric cave art.
I understand this urge to touch. I, too, struggled to resist the contrasting texture of the marble, steel, and wood all around me. And yet there is nothing static about experiencing these sculptures. Pacing around Richard Long's Midsummer Circles, concentric stone circles of silver-gray slate set upon a gallery floor, I was filled with the same ritualized sense of expectancy I experienced circling around ancient stones set upon the Scottish Hebrides.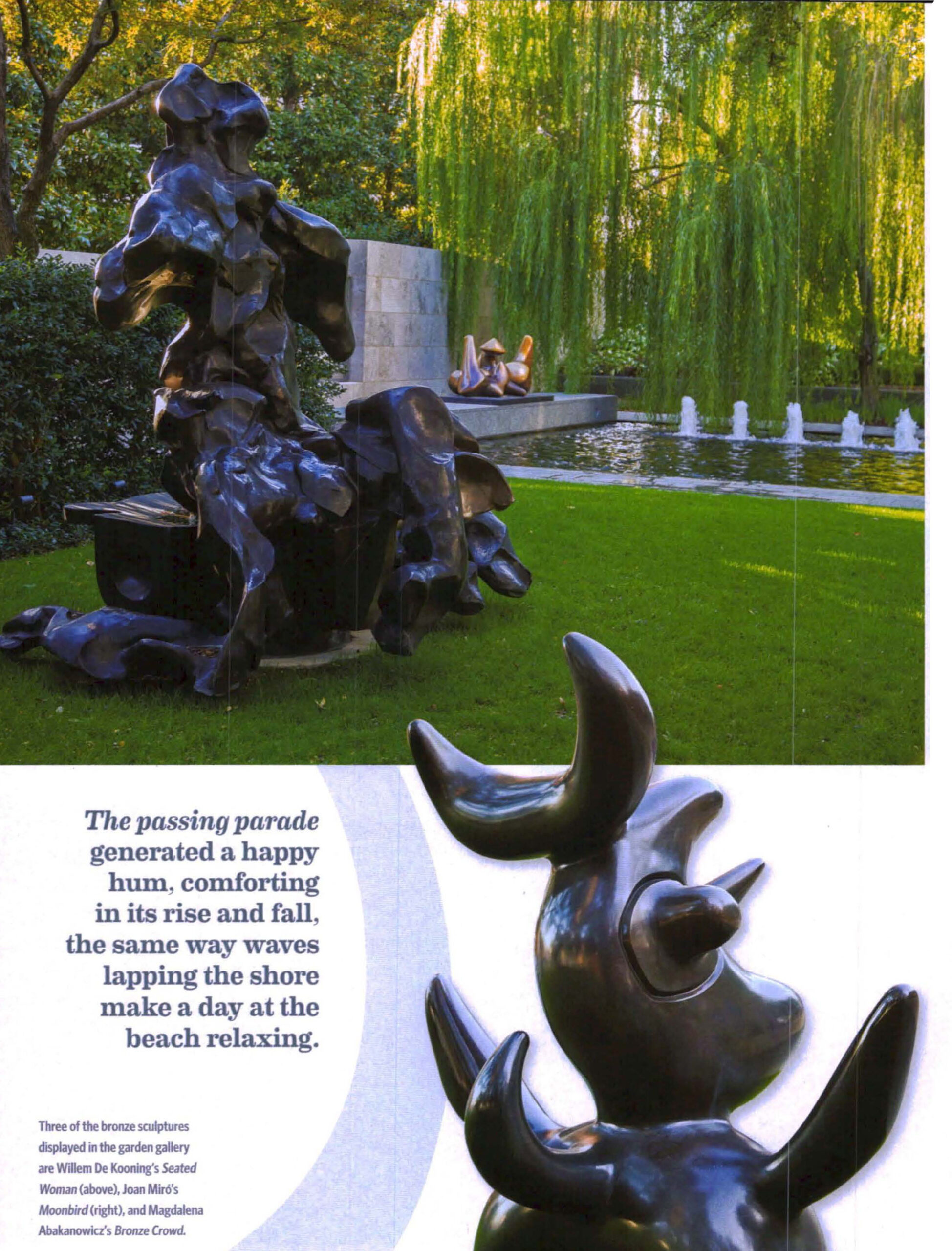 Over a terrace lunch at the Nasher Cafe by Wolfgang Puck, I found myself admiring my beet salad with the same eye with which I had been studying the art The perfectly uniform strips of carrots seemed rightly orange, the goat cheese linked to the beets with a borrowed blush of pink. When a burst of wind filled an alley of trees with leaves like an explosion of confetti, I celebrated my luck to be here this day to see it.
Later, I strolled past Auguste Rodin's bronze sculpture of Eve. Rodin famously said of his work, "I invent nothing; I rediscover." This had been my day to rediscover, too. Leaving the Nasher, I felt as I had that twilight hour when soon after the fall of the Berlin Wall, I had visited Rembrandt there-that great art transports, connects, and yes, gives pause.
From the March 2013 issue