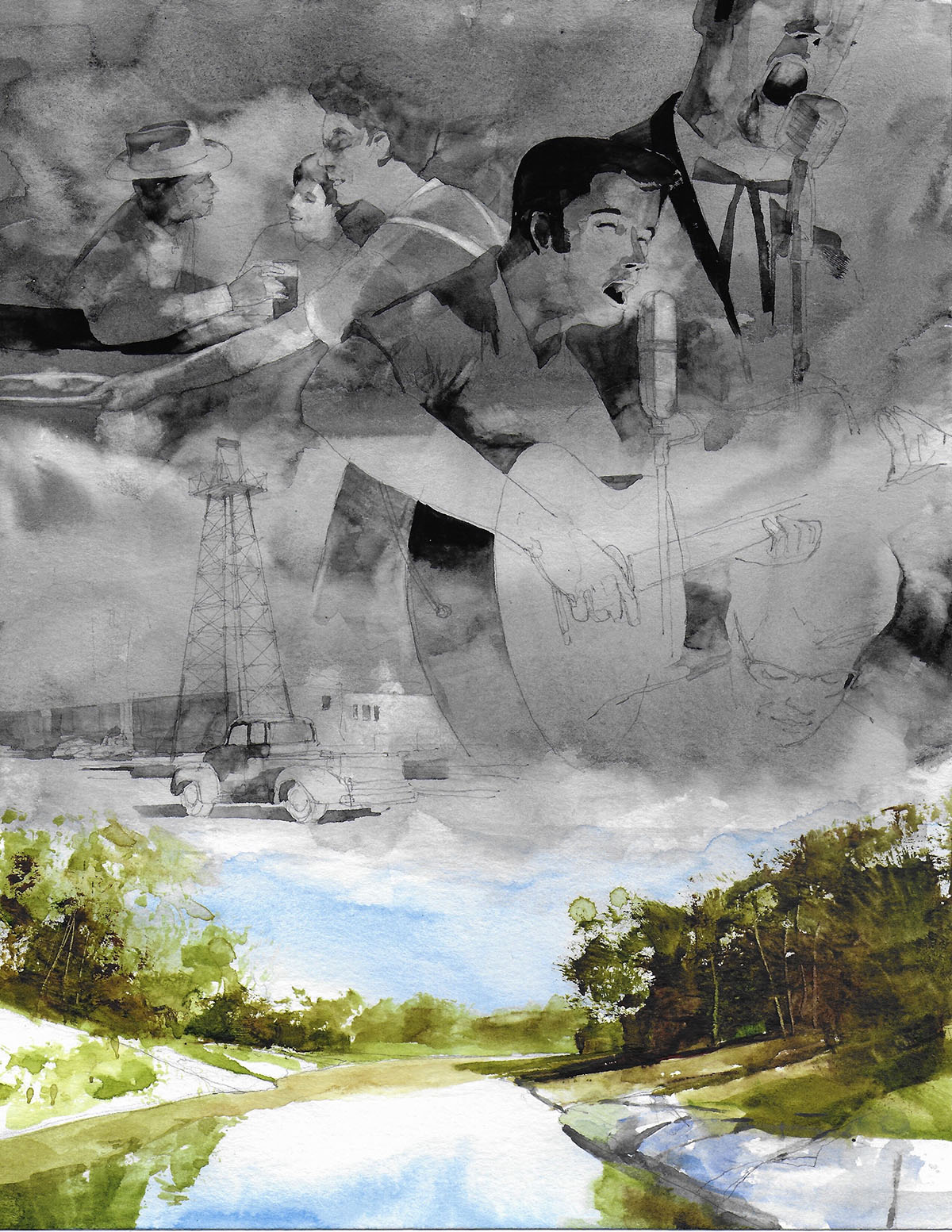 Some say that deep in the East Texas woods, where the muddy Sabine River flows, there dwells a creature called the Goat Man. This furry, hoofed denizen of the dark woods lives under a swinging bridge, where he sates his taste for human flesh on unsuspecting passersby.
Or so went the legend when I was young, and perhaps that legend has played out now. Kids run the river and woods less, and spend minimal time beneath the swaying shadows of the pines and hardwood trees that once grew thick for miles. Stories grow not only out of the available environment, but also the use of the environment, so perhaps due to the lack of attention to the Goat Man's world, he has ceased to exist.
Almost as mythical are the things that happened decades ago near the Sabine, where the long-gone Mint Club stood, its walls vibrating to a sound that pulsed with what some would have described then as primal wails and lustful howls. A sound condemned by churches and do-gooders far and wide, but ultimately adored by the masses. If it was indeed devil music, then the devil got his due.
The voices that squealed and roared over the airwaves of the defunct Gladewater radio station KSIJ 1430 were memorialized in wax, the singular method of the time. But the experience of hearing something that was unlike anything that had come before, in real time, has gone the way of the Goat Man.
In the 1950s, the Mint Club was referred to as the Gun and Knife Club. Back then, famous KSIJ disc jockey Tom Perryman said it was the kind of place "that if you didn't have a gun or knife, they'd give you one at the door."
Where the Mint Club stood there is now nothing more than a cement foundation and distant memories. The Mint was among the many rough-and-tumble honky-tonks that lined the highway outside the boundaries of Gladewater, not far from the Sabine River bridge, on what was called Hell's Half Mile. Out there, come night time, music was played and drunks were fueled. Those joints seemed like permanent establishments when I was young, but they have all gone the way of the dodo, phew, along with knifings, shootings, and midnight brawls.
On a spring day last year, under a sky threatening rain, I cruised from Nacogdoches—where I have lived for more than 40 years working as a writer of scripts and novels predominantly set in East Texas—to my old hometown, Gladewater. I planned to locate some musical ghosts I could perhaps invite home with me, as well as check out my hometown's revival. Gladewater had gone into a slow decline, like so many old towns in the area that suffered after the oil boom of the '30s. But recently citizens have revived it with new businesses, shops, and restaurants, thanks to renewed civic pride and new blood moving into town.
Some years back, driving through Gladewater was a depressing affair for me. It was a shadow of its former self, and looked ready to dry up and blow away. Now, it feels as if the old town's past has refreshed the place, with special attention not only to its antiques, but to its musical history.
Gladewater, in its own way, is as responsible for the birth of a new kind of music as are Sun Records and the Louisiana Hayride, considering it was a coveted destination for rockabilly troupes in the '50s. At the time, those performers must have seemed like space aliens to residents, gliding into small-town, postwar America buttoned-up tight, with greased-back hair and wardrobes that looked fleeced from a passing circus.
Acts like Elvis Presley, Johnny Cash, Ray Price, Jerry Lee Lewis, Hank Thompson, The Big Bopper, Jim Reeves, Bob Luman, and many others came to Gladewater for musical pit stops. In addition to the honky-tonks, they played at rodeos, ballparks, fairgrounds, and school auditoriums, and for all I know, people's living rooms and backyards.
Gladewater is where rockabilly got its big boy pants. The town provided a vehicle for Elvis and so many others to learn their trade and develop their brand of music.
Gladewater is where rockabilly got its big boy pants. Perryman was responsible for a lot of this. Within those seven years when he was the radio king, the town of Gladewater provided a vehicle for Elvis and so many others to learn their trade and develop their brand of music. Much of it originated from black performers who were confined to race records. Back then they could often only be heard on radios late at night when the weather was right and the magic of electricity carried their sounds to the ears of eager listeners, excited by a new kind of sound that made souls flare and feet dance.
Given the racial reality of the day, white performers introduced this singular form of American music to the masses. As black music contributed to the creation of rock 'n' roll, those white performers in turn opened up the doors of recognition for black performers. The two groups swapped soul and blues for country voices and backwoods guitar licks, all of it blending into something fresh and inspired.
Though KSIJ is gone, the building where the radio station operated still stands along US 80. On the fourth floor is a recording studio with prime acoustics and a legendary pedigree. The station where Elvis, Cash, and others performed live seems to have frozen in time. For rockabilly and rock 'n' roll diehards, or even old-school country fans, the place should be declared a holy shrine.
The station is now home to Mauldin Productions. An enthusiastic and talented fellow named Chad Mauldin operates it. Like Sun Records, the music he's making has a distinctive sound signature, a subtle tremolo enhanced by the birch diffusion panels on the walls and high ceilings of the studio.
My daughter, Kasey Lansdale, is a musical performer whose last album, Restless, was recorded at The Cash Cabin Studio under the eye of John Carter Cash, the only child of June Carter and Johnny Cash. She decided to record two songs at Mauldin to touch on the location's uncommon lineage, as well as to make use of the fine studio. And if I can be forgiven a bit of fatherly enthusiasm, those cuts jump, and are to be included on Kasey's forthcoming album.
There are remnants of the past on the fourth floor that are more than recollections and original construction. There is Lewis' signature on the wall and on a soundboard that has been mounted in a hallway. Lewis seemed to have had an egotistical need to write his name on things. What may have been annoyances then are now valued artifacts of rockabilly history.
A photo of Elvis performing live in the sound room is mounted on the wall, and the black marks on a lower wall are said to be where Cash leaned against it and scuffed it with the heels of his shoes. It should also be noted that Cash wrote "I Walk the Line" in Gladewater, right before he stepped on stage for a performance there in 1956.
When I headed out of the studio, I drove past where the old bowling alley had stood. Once, in that parking lot, I made a bet inspired by the 1967 film Cool Hand Luke. In the movie, Paul Newman's character ate 50 boiled eggs while in a Florida prison. So I boasted I could eat 50 raw ones. I did just that, managing to swallow them all, only to realize while others were sorting their money made from bets for or against my abilities, I had forgotten to bet on myself. I was a hero for about 15 minutes and the owner of a bellyache for two days.
I discovered other remnants of Gladewater's rockabilly past, like the Res-Mor Courts Motel on West Upshur Avenue, where Elvis and others boarded when they weren't staying in local homes as guests. Allegedly, there's even a guest card somewhere in existence with Elvis' signature on it, and a notation of which room he occupied.
The Res-Mor is now an apartment building, but it still bears the original outdoor sign announcing that the motel was air-conditioned. This was rare back when the best most places could manage for fighting the humid East Texas heat were damp swamp coolers, rotating fans, an open window, or a cold shower. Though the Res-Mor is no longer the rare air-conditioned business it once was, I hope new ownership leaves the old sign with its brag intact as a nostalgic echo to a fading past.
There was more to my journey than rockabilly. I was exploring Gladewater history at large, and The Gladewater Museum was the perfect place for that. It was once the town library, but was transformed into a museum in 2005. As a kid, I spent Saturdays and time after school sitting and reading there, checking out stacks of books to brighten a rather drab existence. Without those books the air seemed heavy, and the world looked gray.
On Saturdays, I'd read in the mornings at the library, walk over to Ritz Pharmacy (now a cool coffee and ice cream shop called The Screen Door), and buy a hamburger and a Coke. After a quick lunch, I'd head next door to what was then The Cozy Theater but is now an opry house. To pile on top of my digesting hamburger, I would buy popcorn and candy, as well as another soft drink, stoking up for a daylong theatrical adventure.
I'd watch the kid show, cartoons, and an old-time adventure serial that I didn't realize wasn't new, and then stay for the double feature. Back then they didn't run you out when the movies were over. You could stay for another run through both films, and I often did.
The library and theater were salvation to me. Along with spending time on the Sabine River and running the woods, they may have been more important to my becoming a writer than most of my formal schooling.
The library and theater were salvation to me. Along with spending time on the Sabine River and running the woods, they may have been more important to my education and preparation for becoming a writer than most of my formal schooling. Another plus: The Cozy Theater, like the Res-Mor, was air-conditioned.
But the theater promoted segregation. Black audiences had to enter by a separate door and climb the stairs to their isolated nest, confined to the balcony. Their money was fine, but not their association with white folk. That's something I sure don't miss, and it's a piece of Gladewater's past that I can happily let go of.
The library turned museum contains exhibits covering Gladewater's oil boom in the '30s. This was the key event that transformed Gladewater from a burg of several hundred to several thousand. Among the displays, there is a section on how people lived in the past, a segment on the famous Gladewater Roundup Rodeo, as well as the Gladewater High School football team—its coaches, and the players who went on to gridiron glory. Among them were Skip Butler, kicker for the Houston Oilers; John Floyd, wide receiver for the San Diego Chargers; Winston Hill, tackle for the New York Jets; and James Scott, wide receiver for the Chicago Bears.
My interest in football is surpassed only by my interest in watching water drip. Still, I used to sell programs at the football games, calling out, "Get your program! Get your program! Can't tell a player without your program!" It wasn't a living, but it was money.
More to my taste, of course, is the museum's section on Elvis, Cash, country music, and the rockabilly musicians who performed on Hell's Half Mile. The area earned its monker for the honky-tonks, seedy night life, and prostitution there.
Moving around town, it's clear that Gladewater is no longer a busted-out oil town on the brink of dying. It's loving its past in a way that, strangely, makes it feel fresh and new. It may not have honky-tonks out past the Sabine bridge anymore, but it has antiques, and is now, according to the Texas Legislature, the Antique Capital of East Texas—a claim I can neither dispute nor affirm. What's distinctive is the town is acknowledging its past and using it to lean into the future.
Not a bad move, as one can only feast on the past for so long before it somehow turns on you and traps you in nostalgic amber, much of it nowhere near as good as remembered.
On the newer side is a business made up of relics of the past. Gladewater Books, a used bookstore stretching nearly an entire city block, contains thousands of titles, from popular fiction to rarities and collectibles. When I was growing up, Gladewater couldn't support such a store. Had the store existed when I was a kid, I might have ventured inside, never to venture out, my skeleton to be found in some dark corner clutching an Edgar Rice Burroughs novel.
The town also boasts a number of fine restaurants not available in my youth. The main place to eat for teenagers then was a Dairy Queen on the outskirts of town, just off US 80 leading from Gladewater to Longview. It was next to the highway, and also to a road that led into the bottoms. A place of damp growth and dark mystery, it finds its way into a number of my novels, best known among them, The Bottoms.
The bottoms are gone now, covered by concrete and houses. It's hard to imagine how much of a teenage hub that Dairy Queen once was. Fights happened out back. People sat inside and out, and laughed and talked. Romances blossomed. Bellies were filled. Now, like the honky-tonks and the radio station, it is gone with the wind. The memories of it flutter about like falling leaves in the aging heads of those of us who went there with the dedication of the faithful visiting a religious shrine.
As I headed home, my head bursting with memories and revelations about the past, a black thunderhead formed above the tree line, the earlier threat of rain now a promise. Bright zippers of lightning flashed, and as I crossed the Sabine bridge, the wind picked up and shook my small car like dice in a loose fist.
The clouds burst open, and the rain came down. I drove home in the wet darkness, tasting the sweet-sour memories of my youth. I thought idly of the Goat Man. In the shiny new era of my hometown, I hoped he still lurked somewhere in the shadows, reminding us of the wildness of the past.
From the February 2020 issue