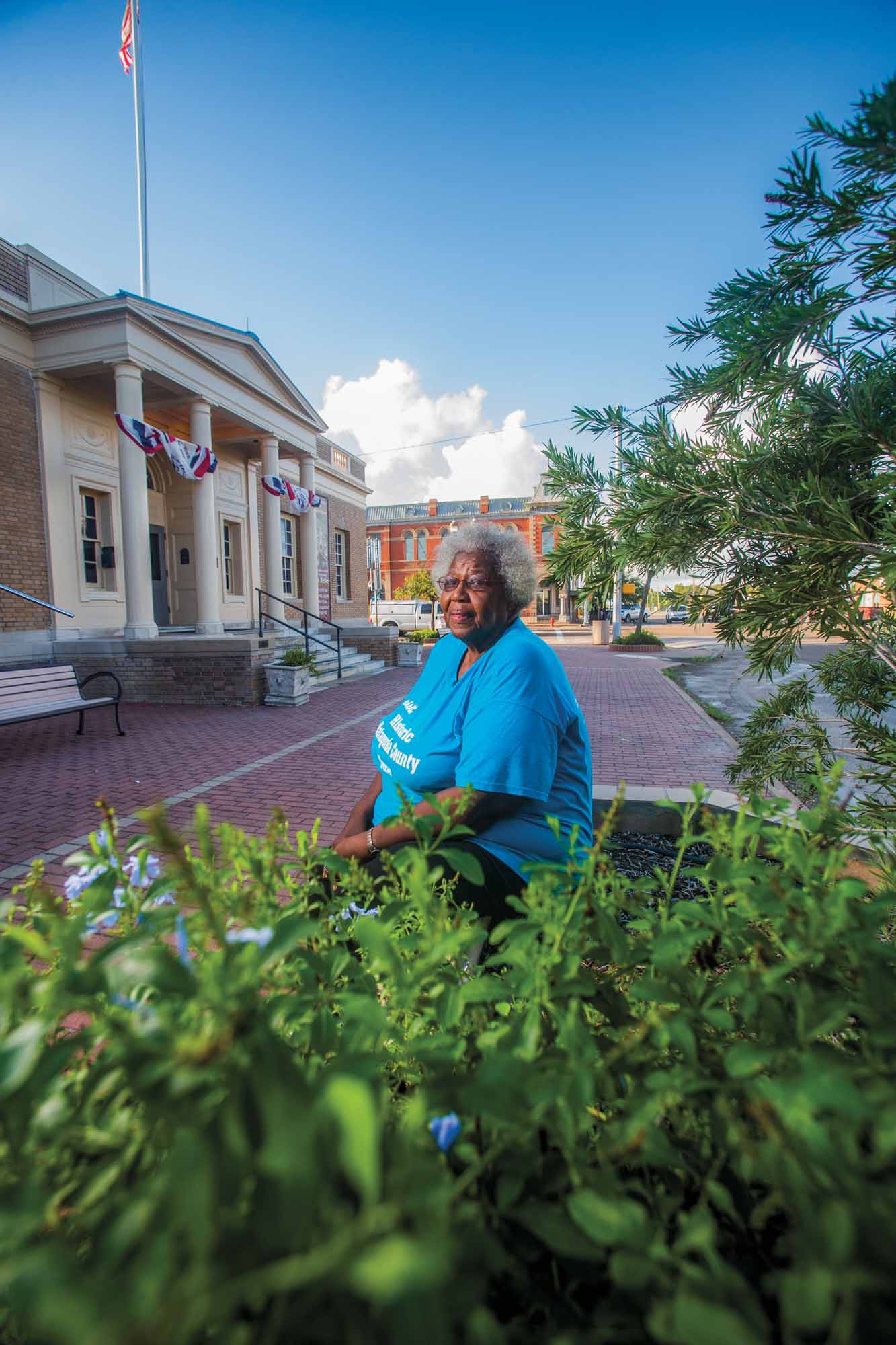 Bay City sprouted from the fertile bottomlands that stretch between the Colorado River and Caney Creek, just 20 miles inland from the Gulf of Mexico. Taking the town's name from the surrounding Bay Prairie, real estate speculators built Bay City in the 1890s, and by 1914, the region had become the United States' largest producer of rice. To this day, the county is known for rice, as well as sorghum, cotton, corn, and turf grass. Bay City native Jerrilyn O'Neal Capers counts farmers among the ancestors of her family, which has been in the area for five generations. Capers spent 39 years working for the local school district, and in 2011 she joined the Matagorda County Historical Commission. Earlier this year, Capers helped dedicate a historical marker for the Palacios Colored School, a precursor of the African American school she attended in Bay City as a girl.
Rice Royalty
"Back in the day, the Lions Club held a big Rice Festival. There were rides and food, but the parade was the main thing. It would go around the square; there were grand marshals and a Rice King and Queen. It's a smaller event now, but we still have a Rice Queen. Cotton was also big around here. In the summers, I'd rather pick cotton than help my momma around the house. I picked cotton from the time I was nine to about ninth grade. I heard they grew sugar cane along Caney Creek. My dad would plant sugar cane in the backyard. [Biting into the cane] was like liquid sugar."
The Matagorda County Museum

Located on the courthouse square, the Matagorda County Museum occupies a 1918 post office building and chronicles local history, including the story of 17th-century French explorer Sieur de La Salle and the 1997 excavation of his wrecked ship, La Belle, in nearby Matagorda Bay.
Sweet Treats
"On a corner of the main square there's the Burlap Sack, a clothing store. On the other side of the square is Wild Bill's Western Wear and Nana's House of Treats, which is a candy store. I send my grandkids to Nana's. I don't go there because I'd spend more money than I want to spend. The old Franklin Theater is now a home-goods store."
Architectural Interest
"At Christmastime, the city lights up all the old buildings downtown with strings of lights that outline the shapes of the facades. In the historic district just south of downtown, there are many other buildings with older architecture— some of them are doctor's offices or private homes, and some even have historical markers. There's an old train depot there that the city rents out for private and community events."
Local Eats
"I like pretty much everything at A & A Bar-B-Que, especially the ribs. There are also some good Mexican restaurants, like El Zarape and Esperanza's, and a coffee shop, Mainstreet Coffee & Wine Bar."
Fish and Fowl
"The Matagorda County Birding Nature Center has different educational displays on the Colorado River. I used to take special-needs kids from the school there to go fishing. During the migration season in the winter, people come to count the birds during the Christmas Bird Count. Right next to it is Le Tulle Park. I go out there every day to feed the ducks."
Nearest City
Houston
80 miles northeast
From the December 2019 issue