Story by Matt Joyce // Photography by Jeff Wilson
Texas' Historic County Courthouses
shine with grandiosity and ambition. Often politically controversial because of their expense, courthouse projects in the 19th and early 20th centuries lasted years as counties selected architects and builders, quarried and imported materials, then painstakingly assembled the larger-than-life landmarks in the middle of town. It's not hard to imagine a farmer stopping by a courthouse construction site to take in the scene, scratching his head at the columns, parapets, and towers rising from the prairie.
Sharon Fleming, director of the Texas Historical Commission's Texas Historic Courthouse Preservation Program, notes the courthouse was often a community's first architect-designed building. And counties placed them in the most prominent locations possible. "In large part, the county courthouse gives each county its own unique identity," Fleming says. "It was intended to be literally a landmark, a destination for the rancher needing to register his brand or for the couple recently deciding to be married by the justice of the peace. So those clock towers are not superfluous." With Texas county courthouses averaging 112 years of age, most need some TLC to retain or restore their historic appearance while getting updates for safety, function, and energy efficiency. "These buildings are extremely durable and well-constructed, and can last indefinitely with proper maintenance and repairs," Fleming says.
As these courthouses enter their second centuries as elegant symbols of our communities, we value more than ever the living, breathing link they provide to our shared past. Here we spotlight 10 of our favorite historic courthouses representing various architectural styles and regions of the state.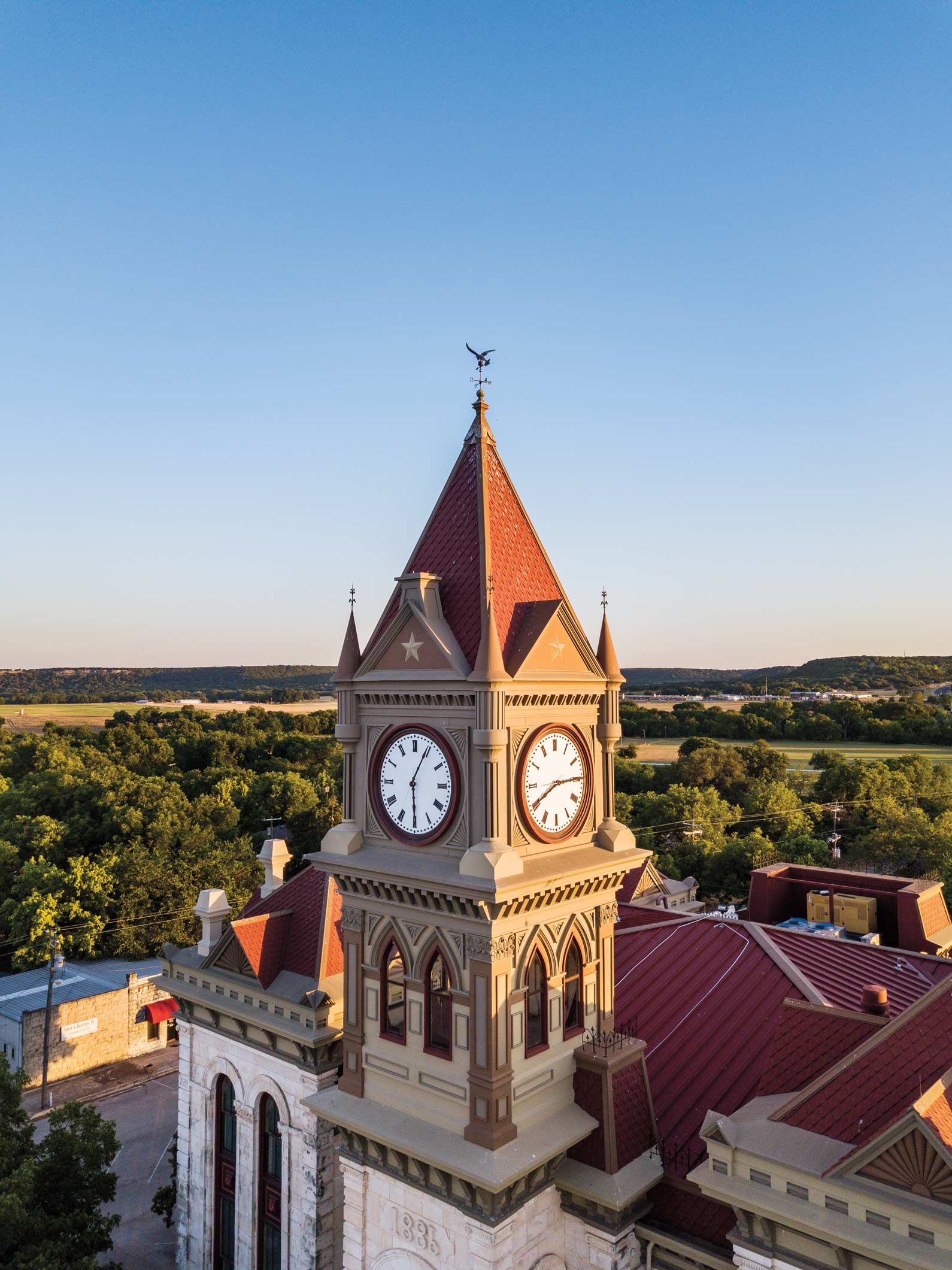 Bosque County Courthouse
Meridian, 1886
Built with locally quarried limestone, the Bosque County Courthouse opened in 1886 with an off-center clock tower, corner turret roofs, and the latest in fireproof technology (one of its predecessors had burned). A 1934 alteration by the Works Progress Administration removed the decorative roofing and gave the building a more modern look until a 2007 Texas Historical Commission project restored the original design with reconstructed turrets and clock tower.
Potter County courthouse
amarillo, 1932
When Potter County built its courthouse in 1932, the designers found inspiration not in Amarillo's ranching heritage but in the contemporary appeal of Route 66 and the open road. A three-year restoration project ending in 2012 refreshed the building's terra-cotta façade and bas-relief depiction of regional history, preserving what the Texas Historical Commission calls one of Texas' best examples of art deco design.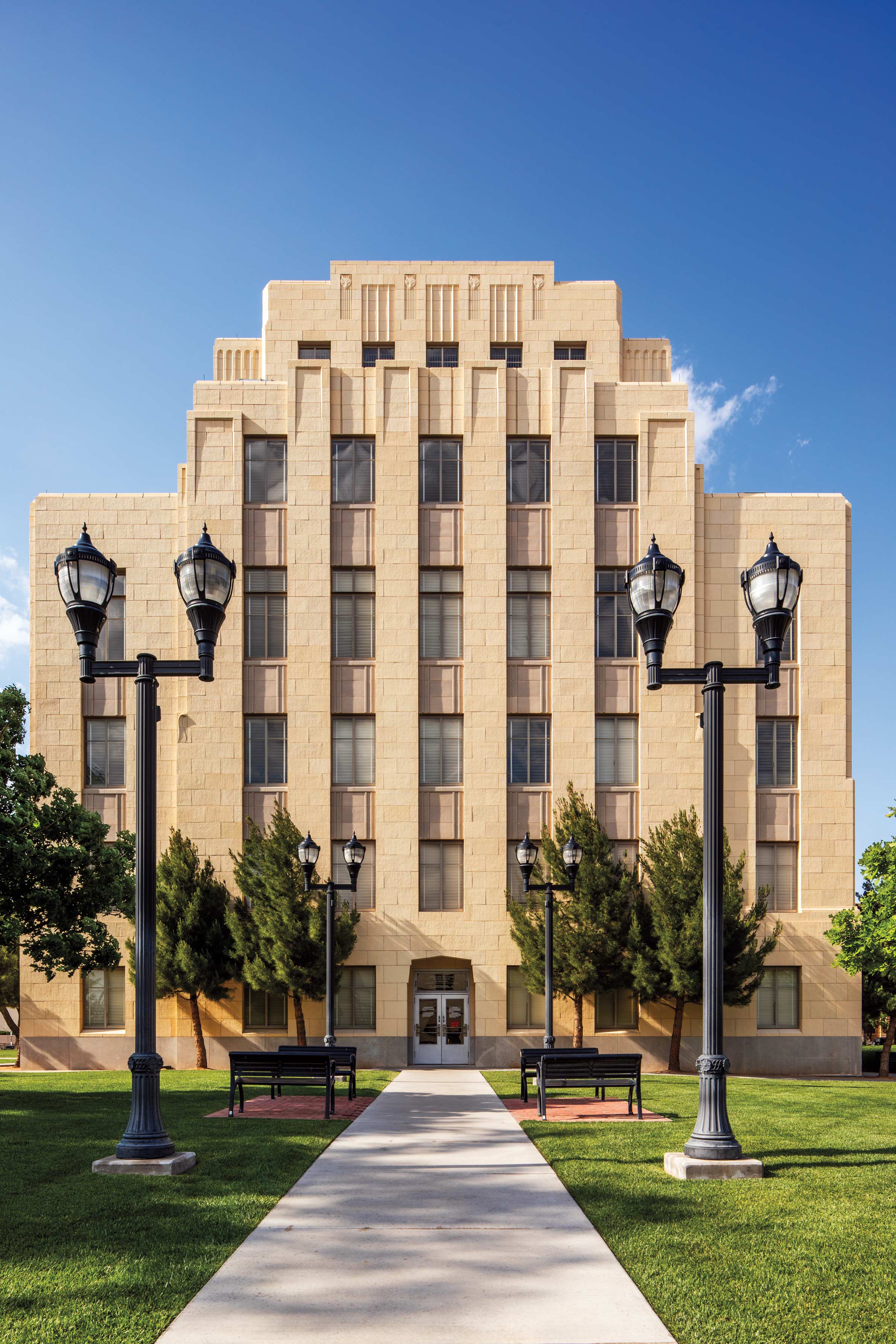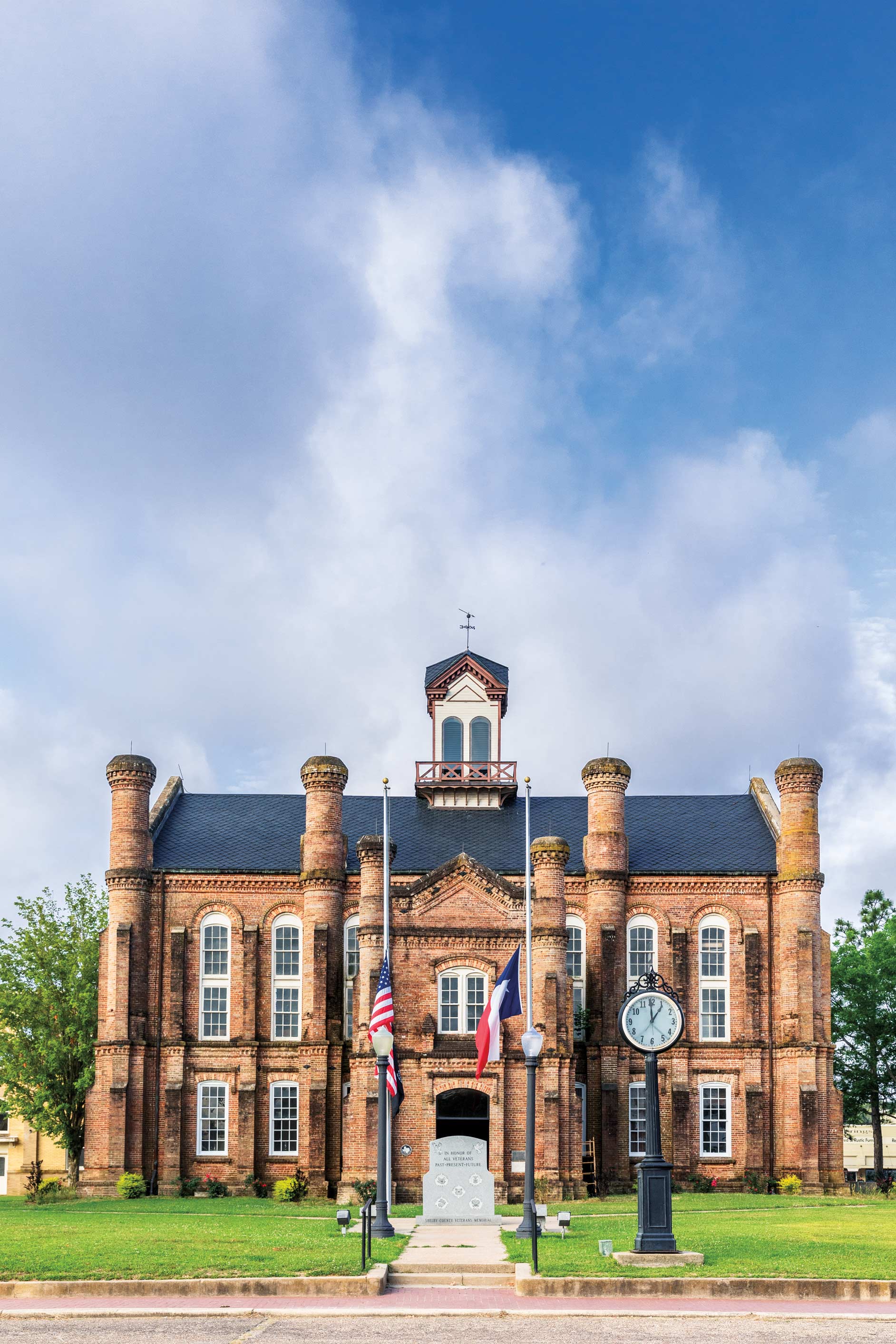 Shelby County Courthouse
Center, 1885
The petite Shelby County Courthouse resembles something from an Old World fairy tale, a look attributed to Irish builder John Joseph Emmett Gibson, who was inspired by the castles of his homeland. Local history holds that in 1866, boosters of Center held an unpublicized election to move the county seat to their town from nearby Shelbyville, then absconded with the county records under cover of darkness.
Navarro County courthouse
corsicana, 1905

Navarro County outgrew four courthouses (or lost them to fires) before the county built its fifth and current courthouse in Corsicana. Architect J.E. Flanders of Dallas designed the structure in the Beaux Arts style with a façade of Burnet red granite and buff brick with terra-cotta detailing, as well as a clock dome and copper Lady Justice. The county and city take their name from José Antonio Navarro, a signer of the Texas Declaration of Independence whose father was born in Corsica.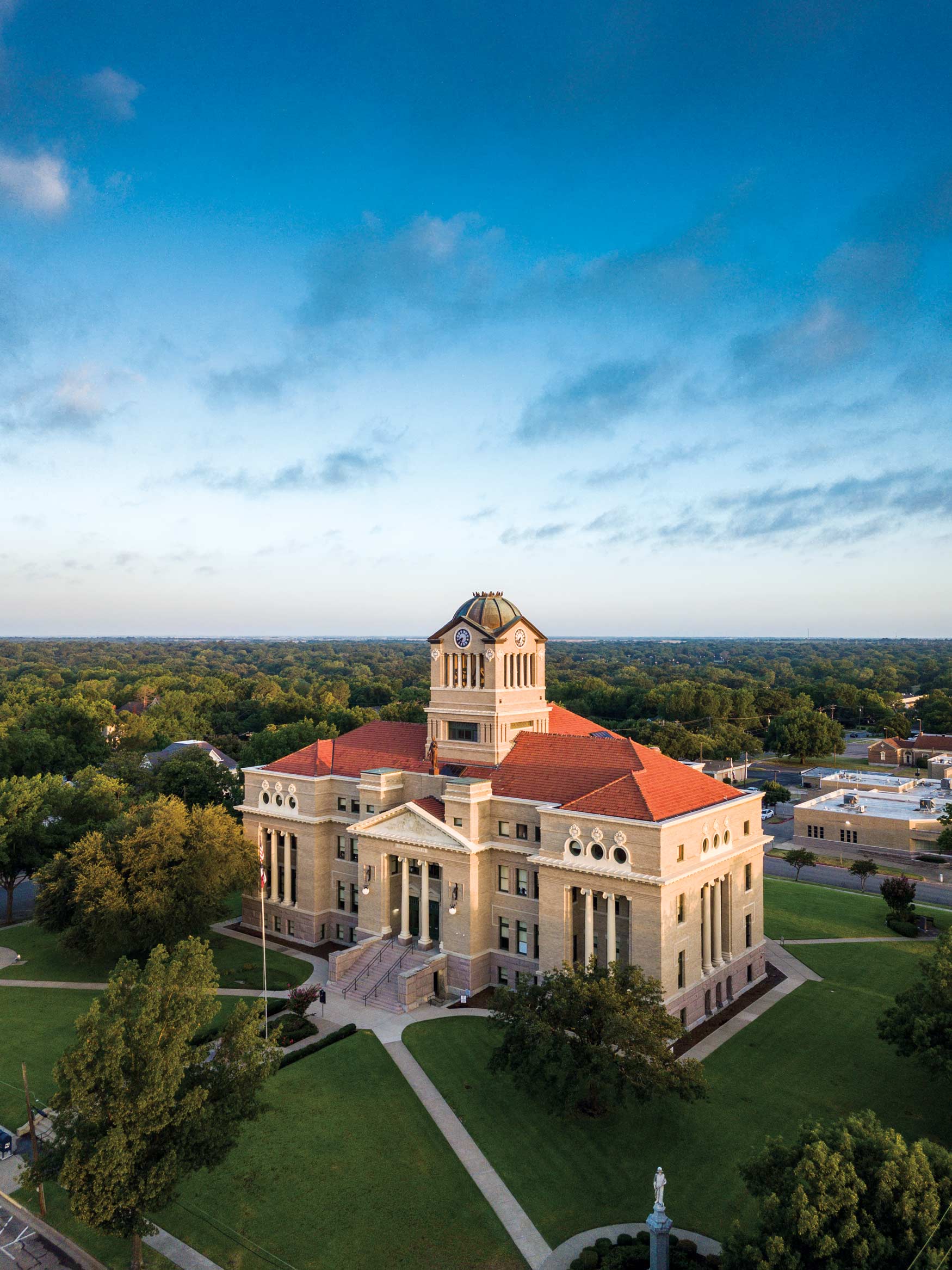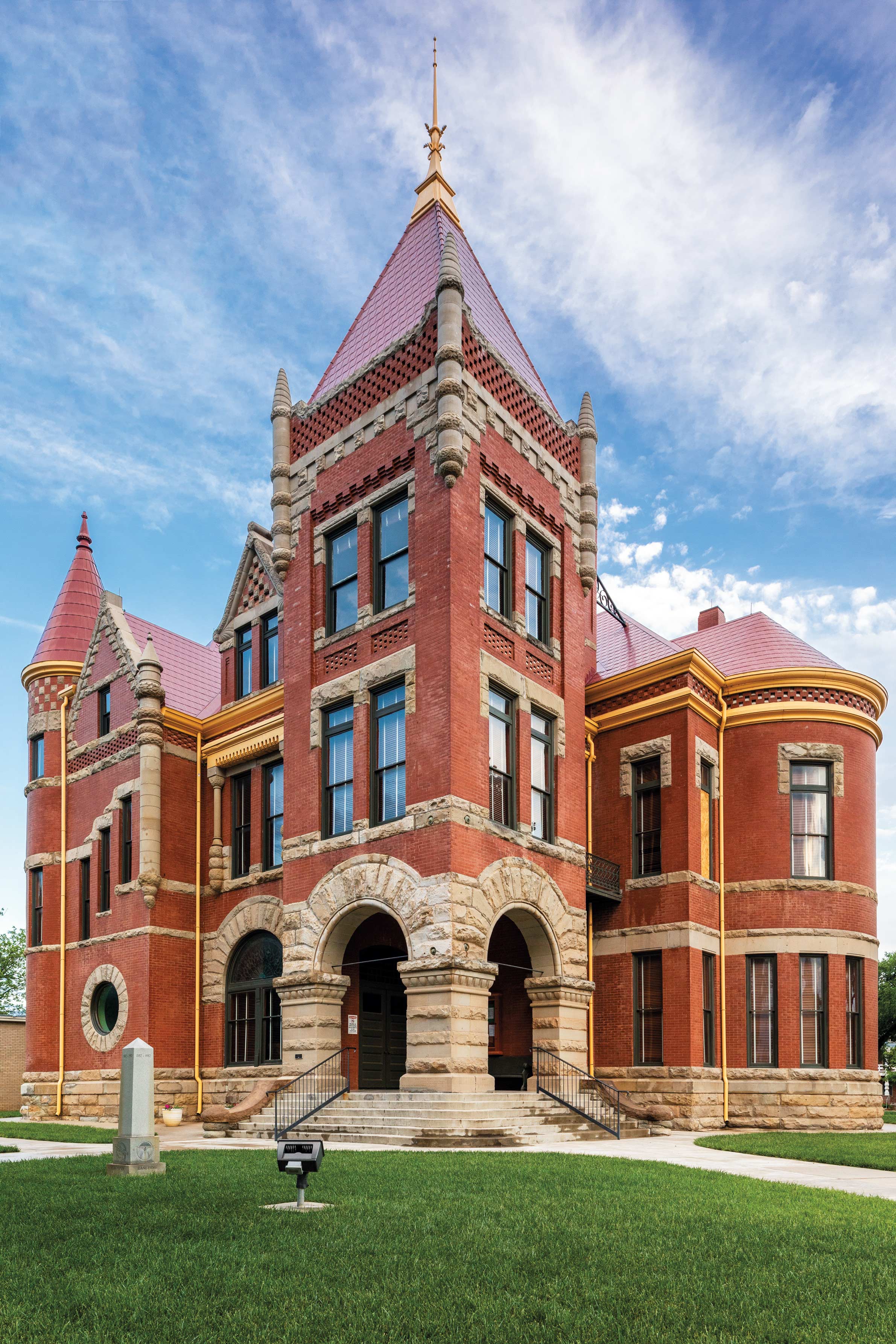 Donley County Courthouse
Clarendon, 1891
In the late 19th century, cowboys branded the Donley County seat of Clarendon with the nickname "Saints' Roost" because of its Methodist prohibition policies. No doubt a few such rowdies found their way into the Romanesque Revival-style Donley County Courthouse, which was built of red brick and limestone in 1891. The Panhandle's oldest functional courthouse, it boasts a distinctive asymmetrical design—no two sides of the building are the same.
Cass County courthouse
linden, 1861

Judges, lawyers, and everyday citizens of Cass County have been coming and going from the Cass County Courthouse since it opened for business 157 years ago. Construction of the brick Classical Revival building started in 1859, and the first commissioners' court meeting was held there in 1861, making the courthouse on Linden's downtown square the only one in Texas to be in continuous operation since before the Civil War. A 1933 fire prompted the county to refinish the exterior in the yellowish stucco seen today.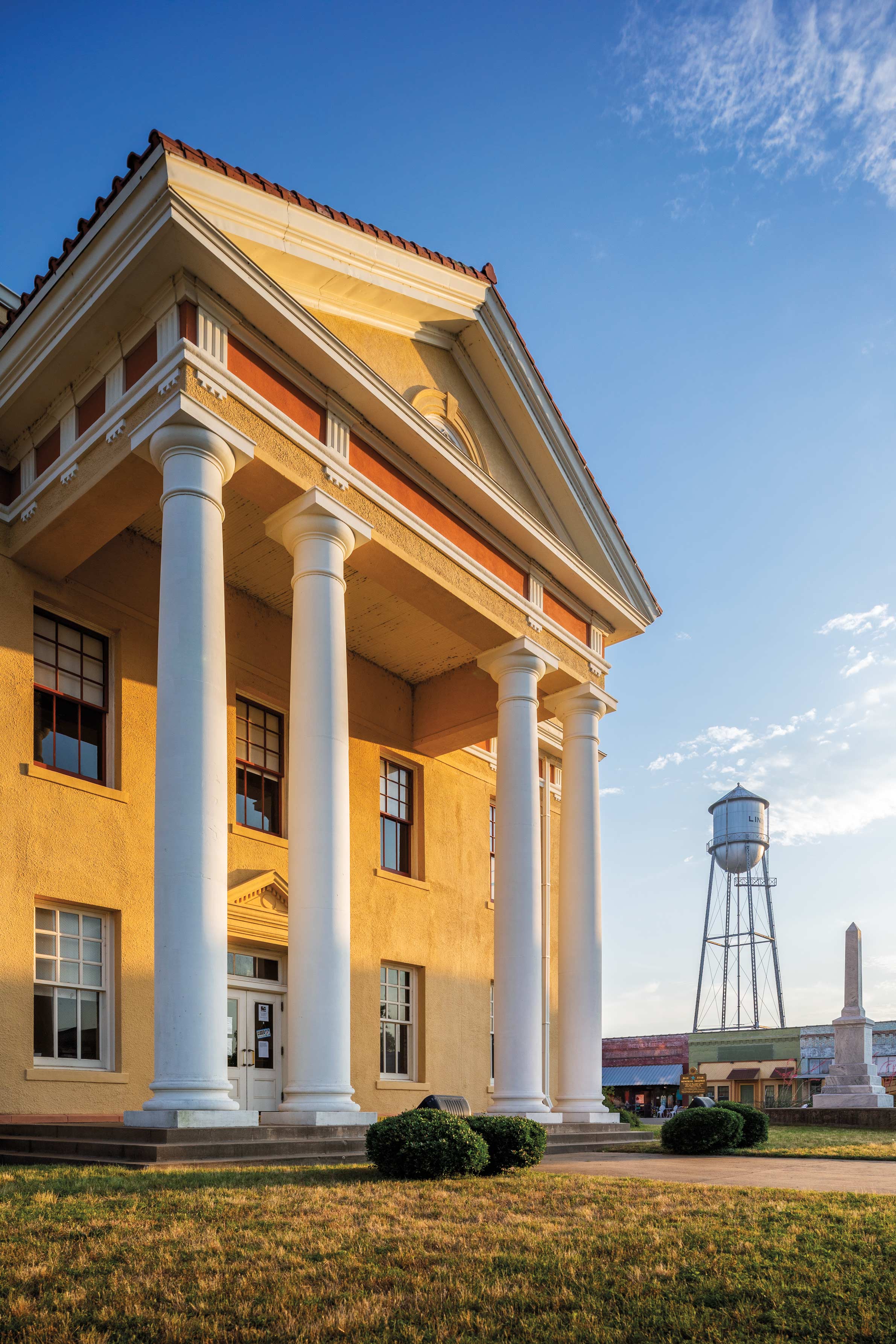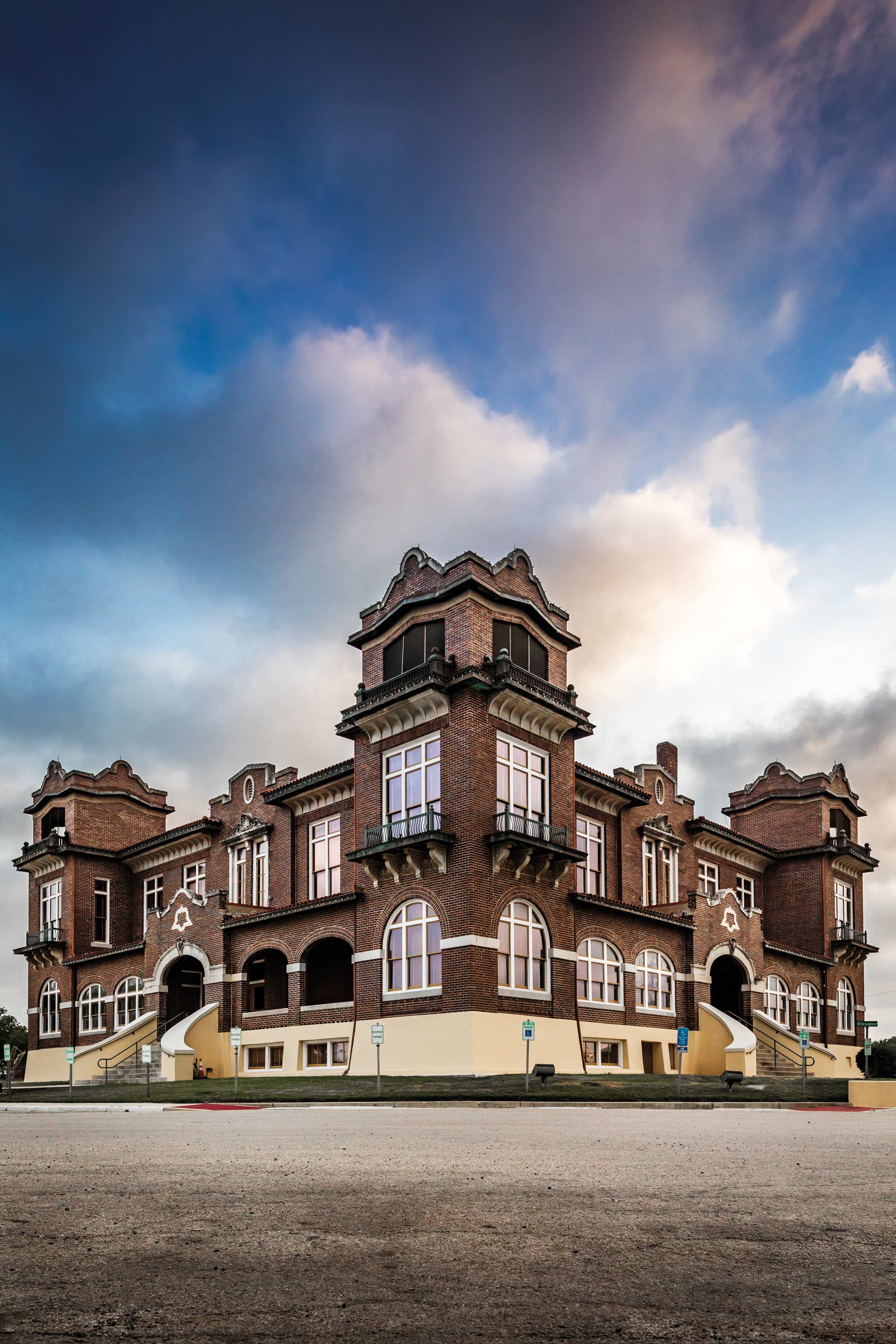 Atascosa County Courthouse
Jourdanton, 1913
Only one Mission Revival-style courthouse stands in Texas, and you'll find it about 40 miles south of San Antonio in Jourdanton. Located on a circular lot (unique among Texas courthouses), the Atascosa County Courthouse's red-brown brick façade, shaped parapets, arched openings, and pyramidal tile roofs with broad overhangs give the building an imposing presence on the vast plains of the South Texas Brush Country.
Six of these courthouses—in Cass, Atascosa, Navarro, Potter, Donley, and Bosque counties—were restored with help from the Texas Historic Courthouse Preservation Program. Since its launch in 1999, the Texas Historical Commission program has granted more than $290 million to 67 courthouse restoration projects.
Bell County courthouse
belton, 1884
Coinciding with the aftermath of the Chisholm Trail era and opening of Belton's railroad heyday, Bell County built its Renaissance Revival-style courthouse in 1884 with a 125-foot high central tower capped by the Goddess of Justice. Austin architect Jasper Preston designed the building; a few years before, he designed the renowned Driskill Hotel in downtown Austin. Renovations in the 1930s and 1950s removed the courthouse's distinctive roof embellishments, but the county restored them in 1999.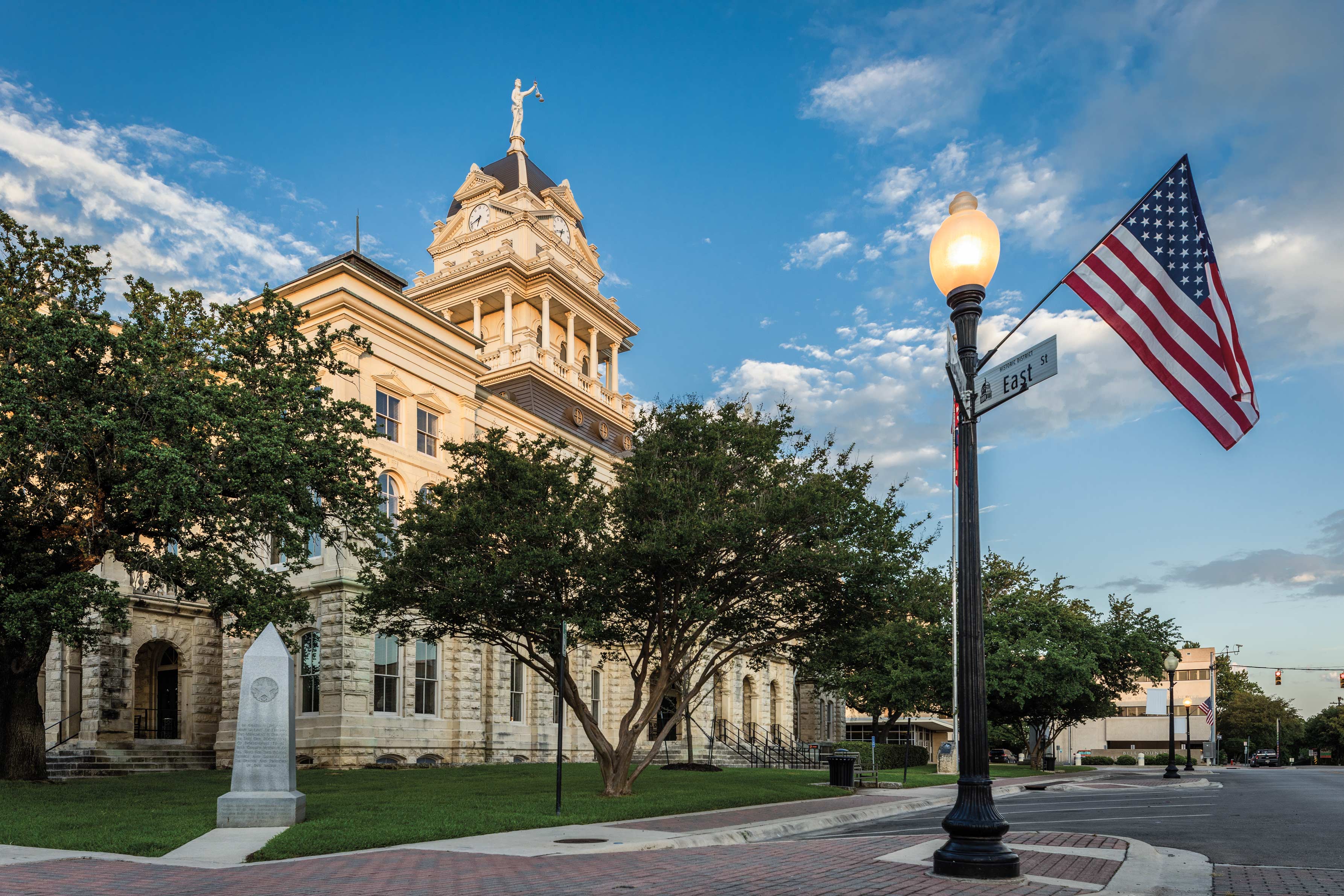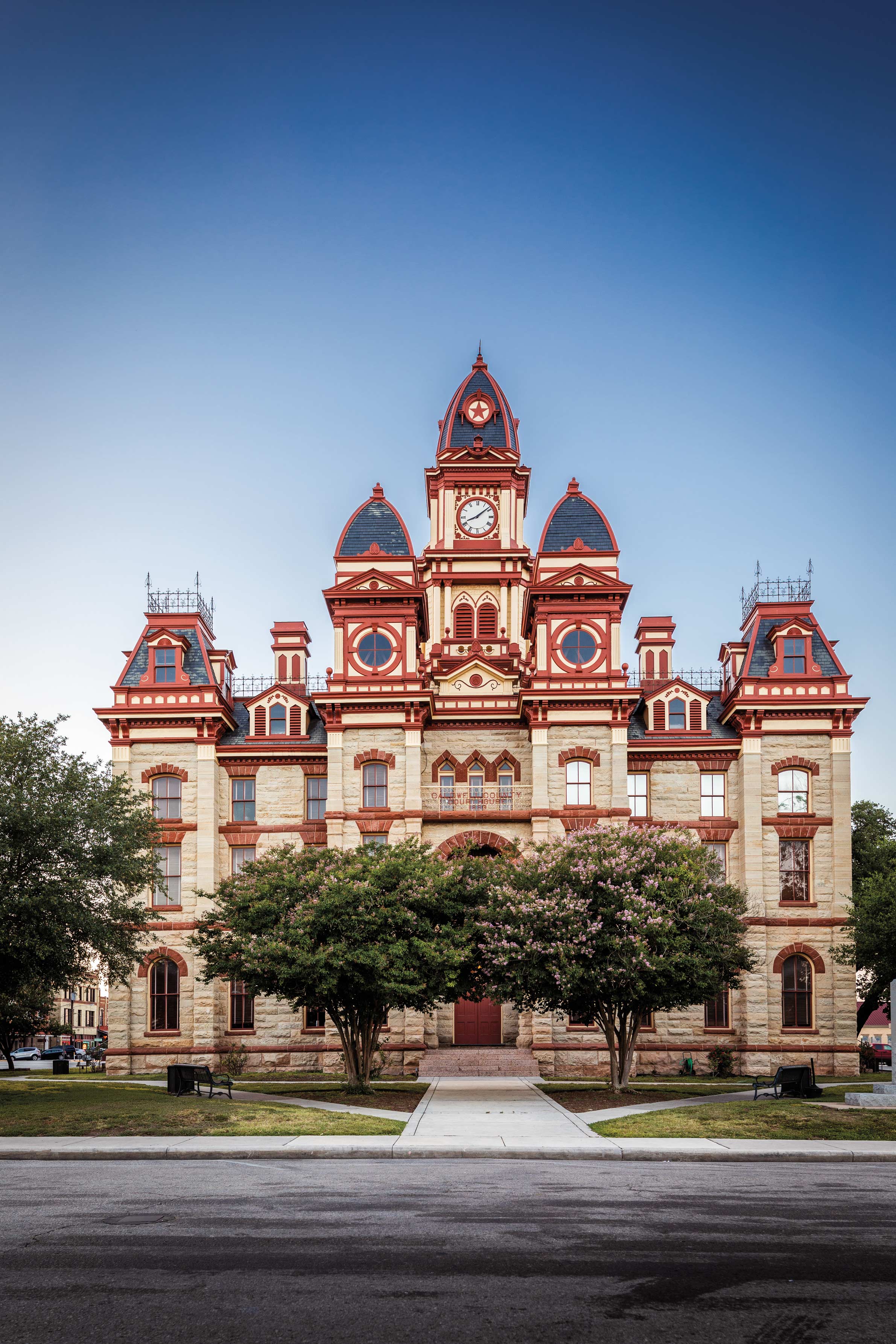 Caldwell County Courthouse
lockhart, 1894
Built for about $60,000, the Caldwell County Courthouse opened in 1894 with the latest in amenities, including electricity and four water closets. But the striking exterior of the three-story, Second Empire-style courthouse is what has continued to turn heads on Lockhart's town square for more than a century. The building retains its limestone and sandstone exterior, a black slate mansard roof, and a central tower with a four-way clock and 900-pound bell.

Tom Green County courthouse
San Angelo, 1928
Built during an oil boom, the Classical Revival-style Tom Green County Courthouse has the look of a federal monument with its flat roof, huge front doors, and rows of 17 Corinthian columns on two sides of the building. In 1928—the same year the courthouse opened—its architect, Anton Korn, designed the 14-story San Angelo Hilton, one of Conrad Hilton's first hotels, later renamed the Hotel Cactus.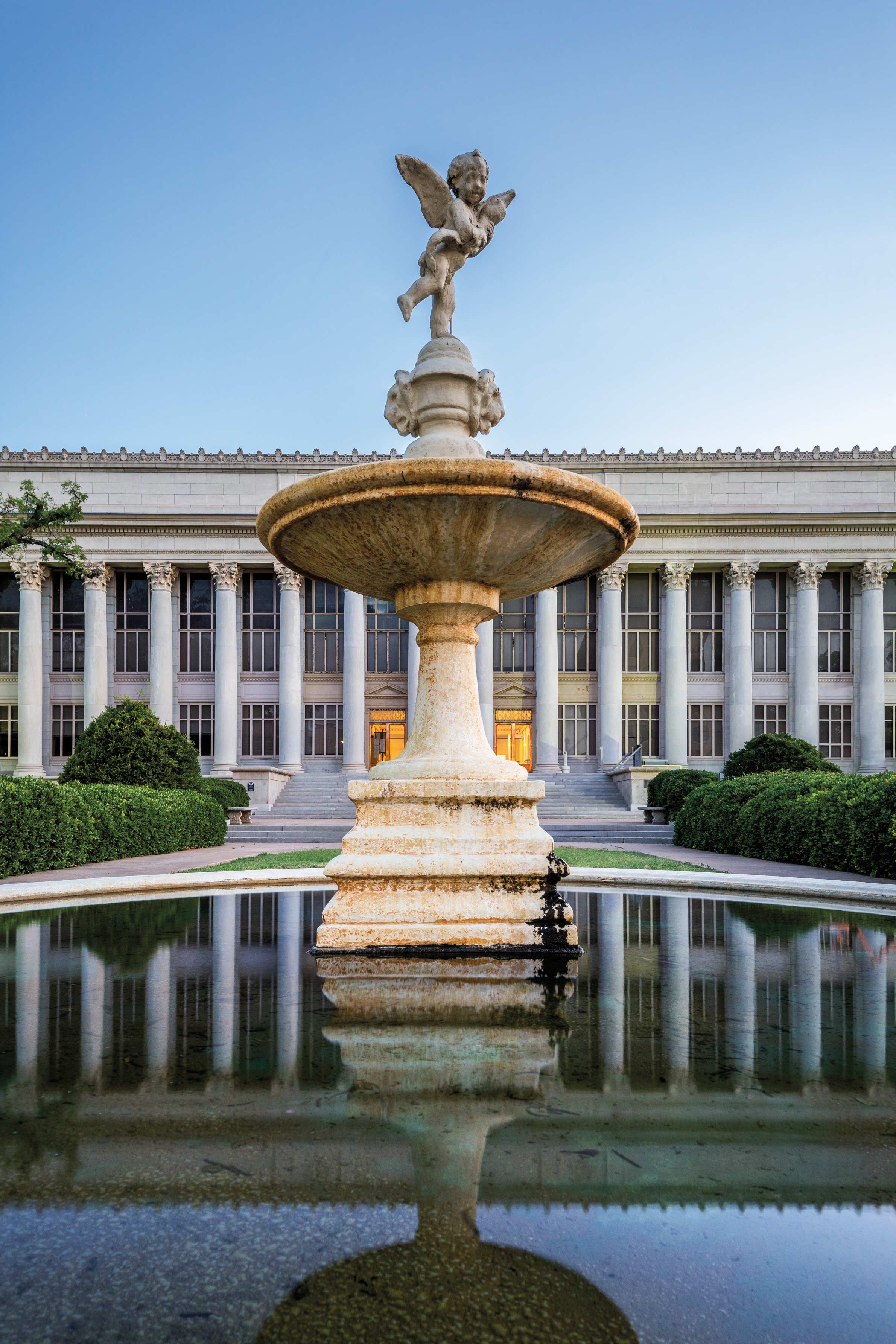 From the September 2018 issue