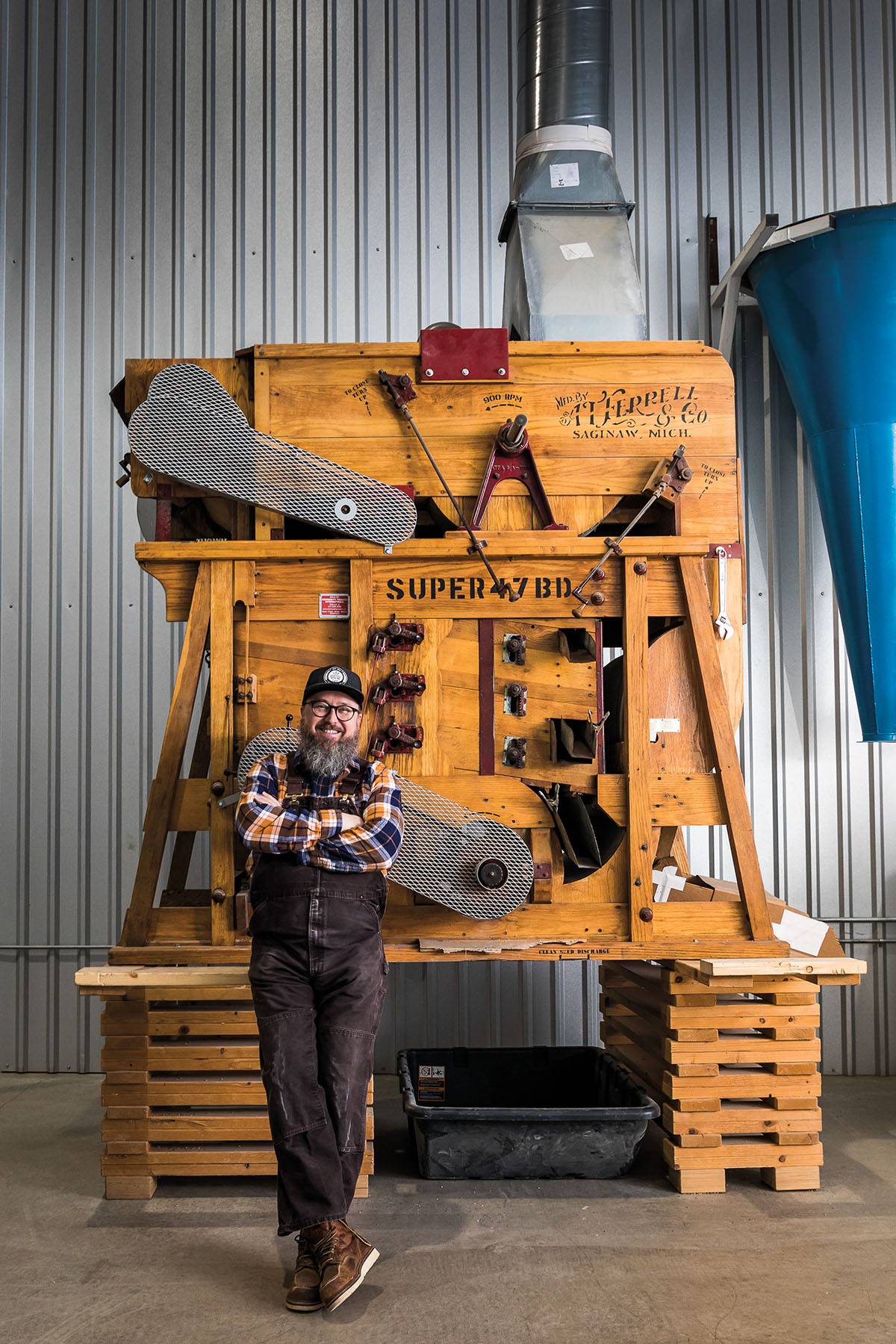 Set among the restaurants, breweries, and wedding venues of Dripping Springs is an old-fashioned yet newfangled grain mill. Owner James Brown named it Barton Springs Mill to honor two 19th-century mills powered by the waters of Austin's renowned Barton Springs. Although those historic mills are long gone, their legacy lives on with BSM's heritage grains, which are grown in Texas and milled in the Hill Country.
Brown, a Houston-area native whose family owned a farm in Madisonville, began baking bread in 2016 and soon became obsessed with the art and science of it. Even though he might have terrific techniques, ideal equipment, the purest water, and the finest sourdough starter, he concluded that without excellent flour he could never make the best bread. "Flour is not flour is not flour," he says. "Giving a baker only commercial white flour to work with is like giving a painter a palette with only one color." There are hard wheats and soft wheats that vary in protein content. Different flours can have different textures, colors, and flavors—buttery, sweet, bitter, nutty.
Barton Springs Mill
16604 Fitzhugh Road, Unit B, Dripping Springs. The facility plans to reopen July 1, after closing to the public due to COVID-19. Flours are available to order online.
512-855-7507; bartonspringsmill.com
Seeking a wider variety of flours, Brown discovered sources across the U.S., but not in Texas. He found other bakers and chefs around the state who also desired fresh, flavorful, and organically grown grain products. He learned that, despite a long history of wheat farming in Texas, no one was growing landrace and heirloom grains because commercial demand—dwindling since the 1930s—had essentially disappeared. (Landrace grains are domesticated, locally adapted, and traditional; heirloom generally refers to open-pollinated, pre-1930s seeds.)
A less determined person might balk at these obstacles, but Brown, ready for a career change, jumped right in.
Before becoming a miller, Brown was a professional conductor and musician, specializing in early music, like medieval, Renaissance, and early baroque. He plays viola da gamba, piano, pipe organ, and more recently, banjo, guitar, and mandolin. He performed around the country and was pursuing a PhD in historical musicology at City University of New York when 9/11 changed his plans. He returned to Texas to continue his music career, serving as music director for Austin's First Presbyterian Church and managing the St. Cecilia Music Series, which brought distinguished early-music virtuosos to Austin, for 16 years. Prior to his career in music, he earned a culinary degree from the Art Institute of Houston, but he eventually decided against that professional path. "I didn't have the right kind of creative imagination to be a chef," he explains.
Ultimately, Brown returned to food. When starting Barton Springs Mill, he worked with millers around the country to learn the ropes, including Glenn Roberts of the famed Anson Mills in South Carolina. He even sold some musical instruments to finance purchasing a stone mill. He extensively researched and collected seed stock from Canada and the western U.S. and began partnerships with Texas farmers to grow the different varieties. He loans them seed and buys their harvests. Brown has rotating partnerships with 11 growers, a vast majority of which are in Texas. "I want to take as much responsibility as possible off the farmers," he says. "They bring grain straight from the fields; we do the rest."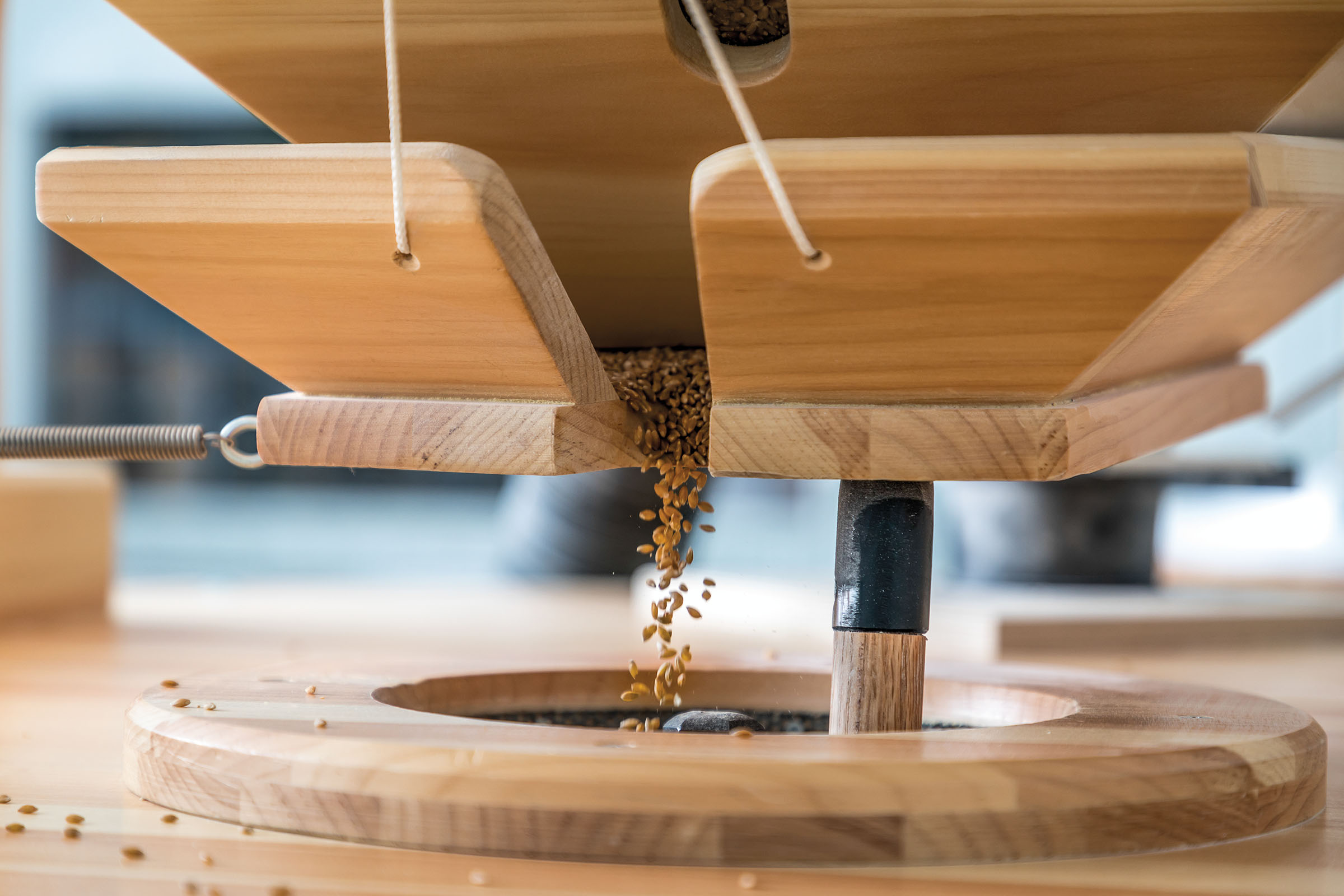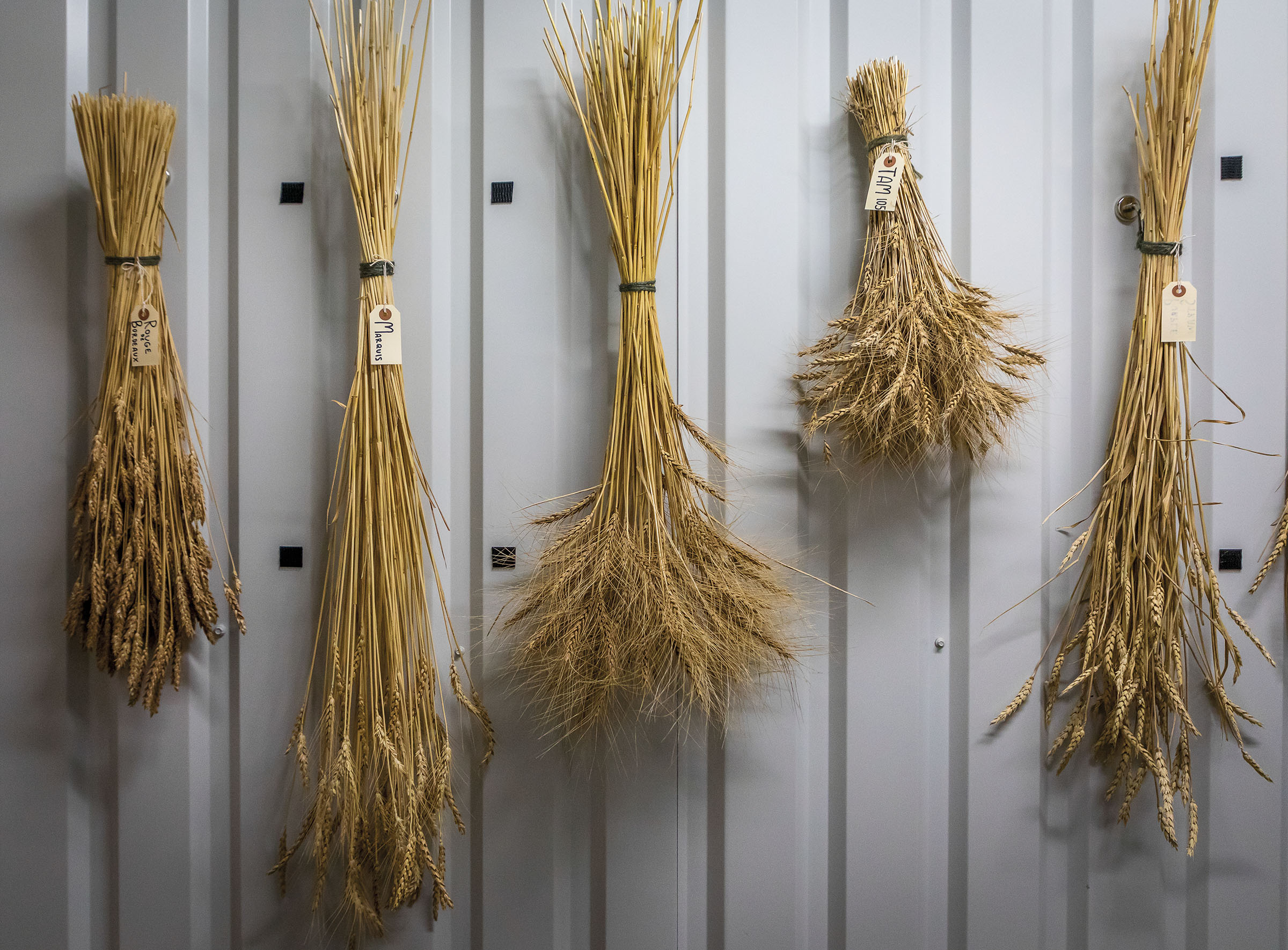 Even without assurance that his vision was a viable business venture, Brown's bold moves paid off. Barton Springs Mill opened in 2017 and continues to thrive. The 20 grains—selected for their flavors and colors, and milled into a variety of textures—provide feasts for the eyes, imagination, and taste buds. Among them are the fancifully named Rouge de Bordeaux and Turkey Red wheats, golden Oberkülmer spelt, Mancan buckwheat, Hopi Blue, Bloody Butcher Red, and Oaxacan Green corn. Rouge de Bordeaux is recommended for breads, cookies, muffins, and pancakes, while the Oaxacan Green corn is a great option for grits, polenta, and tortillas.
Ten employees work in the 18,500-square-foot building that houses two stone mills from Austria, a hammer mill, a seed cleaner, and a sifter. In addition to 370 restaurants and bakeries, Texas breweries and distilleries are customers as well, purchasing corn grist and malted grains from the company. The business also includes an education center for classes and workshops and an independent bakery.
"Giving a baker only commercial white flour to work with is like giving a painter a palette with only one color."
While working at Dai Due restaurant in Austin, baker Abby Love fell hard for the mill's flours, and she adapted her recipes to feature them. Today, she is the proprietor of Abby Jane Bakeshop, which opened in January at the mill. She produces artisan breads, pizzas, and pastries using only BSM flours. A large window between the bakery and the milling room allows customers to view the process while enjoying the baked results.
Stephanie McClenny of Confituras Little Kitchen, an Austin biscuit-and-jam shop, uses a custom blend of BSM Sonora and Marquis flours and all-purpose flour. "It all comes together for the perfect biscuit—the texture, flavor, and style of biscuit stand up to butter and jam as well as sausage and gravy," McClenny says.
Brown isn't looking to create an empire—he wants to maintain a sustainable business that supports Texas farmers and fulfills demand from Texas consumers. "I've let the enterprise guide me where it needs to go, but I want to keep things as slow as I can without turning customers away," he says. "Every order delivered outside the state contains information about similar mills in that customer's region. I've got all the business I need in Texas, and I want people to support their local millers."
Brown sees a continuum from his musical life to his current role as miller. He explains that striving for perfection is a goal in both arenas, as is constructive communication. The coordinating skills needed to conduct a musical ensemble aren't so different from those required to lead a multifaceted business that encompasses interactions with growers, millers, bakers, brewers, distillers, and home cooks. "You work with people who have different talents, and we are all a part of a larger creative enterprise," he says.
Brown draws another connection between music and flour. These days, he plays banjo, mandolin, and guitar for recreation, and he thinks about the early 20th-century musicians who were sponsored by Texas flour mills to advertise their products on the radio. "Bob Wills and the Light Crust Doughboys? Pappy O'Daniel's Flour Hour?" he says. "I feel like I might be channeling some of that."
From the May 2021 issue