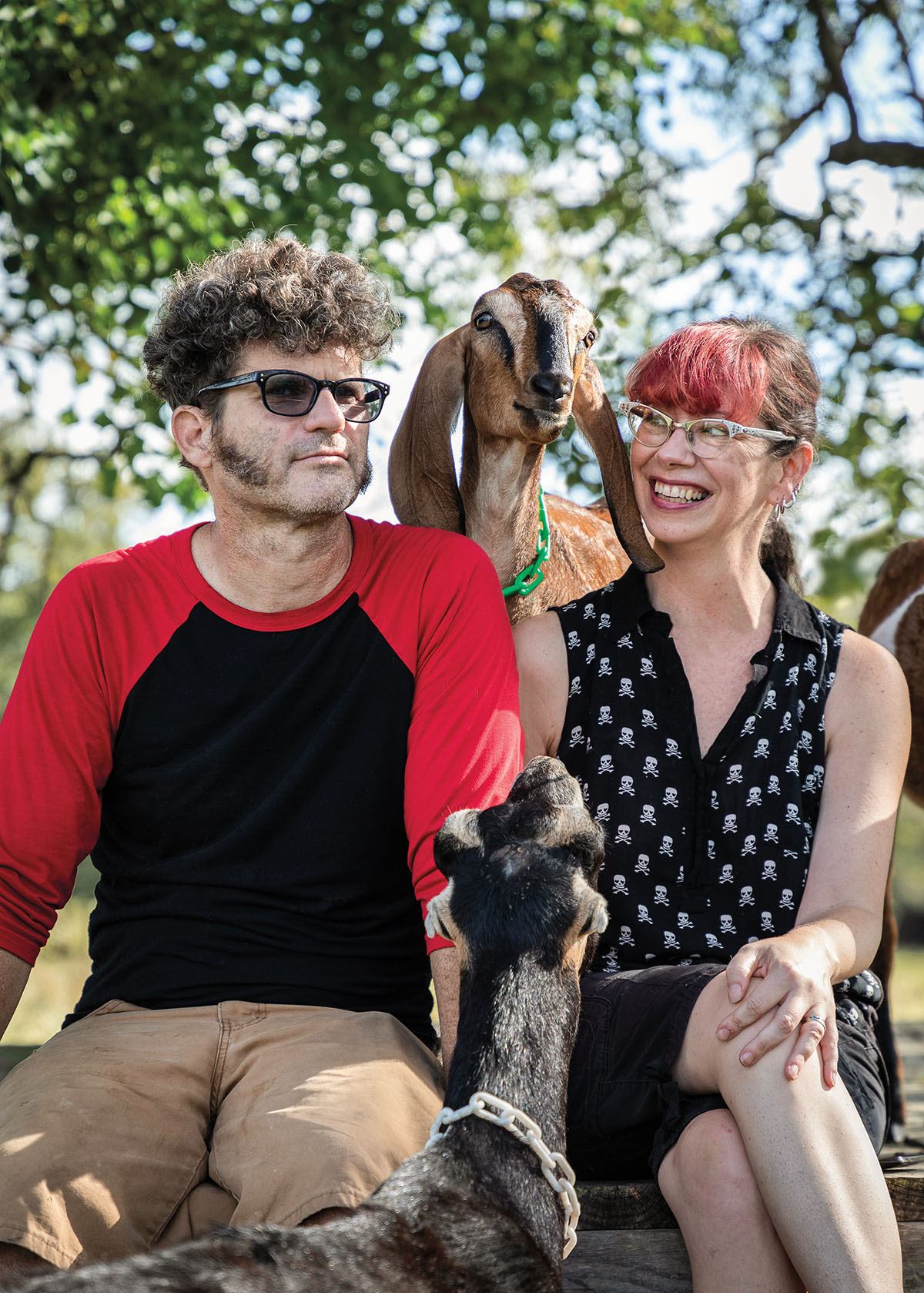 The GPS on my phone tells me to turn off US 290 at the Buc-ee's in Waller. It leads me down Farm-to-Market Road 1488, then down a paved street that's not much smoother than a dirt road. I worry I'm lost out here, in this patch of country about 50 miles northwest of Houston. My worry dissipates when I see a slogan printed on a thin sheet of metal: "SPOILED GOATS. FRESH CHEESE." I've reached my destination.
Blue Heron Farm
Cheese-making classes and farm tours are held on occasional Sunday mornings in the fall and spring. blueherontexas.com
In front of the sign, Lisa Seger, co-founder and co-owner of Blue Heron Farm, gathers the day's tour group. Before we begin, we meet a few animals from the farm's menagerie: two dogs, one of whom is named Octopus Moonshine, or Moony for short. She tells us we'll also meet three geese (all named Karen because, as Lisa says, "they all want to speak to the manager"), at least two cats, two guard donkeys, and, of course, the 37 or so goats that produce the array of dairy products the farm is known for.
"If you are only here to hug goats and take selfies with goats, that is understandable," Lisa says.
Lisa and her husband, Christian Seger, have been raising goats in the small community of Field Store since 2006. Christian had been working as a sound engineer for touring music acts and was growing tired of being on the road. He began joking about settling down on a plot of land with a herd of goats. Though neither of them had any farming experience—both are self-proclaimed city kids—they'd been swept up in the idea of starting a sustainable farm ever since reading Michael Pollan's The Omnivore's Dilemma in the early 2000s. As Lisa tells it, Christian's jokes eventually "stopped being funny, and started sounding good." The couple purchased 10.5 acres, and Lisa quit her marketing job shortly after.
Lisa searched the internet to learn how to run a dairy goat operation. She figured out how to produce various flavors of creamy chèvre, goat feta, goat-milk yogurt, and cajeta—a sweet, caramel-like sauce that begs to be dolloped atop some vanilla ice cream—from reading cookbooks and consulting a crew of local goat owners she refers to as her "goat club."
"The hardest part about making cheese, honestly, is milking the goats," Lisa says. The rest of the process is a matter of heat, bacteria, and separating the solid curds from the liquid whey, which goes to the farm's two pigs. During the productive spring and fall seasons, Lisa estimates she makes 50 to 60 pounds of chèvre a week.
Once everything is made and packaged, Lisa sells her products at Urban Harvest Farmers Market in Houston on Saturday mornings from 8 a.m. to noon. The cajeta, which doesn't have to stay refrigerated and travels a bit easier than the other products, can also be found at Dairymaids in Houston, Antonelli's Cheese Shop in Austin, or online through Blue Heron's website.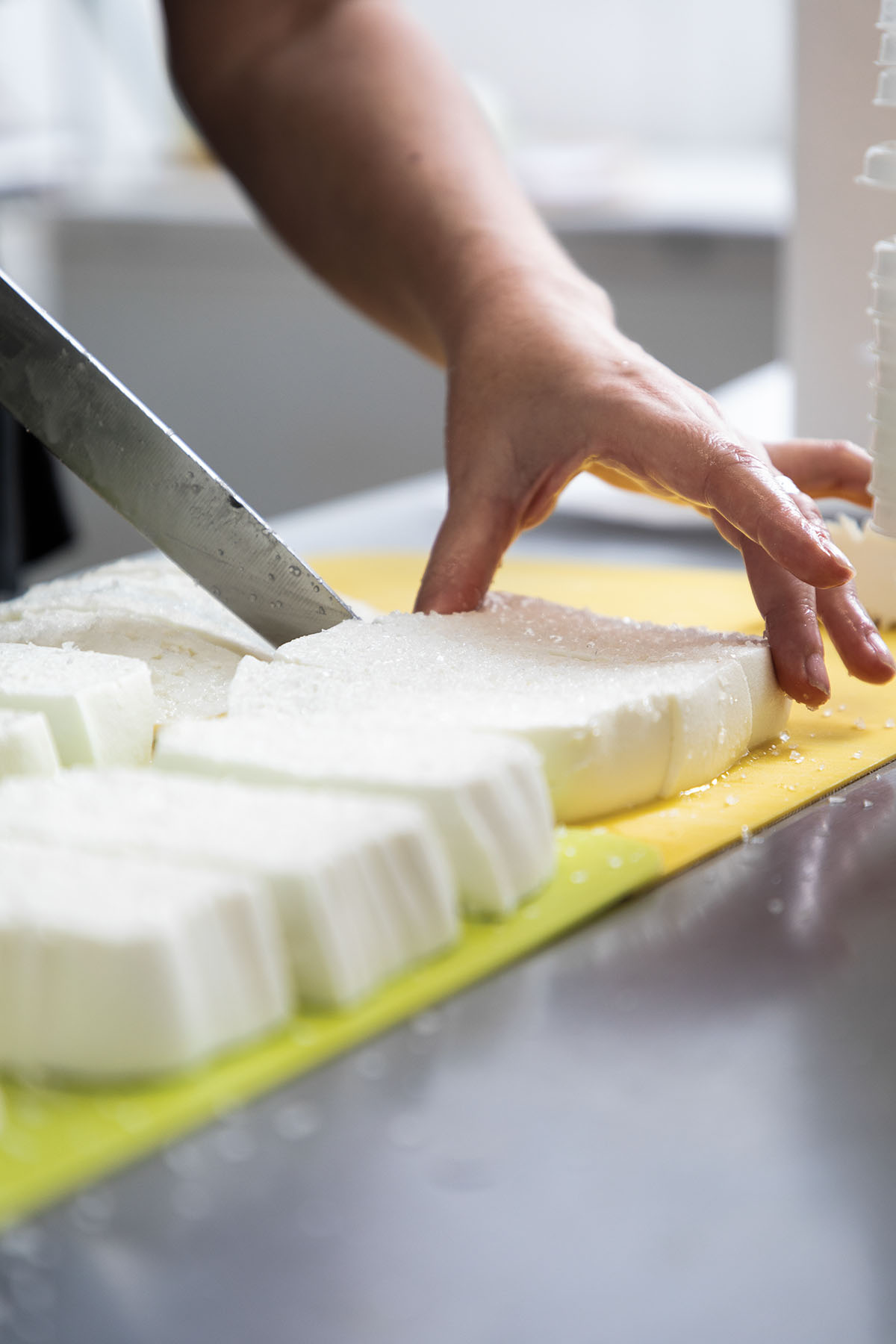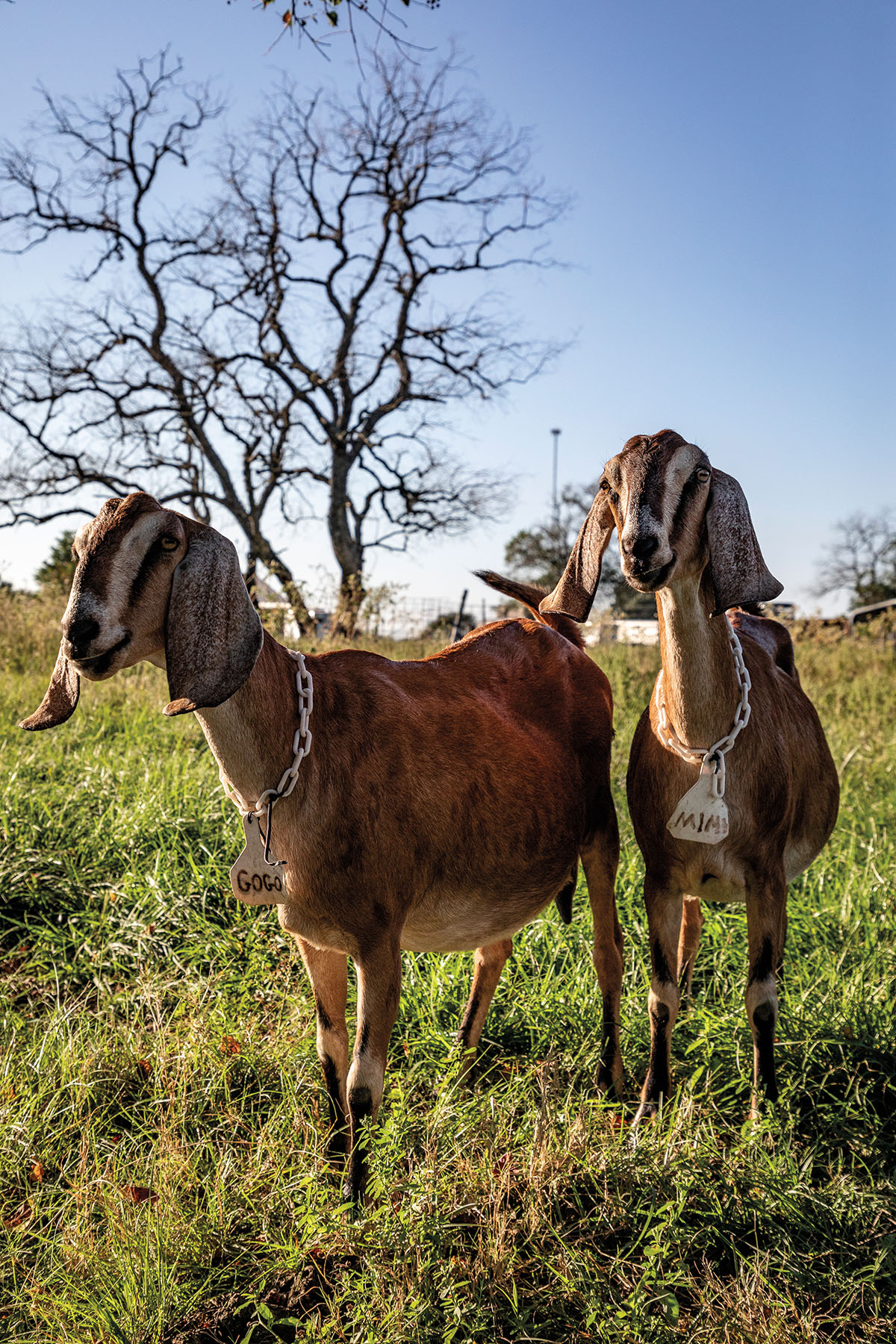 Part of what makes the farm's dairy products so good is how spoiled the goats are. For starters, the Segers bottle feed all of them when the're kids, which leads to the goats "really thinking of people as their family," Lisa says. They're given names like Yoda and Electra—one particularly rambunctious goat is named Rosemary's Baby. They're fed strictly non-GMO food, and they're milked twice per day.
For a dozen or so weekends during the year, Christian and Lisa welcome visitors—at $10 a pop—to their farm. The tours, offered on Sundays in the fall and spring, are two hours long. Guests meet the goats (and take selfies with them, if they wish), milk a goat (always Electra, who loves the attention), and sample some of the Segers' chèvre and cajeta.
Lisa describes the farm as "a working farm," meaning the animals all have distinct roles: Moony, for instance, is on coyote patrol, as are the guard donkeys, whose job it is to stampede around the field's perimeter if a coyote or stray dog threatens the goats. It also means the tour is subject to the chaotic whims of the farm's tenants. During my tour, three bucks—male goats—get into the shaded pen where the female goats are grazing. Christian eventually wrangles the spirited bucks back into their pen, though not until we've all witnessed at least a few unplanned trysts. Come spring, Lisa tells us, the tour groups will have the added privilege of holding baby goats.
Sandy Grimm, a Houstonian on the tour, has been visiting the farm at least a couple times per year ever since she found it on Facebook. Grimm has attended all the types of events the farm offers: the tour; fine dinners catered by Houston chefs; and Lisa's cheese-making classes, during which guests learn about the process, make goat ricotta, and eat their final products.
"I love animals, so it's a nice break from the city, just to be able to come and pet all their goats and their cats, and see the life they've made here," Grimm says.
Kevin and Becky Blalock, a young couple, are especially attentive during the tour. They attend because they're interested in starting a small goat operation of their own.
Becky first heard of Blue Heron after watching Lisa's 2013 TEDx Houston talk about ethical meat-eating and farming. "I said, 'These are my people,'" Becky recalls. "We wanted to learn about goats, and so that was why we came out here."
After spending about 20 minutes getting nuzzled and nibbled on by the goats, we make our way over to one of the farm's milking stands, where we all milk Electra. Afterward, Lisa brings us out to two long wooden tables where she has a selection of the farm's cheeses and cajeta laid out with crackers.
As we mill around the table, snacking on cheese and drizzling cajeta over our crackers, Lisa tells me she and Christian are introverts who like living 30 minutes from the nearest H-E-B. They'd prefer to be alone, rather than around a bunch of people. So why does she keep bringing groups of strangers to her farm?
"They remind us why we do this," Lisa says. "People are so happy to spend time with the animals, to spend time outside, and to eat good food. It's so rewarding to have someone enjoy it. It sounds weird and hokey, but it feels good sharing, making someone else happy."
From the January 2022 issue