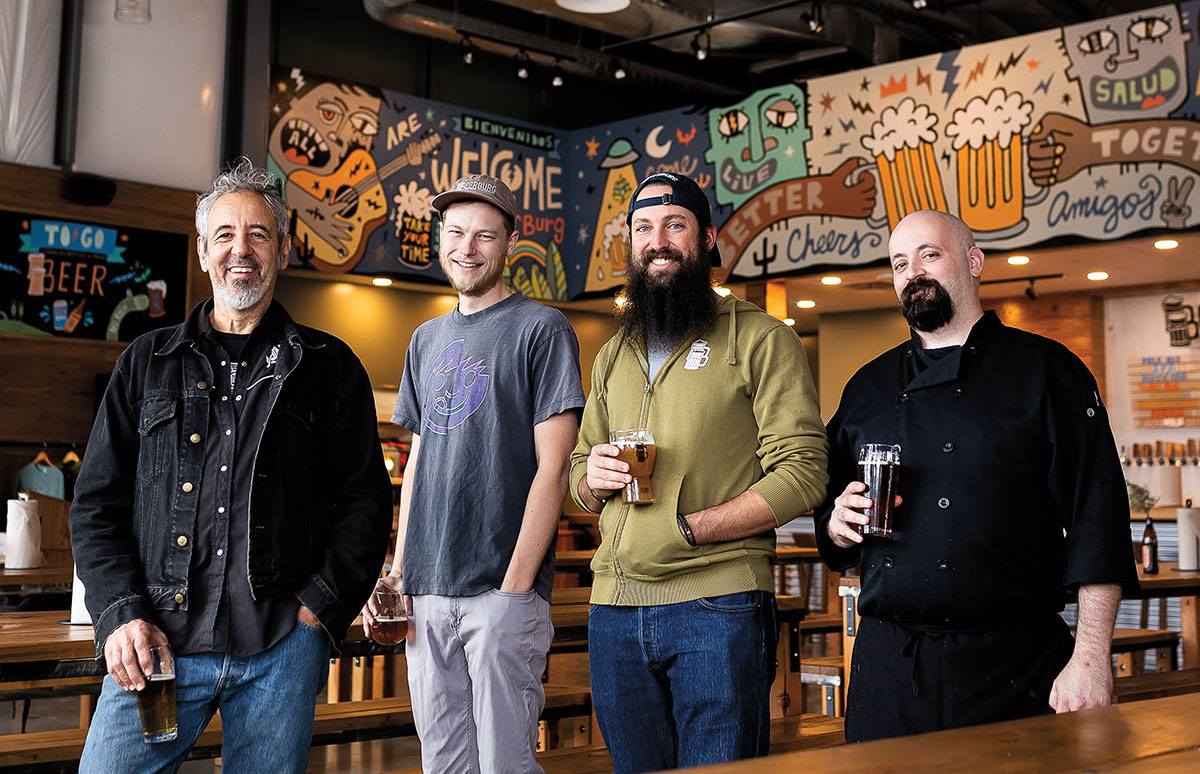 Trevor Nearburg is foraging for evening primrose just steps away from Beerburg Brewing in Austin on a sunny spring morning. The familiar pink blooms that carpet the Hill Country at this time of year have been used as a medicine for hundreds of years, and Nearburg, who is an herbalist as well as a brewer, is developing a beer made with the flower. Oil from the seeds contains gamma-­linolenic fatty acids, which aid brain function and are believed to ease anxiety and depression.
Beerburg Brewing
13476 Fitzhugh Road, Austin
512-265-0543
Open Thu 3-8 p.m., Fri-Sun 12-8 p.m.
beerburgbrewing.com
"Our first year, everything was a crisis, and I'm just now really able to focus entirely on the foraging," Nearburg says of his brewery's pandemic-era launch in January 2020. "It was always meant to be a meaningful experience, not a chore. In herbalism, one of the guiding principles is intent. The therapeutic properties of a plant are enhanced when harvested mindfully."
Nearburg and head brewer Gino Guerrero struggled to keep their new business afloat during the early days of the pandemic. Some of their core operational goals—such as eliminating solid and liquid waste—were delayed. But the brewery never wavered in its mission to produce hyper-local "wildcrafted" beers made from native plants including malted organic barley and endemic yeasts. Beerburg persevered, and it's now a popular stop along Fitzhugh Road, home to a cluster of breweries like fellow wildcrafter Jester King and distilleries like Treaty Oak in Dripping Springs.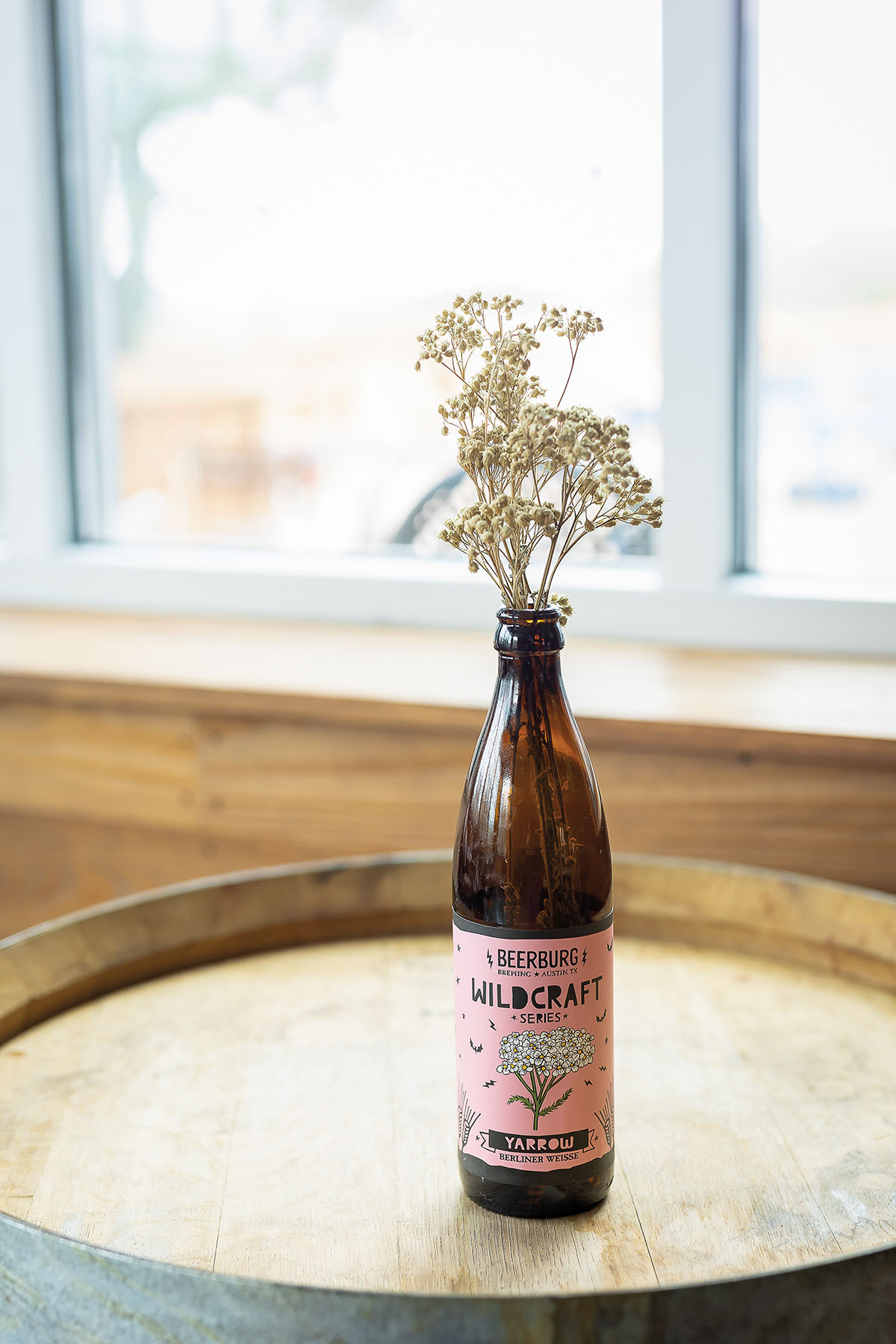 Both Beerburg's Seasonal and Wildcraft series incorporate plant materials such as dried leaves, stems, flowers, bark, seeds, and fruit. Wildcraft beers are hops-free, made instead with other bittering agents like yarrow, mugwort, and horehound. (Hops require a cooler growing climate, so most breweries source theirs from the Pacific Northwest.)
Nearburg became interested in wildcrafting when he was head brewer at Austin's now-shuttered Uncle Billy's Brewery & Smokehouse, where he befriended Guerrero, then a homebrewer. Nearburg's fascination with native plants eventually led him to study under his mentor Ginger Webb at Austin's Sacred Journey School of Herbalism.
"My passion is for how we can use the land and natural resources without overburdening them," adds Guerrero, who has a background in permaculture, or cultivating self-sufficient agricultural ecosystems. "I want to create a food forest at Beerburg that provides crops and allows wildlife to coexist."
A rotating permaculture garden is under construction to provide vegetables and fruit for the brewery and on-site taqueria, La Violeta, run by Ricardo Gutierrez. The restaurant is named after the cattle ranch near Laredo where Gutierrez was raised, and the menu features Texas ingredients like Gulf shrimp and Alpine tomatoes.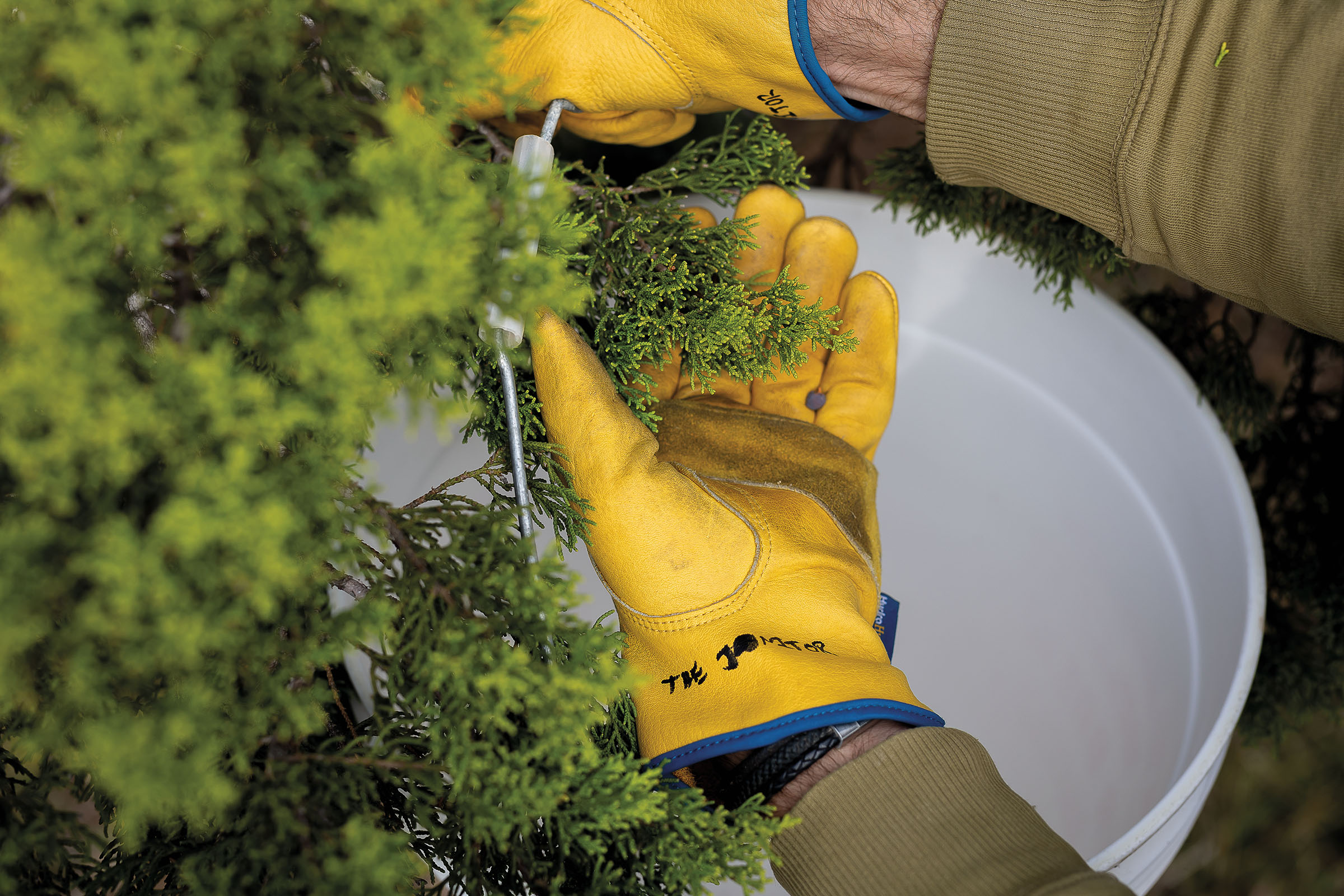 While Beerburg is not the first brewery to utilize native plants, Nearburg's lack of adherence to specific beer styles is rare. "I've never cared about that," he says. "To me, it's more about getting out in nature, connecting with a plant or experience, and building off of that." Beerburg's distribution is limited, and its Wildcraft releases are only available for on-site consumption, which eliminates the need for a strict production schedule and forms a community around the brews.
That community spirit extends to the brewery's collaborations: Neighboring Treaty Oak Distilling provided casks for Beerburg's barrel-aged selections, and the seasonal Mesquite Bean and Pecan Brown Ale is made in partnership with San Saba's Oliver Pecan Company, Miche Bread, and Barton Springs Mill. Burg Lite is made from Texas-grown heritage Carolina Gold rice, also from Barton Springs Mill; while a bourbon cask-aged Russian Stout features cacao nibs from Austin's SRSLY Chocolate. Even the yeast is sourced locally from San Antonio's Community Cultures Yeast Lab.
"We have so much respect for what Trevor and Gino are doing," says Mara Young, who founded the lab six years ago with her husband, microbiologist Rob Green. The lab provides Beerburg and other breweries with endemic yeasts collected from native plants like ocotillo and Torrey yucca. "They have such passion for their ingredients as well as the Texas wildscape, and that really comes to life in their beers, which can't be found anywhere else in the world."
Beerburg's 15-acre property includes a 3,000-square-foot taproom and apothecary, a terrace with pastoral Hill Country views, a beer garden, a stage, a dog park, and a family area stocked with toys.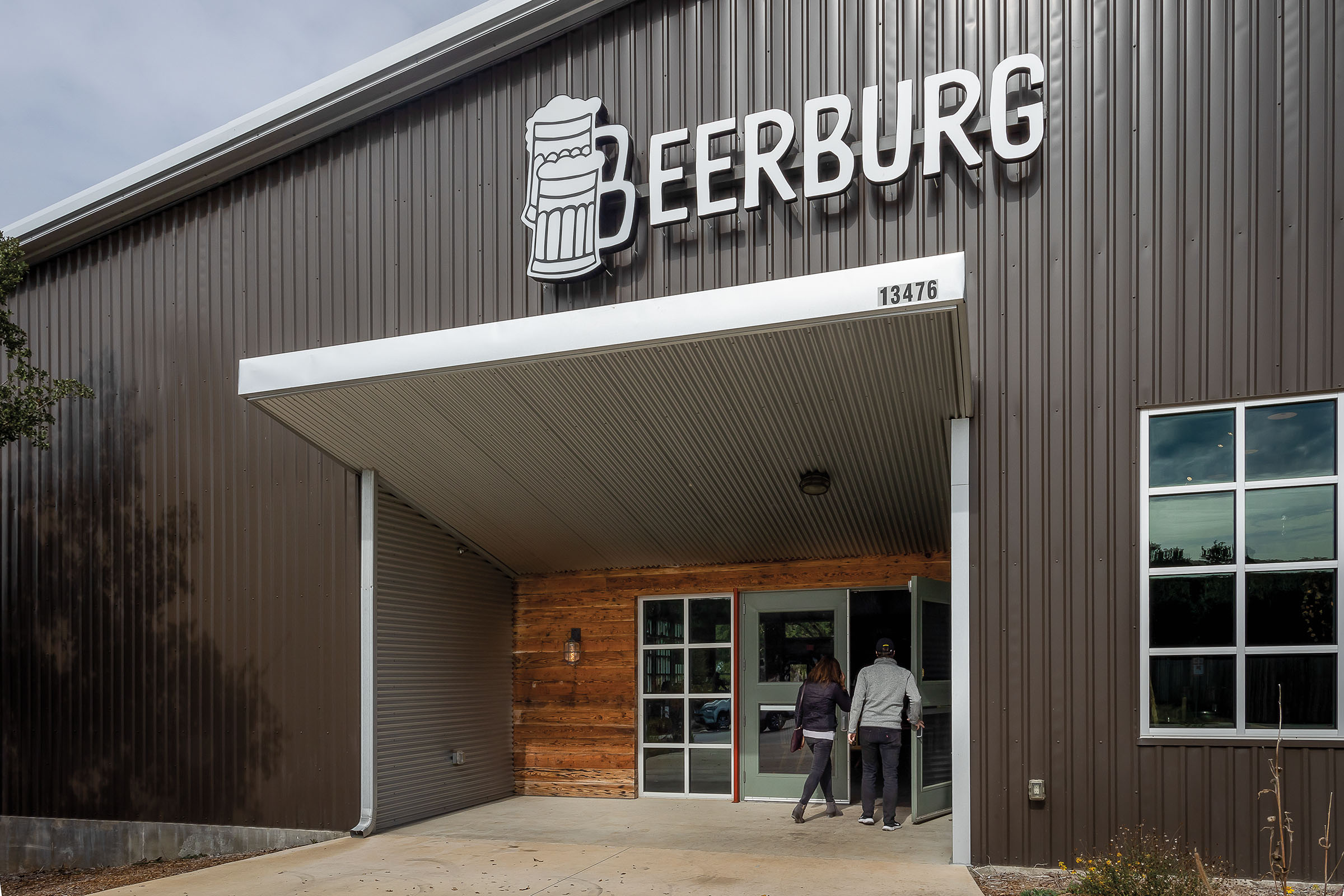 The acreage also provides ample space for foraging. Nearburg gathers everything from mugwort and yarrow to beebalm, vervain, and skull cap on the property. From his family's Brownwood property, Nearburg harvests wild plums, persimmons, dewberries, juniper berries, mustang grapes, and prickly ash. Local farmers and foragers provide seasonal crops like peaches and pecans.
Beerburg's hops-free beers vary in flavor depending upon the bittering agent and stage of fermentation, Nearburg says. The Mugwort ESB is bright and floral; Mustang Grape Porter has hints of chocolate and roasted coffee; and Golden Horehound has a bracingly bitter profile, with notes of anise.
Nearburg also enjoys creating localized riffs on familiar ingredients. In place of spruce tips—popular in winter brews—he collects longleaf pine needles from Bastrop, which yield an "orange Hi-C flavor." Rather than importing the European juniper berries used to make gin, Beerburg makes its Juniper IPA with Ashe juniper fruit. Tangy sumac berries are being tested for a Gose—a German style made with salt and coriander.
Tickle Tongue, one of Beerburg's most popular releases, contains prickly ash. The plant is related to the Sichuan peppercorn, which grows throughout Asia. Nearburg recounts talking to a colleague who was using the imported berries in a beer. "He was completely shocked when I told him prickly ash grows all over our property," he says. "A lot of the ingredients currently favored by craft brewers can be found right under our feet."
Nearburg is captivated by the idea of creating beers with therapeutic applications—using plants like evening primrose for depression and anxiety, and vervain and skull cap to calm and support the nervous system. These beers will be an offshoot of Beerburg's new on-site apothecary shop, which includes candles made by Lexi Nutter of Buzz in the Hills, and beard oils, soaps, and tinctures, some of which are made in collaboration with herbalist Raina McClellan of Austin's Folk Potions.
Despite the challenges of the pandemic, Nearburg is excited about the apothecary offerings and possible future expansions of the brand. "For our first two years, it wasn't always clear what Beerburg would become, but I couldn't be happier," Nearburg says. "There's so much potential."
A Yeast for the Senses
Community Cultures Yeast Lab primarily sells commercial yeast, but cultivating native yeasts is a passion project for owners Rob Green and Mara Young. The lab's microregional Saccharomyces strains are sourced directly from plants, flowers, and fruit from parts of the Hill Country, the Big Bend, and the Gulf Coast.
To obtain yeast samples, the couple takes swabs from native plants while backpacking and kayaking. The Window strain, one of the lab's most popular, was swabbed from a pricky pear on the Window Trail in Big Bend National Park.
The company cultivates the samples in a lab and propagates them for sale to breweries like Beerburg and Austin's Jester King. "The host plants don't actually contribute any flavor to the yeast," Young says. "That's determined by subspecies, as well as the grain, hops, and other ingredients, brewing method, and beer style. We just consider the host plants and their location to be part of the story."
Community Cultures also provides brewers like Nearburg with collection kits, so they can take swabs from their own land. Beerburg is currently testing beers made with yeast taken from the property's persimmon, prickly pear, and juniper.
ccyeastlab.com
From the March 2022 issue