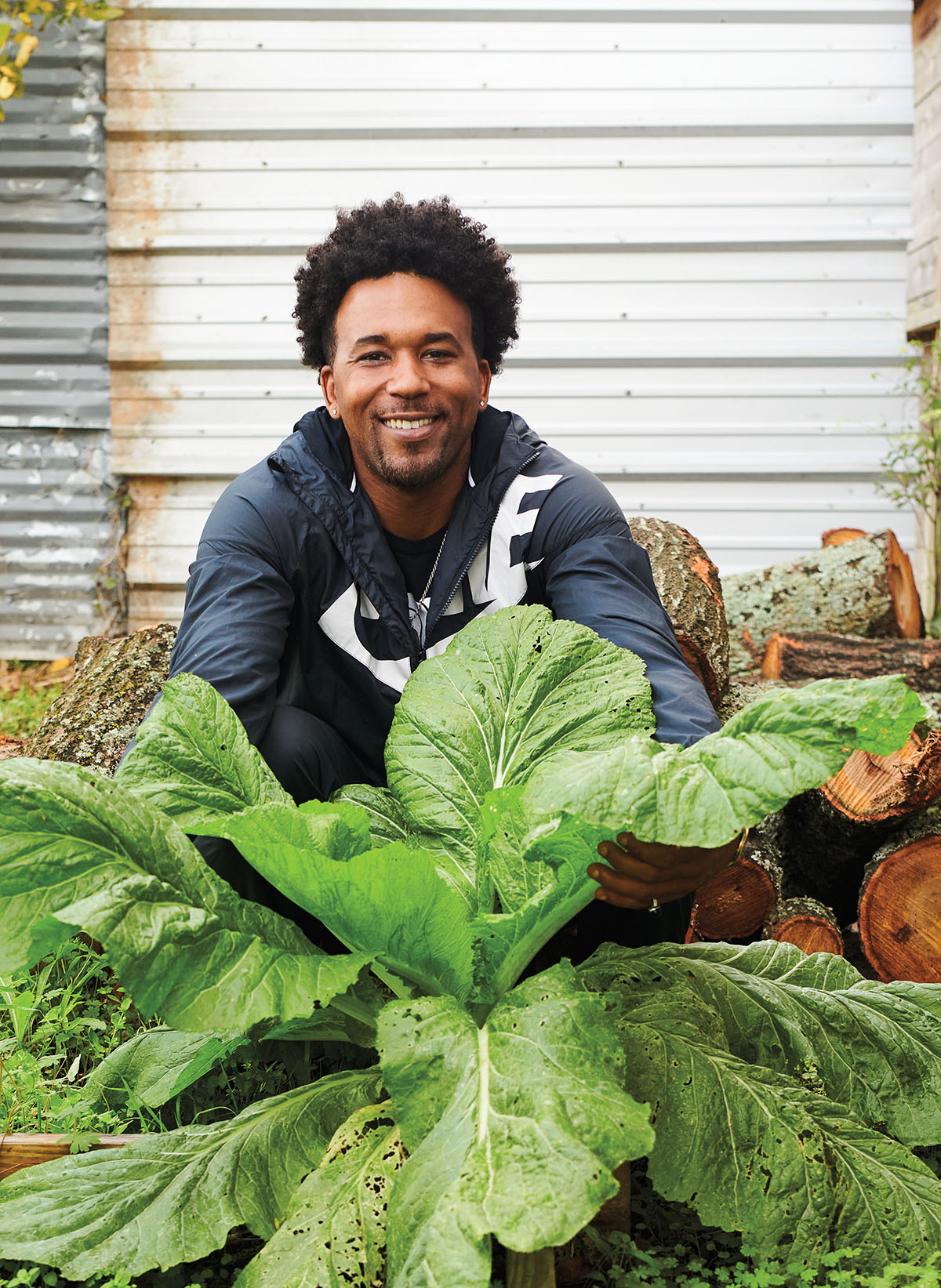 Soul food classics like fried chicken, collard greens, and mac and cheese are deeply rooted in African American history and culture, so it takes a daring individual to reinvent these beloved classics. At Soul Food Vegan in Houston's Third Ward, chef Tramone "Taliek" Terry has done just that—modernizing the cuisine by making it entirely vegan and incorporating unconventional ingredients like spelt and moringa.
On a bright October day, Terry sits in the tented patio of Soul Food Vegan. Behind the tent is the garden where he grows the collard greens the restaurant serves. Inside the restaurant, delightful smells and a smooth R&B soundtrack greet customers as they order at the counter. Reflecting on his journey to open the restaurant, Terry is enjoying the moment—taking it all in.
"It's crazy," he concludes. "It was all a dream."
His dream became a reality in January 2019, when his brick-and-mortar debuted. A more intangible part of his dream is also being realized: serving soul food that not only brings comfort but also healing.
Growing up on the east side of Houston in the late 1990s, Terry learned how to cook from his mom and grandmother, and he observed his grandfather's participation in local barbecue championships. Terry started cooking at 8 years old, eventually making entire meals for his family of five by the time he was a preteen.
A couple of years after graduating from Channelview High School in 2003, Terry fractured his heel while playing basketball. The injury refocused his attention on his health and body, which inspired him to learn about wholesome foods and holistic healing, eventually leading him to become vegan.
Terry also used his newfound knowledge to help his cousin who was diagnosed with schizophrenia. He worked alongside his cousin's doctor to create a treatment plan, changing his diet and introducing brain-stabilizing herbs like lion's mane and baobab alongside his prescribed medication.
The success of the treatment grew Terry's interest in helping prevent and treat illnesses that were common in his local community. African Americans ages 18 to 49 are two times as likely to die from heart disease as white people of the same age, and those 35-64 are 50% more likely to have high blood pressure, according to the Centers for Disease Control and Prevention. Terry started presenting to local groups about disease prevention, which often included a cooking demo. Food is known as the quickest way to someone's heart, but Terry learned it could expand people's minds, too.
The popularity of the presentations and cooking demos encouraged Terry to open a vegan catering company in 2015. He was backed up with orders for months, serving dishes that are now restaurant favorites, including the vegan fried chicken made from oyster muhsrooms, vegan po'boy, and stuffed bell peppers. Terry visited other vegan restaurants across the country for research, but "you know, they're not kicking flavor like me," he says.
Terry's tasty cooking is evident in dishes like his Cajun pasta melt, made with veggie rotini noodles, spinach, peppers, a spicy tomato sauce, and creamy almond-and-cashew cheese sauce. His smoky oyster mushroom salad features mushrooms seasoned with smoked paprika, kale, spinach, onions, diced tomatoes, homemade guacamole, and cashew ranch dressing. These are two certified hits at Soul Food Vegan.
The location of the restaurant is meaningful and intentional. It sits across from Emancipation Park, which was originally purchased in 1872 by community leaders and members of the Antioch Baptist and Trinity Methodist Episcopal churches.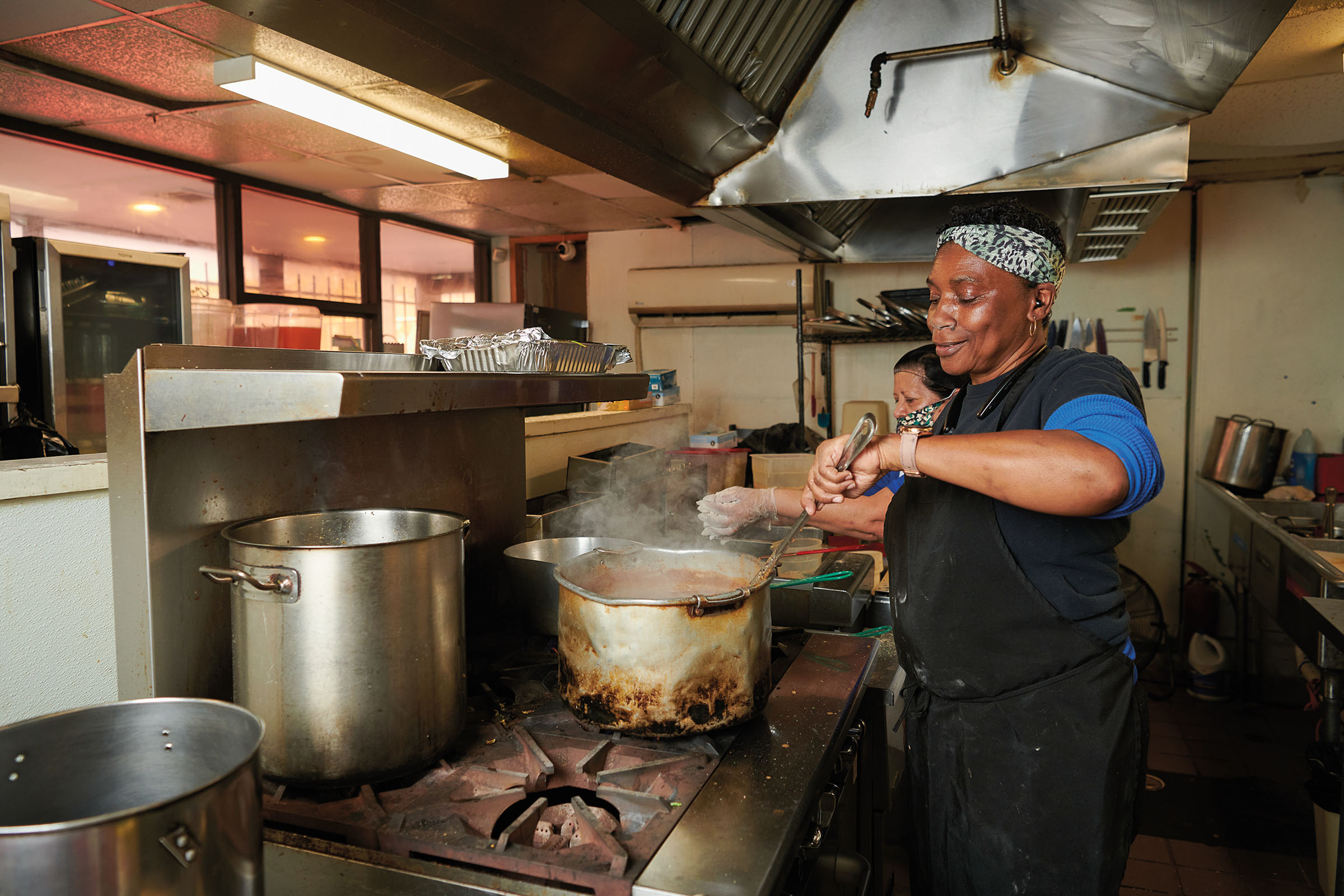 "It all starts in Third Ward," Terry says. "It's a good central location and it's a historic location. It's being gentrified right now. At the same time, a lot of Black businesses are sprouting up. We're trying to buy our community back and create more jobs. That's what I'm trying to do."
Like Terry and his customers, Soul Food Vegan's employees are beneficiaries and proponents of the vegan lifestyle. Manager Jonathan Armstrong, who once weighed 450 pounds, lost nearly half his body weight by becoming vegan and exercising regularly.
"[When you have a] healthy life, wealth comes with it," Armstrong says. "And it's not even thinking about money or anything like that. It's just the point of working hard for yourself and making sure you're healthy. Everything else falls in place for you."
Armstrong, who has worked alongside Terry for a year and a half, describes the chef as knowledgeable and patient.
"He doesn't rush anything. He makes sure everything is done correctly," Armstrong explains. "He always interacts with people. If he has the time, he's going to do it."
Part of Terry's job is educating people about plant-based foods by discussing ingredients they may not be familiar with and explaining why he uses them. He uses Himalayan pink salt, for example, instead of table salt, which can cause inflammation in the body. He uses moringa—a native plant from India infused with magnesium, Vitamin C, potassium, and iron—as a seasoning base. He uses spelt flour to make sandwich bread because, as he says, "it's not something that will clog you up."
"More than anything, I want to make sure my food tastes good," Terry says, "but I also want you to feel good after you eat my food."
Terry's timing is apt as recent studies show more people of color are embracing plant-based diets. A 2019 Gallup poll showed 31% of non-white Americans reported eating less meat in the last year, compared to 19% of white Americans.
The growing popularity of vegan soul food galvanized Terry to share his recipes with a wider audience in his new cookbook, The Evolution of Soul Food. Published in November 2020, it includes beloved dishes from Soul Food Vegan, including the boudin balls and smoothies. He's also hoping to open new locations of his restaurant in Miami, Los Angeles, and Houston suburbs like Katy and Cypress.
Back at the restaurant, Terry compliments a customer on his outfit. He shouts, "You looking good right there!
"That's what I live for," Terry continues. "Just interacting with the community, the people. That's what makes Soul Food Vegan different."
From the February 2022 issue