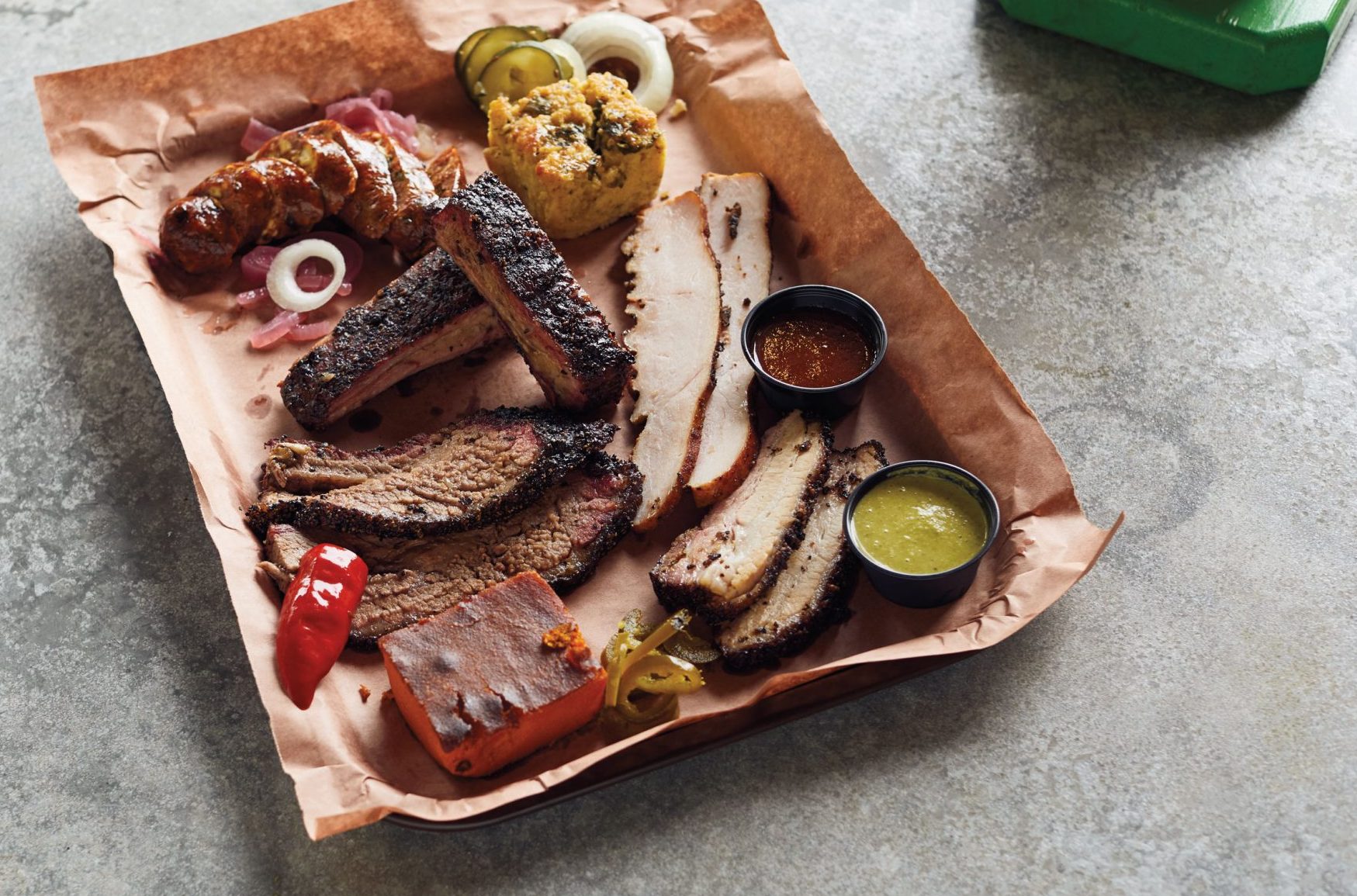 Modern barbecue origin stories typically fall into two categories: that of the apprentice who struck out on his or her own, as in the case of Franklin Barbecue in Austin; or that of the backyard enthusiast who gained a cult following before opening a brick-and-mortar, as in the case of Gatlin's BBQ in Houston. They usually don't start with small-batch, artisanal chocolate sold at the local farmers market. But at Tejas Chocolate + Barbecue in Tomball, where a handmade chocolate shop is fused with a celebrated, hoppin' barbecue restaurant, it's a lot like what Forrest Gump's mama used to say: "Life is like a box of chocolates. You never know what you're going to get."
Tejas Chocolate + Barbecue
200 N. Elm St., Tomball.
832-761-0670
tejaschocolate.com
Open Tue-Fri 11 a.m.-6 p.m. and Sat 11 a.m.-5 p.m.
(or until sold out)
It all began as a passion project. In 2010, co-founder Scott Moore Jr. was at a crossroads in his career selling replacement parts for railroad freight cars. His business was failing, and he had to make a choice: either stay in the industry and find another job, or try something new and different at the age of 50. A self-professed "gourmet foodie type," Moore landed on the idea of chocolate-making after watching a TV program about the Brooklyn-based craft chocolate company Mast Brothers, and heard one of the owners declare, "We think every neighborhood should have a chocolate maker."
Intrigued, Moore, who lived in Spring at the time, began looking for a craft chocolatier nearby. His search came up empty. After further research, he discovered there were no bean-to-bar chocolate makers in the entire state at that time.
After sampling chocolate from small-batch American producers like Dandelion Chocolate in San Francisco and Amano Artisan Chocolate in Utah, Moore was hooked, despite not considering himself an avid chocolate fan. He invested $1,000 to purchase the equipment needed to make chocolate, starting with raw cocoa beans, at home.
Production quickly got out of hand, prompting girlfriend and business partner Michelle Holland to ask him to move his hobby out of their house. This gave Moore the impetus to convert an old office space into a makeshift chocolate factory, which allowed him to produce on a larger scale. He and Holland began selling single-origin bars (chocolate made from beans that originate from one country or farm) for $7 each at the Tomball Farmers Market.
The chocolate was so well-received, the duo eventually sold their goods wholesale to three Houston Whole Foods Markets and all nine Central Markets in Texas. Ultimately, the couple decided they preferred interacting with customers, so they began looking for a brick-and-mortar space.
Moore stumbled upon Hoffman House in Old Town Tomball. Built in 1907, it's Tomball's oldest building, but its 1,900 square feet exceeded their needs, and they weren't sure they could afford the rent on chocolate alone.
A fifth-generation Texan, Moore had grown up doing backyard barbecue, so he came up with the idea of selling barbecue in conjunction with his chocolate. Moore convinced his brother Greg, who had been working as a chef for years, to come on as partner and pitmaster, despite having no formal barbecue training. The brothers and Holland opened Tejas Chocolate + Barbecue in 2015.
Aside from classic offerings like brisket and beef ribs (the latter a Friday-and-Saturday special that almost always sells out), Tejas gets creative with its menu. Specialty cuts include pork belly and beef cheek, and daily specials make it imperative to stop in every day of the week. On Thursdays, pastrami brisket, pastrami beef ribs, and Reuben sandwiches have their day in the sun. A rotating selection of housemade sausages features flavors like Brisket and Blues, with brisket and blue cheese as a filling, or Sea Brisket, a boudin link made of lump crab, shrimp, and saffron.
Tejas also serves from-scratch sides like carrot soufflé and cornbread pudding. "At other places, the sides are an afterthought," Moore says. "We wanted to bring the sides to the forefront." Barbecue sauces include a traditional Mexican mole infused with Tejas' own chocolate.
The chocolate part of the business is still going strong, if not exactly in the way Moore originally envisioned. Though Tejas still makes single-origin dark chocolate bars, it has turned its focus to chocolate truffles, which come in close to 40 varieties ranging from single-origin, to Texas-themed flavors like margarita and pecan praline, to specialty flavors like cherries jubilee and matcha green tea.
After landing on Texas Monthly's coveted "Top 50 Barbecue Joints in Texas" list in 2017, Tejas had to double its production capacity to meet demand. With lines that continue to be long, it leased a small retail space next door that features counter-service barbecue to go.
While its barbecue may have brought the business statewide acclaim and plenty of customers, Tejas doesn't plan on abandoning its sweet roots anytime soon. "We used Texans' thirst for craft barbecue as a way to introduce them to craft chocolate," Moore says. "Our customers come in looking for the Texas trinity—brisket, ribs, and sausage—and then leave with a four-pack of truffles without realizing what happened to them."
Six Things to Do in Old Town Tomball
When visiting Tejas Chocolate + Barbecue, take some time to check out Tomball's historic downtown. Tejas owner Scott Moore Jr. shares his recommendations.
From the December 2018 issue