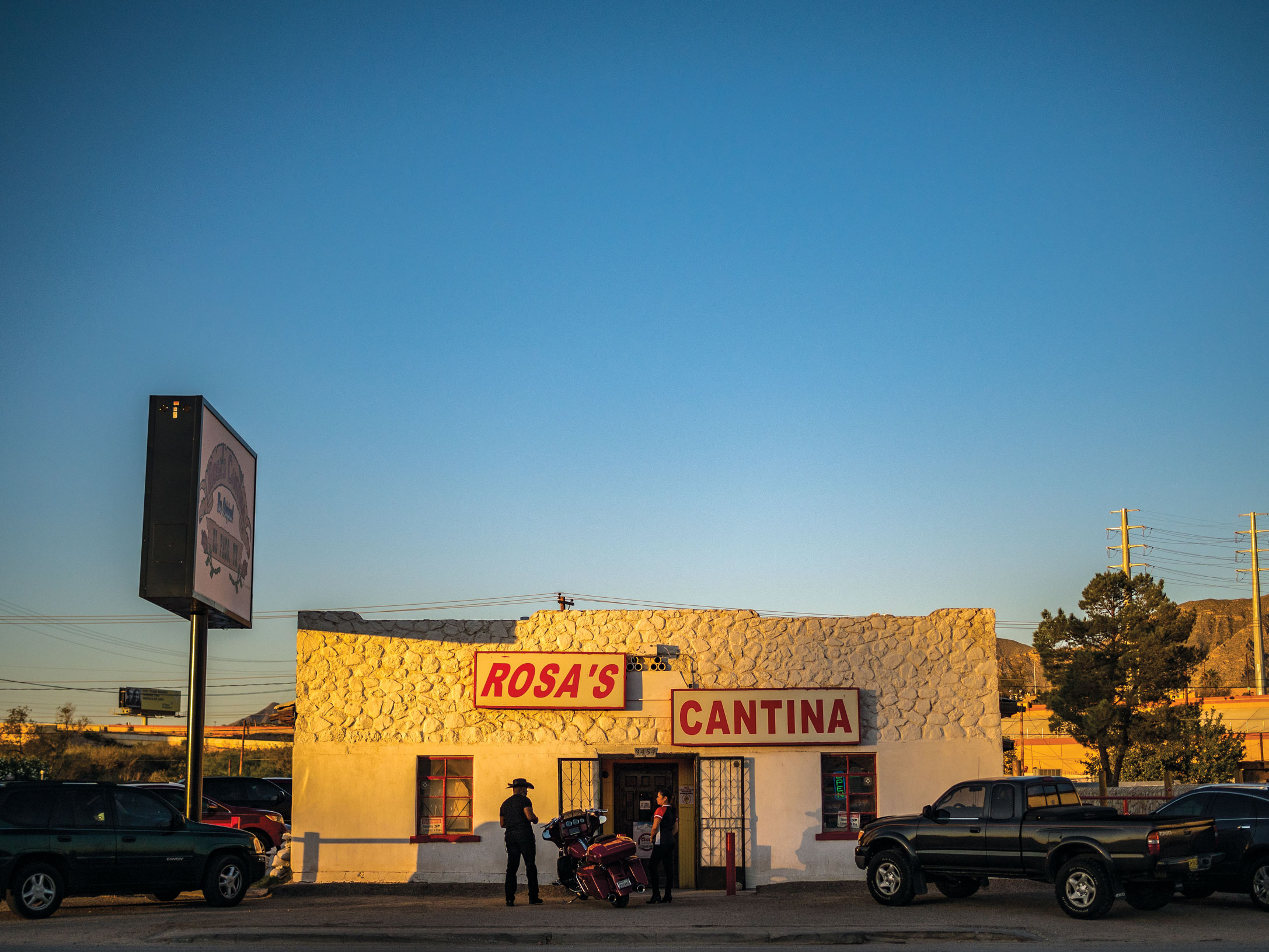 If you swing by Rosa's Cantina on the western edge of El Paso, mere minutes from "the badlands of New Mexico," you will not find Feleena, the girl who drove a lovesick cowboy to his doom in Marty Robbins' famous ballad "El Paso." But you will find friendly locals sitting at the bar with ice-cold Tecates. You will also find Robbins memorabilia adorning the walls—1970s album covers with the mustachioed musician in a denim shirt, for example, and a framed copy of the lyrics of "El Paso." And when the bartender picks up that you are searching for traces of the legendary song, you might suddenly, without even asking, hear that familiar opening line float out from the jukebox, "Out in the West Texas town of El Paso…" Don't be surprised if you get goose bumps.
El Paso Inspiration
Take a tour of El Paso literature and song:
Rosa's Cantina
3454 Doniphan Drive.
915-833-0402
facebook.com/pg/OriginalRosasCantina
Hotel Paso Del Norte
(formerly the Camino Real)
101 S. El Paso St. Under renovation, the hotel is expected to reopen in February.
915-534-3000
hotelpdn.com
Gardner Hotel
311 E. Franklin Ave.
915-532-3661
gardnerhotel.com
Have other ideas for places to visit on a tour of El Paso-inspired literature and song? Chime in on social media: @texashighways.
Rosa's Cantina, with its stone walls and twinkling lights, is both fact and fable. A glass case displays a black-and-white photo of the former owners who opened the bar in 1957, Beto and Anita Zubia, both of whom died in the 2000s, and beneath that is a glossy photo of Robbins. Whether this is the Rosa's Cantina immortalized in song remains a debate. "Yes," replies a waitress as she serves plates of Marty Robbins Burgers. "It's the original." No matter that a regular at the bar—an older fellow who grew up in the surrounding neighborhood known as Smeltertown—whispers moments later, "I doubt that Marty Robbins ever came here."
Goodbye feleena

"Out in the West Texas town of El Paso, I fell in love with a Mexican girl."
That's the thing about legends, though, particularly in El Paso, a city brimming with them. Like the dark eyes of Feleena, they are wrapped in mystery. The yarn that Robbins wove in "El Paso"—which won a Grammy in 1960—lives in our collective imagination, no matter whether Robbins ever came to this bar or not. We want the cowboy's tale to be real—so much so that it has a life of its own. When you open the cantina's guestbook, you'll see that Robbins fans from Belfast to Vancouver have darkened this cantina door, and, if you read through the lively comments section, you'll see that many a visitor wants to know, "Where's Feleena?"
Sometimes anything seems possible in El Paso. It's as if the border culture and desert spaces open wide the windows for writers, musicians, and artists. In Robbins' case, legend holds that he was gripped with a vision while passing through El Paso on a road trip and wrote the song in the back seat of a turquoise Cadillac while his wife, Marizona, drove the family back home to Phoenix. Then there's Jack Kerouac, who, in his 1958 novel The Dharma Bums, chose El Paso as the setting for a transcendental moment for his protagonist camping alone in the foothills: "What an amazing revelation!" Kerouac wrote. "I climbed up the arroyo so finally when I turned and looked back I could see all of Mexico, all of Chihuahua, the entire sand-glittering desert of it, under a late sinking moon that was huge and bright just over the Chihuahua mountains." If you are open to it, El Paso rouses the spirit, or as writer Benjamin Alire Sáenz says of his hometown, "I just don't know anybody who's come here and hasn't gone, "Oh my God. I didn't know it was like this."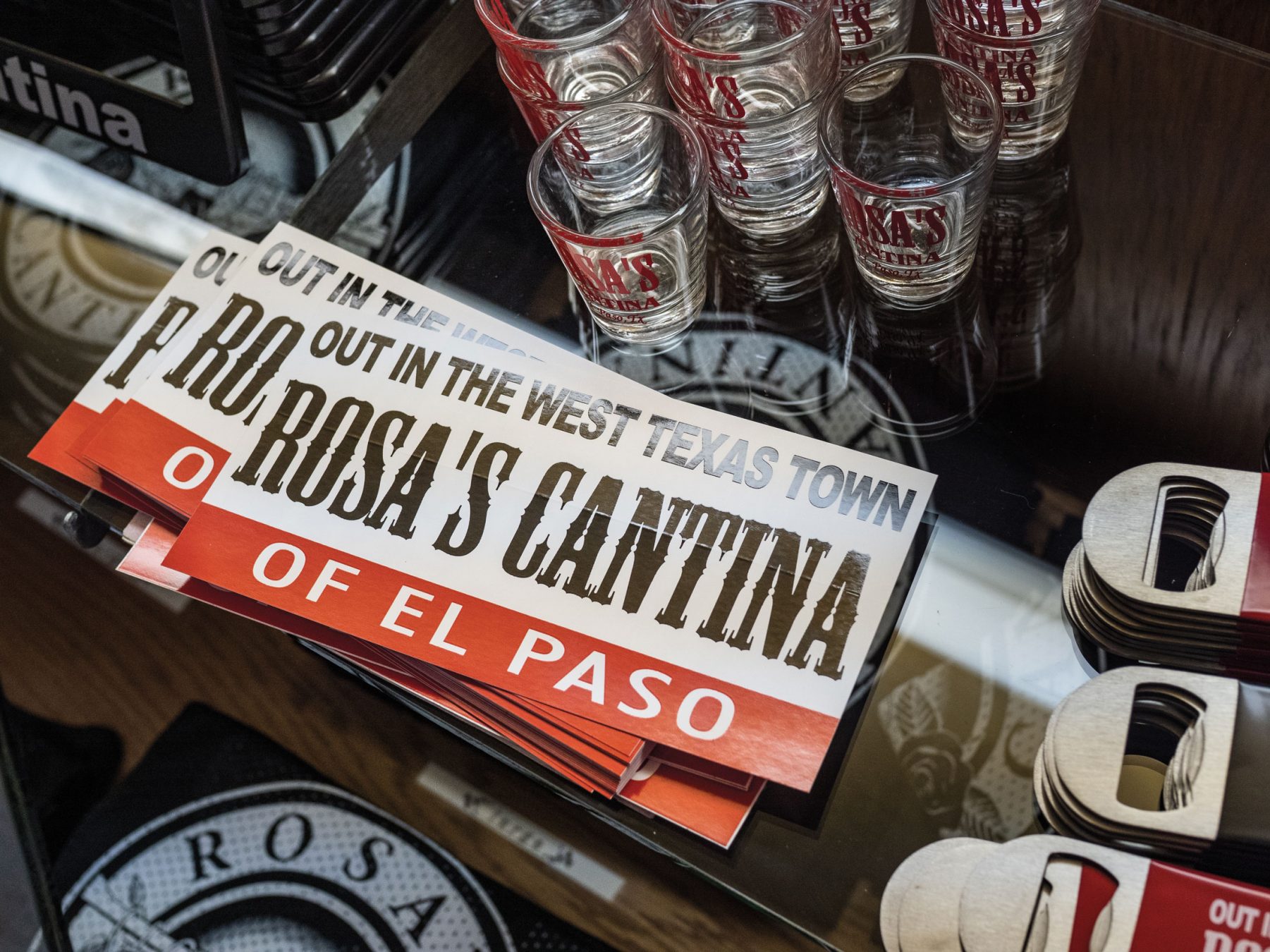 Perhaps the most enigmatic of El Paso-sparked epiphanies is that of Cormac McCarthy and his 2007 Pulitzer Prize-winning novel, The Road. McCarthy—who lived in El Paso for about 20 years before moving to New Mexico in the 1990s—is known for keeping to himself. He is so idolized by his readers and yet so private that one documentary filmmaker made a short film called Cormac's Trash about obsessed fans looking through his refuse for clues to the man behind the myth.
But in an uncharacteristic televised interview in 2007, McCarthy told Oprah Winfrey how the idea for The Road was born one night as he gazed out the window of what he called "the old hotel in El Paso" while his son slept in the room behind him. As McCarthy tells it, he heard the "lonesome" trains go by and imagined fires in the nearby mountains—a moment that sparked what would become one of his most popular novels.
The question remains, however, as to which "old hotel" McCarthy was referring. Some believe it's the oldest still-standing hotel in town, the Paso Del Norte. This Henry Trost-designed icon of El Paso history, first opened in 1912, has seen it all: During the Mexican Revolution, El Pasoans gathered on its roof to watch battles across the border; seven U.S. presidents—from Taft to FDR and both Bushes—have stayed here. Seventeen stories tall, with panoramic views of the El Paso-Juárez region, it is quite possible that McCarthy was standing at a window here when his idea hit for The Road. Currently under renovation, the hotel is scheduled to reopen in February.
Another candidate for McCarthy's "old hotel" is the three-story Gardner Hotel on East Franklin Avenue, one of downtown El Paso's liveliest strips. Stepping into the lobby of the 1922 hotel, it's easy to imagine a gangster in a three-piece suit brandishing a pistol from the marble staircase. After all, the famous bank robber John Dillinger checked in to room 220 in 1934 under the alias John D. Ball. Maybe that's why movie director Sam Peckinpah asked to film scenes from the Steve McQueen movie The Getaway here. (The hotel declined; Peckinpah's plans called for blowing up the elevator.) When asked about the hotel's history, the front desk clerk notes, "Well, Cormac McCarthy wrote here. It's where he got the idea for his book The Road."
Ahhh, the misty, ambiguous nature of legends. Perhaps this is the "old hotel" McCarthy was referencing. McCarthy lived and wrote at the Gardner on and off for years back when it was a single-room occupancy outfit. "I would say that Cormac first started staying here in the early to mid-'70s," owner Joe Nebhan says. "And I guess the last time he lived at the Gardner was in the early '80s when I took over. He wasn't there long after that. By then he'd gotten that MacArthur grant and could afford to rent a place. He was always a very nice gentleman."
Sometimes anything seems possible in El Paso. It's as if the border culture and desert spaces open wide the windows for writers, musicians, and artists.
The Gardner is no longer populated by struggling writers and the elderly; now rooms start at $70, and a bed in the hostel dormitory is $27. But Nebhan's recollections of its earlier days imply it would have been a fertile environment for a writer. "I started going there when I was 8 years old and my dad ran the place," says Nebhan, now in his 60s. "I thought I was a big shot by running the elevator. I got to meet some really neat people, like veterans from the Spanish-American War."
Even now the Gardner feels like the setting of a McCarthy novel, and that's because it is. McCarthy mentions the hotel in the epilogue of the Border Trilogy (a series that includes All the Pretty Horses, The Crossing, and Cities of the Plain) when character Billy Parham, now an old man, lives at the Gardner before he is kicked out, meets a mysterious death-like character, and finally finds redemption.
While such mysteries linger like the final notes of "El Paso" drifting from the jukebox, it is clear that this border city has long stoked the flames of creative minds—and those flames are now an ineluctable part of the mythos of El Paso. Even the newer and shinier iterations of local culture foster this spirit, as evidenced at Hotel Indigo, where a print on the bathroom wall reads like a manifesto for travelers seeking this city's inspiration, words from none other than The Road: "Keep a little fire burning," McCarthy wrote, "however small, however hidden."
From the December 2018 issue