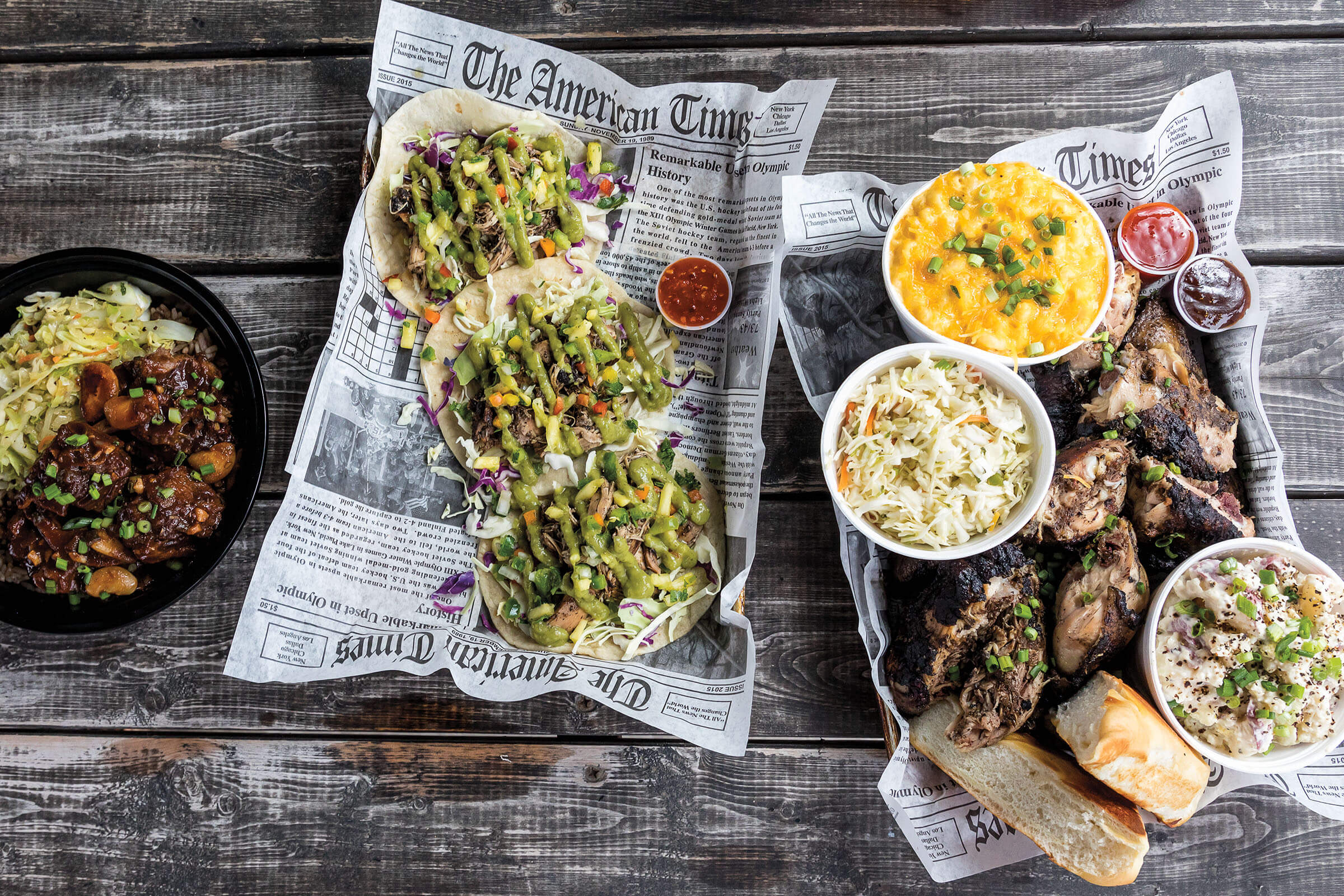 When diners take their first bite and feel the slow-burning piquant peppers, herbs, and onions dancing on their tongues, they become immediately addicted. This spiciness isn't coming from one of the city's beloved salsas. Instead, it's a careful blend of ingredients that has made chef Nicola Blaque's jerk chicken the stuff of legend and national acclaim. Yet her restaurant, The Jerk Shack, remains an unassuming destination tucked away on a side street near a cluster of residential homes in San Antonio's West Side.
Blaque has made it her mission to introduce her love of Caribbean foods and flavors to San Antonio. Born in Mandeville, Jamaica, she came to the United States with her mother and stepfather when she was 5 years old. As a military child, she moved around often, and joined the Army herself when she turned 18, rising to the rank of staff sergeant. She spent 10 years in the military, with two tours in Iraq, one in Kuwait, and one in Afghanistan.
The Jerk Shack
117 Matyear St., San Antonio.
210-776-7780
Mi Roti
312 Pearl Parkway, Building 6, San Antonio.
miroti210.com
"While I was in the military, I still had a love of food, and wherever we went I was trying to eat whatever the food was of the culture wherever we were, if it was Germany, Italy, wherever," Blaque says.
While stationed in Hawaii, she cooked for her fellow soldiers to keep some sense of home alive for the troops during holidays and other celebratory occasions. Her passion for cooking gradually went from a mere spark to a four-alarm blaze. Her now-husband, Cornelius Massey—an Army vet and Purple Heart recipient—asked her what she really wanted to do after leaving the military. Cooking was the immediate response.
In 2014, the couple moved from Hawaii to San Antonio so Blaque could attend the Culinary Institute of America. They had plans to return to the islands eventually, but by 2015, Blaque had started a meal prep company that became so successful the couple couldn't fathom quitting the business. They decided to stay in Texas.
Blaque found additional work as a private chef, which led to her cooking at the Super Bowl in Houston and catering gala events and openings around San Antonio. Rarely, if ever, did she prepare the food of her Caribbean roots for these gigs. Then, in late 2017, her aunt passed away, and she returned to Jamaica for the funeral.
"I was inspired during that trip when I tasted some amazing jerk chicken and jerk pork," Blaque recalls. "I told my husband it would be amazing if I could share this back in San Antonio."
Less than a year later, in May 2018, she opened The Jerk Shack. The menu's signature items are jerk chicken—highlighted by Scotch bonnet peppers—and braised oxtails. Other offerings include jerk pork, coconut-laced curry chicken and shrimp, jerk jackfruit, and fried jerk wings nestled atop mac and cheese. In true San Antonio fashion, the proteins on the menu can be made into tacos. Caribbean soft drinks, including a grapefruit-flavored soda called Ting, add to the experience at the window-service restaurant.
"She chose the [location for] The Jerk Shack from the pure sense of it feeling like a jerk stop in her home in Jamaica," Massey says.
In mid-2019, national dining news website Eater.com voted The Jerk Shack one of the top 16 restaurants in America—one of only three in Texas to make the cut—and the crowds of hungry diners became bigger and more enthusiastic than ever before. The accolades kept rolling in from local and state publications. Then in March 2020, GQ honored The Jerk Shack as one of the best new restaurants in America, heaping praise on the tiny establishment and calling it "the finest Caribbean fare in the Lone Star State—maybe anywhere."
By the time the story was published, Blaque was eight months pregnant in the middle of a global pandemic. She was poised to launch a brand-new Caribbean concept restaurant, Mi Roti, at The Pearl, a stylish shopping and dining destination in San Antonio. Mi Roti's debut was postponed to July to give Blaque a brief maternity leave, but on opening day she was back in her chef's coat, ready to present her beloved island flavors in a new way.
Mi Roti offers a lighter, fresher take on Caribbean cuisine with a menu of wraps and bowls that can be filled or topped with a variety of veggies, sauces, and proteins like jerk chicken, grilled steak, pork belly, and curry goat.
"Jamaican food is heavy and saucy," Blaque says. "Although it's made with fresh ingredients, a lot of the cuisine is stewed. Mi Roti represents more than just Jamaica, but touches a little bit on all the islands."
Her interpretation of Caribbean food unites tradition with innovation, trends, and a food culture that always craves something different. Just don't use the word "authentic" to describe her dishes.
"I don't like the word," Blaque says. "Authentic is something you do at home with your mom. I'm a chef, a trained chef, so I've the elevated cuisine with traditional twists, but they're not authentic." Each day she and her staff make about 250 roti [flatbread cooked on a griddle] and between 50 and 100 pounds of jerk chicken. "If this were authentic, it would be just a few pieces on the grill," Blaque explains.
She has been able to keep both businesses in operation and her staff employed during the COVID-19 pandemic. Now she's focusing on a new location of The Jerk Shack, opening this summer on the far West Side of San Antonio. The reimagined concept will feature an expanded menu, both indoor and outdoor dining, a full bar, a drive-thru, and curbside pickup.
It's all part of Blaque's plan to share her love of Caribbean cooking with as many people as possible, even while juggling the responsibilities of being a business owner, chef, wife, and mother to her 19-year-old stepson and 1-year-old son. She still works as a private chef in the evenings after being at one or both restaurants all day.
"When you have two kids, two restaurants, are building a new restaurant, creating new concepts and menus, and still find time to create and cook in the evening, I'm certain she straddles the line between passion and addiction," Massey says.
Blaque says she tries to find balance in her busy schedule despite feeling overwhelmed at times. "I just try again the next day," she says. "I was born in Jamaica, and I'm the first generation here, so creating something that I can leave for my kids is very important to me. A little extra hard work is not too much for me. It's all worth it."
From the April 2021 issue