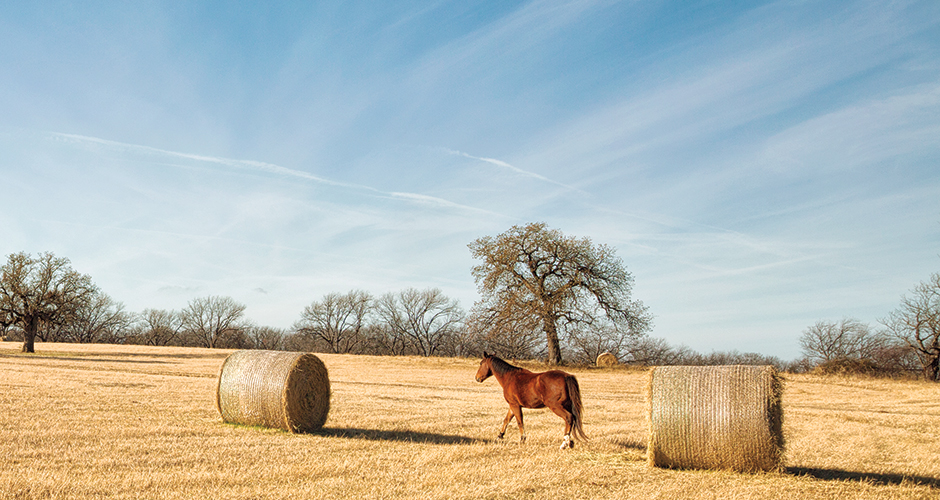 In June Naylor's story on roaming the Red River Valley, there's plenty to do that works up a righteous appetite. Fortunately, there are plenty of good places to enjoy things to eat and drink in the little towns sitting alongside the roads winding through the region. Here's a look at places worth a stop for refueling and catching local color.
Lindsay
Dieter Brothers: Friends from Gainesville introduced us to this popular barbecue joint about 10 minutes west of their town. Everyone knows everyone, because most regulars (like our pals) eat here at least twice a week — the food is that good. My husband, Marshall, and I shared a plate piled with pork ribs, German sausage and chopped brisket, plus a stack of crunchy onion rings we talk about months later. Our friends enjoyed brisket-lettuce-tomato sandwich and a Cheddar burger, all as tasty as the barbecue plate. We walked off our lunch while touring the magnificent Catholic church in town, with its interiors — the ceilings, walls and altars — lovingly hand-painted in the intricate, colorful style of Texas' German settlers. (Dieter Brothers, 410 East Highway 82, Lindsay; 940-665-5253).
Muenster
Bayer's Kolonialwaren: The German heritage in this little town just west of Lindsay is so thick, you could cut it with a bread knife. And in this little convenience store, the rows and rows of German beers make you surprised to find the staff isn't wearing lederhosen. The bakery cases up front are filled with housemade strudels and fried pies; if you think those don't go with beer, the good people of Muenster will convince you otherwise.
A few blocks away, find Fischer's Meat Market, a 1927 landmark stocking beef, pork, German sausages, ham and bacon that's butchered locally in the old world tradition. We found lots of German pastries here, too, plus dozens of different house brand jams, jellies and preserves to take home as souvenirs. There's a decent wine selection in the store, too. (Bayer's, 824 E. Division St., Muenster, 940-759-2822. Fischer's, 304 N. Main St., Muenster, 940-759-4211)
Nocona
Red River Pizzeria: This pizza-pasta place comes in especially handy for guests staying at the terrific Red River Station Inn next door. But no matter where you rest your head at night, this corner restaurant is a good hangout for satisfying food, friendly service and a chance to get to know local folks. Found on the town's main drag, Red River Pizza serves up good, thin-crust pizza, naturally, but we opted instead for a delicious, crusty sandwich filled with Italian meats and cheeses, plus a bowl of penne pasta with pesto. Local wines (Arche and Blue Ostrich, among them) are served here, too. (Red River Pizzeria, 223 Clay St., 940-825-3003).
Daddy Sam's Saloon: If only this were open daily, you would have a great saloon museum and a place to sip a cold brew while waiting for Marshal Dillon and the rest of the Gunsmoke gang to amble in the front door. Owned by another of the many Fenoglio family members (you'll meet one on every corner in Nocona if you spend even an hour in town), this beautifully restored historic building transports you to the wild west days, with meticulous decoration that includes vintage beer, cigarette and soft drink signage and antique furnishings, such as a magnificently carved bar and archival photography spanning at least a century. It's a venue open during special events in Nocona, which typically include rodeos, street parties, music festivals and more. If it's not open when you arrive in town, at least peek through the windows at this place. (314 Clay St., Nocona; 940-531-0278)
Bear's Den Diner: If you're heading to the ghost town of Spanish Fort, just a few minutes north of Nocona, stop at this simple café for sustenance. At breakfast, we enjoyed a massive omelet, filled with everything but the kitchen sink, pancakes the size of Frisbees and good biscuits and gravy. We happened to arrive 5 minutes after a youth baseball team and lots of parents, so there was a wait. The friendly staff and satisfying food made us glad we stayed. (139 Uselton Rd., Nocona; 940-825-5122)
Saint Jo
Lazy Heart: Found a few doors down from the Davis & Blevins Main Street Gallery and next door to the Stonewall Saloon Museum, this welcoming café unfolds within two huge rooms. The creaky wooden floors and rugged rock walls provide both warmth and authenticity, as does the collection of old cowboy boots atop an upright piano. Sometimes, this is the only place in town open at lunchtime, meaning it's packed on a pretty Saturday when adventurers like us to show up in Saint Jo to browse the gallery and other shops. Patience is required, but the café's small, hard-working staff aims to please. Rewards include a solid Reuben sandwich and plate of chicken-fried steak with mashers, green beans and big yeast roll. We noted lots of guests digging into different kinds of pie, but we didn't have room. Plus, there were those fried pies left over from our stop in Muenster! (101 S. Main St, Saint Jo, 940-995-2967)
From the March 2017 issue