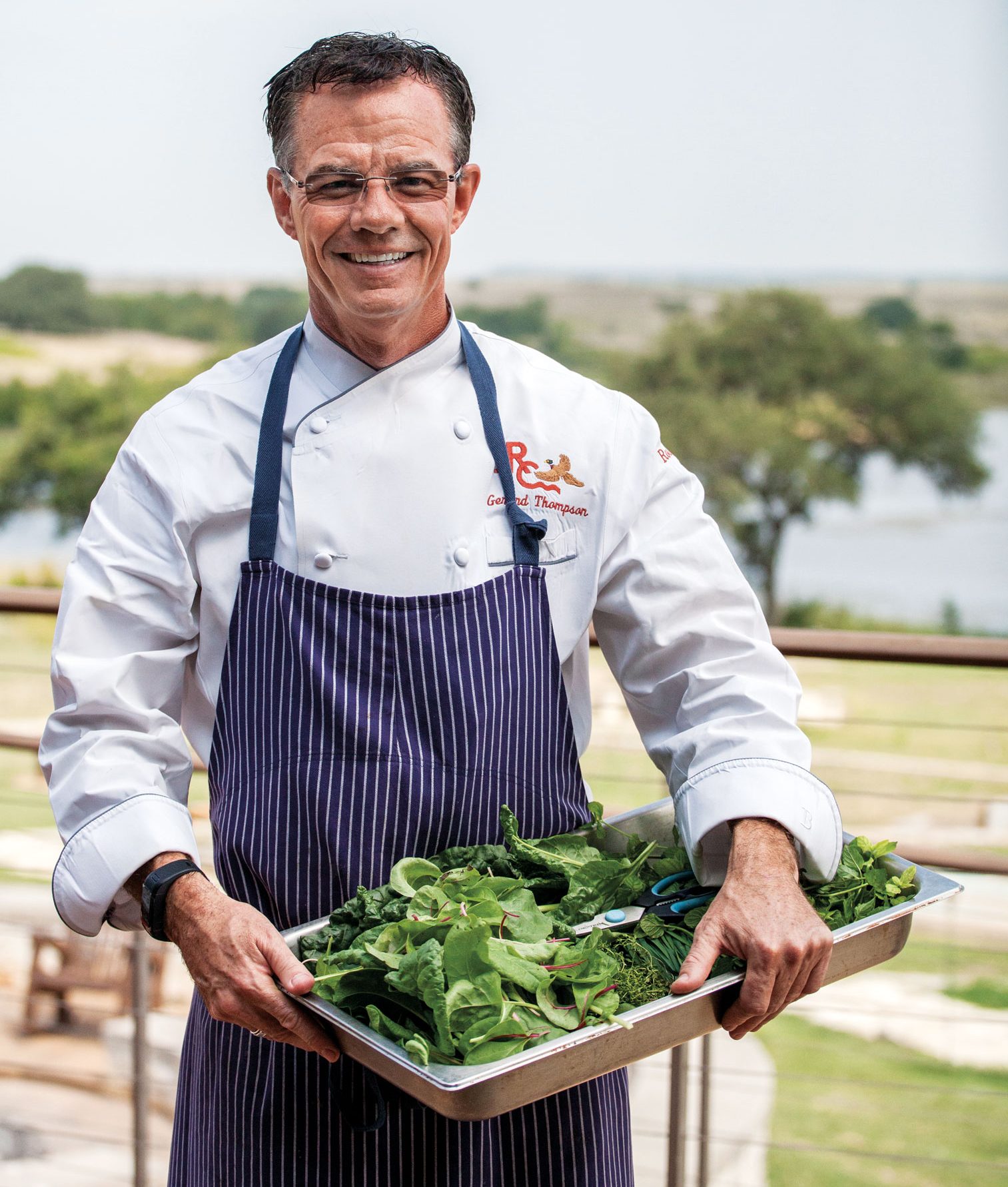 Gerard Thompson wields a large, sharp knife with one hand and carries a wooden stand holding a cured hog's leg in the other. He moves quickly to greet tables of newcomers and regular guests at Rough Creek Lodge. Thompson, the lodge's executive chef, shaves off paper-thin slices of prosciutto from the ample pig trotter and hands them out as appetizers.
"Hey! How's it going? I'm just making the rounds with my little piggy here," he says with a chuckle, gesturing to the leg under his arm and explaining that it's come from a red wattle hog sourced from a nearby Erath County farm. Soon, he takes over serving duties and delivers a hefty charcuterie board of sausage and other meats cured in-house, along with toasted focaccia and assorted items from fresh mozzarella to tart vegetable chow-chow. After dropping off the spread, he jumps behind the bar to assist the busy bartender. "What can I get you?" he asks one of the thirsty patrons waiting on a cocktail. Moments later, he's off to the kitchen again to help a server deliver a series of dishes to a large party.
Thompson simply does whatever needs doing—regardless of his title. It's just one of the things that endears him to patrons and colleagues and has cemented his reputation at Rough Creek Lodge, an 11,000-acre luxury ranch near Glen Rose. When he came to the resort 20 years ago from the elite San Ysidro Ranch in Santa Barbara, California, he had a more formal vision, with strict ideas about the dishes he would offer. Headliners would be high-quality meats and dishes like foie gras, sushi-grade tuna, Alaskan halibut, and antelope—strange suggestions for a restaurant in a rural setting two decades ago.
"You know what we served the other day? Frito pie!" he says with a laugh. "And guess what? It's the most popular thing we offered at lunch all week. I never would have believed that 20 years ago."
Frito pie isn't the only popular, if humble, mainstay he wouldn't have considered at the start of his tenure. "A guest suggested we serve biscuits and gravy, and I thought, 'That's crazy.' But I did it, and now it's a permanent feature," Thompson says. "Shows you what I know." Heck, he even admits that the simple chocolate sheet cake offered on the dessert menu pleases guests to no end.
Peachy Keen

Peach dishes on Rough Creek Lodge's menu have especially local roots.
Years ago, a pastry chef asked if she could take peach pits from work to plant at her home. Eventually she began bringing in buckets of what Chef Gerard Thompson calls "the most unbelievable peaches." They show up in a salad with goat cheese and pecans, as well as a Texan version of peach melba.
Finding ease and wisdom in giving guests what they want wasn't a stretch, however. Since opening in early 1998, Rough Creek made a name for its exceptional service, with staff coming from places like Dallas' Mansion on Turtle Creek. Offering the best of everything, from elegant guest rooms and superior massages and facials at the spa to luxury versions of experiences like shooting clay and horseback riding, it's got an upscale price tag, usually costing upwards of $300 nightly, depending on the season. It's the kind of place that CEOs rent out for weekend get-togethers. And while it's posh in its amenities, jeans and boots are standard wear at the resort, as at the restaurant, which is open to the public.
Frito pie notwithstanding, menu selections tend toward the exquisite. Every day, there's smoked salmon ordered from a favorite Southern California purveyor who knows her fishermen by name. Dinner options usually include pheasant, duck, and beef tenderloin, and accents range from wilted beet greens and shaved black truffles to rutabaga puree. Inspirations change daily according to supplies—many of which are shipped via FedEx to the remote locale—and the whims of Thompson and his team.
Assimilated to Lone Star tastes, Thompson enjoys blending Texas and Southern ideas into his refined dishes. Oak-grilled Texas quail, for instance, sits next to charred poblano grits, while a T-bone pork chop soaked in bourbon and molasses takes on a side of braised black-eyed peas.
The process of finding this sweet spot has defined Thompson's journey since landing in Texas: from discovering—and adapting—comfort food and mentoring young cooks to cultivating relationships with farmers and purveyors and spending time with guests. Great chefs have both a visible and invisible touch that goes beyond ingredients, silverware, and service. It cuts directly to the ethos, making dining at places like Rough Creek Lodge much more than just a great meal.
"And it's only taken me 20 years to figure it all out," Thompson says, laughing.
From the November 2018 issue