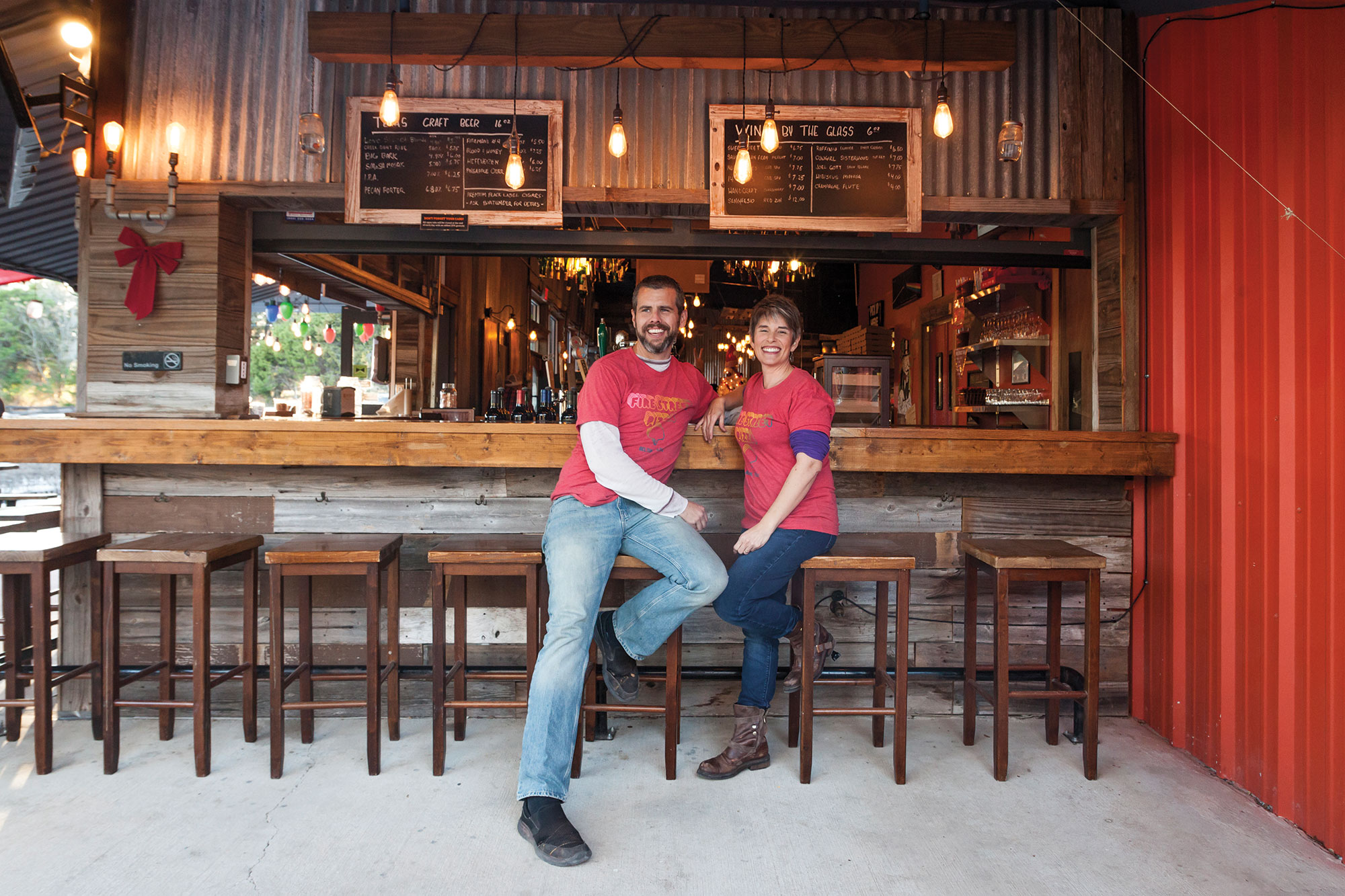 The road to Fire Street Pizza seems more likely to lead to nowhere. As you wind around cedar trees and open, mostly empty ranch land on FM 439 near Belton, you might think you've gotten lost. But the red laser-cut sign hanging over the restaurant's driveway will put hungry travelers at ease: "There's no place, quite like this place, anywhere near this place, so, this must be the place."
Sitting on 2 acres about 7 miles west of Belton, a town of nearly 20,000 an hour north of Austin, Fire Street serves up wood-fired Neapolitan-style pizza in a convivial atmosphere. While the location might be a little out of the way, it was convenient for first-time restaurant owners Jason and Alis Brumbalow, who bought the land from Jason's parents. The husband-and-wife team bought the property in the late '90s and set about building Fire Street from the ground up with the help of some friends. After about 20 years, the restaurant finally opened in November 2017.
"It's been a long, long road [creating] this place," co-owner Jason Brumbalow says. "This place was built on beer, sausage, and friends."
"It's been a long, long road [creating] this place," Jason says. "This place was built on beer, sausage, and friends."
The couple had wanted to own a restaurant since they started dating in high school. Jason worked for years as a producer and product developer for magicians, and Alis was an elementary school teacher—jobs they both loved. When their kids got to be teenagers, Jason and Alis, now 43, decided to try to turn their pizza-making dream into reality. With little formal training, Jason meticulously worked on perfecting the crust—the most important part of the pizza, he'll readily assure you—including three years of attempting Atlanta restaurateur Jeff Varasano's famous 22,000-word dough recipe.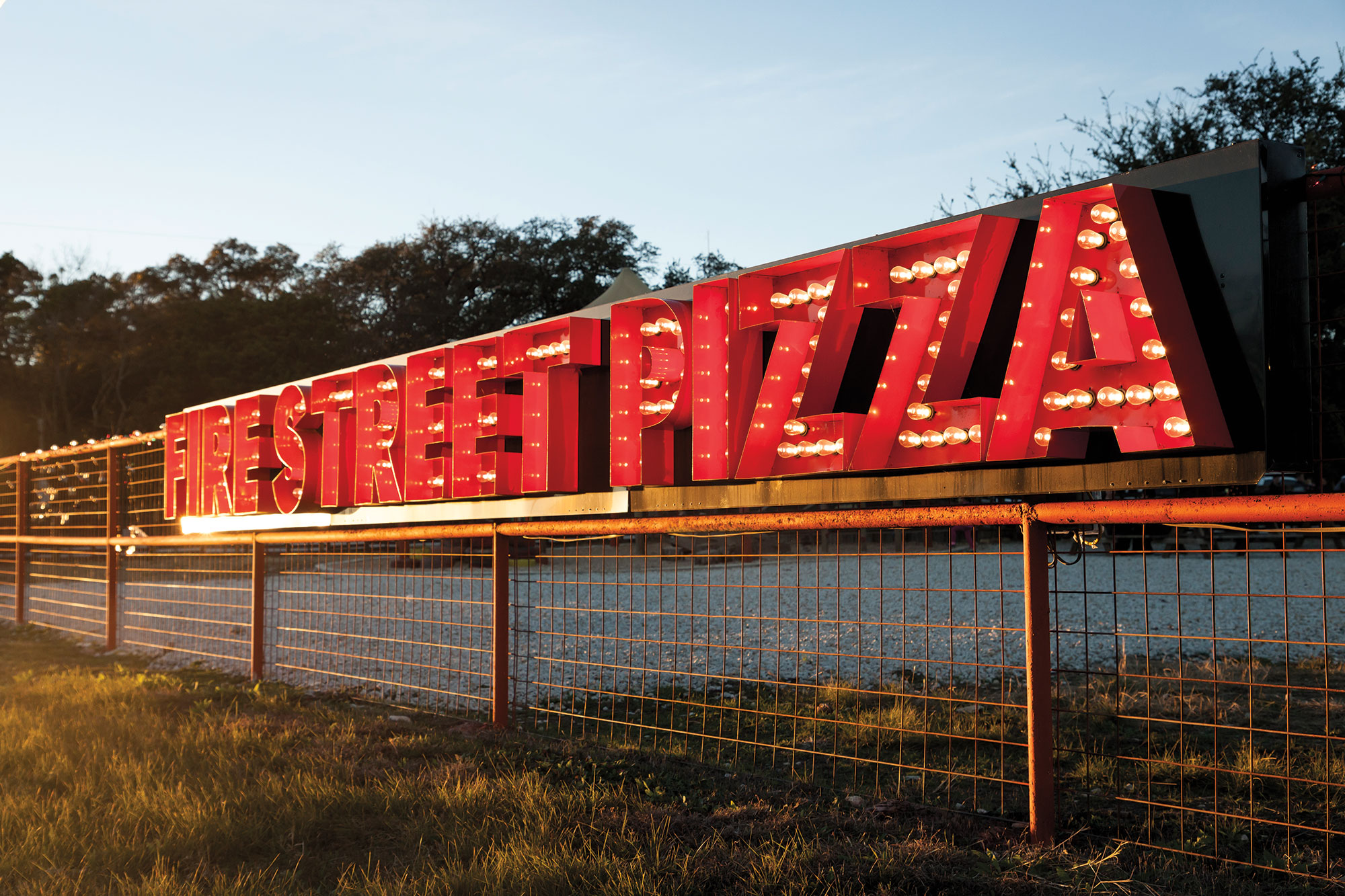 After Jason was satisfied with his base, he and Alis tested topping combinations by inviting neighbors over to taste pizza in "driveway food labs," as Alis calls them. The pizza oven Jason ordered online was temporarily stuck in their driveway, as it was too heavy to move to the backyard. That didn't matter for their grateful guests, who raved about their incorporation of candied pears and prosciutto as toppings, but also offered helpful feedback. "Thank God our friends were so harsh about our pizza," Jason says. "They don't cut us slack."
Their next step, which Jason refers to as their "trial by fire" phase, was to operate out of a custom-built food truck they parked in nearby towns and at local events starting in the summer of 2015. They quickly earned local fame and regularly sold out. That reputation has followed them out to the country, and people keep coming back because the Brumbalows know how to deliver an experience. "We're creating an environment for people," Alis says. "It's the music, the smiles."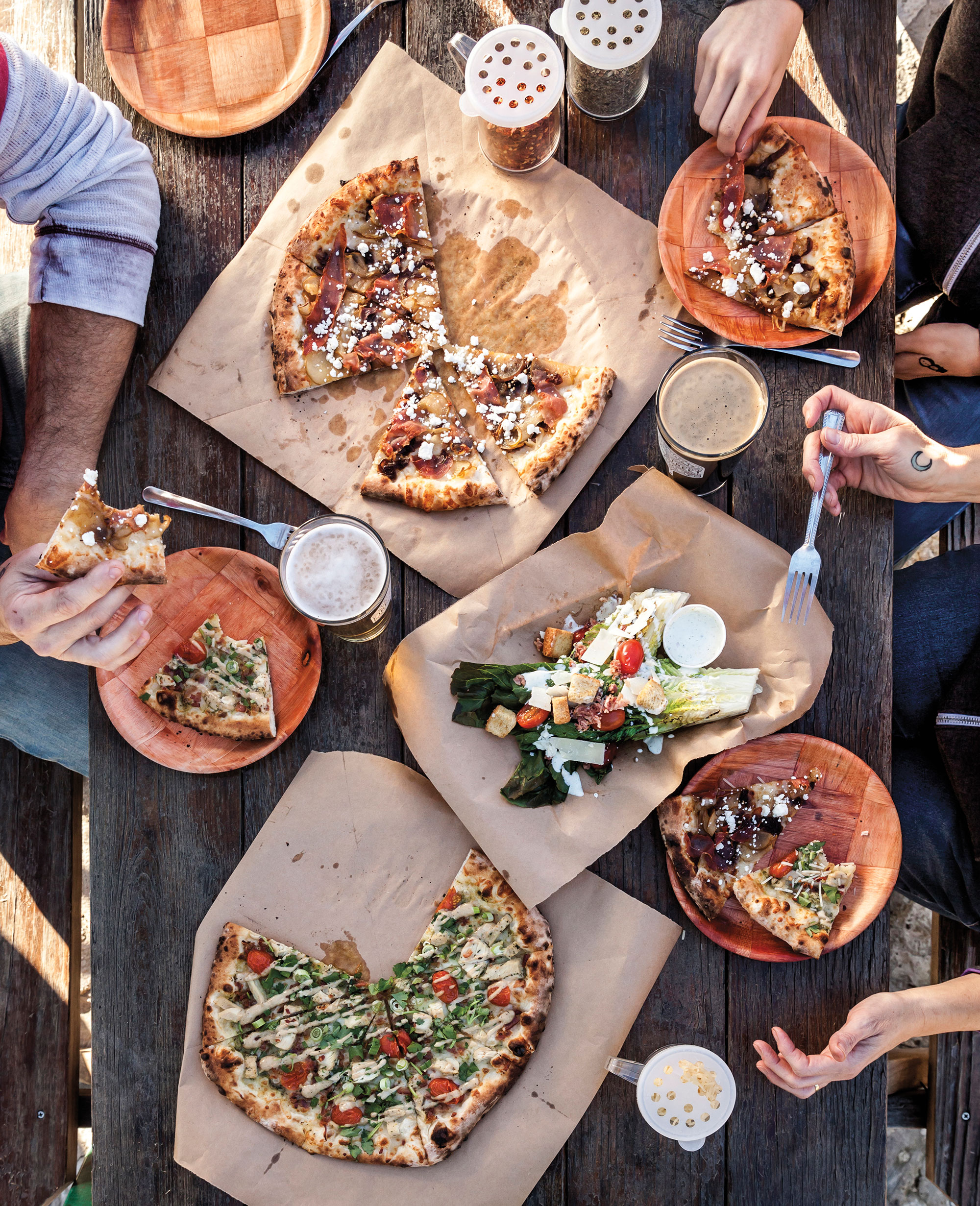 Loyal fans drive out of their way for pizzas like the Roman, topped with pears candied in wine and sugar, caramelized onions, aged prosciutto, and crumbled goat cheese; the California Dreamin' with herb-crusted chicken, bacon, scallions, fresh tomatoes, cilantro, and avocado Caesar dressing over a signature three-cheese blend; or the Jabberwocky, which features sausage, pepperoni, bell peppers, olives, red onions, and cheese, plus burgundy mushrooms, simmered for hours in beef stock and garlic. Any pizza pairs well with one of the 13 Texas craft beers on tap and a wood-fired dessert like the Splodin' Smores—a deconstructed s'mores dish wrapped in pizza dough, resembling a large calzone.
While the pizza is gourmet, Fire Street's exterior is decidedly down-to-earth—and fun: tetherball poles, lawn games, and a playground occupy the field out front. The outdoor stage often hosts live music in the evenings, and people line up for photos in front of the "love you to pizzas" sign near the fire pit. The interior is lively and warm with wood-paneled walls, picnic tables, and Edison light bulbs dangling from the ceiling. And with no TVs or Wi-Fi, conversation flows easily as customers engage with each other. "We wanted to foster a different type of clientele," Jason says. "Let's make people talk to each other because I believe that they will enjoy their experience a lot more."
And while the drive to Fire Street can be an exercise in patience and navigational skills, the road eventually leads to an eatery grounded in family, friendship, and lots of wood fire. Like the sign says, "this must be the place."
From the March 2019 issue