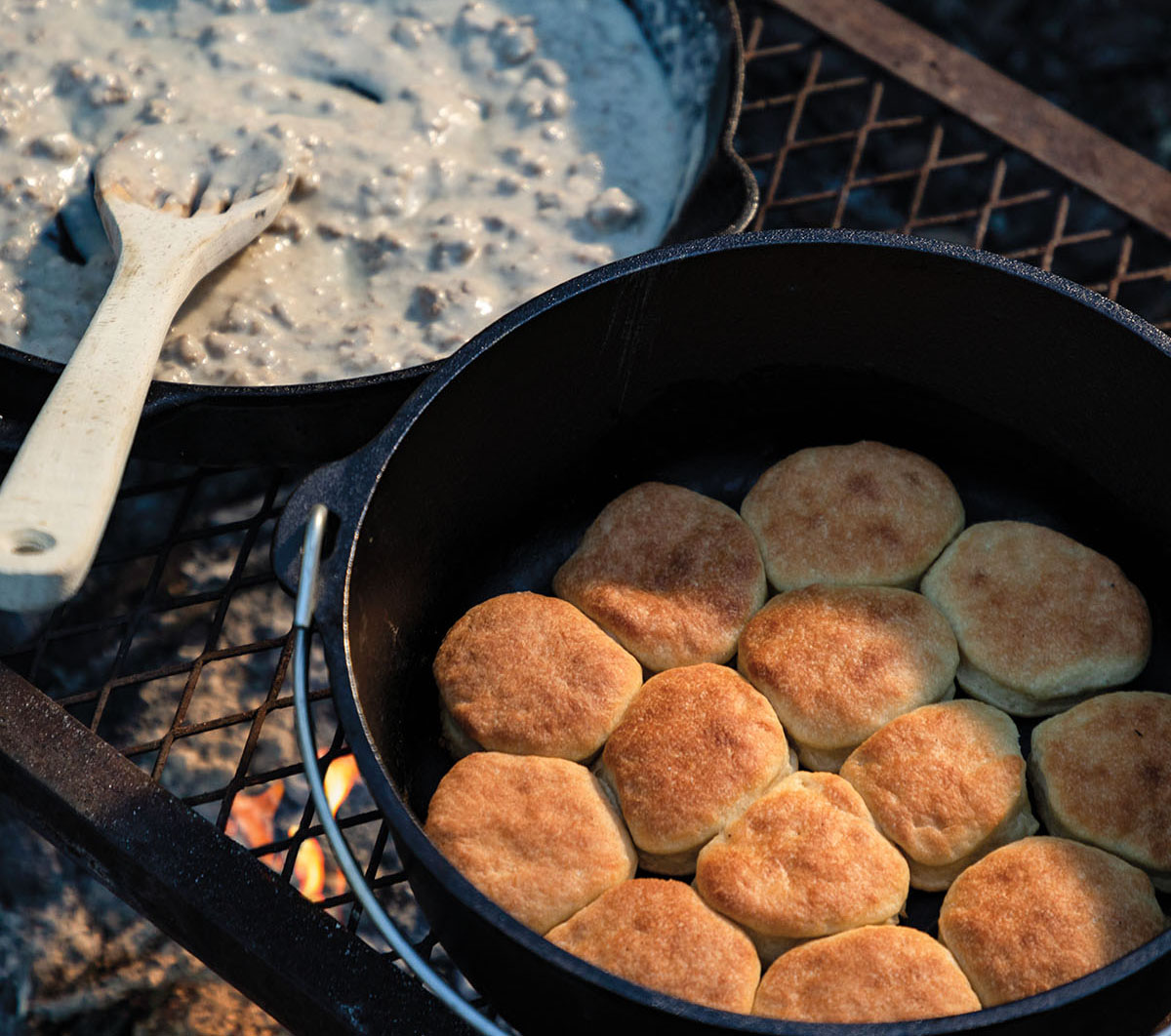 Take it from the people who know: Cooking while camping doesn't have to be hard. You just need the right equipment, a few good recipes, and a decent heat source for a flavorful meal.
Kent Rollins knows his way around a campfire. An experienced camper, he's spent years as a chuckwagon cook for ranchers and cowboys across Texas, New Mexico, Oklahoma, and as far as Wyoming. He travels and cooks with his 1876 Studebaker chuckwagon and nearly 400-pound stove named "Bertha." He's even brought his "cowboy comfort food" to TV, appearing on Chopped, Cutthroat Kitchen, and Throwdown with Bobby Flay, where he beat the celebrity chef with his chicken-fried steak. But to him, a fancy TV kitchen will never top the fire pit.
"People have been mesmerized by fire since way back in the caveman days. It wasn't only something that warms you—it could also warm your stomach when you learn how to cook with it," says Rollins, who hosts a cooking show on YouTube; has his own line of seasonings, rubs, and salsas; and runs the Kent Rollins Gift Shop in the small Panhandle town of Wellington. "To me, the taste that you get from the outdoors, from cooking with good smoking wood and a really good cast iron, is better than anything you're going to have in a five-star diner or a sit-down restaurant."
You don't need to haul an entire kitchen's worth of supplies to the wilderness, Rollins says. "If you've got a coffee pot, a skillet, or a 12-inch Dutch oven—and the utensils you need to serve and eat with—well, you've got it made," he says.
Sydney Blackwell, a park interpreter at Lake Casa Blanca International State Park, doesn't have a full chuckwagon setup when she goes camping. She keeps it simple with a small stove and a pan or two. She helps coordinate cooking classes to teach others how to use their own equipment when camping in state parks.
"With camping cooking, it can be as simple or as complicated as you want it to be," she says. "It really just depends on what you're comfortable with, what your camping experience is like, and if you're by yourself or with other people."
If you venture out to camp in one of Texas' state parks this year and plan on cooking, here's what Rollins and Blackwell say should be on your packing list, along with a few classic recipes.
Heat source
Bring firewood, charcoal, or propane to get your campfire kitchen started. But make sure to check if the state park you're visiting has a burn ban in effect—if so, a propane stove is your only option, Blackwell says. Don't expect to collect firewood on the premises; it's illegal in all state parks. But you can often find it for sale at a nearby gas station, grocery store, or even on-site at some Texas state parks. If you have the option, Rollins recommends going old school. "I used to do a lot of camping when it was just me and I just had a little coal stove," Rollins says. "But I prefer a good fire pit to cook with."
Cast-iron skillet
This is Rollins' go-to vessel for cooking, indoors and outdoors. He's hauled the same two 20-inch cast-iron skillets he purchased in the 1980s to every ranch he's cooked at. He brings a smaller one when he camps with his wife, Shannon, and their dog. "I always tell people, if you have a 12-inch skillet and a 12-inch Dutch oven, you can cook anything in the world to feed four or five people," Rollins says.
Sausage Gravy
Courtesy Kent Rollins
Ingredients
• 1/2 cup of meat grease (from cooking sausage, bacon, or other meat)
• 5 tablespoons all-purpose flour
• 1 ½ to 2 cups milk, warmed
• 1/2 pound cooked ground pork breakfast sausage
• Salt and black pepper
Instructions
In a large cast-iron skillet, heat the grease. Sift in the flour and bring to a light boil for 2 minutes, stirring and mashing down consistently with a flat spatula. Slowly stir in 1 1/2 cups of the milk and bring it back to a light boil. Continue stirring and mashing with the spatula until the mixture is smooth and reaches the desired consistency, about 2 minutes. Add more milk or water to thin the gravy if needed. Stir in the sausage. Season with salt and pepper to taste. Serve immediately over biscuits.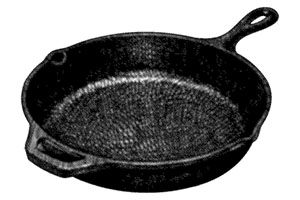 Dutch oven

A camping-appropriate Dutch oven is a little different than a fancy Le Creuset. The lid is flat, allowing the cook to stack coals on top or even invert the lid to create a second cooking surface. They can be set directly onto hot coals, although beginners might prefer to use a trivet or grate to hold the oven over the fire. Dutch ovens have a long history in America, beginning with colonists who brought them across the Atlantic. Now, they're versatile cooking vessels for campers.
Amish Baked Oatmeal
(Makes 4 servings)
Courtesy Lake Casa Blanca International State Park staff
Ingredients
• 1 ½ cups quick-cooking oatmeal
• 1/2 cup white or brown sugar
• 1/2 cup milk
• 1/4 cup melted butter or margarine
• 1 egg
• 1 tsp baking powder
• 1/2 tsp salt
• 1/2 tsp cinnamon
• 1 tsp vanilla extract
• Cooking oil
Instructions
Lightly oil a 10-inch Dutch oven. In a medium bowl, combine egg, milk, melted butter, vanilla extract, and sugar; whisk until combined. Stir in oatmeal, salt, and baking powder. Spoon evenly into Dutch oven. Bake at 350 degrees over a medium fire for 20 to 25 minutes or until the edges are golden brown. Top with warm milk, fresh fruit, or brown sugar if desired.
Coffee Pot

Just because you're in nature doesn't mean you have to give up your morning caffeine dose. Part of Rollins' cooking kit includes two steel coffee pots, which get heavy use on the ranches. His specialty is cowboy coffee, a traditional drink made by cowboys on the trail. "The first thing on every day and the last thing off is cowboy coffee," Rollins says. "When you make coffee and boil it right, you get rid of the acid in the bean and it's very smooth."
Cowboy Coffee
Courtesy Kent Rollins
Ingredients
• 1/4 cup coffee grounds
• 1 quart water
Instructions
Fill a coffee pot with water to the bottom of the spout and warm. Add the coffee grounds and bring to a rolling boil. To prevent the water from boiling over, slightly reduce the heat when boiling. Boil for about 4 minutes—the longer the boil, the stouter the coffee will be. Remove the pot from the heat and let rest for 2 minutes. Pour about 1/2 to 3/4 cup for smaller pots and 1 to 1 1/2 cups of cold water for larger pots down the spout and in the top of the pot. The cold water will settle the grounds. Serve hot.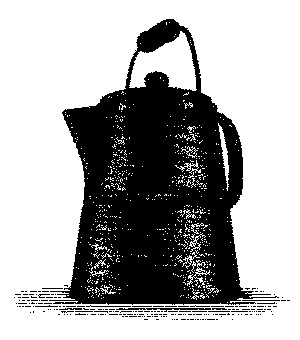 From the May 2023 issue