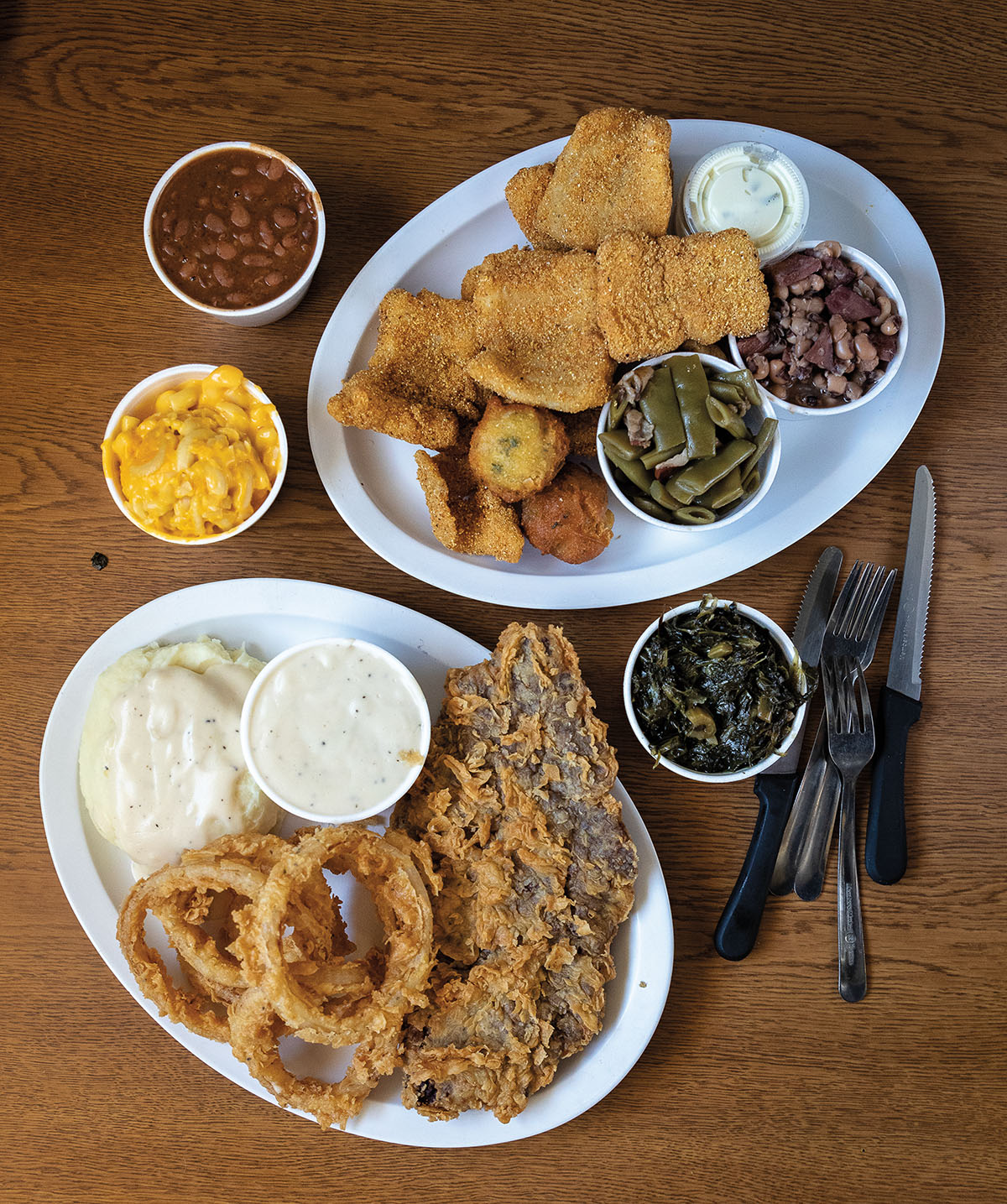 An hour into a 2002 interview with Billy Joe Shaver, the late, great Texas singer-songwriter stood up, looked at me, and said, "Talking about myself makes me hungry. Let's go to Griff's."
So, off we went on a 12-mile drive west from his house in northeast Waco. I remember thinking, Boy, this restaurant must be something special. It was a long way to go for lunch.
Nearly a half-hour later, Shaver pulled into the parking lot of what, at first glance, looked like just a gas station and convenience store. The building was painted red and white, with a simple sign that read "Griff's" on its side.
Turns out, the unassuming exterior is a nifty disguise for a home-cooking paradise, where great taste comes in large portions. And unlike the rising numbers at the gas pumps, to this day Griff's prices remain "reasonable." Most lunches and dinners are just under $10 and include two sides, gravy, and Texas toast.
For that first meal with Shaver, I had the chicken-fried steak with peppery white gravy—so good I considered bowing my head for a retroactive "grace." The light and crispy battering of the onion rings and fried okra was like hillbilly tempura.
At Griff's, you order at the counter and sit at long, banquet tables, and when they call your number you want to yell "Bingo!" The line can be daunting, but it moves fast.
"We have some customers who eat every meal here and order the same breakfast, lunch, and dinner every day," said owner Randy "Griff" Griffin, who opened the restaurant inside the gas station in October 1999.
Griffin got his start in the restaurant business as a 25-year-old assistant manager at a Waco franchise of PoFolks, a Southern comfort food chain that started in Nashville and is now solely found in Florida. He worked his way up in the company over the next 15 years, becoming a general manager and then vice president of operations. But at age 40, he was ready for his own place.
Griffin heard from his brother that the owner of a Waco-area restaurant and gas station called Hoffman's was considering selling the place. Griffin made an offer and soon took over the business. His first move was to expand the menu. Hoffman's Southern-inspired diner options "didn't have much in the way of healthy sides," Griffin said. Griff's also has hearty salads, with chunks of tomatoes, mushrooms, and red onions smothering the lettuce.
"Everything's homemade," Griffin said, "and our meats are cut fresh locally." Griff's even makes its hushpuppies from scratch, so there's no weak link on the fried fish plate. "Fish is our No. 1 seller," he said. "We sell about 400 pounds a week." On Friday nights alone, when it's $13.49 for all-you-can-eat catfish, Griff's might sell up to 200 pounds if the Baylor offensive line comes in for dinner.
Griffin's recipes are his own, but he took from PoFolks two keys to the restaurant business: Know your customers, and build a strong, loyal crew. More than half of Griff's 17 employees have worked there for more than 10 years.
Charlee Campbell, who lives less than a quarter mile from Griff's, is part of the breakfast crowd. About six regulars come in every morning and sit at the "knowledge table," where current events are discussed. "The food's very good, but what I love best is the atmosphere," Campbell said. "Everybody knows everybody."
The chit-chatting regulars clear out by 11 a.m. to make room for the lunch crowd. "The place fills up with working men," she said. "They know they'll get a hearty meal."
That Griff's puts customers first became boldly apparent in January 2016, when a customer accidently bumped his remote starter with his truck in gear and sent it through the side of the restaurant, missing a Griff's employee by mere inches. The cops came and the yellow tape went up, but Griff's never stopped serving. "It was about an hour before closing, and we weren't crowded, so we just worked around it," Griffin said. He didn't want a mutiny on his hands.
Once, Griffin worked alongside his niece and nephew to cater a dinner for White House staff who were visiting former President George W. Bush's nearby ranch in Crawford.
Though Bush himself has not stopped in at Griff's, rocker Ted Nugent comes in on occasion. One morning he helped himself to a piece of bacon from under the heat lamp. "Don't you dare!" came a shout from staff to remind the Nuge he wasn't backstage.
The sign says "Griff's," but the customers, who've been known to go in the back to make coffee, have got a hand in running it. Some tell Griffin he's sitting on a gold mine and should open more locations.
But the owner, who once employed hundreds of people at PoFolks, prefers the simplicity and quality control of having just one restaurant. He likes knowing all the customers and watching them keep coming back.
"We used to have a suggestion box, but we got rid of it," Griffin laughed. "Our customers aren't going to write it down. If they've got something to say, they're gonna tell us."
Since that first visit with Shaver, I've been back to Griff's many times. Each time I go, I'm as satisfied as I've ever been. Leave it to a songwriter to seek out inner beauty in a lunch spot.
From the August 2022 issue