Taking a Much-needed respite from highway driving, I exit Interstate 10 in Schulenburg at US 77 and head south for several blocks in search of lunch. Here, at the corner of Kessler Avenue and College Street, a restored white farmhouse with the Garden Company Marketplace & Café logo emblazoned on its side attracts my attention.
The Garden Company Marketplace & Café

217 Kessler Ave., Schulenburg.
979-743-4648
thegardencoandcafe.com

A second location, The Garden Company Feed & Firewater, opened in Round Top last June.
While I'm tempted to enter the café via the farmhouse's charming front porch, four baskets of succulents atop the low stone wall rimming the plant nursery beckon me to stroll the grounds first.
My eyes feast upon the nursery's lush greenery. Trays of  cacti and succulents—donkey's tail, mother-in-law's tongue, hen-and-chicks—entice me with their fanciful names and plump leaves. I pause to admire a gaggle of whimsical, brightly painted metal garden sculptures—among them, a saguaro cactus, a few agave plants, and a flamboyant rooster with a brood of hens—and pass hanging baskets dripping with brilliant blooms in red, purple, and yellow. Pots of multicolored croton and topiary entice me to enter a low-slung retail building behind the rows of plants, where the eclectic offerings include potholders, tea towels, mugs, pitchers, soup bowls, bud vases, and planters—all artfully presented in vintage cupboards and atop shabby-chic tables. To the left of this building, a rustic silo houses more goods, and in keeping with the industrial theme, it's lit inside by a chandelier that has been fashioned from an irrigation wheel.
After getting their landscaping business up and running, in 2014 the Thompsons turned their attention to opening a restaurant in the restored farmhouse.
With my road-weary nerves calmed by such graceful surroundings, I head inside the restaurant, where co-owner Stevie Thompson greets me.
Stevie tells me that she and her husband, Jeff Thompson, first ran their nursery and landscaping business on the other side of Kessler Avenue, and then purchased this property in 1999. The farmhouse, which was built in 1907, had been vacant for 30 years but had good bones, so they set about restoring it while getting their business up and running. Jeff spends his time running the landscaping side of the business while Stevie focuses on merchandising and design in the restaurant and retail shop. "I love every kind of design," she says.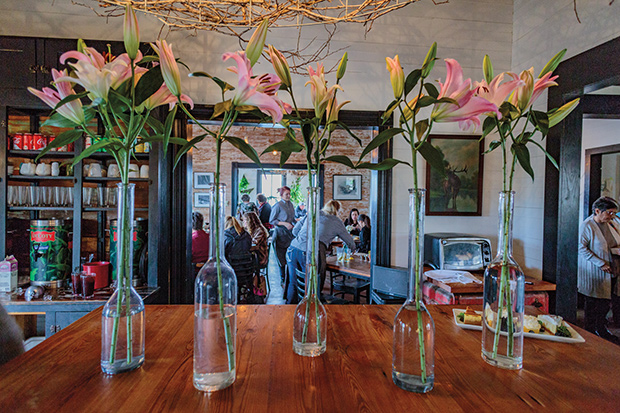 After getting their landscaping business up and running in the new location, in 2014 the Thompsons turned their attention to opening a little sandwich shop in the restored farmhouse.
"My first thought was to just have bistro-style offerings of sandwiches, salads, and soups," she says. "But that idea changed when our friend Leo told us that his son Kenny Kopecky, an Austin chef, wanted to move home to Schulenburg. We didn't know how we could afford a chef, but we figured we should at least have a conversation with Kenny before proceeding."
Recipe

The Garden Company's Brussels Sprouts

Serves four or more as a side dish

♦ 2 cups Brussels sprouts, trimmed, washed, and cut in half
♦ 2 T. capers
♦ 2 T. Kalamata olives
♦ 4 T. candied walnuts
♦ 4 T. sweet chili sauce
♦ Togarashi spice to taste
♦ Vegetable oil for frying

Deep-fry Brussels sprouts along with capers and olives until crispy. Drain and toss with remaining ingredients.

(Find sweet chili sauce and Togarashi spice— a mix of chile, sesame, orange peel, seaweed, and other spices—at international markets.)
Kopecky, who had served as ex- ecutive chef in Austin at Annies Café & Bar and at Blue Star Cafeteria, proposed a menu based on organic, seasonal ingredients and flown-in fresh fish. His lunch menu has a se- lection of creative appetizers: The crispy Brussels sprouts with candied walnuts, Kalamata olives, capers, sweet chili sauce, and a dash of Japanese Togarashi spice is a popular stand-out. Two soups and 10 salad offerings—some topped with chicken, trout, salmon, or tuna—make for light meals, while sandwiches, burgers, and wood-fired pizzas satisfy heartier appetites. The soups and some of the salads open the dinner menu, with entrées including duck, pork, lamb, and beef accompanied by seasonal vegetable sides and fresh desserts.
"Schulenburg is a gateway for those wishing to tour our painted churches," Stevie says, "so we get tourists from as far away as Australia, Germany, and England. Dining options in Schulenburg were limited before we opened, so the townsfolk have been very supportive as well."
Inside the farmhouse, the original hardwood floors and simple wooden tables and chairs are visually softened by fresh flowers on the tabletops, large planters of greenery, and a cupboard full of fish-shaped "Gurgle Pot" water pitchers in myriad bright hues.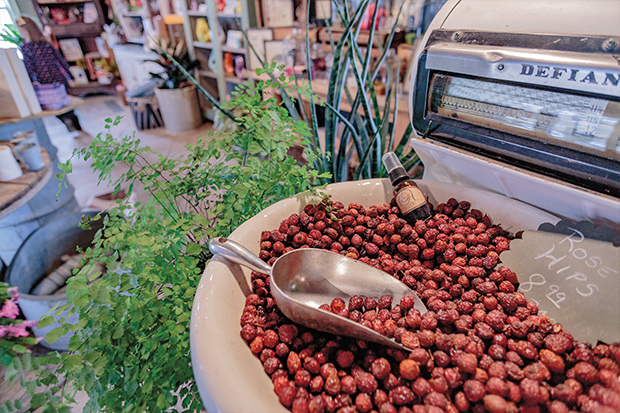 The interior is charming, but when Stevie mentions the outdoor patio is dog-friendly, I opt to spring my border collie, Miss Chloe O'Brian, from the Jeep so we can dine together al fresco.  Chloe's brown-bagging it today with a few dog biscuits, but I'm eyeing the outdoor wood-fired oven, envisioning which of the seven pizzas I want to order.
"Schulenburg is a gateway for those wishing to tour our painted churches, so we get tourists from as far away as Australia, Germany, and England."
I choose an imaginative one: Brie and mozzarella cheeses studded with pancetta and topped with slices of fresh Anjou pears, plus an equally interesting salad of sliced roasted beets, sweet-yet-tart grapefruit sections, fennel pollen, goat cheese, and candied walnuts over mixed greens dressed in a light citrus/balsamic vinaigrette. The salad's a kaleidoscope of color and just as bright on the palate.
Thanks to the 700-plus-degree wood-fired oven, my pizza arrives quickly. The silken crust—Kopecky uses finely milled pizza flour that has the texture of baby powder—provides a satisfying, crisp crunch contrasting with the opulent richness of the two cheeses, while the pancetta—an Italian version of cured-but-unsmoked bacon—serves as a foil to the sweet spiciness of the slices of red Anjou pears. I savor each bite.
As hungry as I am, I only make it about halfway through my pizza before opting for a to-go box. I lay the box on the passenger seat while I open the door for Miss Chloe to leap into the back seat. I'm just about to jump in behind the wheel when I see how tempting the box looks. Better put it in the way-back, I tell myself, or it will be gone before I make it back to Austin. On second thought, I leave it within arm's reach: I still have nearly 100 miles to drive, and one never knows how the traffic will be.
From the March 2018 issue