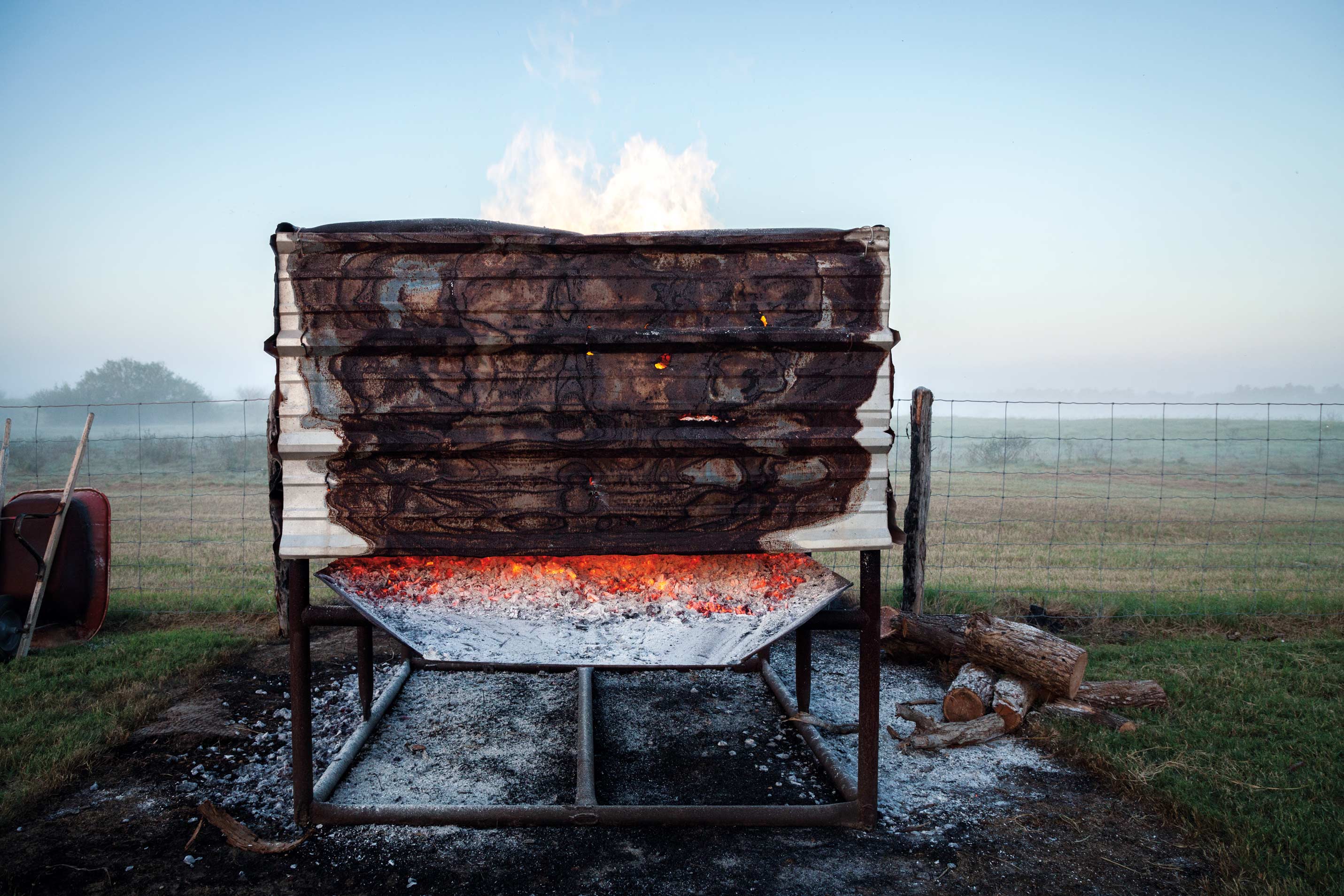 My kids know I'm happy to travel for a meal, particularly when huevos are involved, but in their minds, this was pushing it. The night before, we'd driven more than three hours across the dark, South Texas landscape to Kingsville. Now, on a Saturday morning, they were back in the car just before dawn. "But look at the light, it's beautiful!" I told them, pointing to the horizon. "Besides, this is not just any breakfast," I promised. "It's a chance to experience Texas history on one of the most famous ranches in the world."
Held annually on the weekend before Thanksgiving, the Ranch Hand Breakfast at King Ranch welcomes the public for a meal worthy of a cattle drive, along with events aimed at connecting visitors with the ranch's fabled history. Camp cooking and roping demonstrations, live music, poetry, and storytelling bring the history to life, while a few miles east in downtown Kingsville, the city's Ranch Hand Festival rounds out the weekend.
Kingsville's Ranch Hand Festival: Nov. 16-17, 2018
The 28th annual Ranch Hand Breakfast is on Nov. 17, 7-11 a.m.
At the King Ranch off State Highway 141 in Kingsville.
Meal tickets cost $6 (free for ages 3 and younger).
The festival includes ranch tours, arts and crafts vendors, musical entertainment, a downtown holiday lighting ceremony, car show, and other cowboy-themed entertainment.
361-592-8055
king-ranch.com
ranchhandfestival.com
Boasting 825,000 acres and roughly 35,000 cattle, King Ranch is one of the largest ranching operations in the world, so I was surprised by the modest entrance: a road flanked by two unassuming white pillars. A thick morning mist hovered above the straw-colored grass and prickly pear cactus as we rolled onto the property, past cowboys tending a fire, massive oak trees, and the ranch's white Mexican Colonial-style outbuildings.
After two cowboys on horseback herded us into a parking spot, we made the short walk into the heart of the festival, which the ranch started in 1991 as a fundraiser for Kingsville's downtown holiday activities. Two flour-dusted women patted out biscuits at a chuckwagon kitchen, arranging them in a Dutch oven for baking under hot coals. A handful of musicians tuned their instruments, while another group harmonized to holiday carols. I was especially happy to spot a mustached gentleman pouring coffee from a speckled tin pot. "You're the most popular guy here," I told him when he filled my cup. "That's probably true," he laughed.
The kids enjoyed checking out the vendors—including plenty with souvenirs bearing the King Ranch's 1869 "Running W" brand—observing a pasture of Longhorns, and chatting with craftsmen like Robert Caldera, a weaver who specializes in custom, handwoven art. "I started on the ranch as a butler," he said as he continued to feed red wool thread through his loom. "There was a need for a weaver, and they asked if anyone wanted to learn the craft, so I signed up." These days there's a waitlist for Caldera's intricate saddle blankets and rugs.
"This is not just any breakfast. It's a chance to experience Texas history on one of the most famous ranches in the world."
The national anthem and a moment of prayer kicked off team-roping demonstrations in the nearby arena, but the wafting aroma of sausage reminded us that it was time to eat. Local volunteers filled our plates with scrambled eggs, thick and smoky refried beans, biscuits and gravy, sausage, tortillas, coffee, and juice (all for $6). We scored seats on a hay bale in front of the band and dug in. "Anyone here from Texas?" the fiddle player asked, to the amusement of the audience (most hands were raised). "This is as cold as it gets in South Texas," said the announcer. "Sometimes we wear shorts on Christmas." Enjoying a meal together with the warm sun on our backs felt so familiar, it was almost easy to forget the significance of where we were sitting—a site considered the birthplace of American ranching.
The story of King Ranch begins in 1835, when a scrappy 11-year-old boy named Richard King escaped his miserable life as an indentured servant in New York by stowing away on a boat headed south. After landing on the Gulf Coast, King eventually established himself as a successful and respected steamboat captain in Brownsville in 1847. Five years later, Captain King made a life-changing trip north, from the Rio Grande to Corpus Christi, crossing a rugged region known as the Wild Horse Desert. Upon discovering the spring-fed Santa Gertrudis Creek, King quickly realized the place could sustain domestic stock. King and his business partner, Gideon "Legs" Lewis, purchased the 15,500-acre Mexican land grant—and, in 1853, King Ranch was born.
In the ensuing decades, the ranch grew exponentially. It broke new ground in cattle breeding in the 1920s with the development of the hardy Santa Gertrudis, America's first new breed of beef cattle; a horse-breeding program that produced the thoroughbred Assault, the 1946 Triple Crown Winner; long-term oil and gas leases with Humble Oil Company (now
ExxonMobil); and agricultural advancements such as mechanized brush control methods, innovative corrals for working cattle, and improved grasses.
The lore is all there for the taking: History buffs shouldn't miss the King Ranch Visitor Center, where you can sign up for daily tours, including a half-day birding tour or evening spotlight tour. Located a few miles down the road toward downtown, the King Ranch Museum is a treasure trove of photo exhibits of life on King Ranch in the early 1940s, saddles from around the world, full-scale replicas of historic Republic of Texas flags, and vintage rifles.
On our way out of town, we stopped at Kingsville's Ranch Hand Festival. We perused the King Ranch Saddle Shop—where shoppers swooned over leather goods and watched the resident master saddle-maker at work—and then explored East King Avenue and listened to a local mariachi group gamely perform while a train roared past. We also played the "which one would you buy" game at the vintage car show. Vendors selling jewelry, ceramics, leather goods, mesquite woodwork, and succulents provided another window into South Texas culture. We were too full for tamales, but we bought a jar of dark, fragrant honey from Homer Garza, the self-proclaimed "Bee Man" from nearby Riviera.
While my kids slept on the drive home, it occurred to me that making a pilgrimage to King Ranch allowed us not only to witness an ongoing link to the past, but to make the legendary outpost a part of our own history as well.