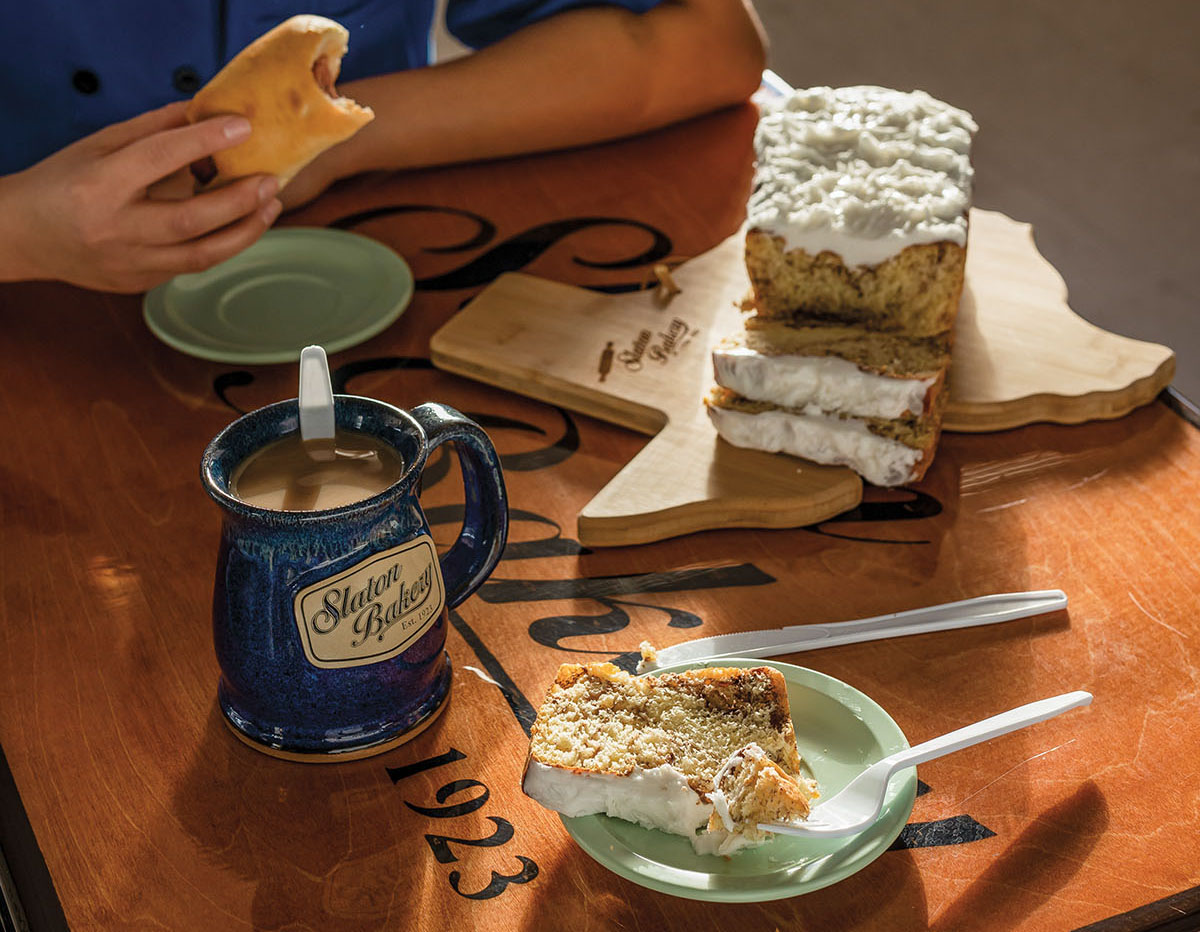 T
he tiny, early-to-rise Panhandle town of Slaton runs on the fresh-brewed coffee and just-baked breakfast pastries from the historic Slaton Bakery. Employees arrive before dawn to whip up assorted doughnuts, kolaches, muffins, and more by 6 a.m., when doors open. "Our town's pretty blue collar, so a lot of them are getting started early," says Chad Wilson, who owns the bakery with his parents, Sherrell and Robin Wilson.
Slaton Bakery
109 S. 9th St.
Open Tue-Fri
6 a.m.-6 p.m.;
Sat 6 a.m.-3 p.m.
806-828-3253;
theslatonbakery.com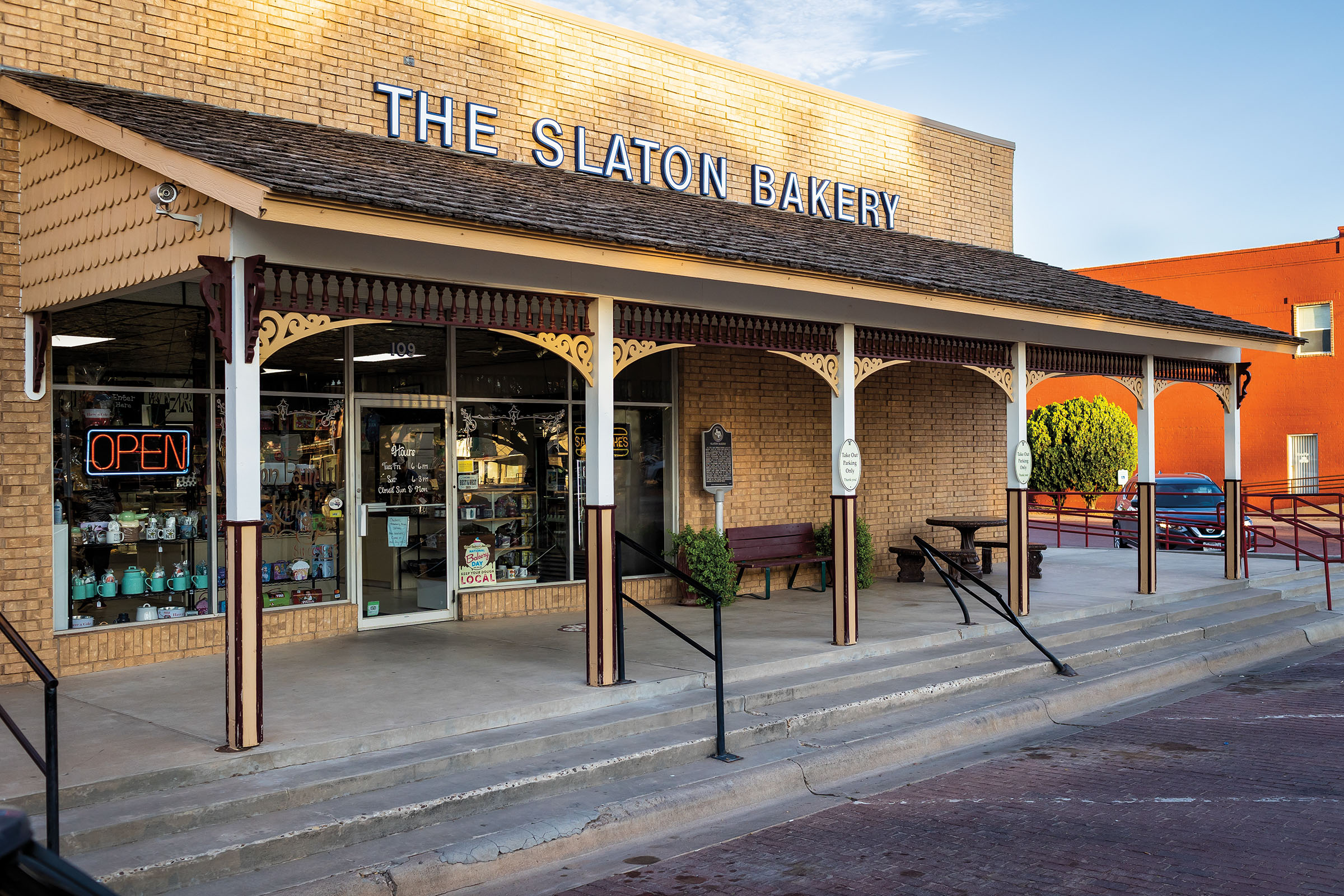 First come the farmers, then the hungry schoolkids and their parents, followed by regulars who enjoy sandwiches on house-made bread in the bakery's small dining room. From sunrise to 6 p.m., the bakery bustles with locals and tourists—Chad has counted visitors from every state and 50 countries—who have kept it running for nearly a century.
Slaton Bakery resides across the street from City Hall in historic downtown Slaton, a community 20 minutes southeast of Lubbock with a population of 6,000. Founded in 1923 with the merger of Blue Ribbon and City bakeries, Slaton Bakery has seen the town through its booms and busts. Now, Wilson and the bakery staff plan to commemorate 100 years of business next year with special releases and a celebration on June 10.
As one of the oldest operating bakeries in the state, Slaton Bakery's significance to the town earned it a Texas Historical Commission marker in 2009. Offerings at the bakery include cookies—including their beloved thumbprint cookies, made in-store from an old family recipe since the 1950s—and an array of cakes, pies, sandwiches, bread, flour tortillas, pastries, and even dog biscuits.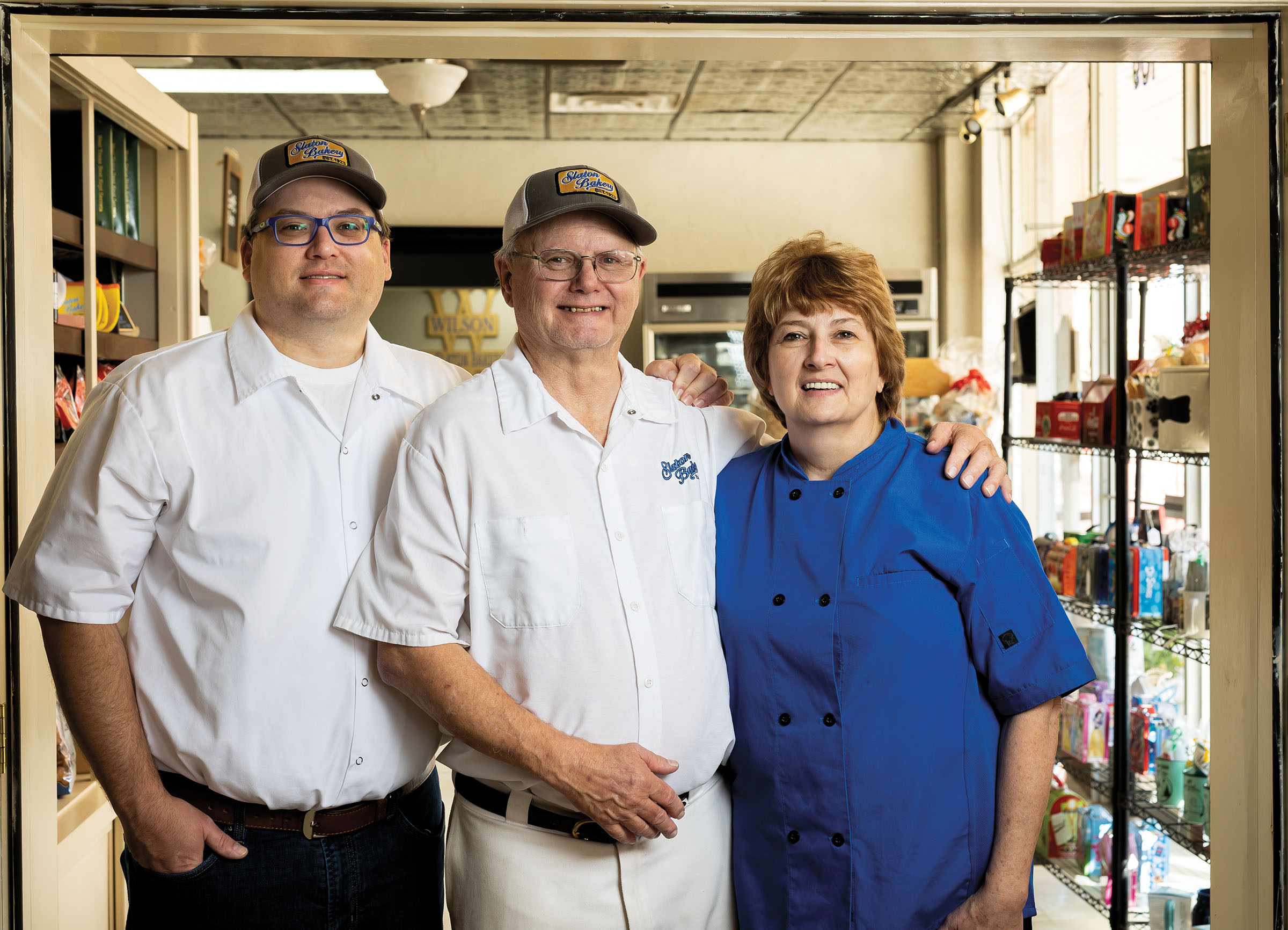 Other widely known Slaton goods are the gingerbread snap cookies, ideal for dipping into a hot cup of black coffee; and vanilla wafers, which are a favorite of banana pudding makers. While the gingerbread snaps—soft like gingerbread but small like a gingersnap—are a more recent addition to the lineup, Slaton's vanilla wafers have been sold in the bakery since the 1980s, though the recipe is much older. "We had a little basket up front that they would sit in," Chad says. "We noticed people were driving from all over the place to get the wafers."
That inspired Chad, who has been helping around his family's bakery since he was in elementary school, to reach out to grocery stores to score larger distribution. For the last decade, Slaton Bakery has supplied its wafers and snaps to H-E-B, United, and other grocery and convenience stores across Texas.
"People have started really respecting and supporting small business, and I've really enjoyed that," Chad says.
To keep up with demand in 2012, the bakery opened a cookie plant five minutes down the road, where a small team mixes the mostly Texas-sourced ingredients, like Panhandle Milling flour and Imperial Sugar. In 2015, Slaton Bakery won H-E-B's Quest for Texas Best, the grocery chain's annual competition to find the next state-made product to stock its shelves. These days, shoppers can look out for bags of the bakery's wafers, packaged in blue; and snaps, packaged in orange. Black-and-white photos of Ollie Mae and Barney Wilson, Chad's grandparents who ran the shop from 1943 to 1973, are featured on the front and back of the 1-pound bags.
Slaton Bakery has come a long way since the Wilson family first took over the business in 1943. A few years earlier, Barney took a job working at a bakery in Killeen, where he met Ollie Mae. "She would always ask her parents to let her go to the bakery to pick up the bread so she could see Barney," Chad says. "He'd take her baked items to the car so they could spend a little extra time together." They married, and when they moved north, Barney got a job at Slaton Bakery, eventually buying out his boss.
Because of rationing during World War II, Barney purchased his ingredients on the black market and got creative to make popular flavors. Since pineapples weren't readily available, for example, he mixed pineapple juice with squash to make pineapple upside down cake and other pastries. His ingenuity kept the bakery running.
Slaton Bakery also claims to have introduced sliced hamburger and hot dog buns to Texas. Barney had struggled to make the business stand out among bigger names, so when a traveling salesman came knocking one day in the early 1940s offering a slicer, Barney took the bait. Today, that original slicer sits on display inside the bakery. "It still works," Chad says. "On super big orders we'll clean it up and bring it out."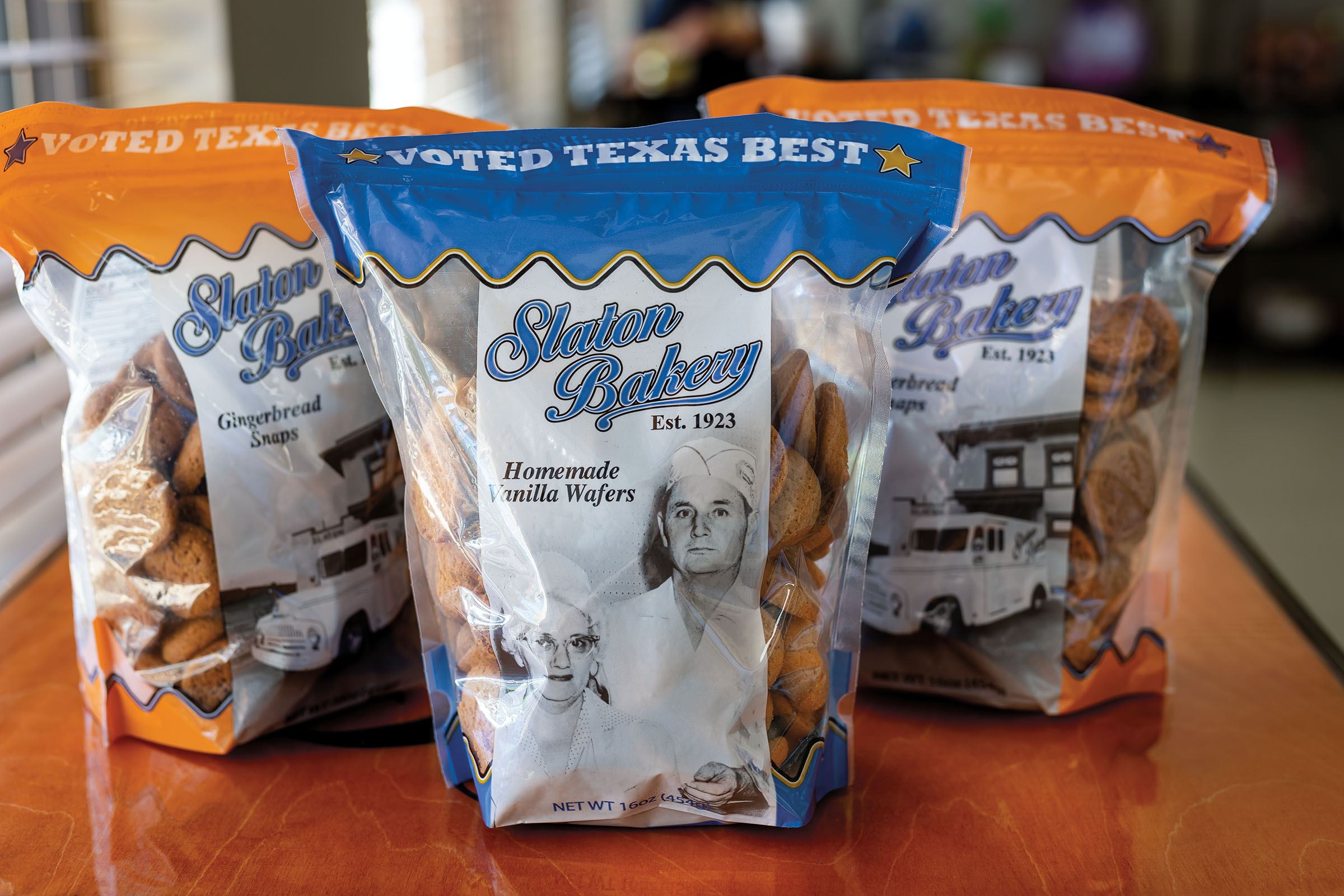 In 1958, Barney scaled the bakery back considerably, selling goods out of the back of his house. "His retirement plan was, if he could sell $35 a day, he could keep everything running and have a lot to live on," Chad says.
Barney and Ollie Mae sold the small bakery in 1973 to Chad's parents, who moved it to its current Ninth Street location in the early '80s. Family photos of past generations of Wilsons adorn the dining room walls, while an adjoining room holds old equipment like a retired 1960s milk case and a mixer that was out of use by the time Chad started working there. It wasn't until the family was researching the bakery's history for the historical designation that they learned the current store happened to be where the original Slaton Bakery operated in the 1920s.
The bakery's survival through many phases over the decades is a testament to longtime staff and family. Tyler Wilson, Chad's cousin and a fourth-generation Slaton employee, manages the cookie plant, giving Chad hope that the business will stay in the family. Carl Beard, who fries doughnuts, bakes cookies, and generally helps out around the business, has been with the bakery for 35 years. And Emma Morales started decorating cakes at Slaton Bakery 28 years ago.
"We'd always come to the bakery when we were younger," Morales says. "They treat us like family. They always tell us, 'If you're struggling, we're here to help y'all.'"
Chad plans to keep expanding the bakery's business with new partnerships and intends to help his parents retire after decades of hard work. "I've had a lot of ideas and the drive to do new things," Wilson says, "and they've had the experience and the wisdom to help steer the ship."
From the December 2022 issue