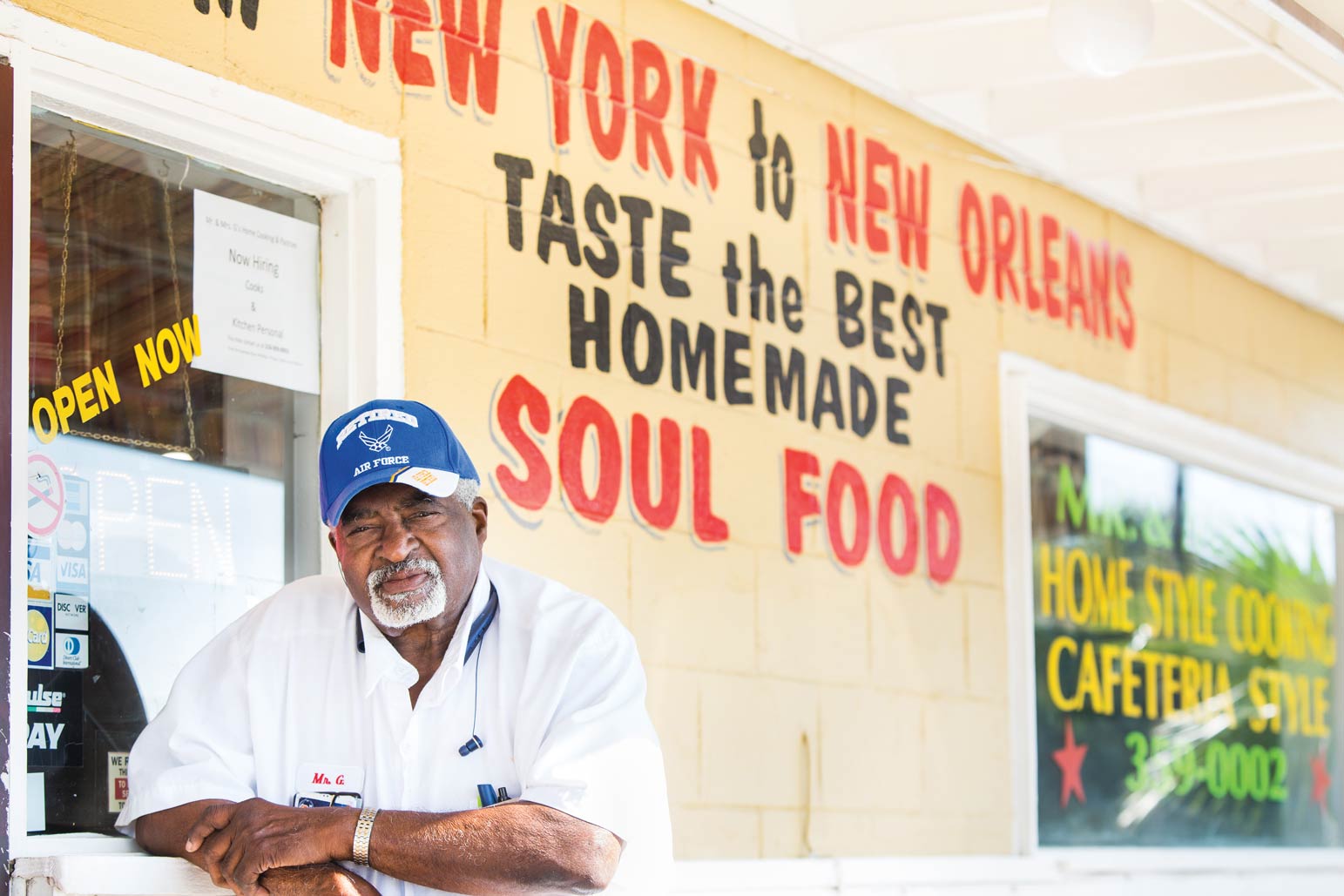 Wearing a red apron and blue "Retired Air Force" cap, William Garner walks out of the kitchen of Mr. & Mrs. G's Home Cooking and Pastries in San Antonio. It's the lunch rush, and the phone is ringing as the 81-year-old takes his usual seat behind the cashier. "Hello," he answers. "Pot roast? Yes, we do."
Hanging up, Garner notices a young girl waiting in line with her mother. He gives her two pieces of candy then shakes hands with a regular customer who introduces him to an out-of-town visitor proclaiming his love for the soul food restaurant—all evidence of the warm glow of kinship that has developed over three decades in business in the city's East Side neighborhood.
"Even if you're eating alone, it feels like home," says Frank Dunn, a businessman who's been a regular customer for 28 years. "It's like family."
Garner and his wife, Addie, who passed away in September 2017 at 82, had been welcoming the community to their namesake eatery—and to their family—since they opened the place in 1990. In a city where the population is just over 7 percent African American, they established one of the finest soul food restaurants in the country, even landing on USA Today's "10 Great Places for Soul Food" list in 2013.
Mr. & Mrs. G's Home Cooking and Pastries
210-359-0002
Open Mon-Fri, 11 a.m.-6 p.m.
"Soul food is the common term for black cooking, something like chitlins or pigs' feet based on home-style Southern cooking," Garner explains in the raspy cadence of a preacher expounding on scripture. "It's home cooking just like you go home to get—black-eyed peas, ham hocks, a home-cooked meal. Soul food came from when mama, grandma, and auntie gave it their all, with heart. It was prepared soulfully. You know what I'm saying?"
Mr. and Mrs. G's dishes have become legendary: fried chicken, catfish, pork chops, ham hocks, ribs, smothered steaks, sweet potatoes, mashed potatoes, lima beans, green beans, black-eyed peas, cakes, pies, banana pudding, peach cobbler, and more.
The restaurant is Garner's homage to his past and his ancestors, but it's also his love letter to the city of San Antonio. An experience he had as a 20-year-old trainee at Lackland Air Force Base in 1958 gave him perspective on the healing potential of kindness and a home-cooked meal.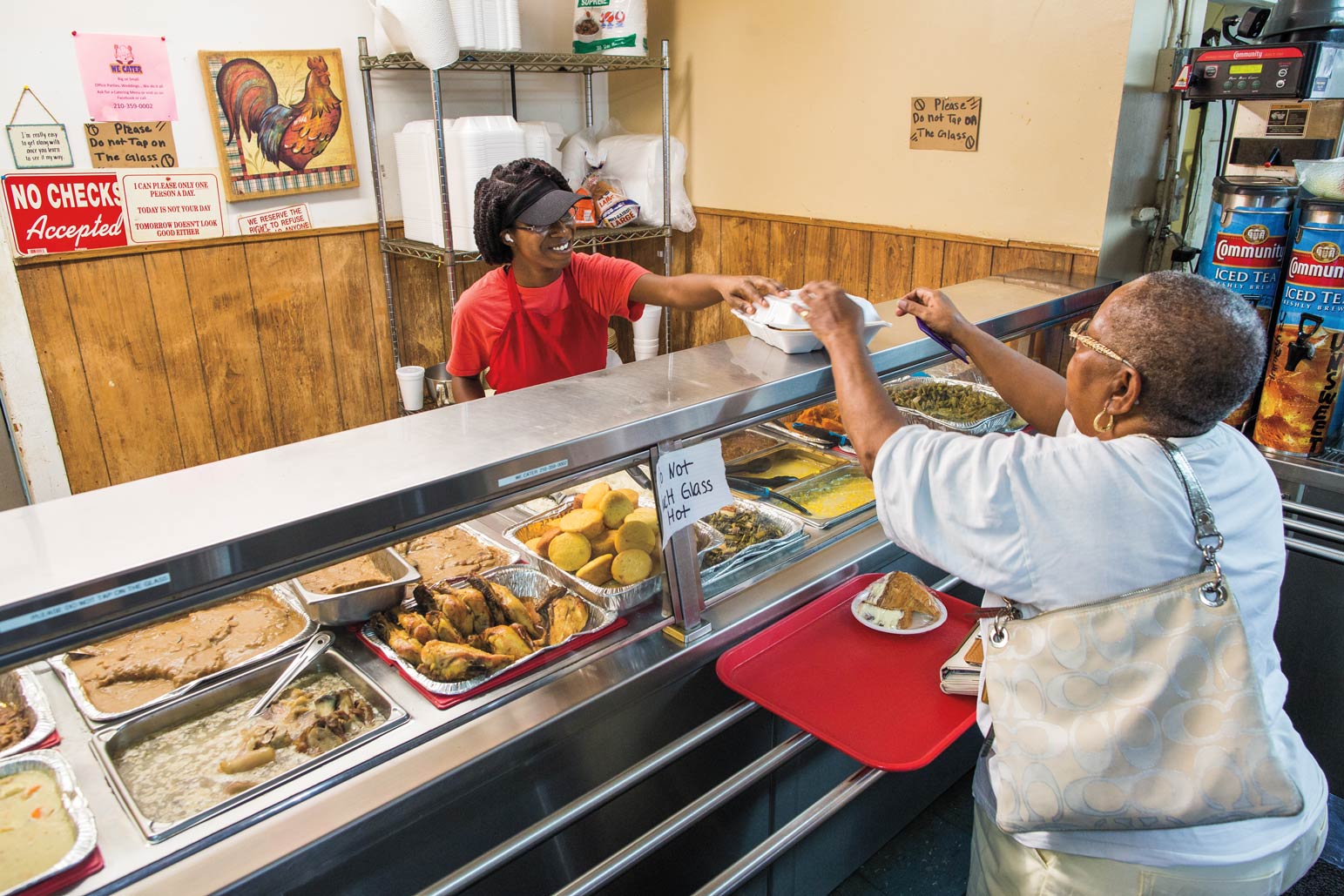 Garner had taken a bus with six other trainees—three white and three black—in search of something to do downtown. The young men walked across the railroad tracks into the city's historically black East Side, past the cemeteries. They stopped at a hamburger place where the white owner said that only the three white airmen could enter. They refused to go in without their friends, so they all continued down the street. Soon, a familiar aroma brought Garner back to his hometown of Hartselle, Alabama.
"I thought somebody was cooking Sunday dinner," he says. "It smelled like somebody's good home cooking."
It came from a small restaurant where the owner, a black man, welcomed the group, who dined on fried chicken, green beans, mashed potatoes, french fries, corn bread, and colas.
"I wish there was a way for me to repay this to the city," Garner recalls thinking after the meal. "He allowed us to eat there and was so cordial."
Garner served in the Air Force for 20 years and worked at Lackland's commissary for 12 more. He married Addie in 1986, and it was her idea to open the restaurant. As local renown grew into national recognition, Addie became the public face, flashing her smile from table to table, greeting customers, and being interviewed on TV and in newspapers. For many years, Garner cooked everything using his own recipes, and still does for special dishes. These days, he oversees the kitchen and can also be found sitting in an office chair by the cashier and at the end of the serving line, passing out candy to children.
"It was the twoness of the one," Garner says, poetically, of their relationship.
"They reflected off each other," agrees Toni Moorhouse, a former city councilwoman and a neighbor of the Garners.
When Addie died, the response was widespread and emotional, her death and funeral covered by the local media. It became clear what the couple meant to the city. Since Addie's death, the restaurant continues serving nearly 300 customers a day, offering hospitality as plentiful as the food. Still, it's not quite the same.
"You expect to see her, still, greeting you with that smile," Moorhouse says.
When asked if he's paid back the gratitude he felt for a great meal received 60 years ago, Garner bats away the question with a slight wave of his hand.
"I need to go to the kitchen," he says, rising to make sure everything is done the way it's always been done: soulfully and with heart.
From the January 2019 issue