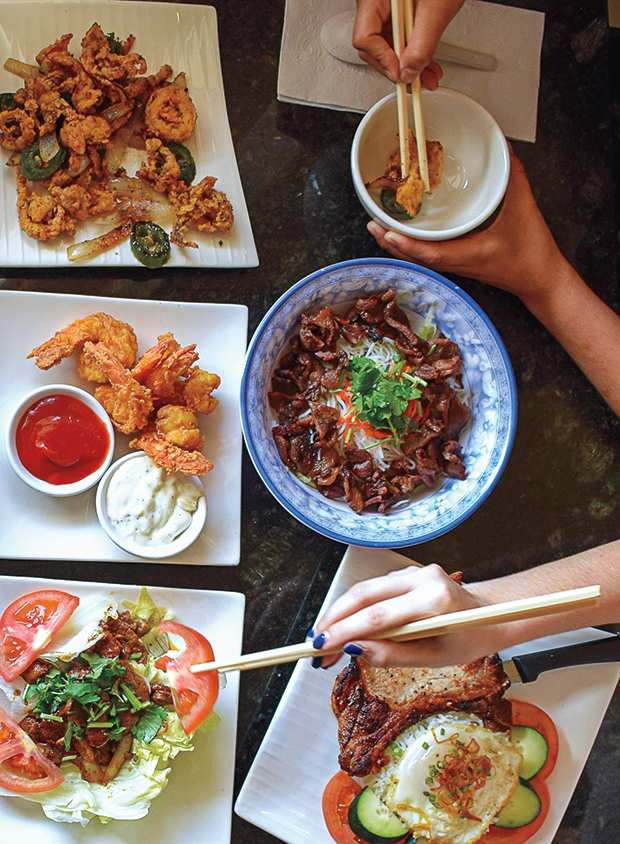 About 10 miles north of the town of Palacios and Matagorda Bay, the scenery along Texas 35 begins to change. Nondescript coastal scrub morphs into something greener, and the air begins to carry a faint salt tang. To the east, colorful farmhouses punctuate verdant pastures where cattle graze beneath fluffy cloud formations. To the west, rows upon rows of neatly manicured crops—mostly corn but also soybeans and sorghum— glisten in the afternoon sunlight, like a blanket of green leaves covering the soil beneath.
Read about Palacios' The Point, offering beer, ice, bait, tackle, groceries and food that caught the eye of TV personality Anthony Bourdain.

Tran's Restaurant is at 1009 Henderson St. in Palacios. Call 361/972-1008.
Founded around 1909, Palacios faces Matagorda Bay and lies roughly midway between Galveston and Corpus Christi. A relaxed town of about 4,700 residents, Palacios is so well-known for its shrimping industry that its slogan is "The Shrimp Capital of Texas." But the town also has a lot of charm for visitors: A historic hotel called The Luther still offers lodging, and there are hike-and-bike trails and birding oppor-tunities, as well as a 1.5-mile stretch of walkway that hugs the coastline overlooking Tres Palacios Bay.
Most visitors come here to escape the hustle and bustle of city life. Some come with a specific plan, such as fishing or birding. Others are content with simple pleasures such as sitting on the porch of their hotel or beach cottage, reading a book. I've come from Houston—about 100 miles away—with one predetermined purpose: To follow in the footsteps of chef, author, and TV personality Anthony Bourdain in a search to find the town's best Vietnamese food.
As part of the 2016 "Unknown Houston" episode of Bourdain's CNN series, Parts Unknown, the star and his crew ventured to both Houston and nearby Palacios to explore the multiculturalism in both locales. In Palacios, he connected with Vietnamese refugees who immigrated to the United States in the 1970s, rode along with a Vietnamese shrimper on Matagorda Bay, and visited a convenience store called The Point for a meal of tacos and pho, the latter a traditional Vietnamese beef noodle soup.
There are several restaurants that serve Vietnamese food in Palacios, but Tran's Restaurant is the oldest. Here, I meet Johnny Tran, who is the lead wok chef at his family restaurant and also serves as Palacios' mayor pro tem. The affection and love he has for Palacios, where he was born, raised, and educated, is evident as he shows me the town.
Tran's mother was in her late teens when she arrived to Texas with her family after the fall of Saigon; they were one of the first five Vietnamese families to come to Palacios. Tran's parents met in Palacios and married here in early 1978; Tran was born later that year and grew up working on a bay shrimping boat, back when people could still make a good living off of bay shrimping.
By 2005 or so, bay shrimpers—hit by a combination of factors that included
strict regulations and high fuel costs—were barely getting by. Tran's dad sold his shrimping boat and bet big on his next venture: Tran's Restaurant, which opened in 2004.
Tran, the oldest of seven siblings, now runs the place with sisters Chi and Thuy Tien, his brother Chinh, his aunt Hang, and his mother, Anna. His brother Andrew, the baby of the family, is studying aviation technology in Houston but still comes back most weekends to help out.
"My mother still makes the egg rolls fresh every morning," Tran says. "I'm on the woks with my sister. We do all the stir fries and, of course, the burgers. Chinh is doing the crawfish when it's in season. And my aunt has been with us from the beginning. She's our fry cook."
The restaurant itself looks timeworn from the outside but is clean and comfortable once you step inside. The east wall features a series of square acrylic paintings made by Tran's siblings: simple illustrations such as a rice bowl with chopsticks or a boat on choppy water. Two large ornamental fans hang on the main wall in the back of the room, which is painted a deep red. Behind the cashier, a framed black-and-white family portrait evokes pride of place.
The menu is written entirely in English, and strictly speaking, it's not just a Vietnamese menu, but an Asian menu adapted to the tastes of the locals. Chinese-American dishes such as egg foo young and sweet-and-sour chicken—the latter starring deep-fried chunks of chicken finished off with a dark red glaze—are favorites. Some customers
order fried rice and shrimp plates while others go for the juicy burgers. "We do a 60-day, wet-aged, rib-eye steak special with hand-cut fries once in a while, too," Tran says.
The Vietnamese dishes are hidden in plain sight on the menu, under names like "beef noodles," "beef tips," and "pork and shrimp." It's been like that from the beginning, and Tran hasn't seen the need to change anything. Common Vietnamese entree names like pho or bun (rice vermicelli noodles) or com (rice), are nowhere on the menu, so if you want those dishes, you'll have to ask your server what to order.
The fried dishes are a good place to start. Mama Tran's egg rolls ($3.80 for three), served on leaves of lettuce with a small saucer of spicy-sweet dipping sauce, prepare your taste buds for what's to come. Fried shrimp are jumbo beauties straight from the Gulf. The fried calamari, or muc rang muoi, is knock-your-socks-off delicious, the tender tentacles encased in a light, flour-based batter that is as delicate as a tempura.
Tran's mother grew up in a North Vietnamese household, and her version of pho, the menu item called "beef noodles" in the soup section, reflects that. Unlike specialty pho restaurants where you can choose different beef toppings, there is only one version here, a soup topped with sliced brisket and thin slices of eye of round, accented with bean sprouts, chiles, herbs, and lime. The broth is clean, with a pronounced beefy flavor, and aromatics such as star anise are very subtle.
Tran's version of bo luc lac, a marinat-ed cube-steak dish ($9.99), is presented as a mouthwatering mound of stir-fried beef strips in a shiny, garlicky brown sauce with fresh tomatoes as garnish. Whether you make a meal of it by ordering it on a bed of white rice, or eat it as an appetizer, it's a hearty, easy kind of dish that most anyone would love.
There's a hungry man's version of the Vietnamese pork chop rice plate you'll find all over Vietnam. Here, it's Texas-size, with not just one but two succulent, pan-seared pork chops and a perfectly cooked fried egg on top.
The standout dish, however, is the sautéed shrimp rice vermicelli noodle, or bun tom ($10.99). Tran and his cooks purchase shrimp locally, cook it in caramel-colored brown sauce, and serve it with herbs and condiments in a bowl over springy rice noodles. I'd return to Palacios again and again for this dish, as it exemplifies the best of fresh-off-the-boat Gulf Coast shrimp and good old-fashioned Vietnamese cooking.
From the June 2017 issue