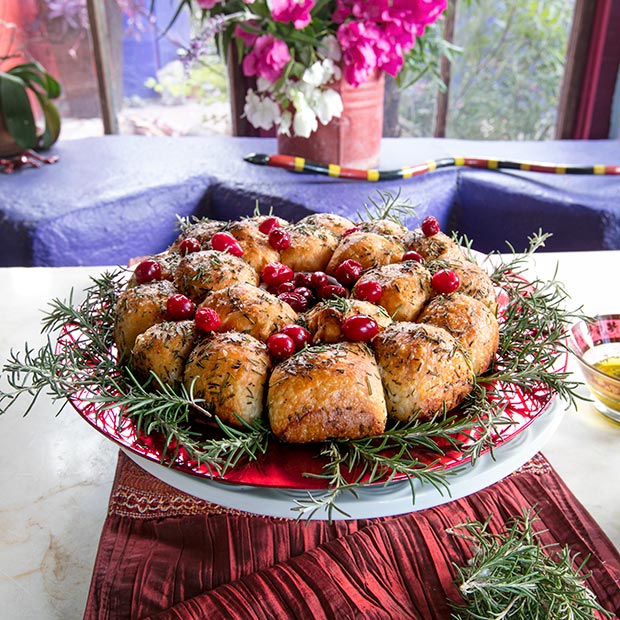 The banter among the family trio that co-owns Eve's Garden Bed & Breakfast, an eclectic, seven-room retreat in the tiny Big Bend community of Marathon, reflects a hard-to-resist conviviality. Easygoing but always at work, Kate Thayer, her son Noble Baker, and Noble's wife, Alaine Berg, run Eve's Garden with special attention to their guests' experiences, especially delicious meals.
See More

Holiday comfort food recipes from your favorite Texas chefs.
They also bake together, a joint enterprise that is as much about providing breakfast for guests as it is their shared enthusiasm for the art of creating good food. The ambrosial Noble Bread, an Eve's Garden favorite served with breakfast year-round, gets a special treatment for the holidays, transformed by fresh rosemary and tart cranberries into a savory Christmas delicacy. "We serve this holiday bread alongside warm, baked seasonal fruit and an egg frittata filled with home-grown greens," Alaine says. "We also set the table with plates of French herbed olive oil for dipping, fresh butter, fun cheeses, jellies, avocado, and garden tomatoes—plus Champagne."
Kate says that the mood at Eve's Garden is festive all year, but especially during the holidays, when they often have visitors from throughout the United States and as far away as India, Germany, and France. "We serve breakfast at 9, but we invite people to come in at 8 to get to know each other," she says. "We set up our tables so that it's easy to talk to strangers, and we serve family-style. I've had people still at the table at 11, immersed in conversation."

Eve's Garden Noble Bread

(makes 4 1-pound loaves)
6 1/2 c. unbleached all-purpose flour or bread flour
2 1/2 c. warm (100-degree) water
1 1/2 T. kosher salt
1 1/2 T. yeast
1/4 c. olive oil
Kosher salt, rosemary leaves, and cranberries for garnish
Combine all ingredients in a plastic, 4-quart container with a lid and place in the refrigerator. Let rise for 90 minutes with the lid loosely closed. Remove dough, punch it down, and return to the fridge for at least 2 hours (and up to 2 weeks) until ready to bake.
Divide dough into 4 pieces, and divide each piece into about 20 balls. For each loaf, place the balls in a 12-inch cake pan. Bake at 450 degrees for 25-30 minutes or until golden brown. Cool on a serving platter spread with olive oil, then garnish with flaked kosher salt, freshly chopped rosemary leaves, sprigs of rosemary, and fresh cranberries.
From the January 2018 issue