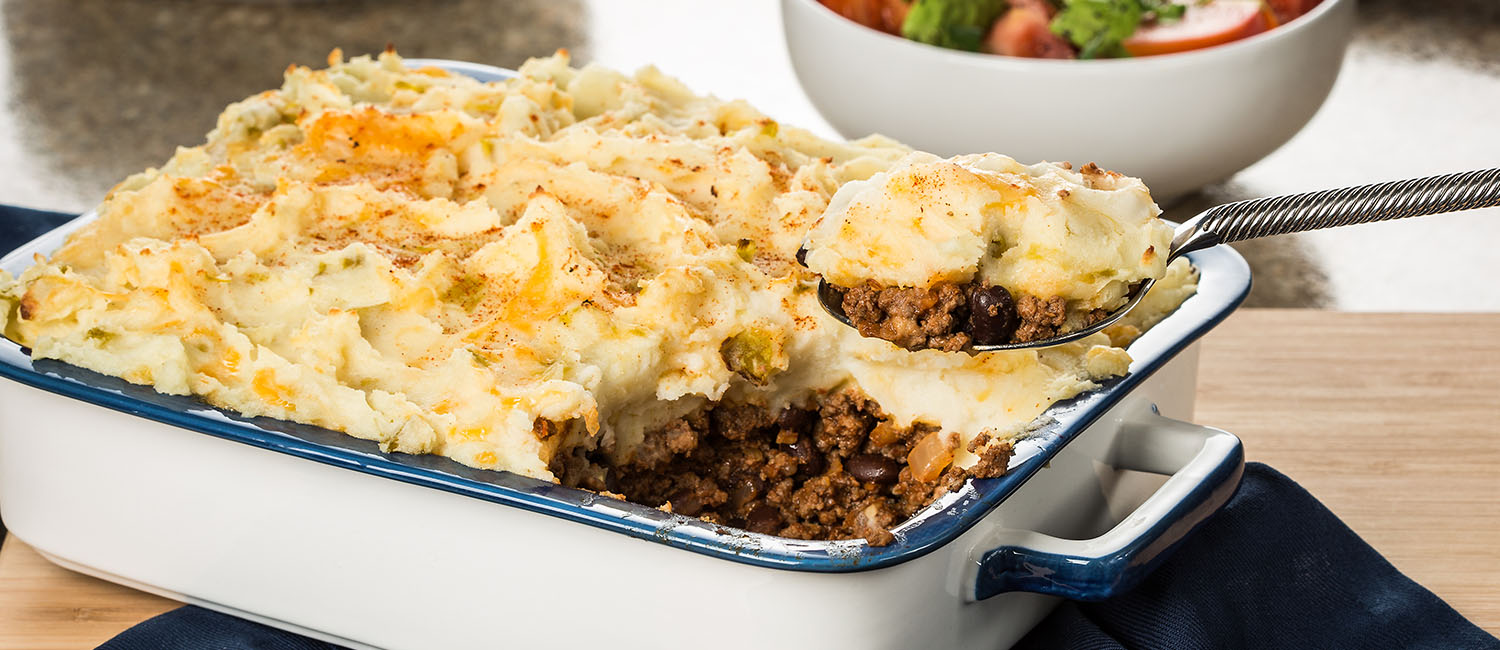 Makes 6 Servings
Recipe courtesy of: Samantha Skaggs, www.fivehearthome.com
Ingredients
1 pound ground beef (90% lean)
1 1/2 pounds russet potatoes (2 large potatoes), peeled and cut into chunks
1 teaspoon salt
1/4 – 1/3 cup milk
4 tablespoon butter, cut into chunks
1 cup shredded cheddar cheese, divided use
1 can (4 ounce) diced mild green chilies, drained
3 cloves garlic, minced
1 package (1 1/4 ounces) taco seasoning
1 1/2 cups salsa (hot, medium or mild depending on preference)
1 can (15.5 ounces) black beans, drained and rinsed
Pepper, to taste
Avocado & Tomato Topping
2 Roma tomatoes, diced
1 large avocado, diced
1/4 cup fresh cilantro, chopped
Juice of 1/2 of a lime
Salt and pepper to taste
Preparation
Preheat oven to 350ºF.
Place potatoes in a large saucepan and cover with 1 inch water. Stir in salt and bring to a boil over high heat. Reduce heat to a simmer, cover and cook until potatoes are tender when pierced with a fork. Drain potatoes and return to pot. Mash potatoes until smooth. Add butter, milk, green chilies and 2/3 cup of cheese. Stir until well combined, cover and set aside.
While potatoes are cooking, cook beef in a large skillet, breaking up with a spatula, stirring occasionally until browned. Add garlic and continue cooking for 1 minute. Drain, sprinkle in the taco seasoning, add salsa and stir to combine. Cook for a few minutes, stirring frequently, until the mixture comes to a simmer and thickens. Remove from heat and gently stir in black beans.
Transfer meat mixture to a 2 – quart baking dish and spread out evenly. Top with the mashed potatoes, spreading to an even layer all the way to the edges; sprinkle with the remaining cheese and bake for 30 – 40 minutes until beginning to turn brown.
While pie is baking, place the diced tomatoes, avocado, cilantro and lime juice in a medium bowl, season with salt and pepper, stir to combine. Top each serving with a big scoop of avocado and tomato mixture.
From the July 2017 issue