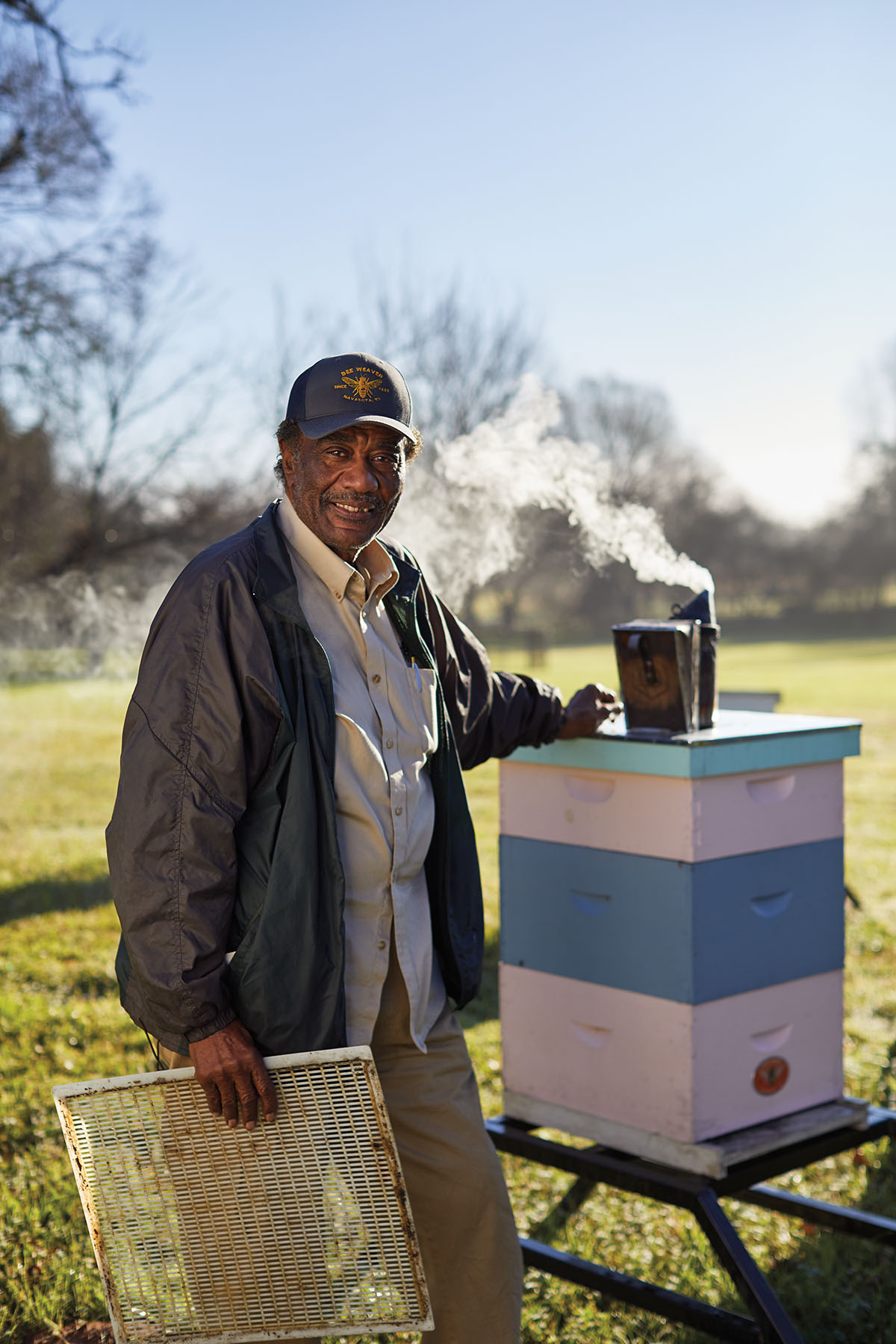 Every work day, weather permitting, beekeeper Roosevelt Roberson tends the hives at BeeWeaver Honey Farm. He's worked at the operation, located just outside Navasota in the rural community of Lynn Grove, for more than 50 years. At 74 years old, though, he has no plans to retire.
Roberson got into beekeeping soon after graduating from high school in 1964. He initially helped his father on the family farm near Washington-on-the-Brazos State Historic Site. Two years later, he was looking to branch out on his own and approached Roy Stanley Weaver Sr. for a job tending his bees. "Do you think you can put your hand into a hive of bees?" Roy asked Roberson. "At 21 years old, us young men think we can do anything," Roberson recalls. "I said, 'By golly I can do it.' So I've been buzzing the bees, and they've been buzzing me, since 1966."
Across three generations, Roberson has played a major role in BeeWeaver's operations. Few beekeepers can match his expertise or longevity. Dan Weaver, the current co-owner of the farm, especially values Roberson's diligent reporting on the hives. "An accurate report on colony conditions and likely productivity is invaluable information that few other beekeepers can be entrusted to develop and convey," Dan says. "Roosevelt can speak honey bee."
When Roberson first began working on the farm, he would transport bees across Texas to pollinate crops as far south as the Rio Grande Valley and as far north as the High Plains of Lubbock. Some farmers would benefit from the presence of the bees, and Roberson would reap the rewards in honey. Today, he sticks closer to home, overseeing the care of the colonies in the queen mating yards, and sometimes assisting two other beekeepers with other apiary activities.
"People hear that the bees are dwindling away, and they want to help," says Roosevelt Roberson, who's earned the nickname "King Bee."
BeeWeaver owns roughly 3,500 hives scattered across Grimes County, the surrounding counties, and farther into Central Texas. The farm got its start with just 10 colonies in 1888, when Florence and Zachariah Weaver received them as a wedding present. Their son Roy decided to turn beekeeping into his primary occupation. He later passed the business along to his son, Binford, who in turn passed it to his son, Dan.
Dan has spearheaded new initiatives to select hardy, disease-resistant stock and utilize chemical-free approaches to warding off hive beetles and Varroa mites, which pose a threat to the colonies. Every year, BeeWeaver ships out thousands of its specially bred bees to customers around the country who are looking to start colonies of their own as a hobby, to pollinate crops, or to save bees. "People hear that the bees are dwindling away, and they want to help," Roberson says. This spike in interest led Roberson to start offering tours and beekeeping classes at the farm three years ago, earning him the moniker "King Bee."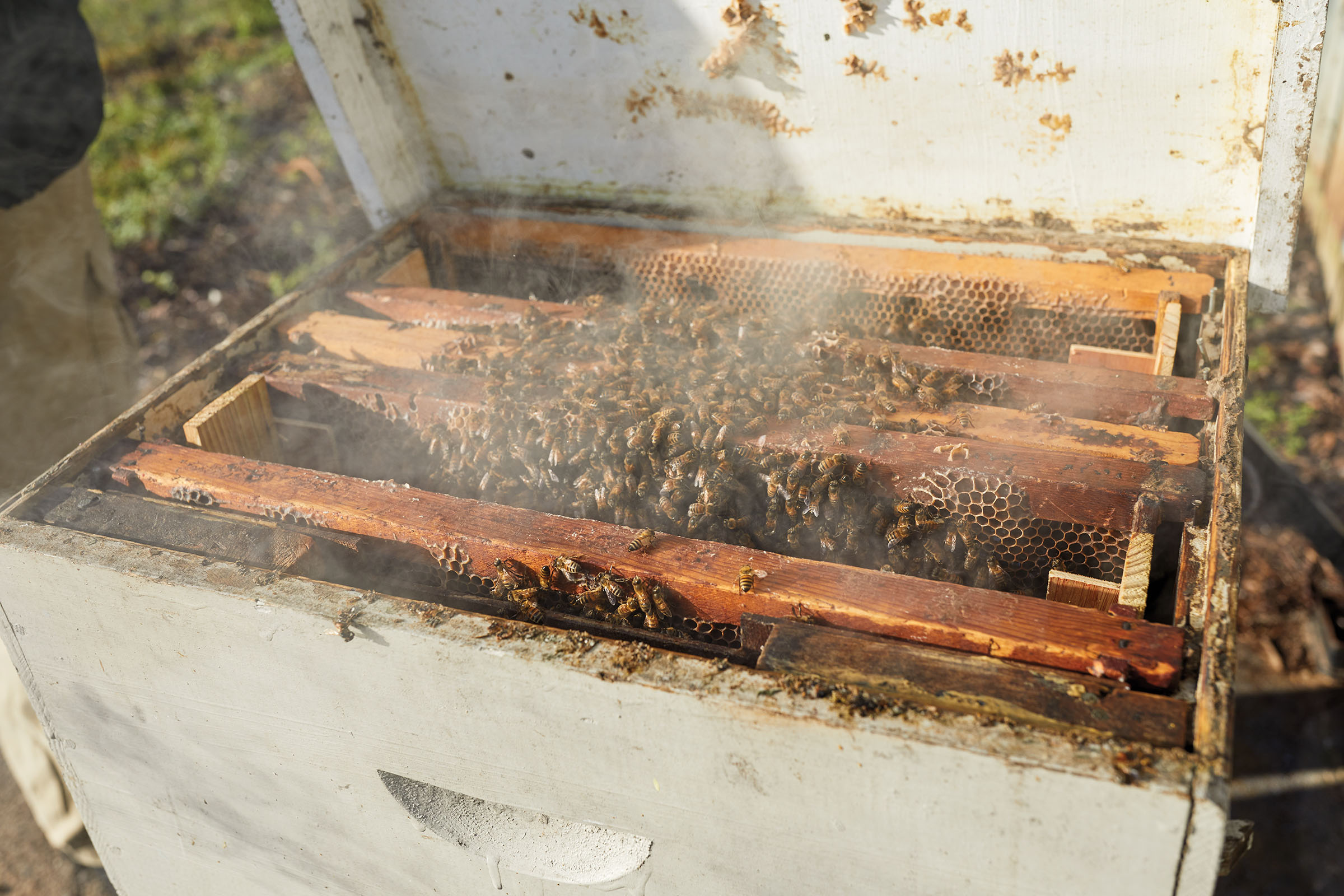 Learn to Keep Bees
From mid-February to early November, Roosevelt Roberson leads private and small-group beekeeping lessons and hosts hands-on hive experiences at BeeWeaver Honey Farm. According to BeeWeaver co-owner Laura Weaver, "his fast smile, ability to tell a story, and vast knowledge easily make him one of the best resources in Texas for anyone who wants to learn beekeeping." The beginner lesson ($75 per person) teaches basic apiary skills and explains the equipment needed to start and maintain a colony. The in-hive experience ($75 for one ticket, $25 each for additional guest) allows visitors, under expert guidance, to experience the thrill of working a live hive.
In recent years, Dan and his wife and BeeWeaver co-owner, Laura Weaver, have continued to expand the farm's offerings. In 2016, they converted a 1930s honey-packing building into an emporium and gift shop. BeeGoods Mercantile stocks honey-related products, including instructional books, soaps, bee-themed kitchen wares, and, of course, a wide variety of honeys. In 2019, the farm welcomed WildFlyer Mead Company, a tasting room launched in collaboration with mead-makers Jeff and Chelsea Murray. Customers can sample seasonal flavors of mead, made with fermented local fruit and BeeWeaver honey.
Overall, the farm produces more than 50,000 pounds of honey each year, and that number is expected to grow to support the mead-making endeavor. The honey's taste varies according to the kinds of nectar the bees consume. "Each plant, each flower, gives a different flavor," Roberson explains. "I love the taste of clover honey. Years ago, we used to make lots of it around San Marcos. Now most of what we make in Texas is from wildflowers and yaupon. Horsemint is my favorite."
Many types, both local and from around the world, can be sampled at the farm's mercantile, along with infused and whipped varieties, some in unusual flavors like jalapeño and tiramisu. Although honey lends itself to a broad range of culinary possibilities, Roberson prefers to keep it simple, using pure honey to sweeten his oatmeal every morning. "Sometimes, I just spread it on toast," he says. "Everything tastes better with honey on it."
From the March 2020 issue