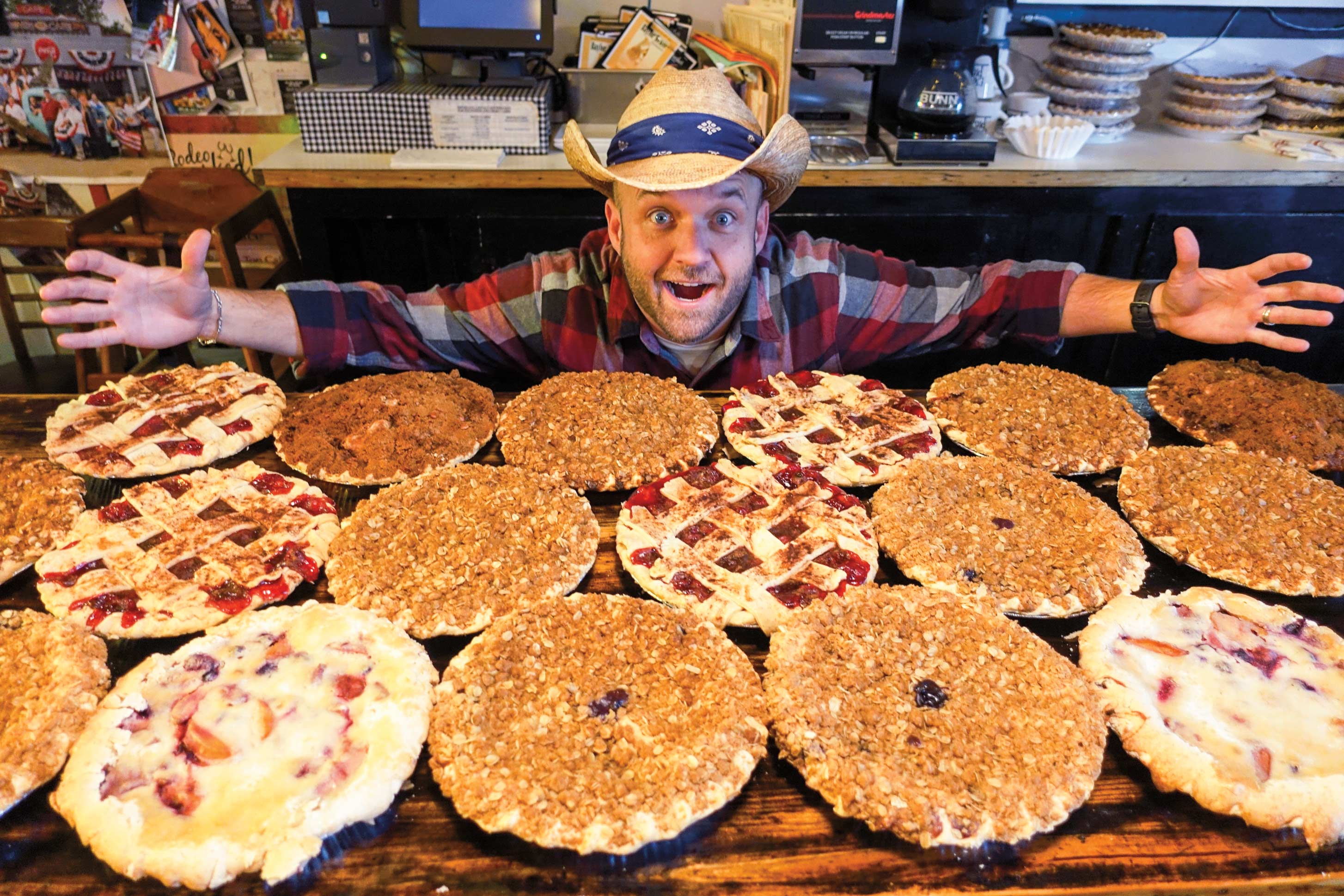 It may be one of the smallest incorporated towns in Texas (official population: 90), but don't let that fool you—the little town of Round Top makes for some big trippin'. Visit during the biannual Texas Antiques Week and you'll find thousands of "junkers" filling every available cow pasture with vintage collectibles. But even on a normal day, this hamlet has plenty of charm.
10 a.m.
First up: coffee. The fresh scent filling Henkel Square emanated from Two Sparrows Roasting Co. Since it was already a little toasty outside, I opted for a cup of frothy nitro cold brew, made in house—it was definitely the right choice.
Chet Garner is the host of The Daytripper® travel show on PBS.
To view the Round Top episode visit thedaytripper.com.
10:30 a.m.
After my morning pick-me-up, I walked Henkel Square Market, which made me feel like I had stepped onto a movie set with its shops housed in historic homes, barns, and a church. I perused the quirky paintings at Humble Donkey Studio and sniffed the candles at Indian Creek. My favorite store was The Dapper Deer Co., boasting an awesome selection of manly antiques including vintage watches, bowler hats, and English sporting jackets.
12:30 p.m.
For lunch, I found Teague's Tavern, owned by longtime Houston news anchor Don Teague on the edge of the square. This restaurant serves up modern American fare with Don's Emmy Award decorating the shelf above the bar. I started my meal with some delicious fried pickles, then enjoyed a plate of meatloaf and thick-cut fries.
2:30 p.m.
I followed a mysterious-looking road and stumbled upon Festival Hill, one of the most exquisite concert halls I've ever seen. This 1,000-seat venue opened in 1971 as a training and performing facility for talented classical musicians. Its intricate woodwork and detail rival the opera houses of Europe. I quickly marked my calendar to return for a concert.
3:30 p.m.
I was hitting a midday slump, so I followed my stomach to Royers Pie Haven where a dozen flavors of homemade pie awaited. After much debate, I opted for a slice of Junkberry, complete with raspberries, blueberries, strawberries, apples, and peaches. I ordered it a la mode and it went down so quickly that I had to order another. This time, I chose the Texas Trash Pie and dug into its sweet, salty, chocolatey, caramelly goodness as I sat on the front porch. After that, I really felt like taking a nap.
4:30 p.m.
Needing to rally, I cruised down the road, and a pink Suburban on the lawn of the Junk Gypsy Company caught my eye. Its name is "Large Marge." The store, run by sisters Amie and Jolie Sikes of Junk Gypsy fame, features a collection of new and vintage finds presented in a way that only the crafty sisters could pull off. I was tempted to buy a mounted buffalo but opted instead for an embroidered shirt that made me feel like Roy Rogers.
6 p.m.
Ready for dinner, I had one destination on my mind: Royers Round Top Café—the parent restaurant to the pie joint I visited earlier in the day. Judging by the crowd, others had the same idea. I squeezed into the small dining room as posters, shirts, and memories from the eatery's 31 years hung above my head. More than typical country classics, the menu offers a delicious array of upscale comfort food. I had beef tenderloin topped with a glaze of mushrooms, wine, and butter—perfection.
8 p.m.
I wasn't quite ready to call it a night and could hear muffled music coming from The Stone Cellar, a cool honky-tonk with a dance floor catering to two-steppers. I grabbed a cold beer and sat down with a group of friendly cowboys as we toasted to the perfect day trip.
As the music swelled, I couldn't think of a better way to end my day in Round Top. While Antiques Week may be fun, this town really shines when the masses are gone. Who knows, I might make it "Population: 91" someday. So whether you follow my footsteps or forge your own path, I hope to see you on the road.