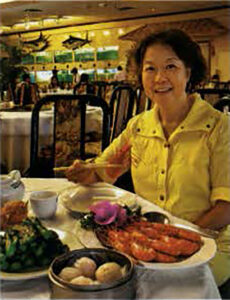 "If you blink, you'll miss it," chides Dorothy Huang as she tosses cellophane noodles into a sizzling wok. She's showing her enthusiastic (and hungry) class how to make chicken in lettuce wraps in the kitchen of Hollandaze Gourmet, a cookware shop near Lake Georgetown. "You can make sauces, chop, and marinate ahead of time. Throw it in a wok, and you have 'Chinese fast food.'"
Huang's amiable manner keeps her students coming back for more—many are repeat customers. "Dorothy always takes the time to tell you about each ingredient as well as how to prepare it," says Peggy Rush, a devoted fan. Huang's classes can be found in several Texas cities and towns, including Austin, Clifton, Cuero, Fort Worth, and Georgetown, as well as in Houston, where Huang resides. Word of mouth has taken her as far as McAllen. "I love going to new places," she says. In 2001, Huang helped launch China Stars, an upscale Chinese restaurant in Bogota, Colombia.
On February 16 at Fung's Kitchen in Houston, Huang teams up with Martin Yan (of Yan Can Cook on PBS) and the restaurant's owner and head chef Hai Fung to host a nine-course Chinese New Year Feast, which includes wine pairings, a lion dance, and cooking demonstrations. For reservations and information, call 713-779-2288; e-mail [email protected]. For information on Huang's classes, call 281-493-0885; e-mail [email protected].
From the January 2010 issue