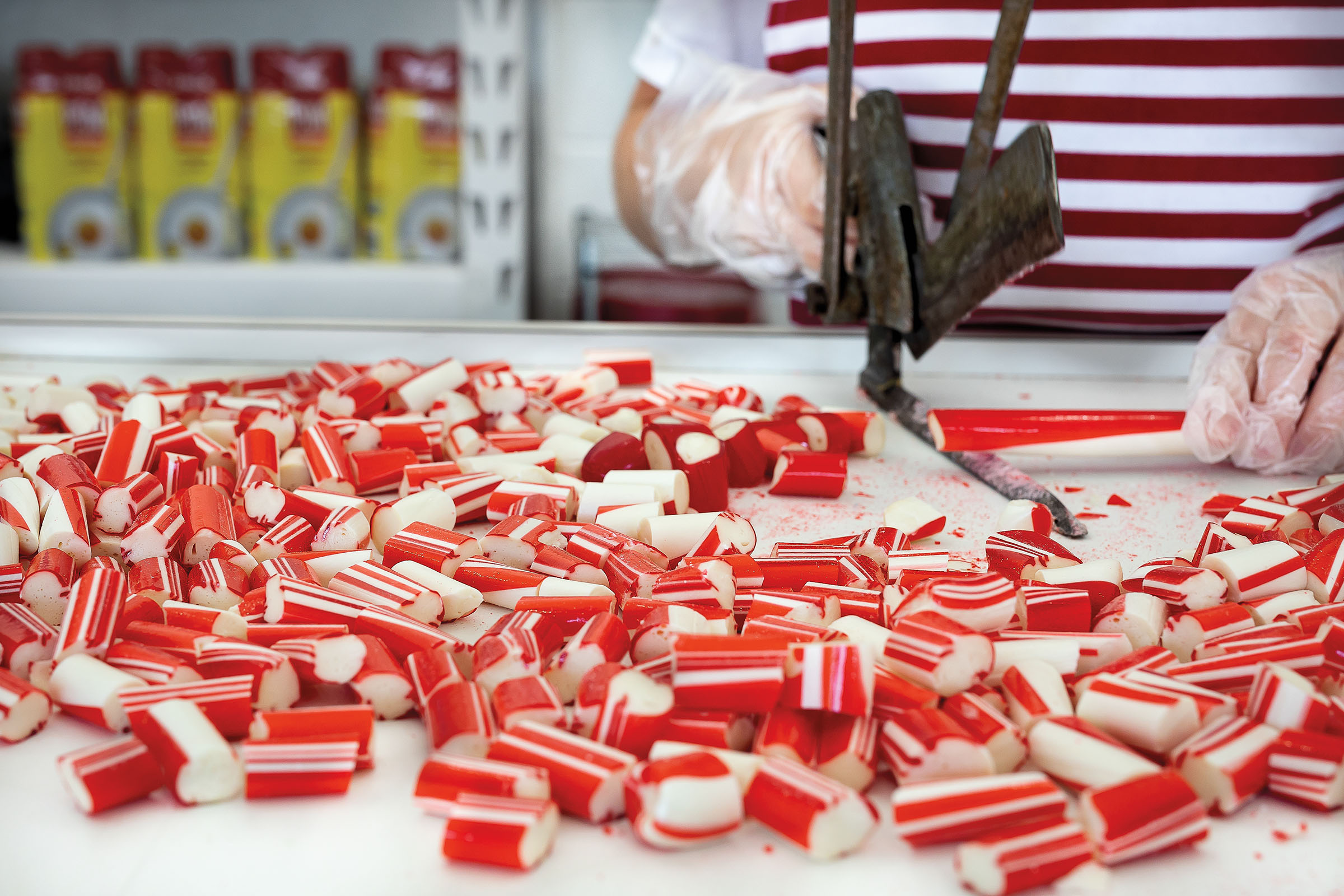 The sweet smell of peppermint hits you the moment you walk through the front door of the little candy shop on West Hubbard Street in the East Texas town of Lindale. It's a comforting, nostalgic scent patrons of Lindale Candy Company have enjoyed since the business was founded in 1946 by James "Candy Jim" and his wife, Ruby Withrow. In the hands of the store's current owners, Jeremiah and Kaitlin Cagle, decadent chocolate aromas also tantalize the olfactory sense.
Kaitlin grew up 25 miles away in Grand Saline, where she started making chocolates in high school and perfected her craft working at a local chocolate shop. Starting in 2013, she began selling her own decorated chocolate truffles and other candies at the "world's largest flea market," Canton's First Mondays, and other markets. But when she married Jeremiah five years later and moved to his residence in Lindale, a town of around 6,400, the couple began seeking a permanent location for Kaitlin to make and sell her chocolates. Within seven months of closing Kaitlin's booth in Canton, the couple welcomed their first customers as the fourth owners of the regionally beloved candy store.
"We found out the candy company was for sale," Jeremiah recalls. "It's a God thing, really, that it happened the way it did."
Kaitlin's Confections—the brand she created in 2013—made for a perfect addition to the business' already famous peppermint products, which entice customers to visit from as far as California. Today, chocolates account for about 90% of sales, but as soon as the calendar flips to June, peppermint production swings into high gear to prepare for their busiest time of year: the winter holidays. In the past two years, the shop has sold out of candy canes and peppermint sticks, but the Cagles hope that this year's expansion to a second kitchen will help them keep up with demand.
The Cagles and their team make peppermint using the Withrows' original recipe. They also use the Withrows' 1940s-era copper kettle, scale, cooling and rolling tables, and candy stretcher. After liquefying the ingredients at 320 degrees Fahrenheit in the kettle, the candy is poured onto the cooling table. According to Jeremiah, their company is one of only a few in the United States—and the only company in Texas—to hand-pull their peppermint rather than rely on automated machinery.
"It's a real pretty gold once we pull it out of the kettle," Jeremiah says. "I'll pull pieces off, and we can color them however we want." The stretcher forces oxygen into the candy and turns it white. From there, they incorporate red slabs of cooled candy to add the signature stripes, which are as unique as fingerprints.
"You'll see different sizes, different stripes, and different numbers of stripes," Jeremiah says. "It's fun to pick out a candy cane and know nobody else has one like yours."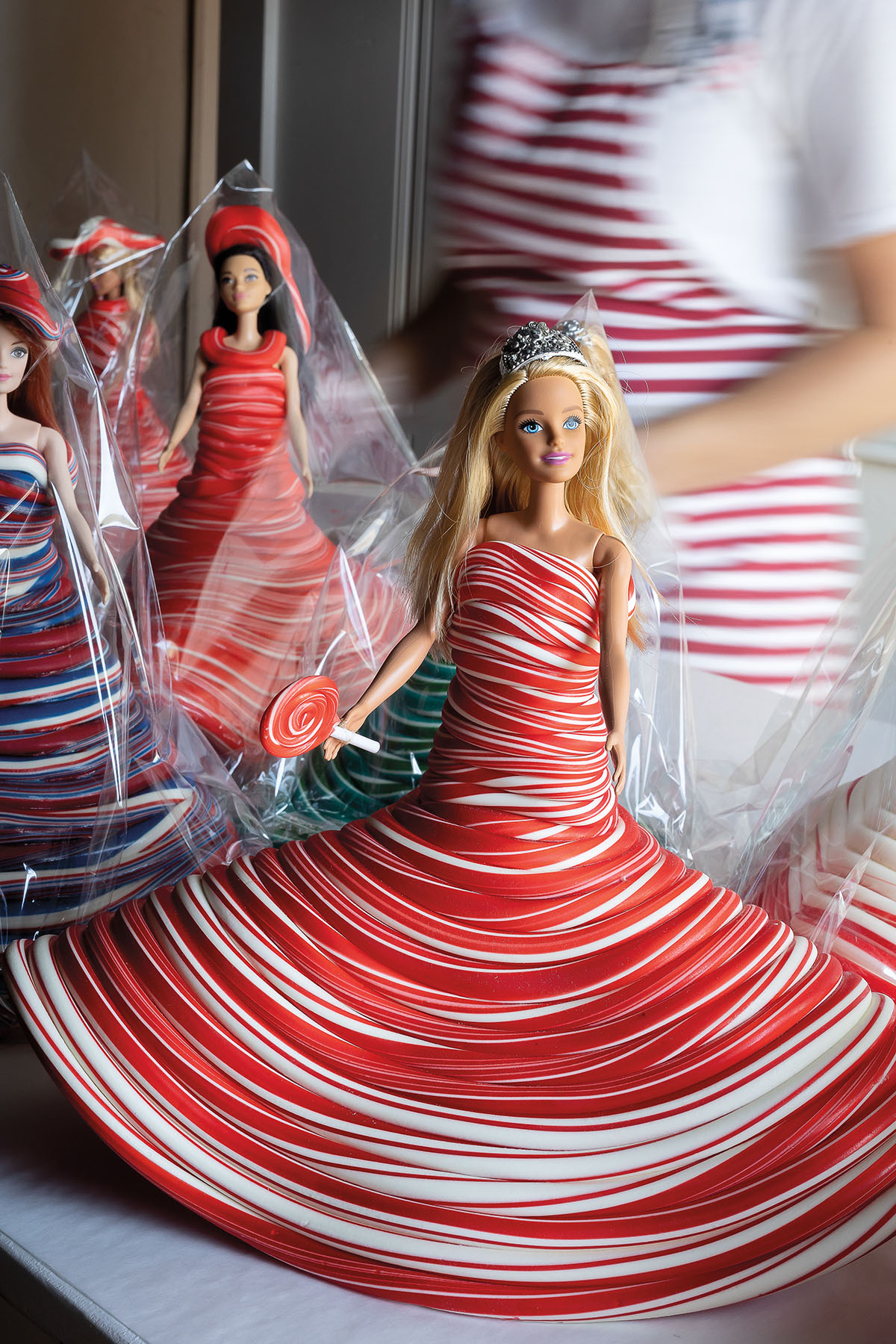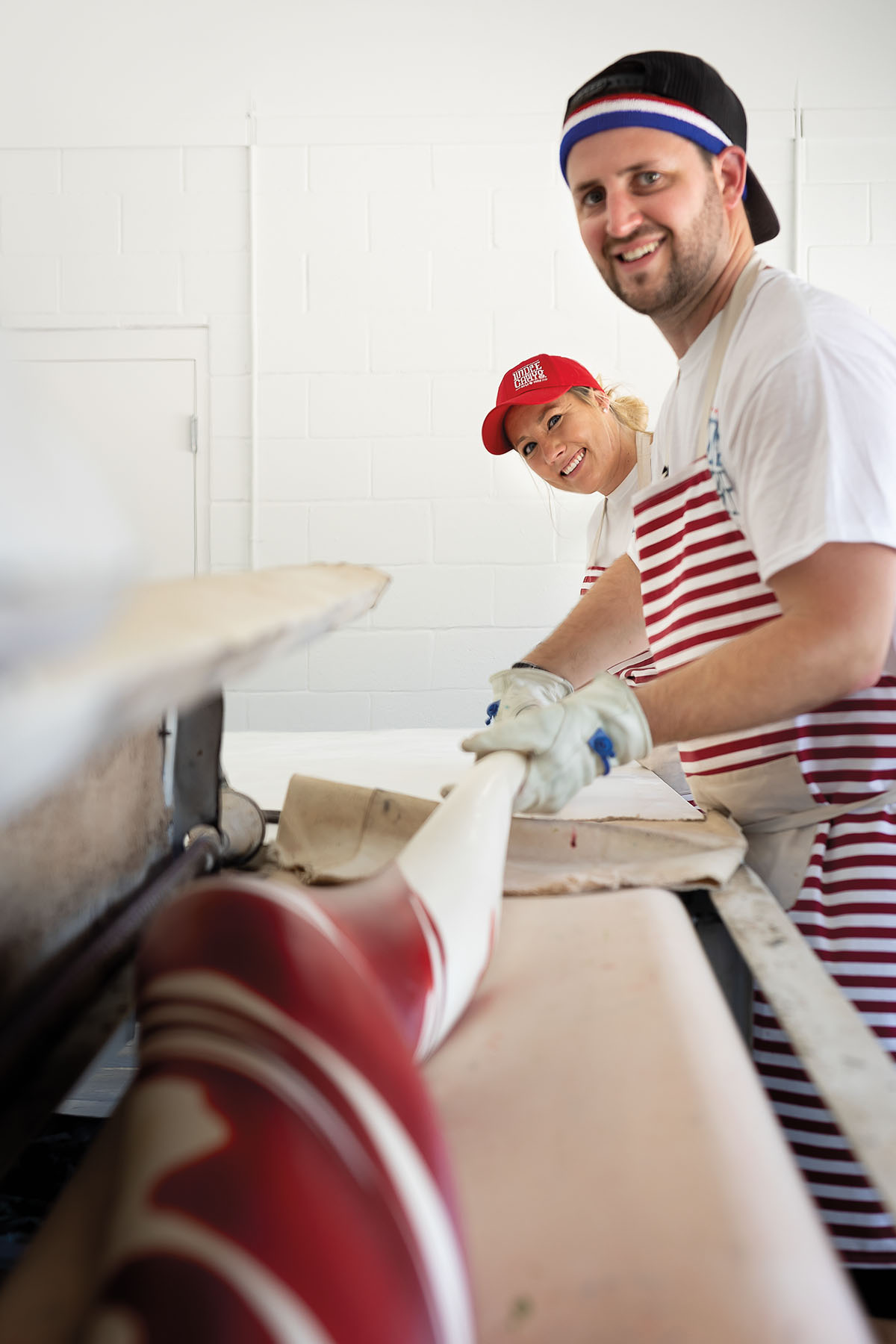 The laborious process takes about two-and-a-half hours to yield approximately 35 pounds. With a recent building expansion and a second kitchen devoted exclusively to peppermint and hard candy production, the Cagles hope to increase their volume from 3,500 pounds in 2020 to more than 5,000 pounds in 2021. Viewing windows in the new space allow customers to watch the entire process from outside.
"We like to think we're making Jim and Ruby proud," Jeremiah says.
Longtime customer Cindy Holcomb's connection to Lindale Candy Company started when her father, Weldon G. Holcomb, decided to run for district attorney in the late 1950s. As part of his campaign, he passed out peppermint sticks he purchased from Candy Jim. He distributed more than 71,000 sticks and eventually started giving them to people everywhere he went. At church, kids even started calling him the Candy Man.
"Whenever my daddy was out in public, people were always asking for a peppermint stick," Holcomb recalls. "They even asked my daddy when he was in the car at a stoplight, and they were on the street corner. I'm ecstatic that the new owners are making sure this wonderful local institution continues for a very long time."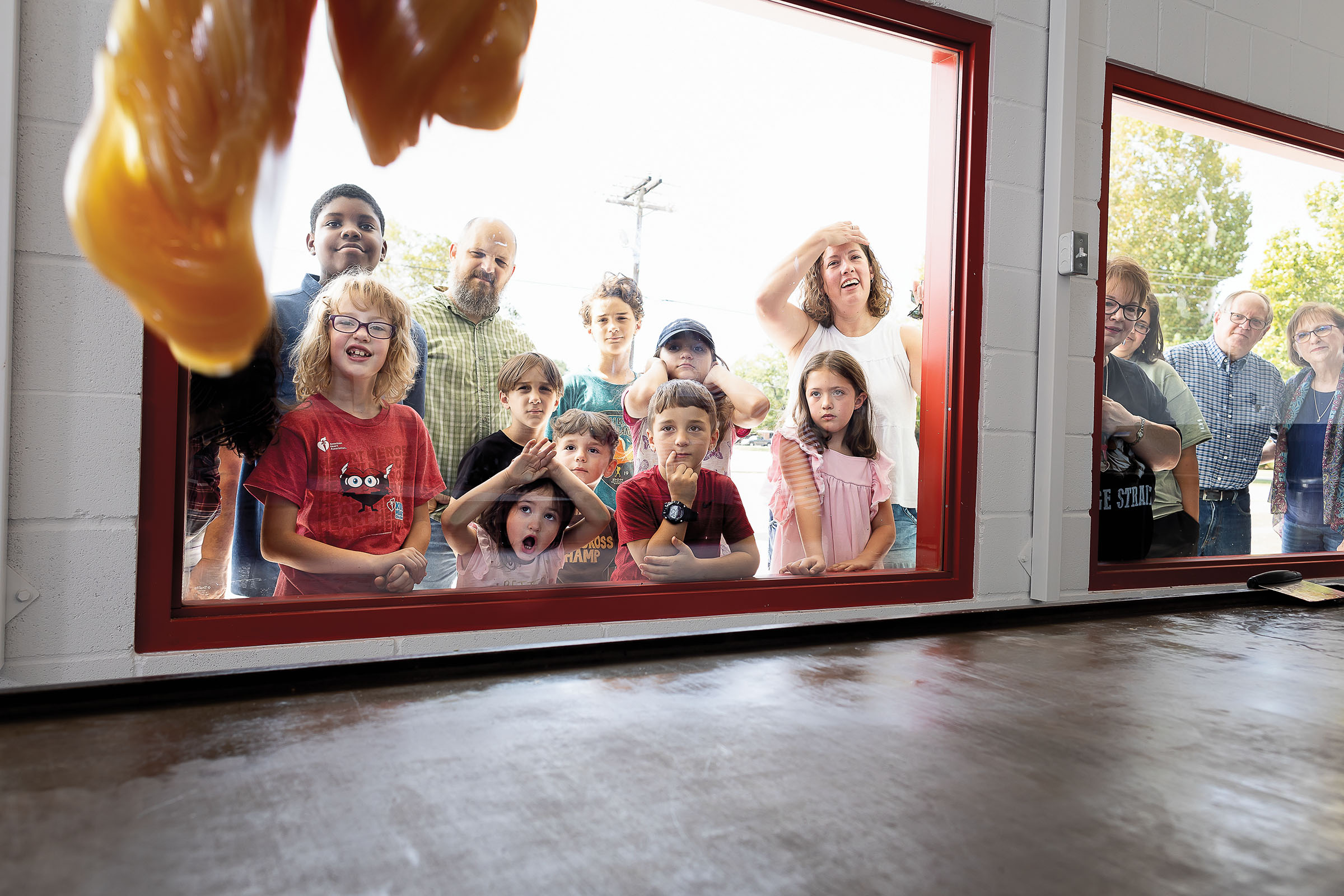 In addition to seasonal favorites like candy canes, the minty lineup includes peppermint sticks—including a whopping 17-pound version. The shop also sells dolls that wear colorful ribbons of swirled peppermint to form a Cinderella-style gown.
The Cagles have added peppermint candies shaped like Christmas trees, edible candy dishes, and even edible business card holders in the company's signature colors. They also use shards of broken candy to create peppermint bark, an ideal marriage of Kaitlin's chocolate creations and the shop's signature item.
"There's no piece of peppermint left behind," Jeremiah says with a laugh.
From the November 2021 issue