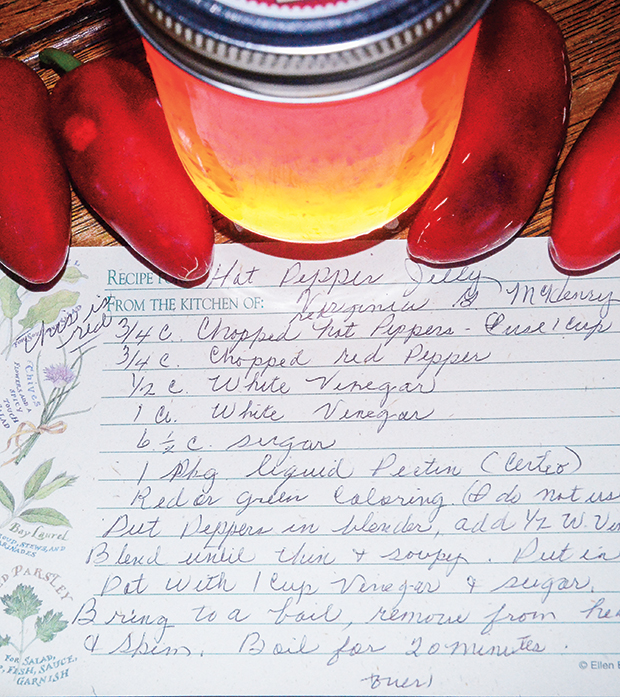 The State Fair of Texas, held every fall at Dallas' Fair Park, is a feast for eyes, ears, and taste buds, with music, livestock shows, pig races, auto show, midway rides and games, and food.
The State Fair of Texas takes place Sept. 29-Oct. 22 in Dallas. For canning contest rules, email [email protected]. See bigtex.com.

Virginia McHenry's Hot Pepper Jelly

3/4 cup blended red jalapeño peppers, seeds included (wear rubber gloves when processing)

3/4 cup blended red bell peppers, seeded

1 1/2 cups white vinegar

6 1/2 cups sugar

1 package liquid pectin

Mix peppers, vinegar, and sugar in large saucepan. Boil 8 to 10 minutes. Remove from heat, add pectin, and stir well. Cool slightly and pour into sterilized jelly jars.
Especially food. Having a Fletcher's Corn Dog and sampling the year's crop of deep-fried culinary inventions are traditions as treasured as having your picture taken with Big Tex, the fair's 55-foot-tall, talking cowboy mascot.
Partly because a good part of my childhood was spent stoking a 21-quart pressure cooker with garden produce, my favorite part of the fair is the canning competition. Interest in canning is as fresh as ever, says Kathy Bennett, the fair's creative arts director. "People are interested in going back to the basics and are more aware of being healthy and not using preservatives," she says. "In 2016, we had 1,781 entries in 152 categories."
Those canning entries fill an entire wall of the Creative Arts Building, competing for attention with entries in other creative-arts categories, including photography, ceramics, dolls, needlepoint, scale models, and other hobbies you might not expect. Every year, there's a large-scale sculpture made entirely of butter. One of my personal favorites is the Glue-a-Shoe contest, which features folk-art creations with a footwear component.
Many of the canning contest entries qualify as works of art themselves. Some jars contain artfully arranged layers of carrots and cucumbers, vertical rows of green beans, or tiers of corn kernels divided by vertical carrot columns. These people even make preserved zucchini beautiful.
It's the jellies and jams that catch my eye, though. Childhood experience taught me how much work goes into growing, gathering, preparing, and canning these fruits of Texas soil, sun, and rain. One of those beautiful jars of jelly came from the garden of 92-year-old Virginia McHenry of Dallas, who grows jalapeño peppers in her garden and turns them into hot pepper jelly. Her entry won the blue ribbon in 2016, but not without some urging by her family. "She's a really good cook, but she is pretty modest," her son Gary says. "We finally wore her down and got her to enter."
McHenry started making jelly after attending a class at a gourmet shop. "I'd never heard of hot jelly, but I thought I could make that," she says. "I started with green pepper jelly, but it didn't have enough color, so I stick with red." Her deceptively simple, prize-winning recipe was developed through trial and error; its rich red color appeals to the eye while its heat warms the tongue. "It's best served on plain crackers with cream cheese," she says. "Or just a hot buttered biscuit."
Unfortunately, you can't buy or sample the contest entries. (Across the street, in the Go Texan Pavilion, you can sample or purchase a variety of Texas products from honey to salsa to ice cream.) People enter the contest for one of the coveted ribbons and the bragging rights that go with them. And there's the satisfaction of knowing they are the best in Texas. "Trying to achieve perfection is a great hobby for many people," Bennett says. "And winning a ribbon is a great joy for them."
Canning also carries on family tradition. Bennett cites Don Byrd of Denton, a construction worker who learned to can from his grandmother. "In 2015, he won a first in peach preserves and a third in apricot preserves, and he also entered corn relish, blackberry jam, and pear preserves," she says. "Then there's the Johnnie and Linda Carroll family of Grand Prairie. They won a total of 13 ribbons in 2016. We are so proud of them for carrying on the tradition of canning."
Whether you call it canning, preserving, or "putting by," when you take the bountiful fruits of Texas' long growing season, combine them with human labor, and lock them in a glass contain-er for future enjoyment, you've put a bit of summer in a jar. Pride in that accomplishment shines from the faces of families who come to the fair to see the entries and take family portraits with the winners and their works. Food is one of the things that connects us across the generations, and nowhere is that more evident than in this little corner of the State Fair of Texas.
From the August 2017 issue