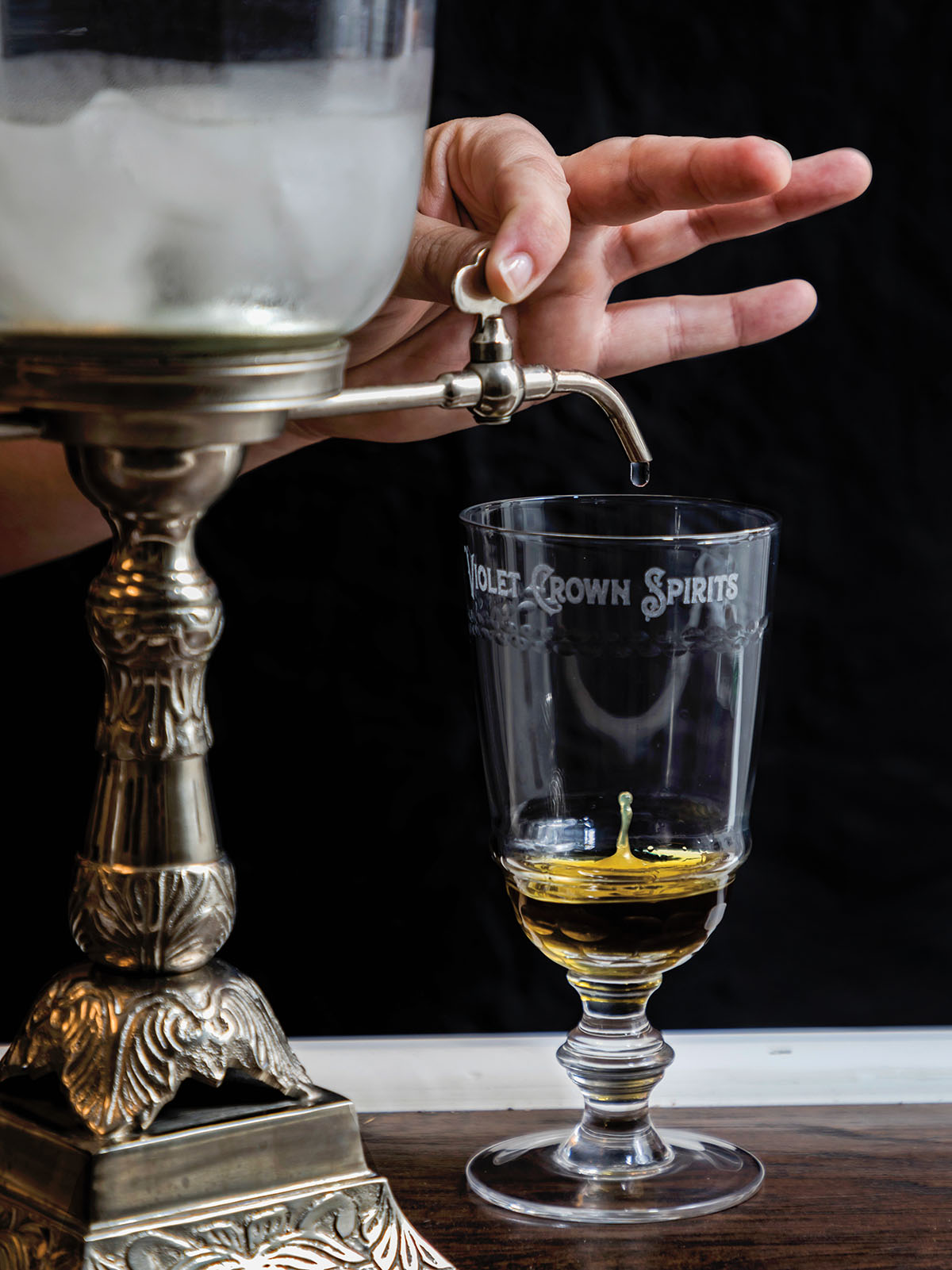 In a business park just west of Bastrop, Matt Mancuso plays mad scientist. As the co-founder and distiller at Violet Crown Spirits, he crafts elderflower, jasmine, and marigold liqueurs, as well as the only absinthe made in Texas. In stark contrast to the utilitarian production space, the fragrance of anise and flowers emanating from sacks of bulk botanicals is the olfactory equivalent of a summer meadow.
Absinthe was invented for use as a medicinal aid in Couvet, Switzerland, in the late 18th century. Since then, the spirit has been the subject of scandal, intrigue, and myth. Absinthe rose to popularity after French soldiers, who were administered servings of the drink to ward off dysentery and malaria during the conquest of Algeria in the 1830s, returned home and began ordering it in bars and cafés. By the mid-19th century, absinthe was a favorite among bohemians and elites alike.
Absinthe developed an erroneous reputation as a hallucinogen because wormwood—an herb that's one of the main
ingredients—contains a trace amount of an organic compound called thujone. Its alleged psychoactive and madness-inducing effects are what prompted the United States and much of Europe to outlaw absinthe in the 19th century.
"It takes a lot of work to override a century of misinformation," says Jessica Leigh Graves, co-owner of Violet Crown. "But people are catching on that absinthe has never been anything to be feared or reviled."
Graves, a musician and American Sign Language interpreter by day, is a veritable encyclopedia on absinthe, conducting seminars and trainings in and out of state. Meanwhile, Mancuso is a microbiologist who credits his laboratory experience for his ability to dive into spirits production without formal training. He spent years developing his absinthe, using 17th- through 19th-century recipe books as guidance.
Violet Crown, which started operating in 2015, offers two types of the spirit. The Emerald Absinthe ($29 for a 200 milliliter bottle) has a savory, herbal quality; by contrast, the clear Opal Absinthe ($22) is more subdued and delicate. "When you open absinthe up to water or soda water, it's a whole other experience," Graves says. "It should always be diluted if you're not incorporating it into a cocktail."
When customers visit the Bastrop tasting room, Graves fills the bottom of a glass with a quarter-ounce of absinthe, and then adds water. As the two liquids emulsify, in a process called la louche, the spirit turns milky and opaque in color. Absinthe adds complexity to classic cocktails like the Sazerac. Violet Crown's absinthe has popped up on bar menus statewide, from Bar 1919 in San Antonio to Péché in Austin, as patrons discover the spirit's aromatic allure.
"I love how it connects us to so many chapters of human history," Graves says. "And I love to see the smile on people's faces when they try it for the first time. There's no zealot like a convert."
Violet Crown Spirits
704 State Highway 71 W., Unit B300, Bastrop.
The tasting room is open Saturdays 11 a.m.-6 p.m. and by appointment.
512-766-5090; violetcrownspirits.com
From the April 2020 issue