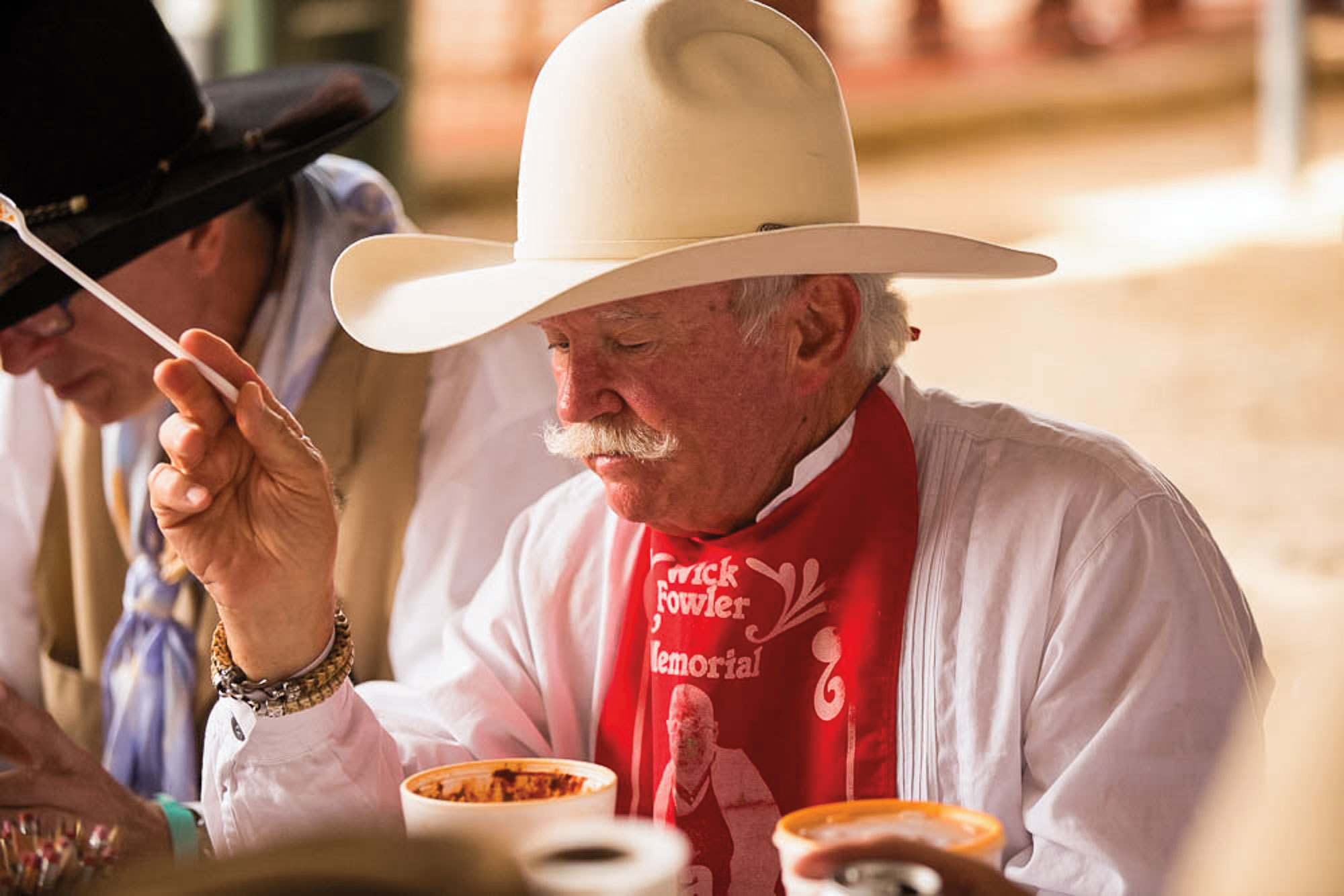 The judging of the International Frank X. Tolbert-Wick Fowler Memorial Championship Chili Cook-Off in Terlingua is underway. There are 10 of us seated at a long table, and to the casual observer it would seem we're performing an ancient religious rite. We plunge spoons into the numbered, 24-ounce Styrofoam cups of brick-red chili in front of each one of us, and raise them to our lips.
Working quickly, we taste, note a score between one and 10, and pass the cup to the right. Rule No. 6 of being a judge at the most famous chili cookoff in the state: You do not talk about the chili while judging. You also don't make facial expressions that might influence other judges, and you're only permitted one taste of each chili.
The 2019 International Frank X. Tolbert-Wick Fowler Memorial Championship Chili Cook-Off is held Oct. 30-Nov. 2.
Between passes, we wipe our mouths, nibble Saltines to cleanse our palates, and swig refreshing lager. There are calls for more beer, water, and spoons. The judge to my right—a chef from Dallas—keeps looking up and announcing, "I hope y'all can appreciate the love that goes into what you're tasting here."
Thirty minutes and 17 entries later, it's over. Each chili is scored based on its aroma, consistency, color, taste, and aftertaste. Celebratory beers are cracked, and we toast one another with cries of "Viva Terlingua!" Becky Daniels of Midlothian wins the 2018 Championship title—her chili bested 88 others.
I'm a first-time judge, recently relocated to Texas from Colorado. As a food writer and 30-year veteran of the restaurant industry, I've judged cookoffs in the Rockies, but Tolbert is, to quote many of the folks I met in West Texas, "the real deal." If you're looking for an event that celebrates the official "state dish of Texas" and its inherent cultural and historical influences, this is it.
Some background is in order. In 1967, Dallas Morning News columnist Frank X. Tolbert and his colleague, Wick Fowler, established the cookoff with several other individuals as a way to put a regional rivalry over who made the best chili to rest.
Tolbert was a serious chili aficionado, cook, and author of the 1966 book A Bowl of Red, still considered the definitive work on the subject. According to him, Texas chili should contain nothing more than "bite-size or coarsely ground beef or other mature meats … cooked slowly and for a long time … with the pulp of chili peppers, crushed powder from the curly leaves of oregano, ground cumin seeds, and chopped garlic cloves."
Tolbert had an ongoing written feud with New York journalist H. Allen Smith (not a native Texan, it should be noted), regarding who knew more about chili. Allen had written a magazine article entitled "Nobody Knows More About Chili Than I Do," a gauntlet-in-the-making if ever there was one. Eventually, the two men decided they would hold a showdown in the former mining town of Terlingua.
Fowler, an accomplished cook and the future founder of Wick Fowler's 2-Alarm Chili Kits, was on Team Tolbert, while Smith manned his own pot. Three judges deemed the contest a draw, and 52 years later, the memorial cookoff named for the founders attracts thousands of attendees from all over the world. The cooks mostly hail from Texas.
In 1976, Tolbert opened Tolbert's Restaurant & Chili Parlor in Dallas; today it's run by his daughter, Kathleen Tolbert-Ryan, and her husband, Paul Ryan, who relocated the eatery to Grapevine in 2006. After the elder Tolbert passed away in 1984, Tolbert-Ryan took over as cookoff director/president in the late 1990s.
Tolbert and his chili-loving colleagues also founded the Chili Appreciation Society International (CASI), an organization that reflected, in Tolbert-Ryan's words, "the appreciation of a bowl of chili and my dad's love of the Big Bend region." As the cookoff grew, however, members within CASI began to disagree. One faction—Tolbert and other original founders—wanted to keep things authentic and family-friendly, while the other saw an opportunity for mass merchandising and a Chiliheads Gone Wild-like atmosphere.
If you're looking for an event that celebrates the official "state dish of Texas" and its inherent cultural and historical influences, this is it.
Eventually, a rift occurred within CASI, and the case went to court. A judge decided it was best to formally divide the two warring sides. Since 1983, what became known as the International Frank X. Tolbert-Wick Fowler Memorial Championship Chili Cook-Off has been held the first weekend of November on a 40-acre patch of land behind the Terlingua Store off Farm-to-Market Road 170, hence the festival's unofficial nickname, "Tolbert-Fowler Behind the Store." The other group assumed the CASI name and began holding its own event down the road—named the Terlingua International Chili Championship—during the same weekend.
There are significant differences between the two cookoffs. "This is the festival done in the way my dad wanted it," Tolbert-Ryan says. "It elevates and commemorates the state dish, but it's also a family reunion of sorts."
The high desert landscape behind the store becomes a sea of RVs, ATVs, tents, pick-up trucks, smokers, and portable kitchens. Texas flags and camp monikers are omnipresent, and the whole enterprise indeed has a familial vibe. A group of rowdy old-timers known as the "Fire in the Hole" gang adopted me; the men have been loyal attendees for more than 30 years, road-tripping from their homes in El Paso.
Even if Tolbert elders don't take you under their wings, there's plenty of beer, whiskey, campfires, storytelling, live music, and camaraderie to go around—enough to justify the trek to Terlingua. Besides the signature bowl-of-red competition, the festival has expanded to four days and now includes cookoffs for chili verde, black-eyed peas, pinto beans, and barbecue; a margarita "mix-off;" and a lavish, al fresco "Cowboy Camp" dinner open to the public.
"We're a party with a purpose," Tolbert-Ryan says. All cookoff proceeds go to local charities, including Terlingua schools, Terlingua first responders, and the ALS Association of Texas. Fowler passed away from ALS, also known as Lou Gehrig's, in 1972.
I returned home with a newfound respect for the culture, passion, and art that goes into making true Texas chili (as well as a relentless craving). But the people I met made the biggest impression: hardworking folks who show their love for Texas by distilling the state's history inside of a big iron pot and serving it with pride.
From the November 2019 issue