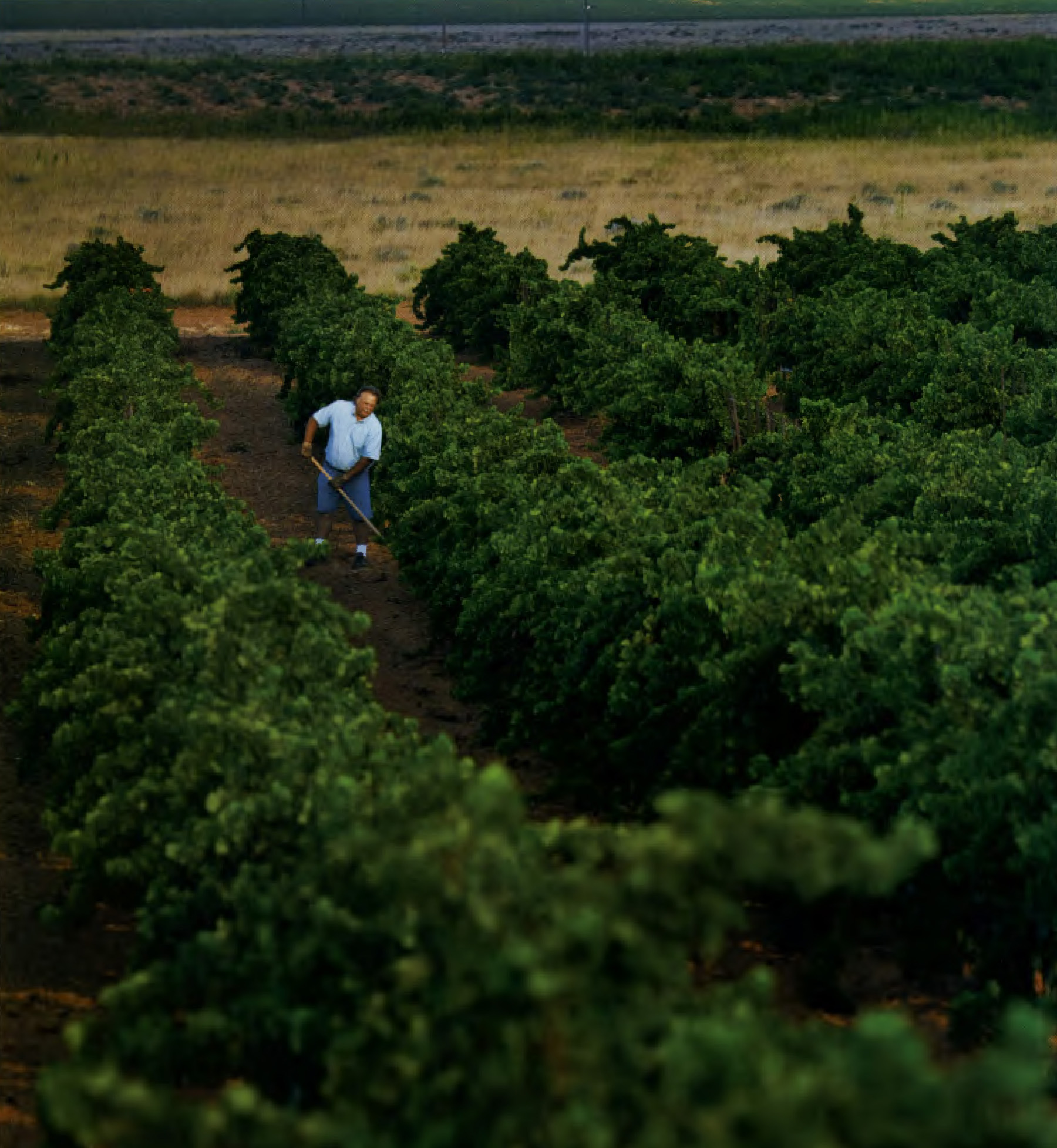 On a visit to Lubbock, among undulating fields of tall sunflowers or cotton, you might be surprised to spy neat rows of carefully tended grapevines winding along miles of trellis. You may find it even more surprising that those grapes end up in some of the state's finest wines.
During a recent exploration of several Lubbock area wineries, I learned why. Good wine starts with good grapes. Good grapes start with the right kind of dirt. And the Texas Panhandle, it turns out, has that in spades.
"The soil here is excellent for growing quality grapes," says grower Bobby Cox, who first planted grapes here in 1972 and now works as a viticultural consultant to West Texas farmers. Sandy clay over a caliche base, he explains, means the vine roots reach deep into the soil to seek moisture. This creates a skimpy leaf canopy, allowing more sun to reach the grapes for flavorful ripening. Today, on 162 acres of this amenable soil, Cox grows Merlot, Chenin Blanc, Orange Muscat, Muscat Blanc, Marsanne, Syrah, and Nebbiolo grapes, which he sells to wineries across the state. Other Panhandle attributes that create heavenly grapes include cool nights, high altitude, and a dry climate, which combine to limit vine diseases and improve fruit quality.
"The High Plains is an enchanting place to grow grapes," agrees Gregory Bruni, winemaker at Lubbock's Llano Estacado Winery. Llano Estacado, which produces more than two million bottles of wine annually, purchases most of its winemaking grapes from vineyards in the High Plains and Far West Texas. "Ninety percent of the quality of a wine is determined by the grapes," Cox says. "If we have good grapes, we can make good wines."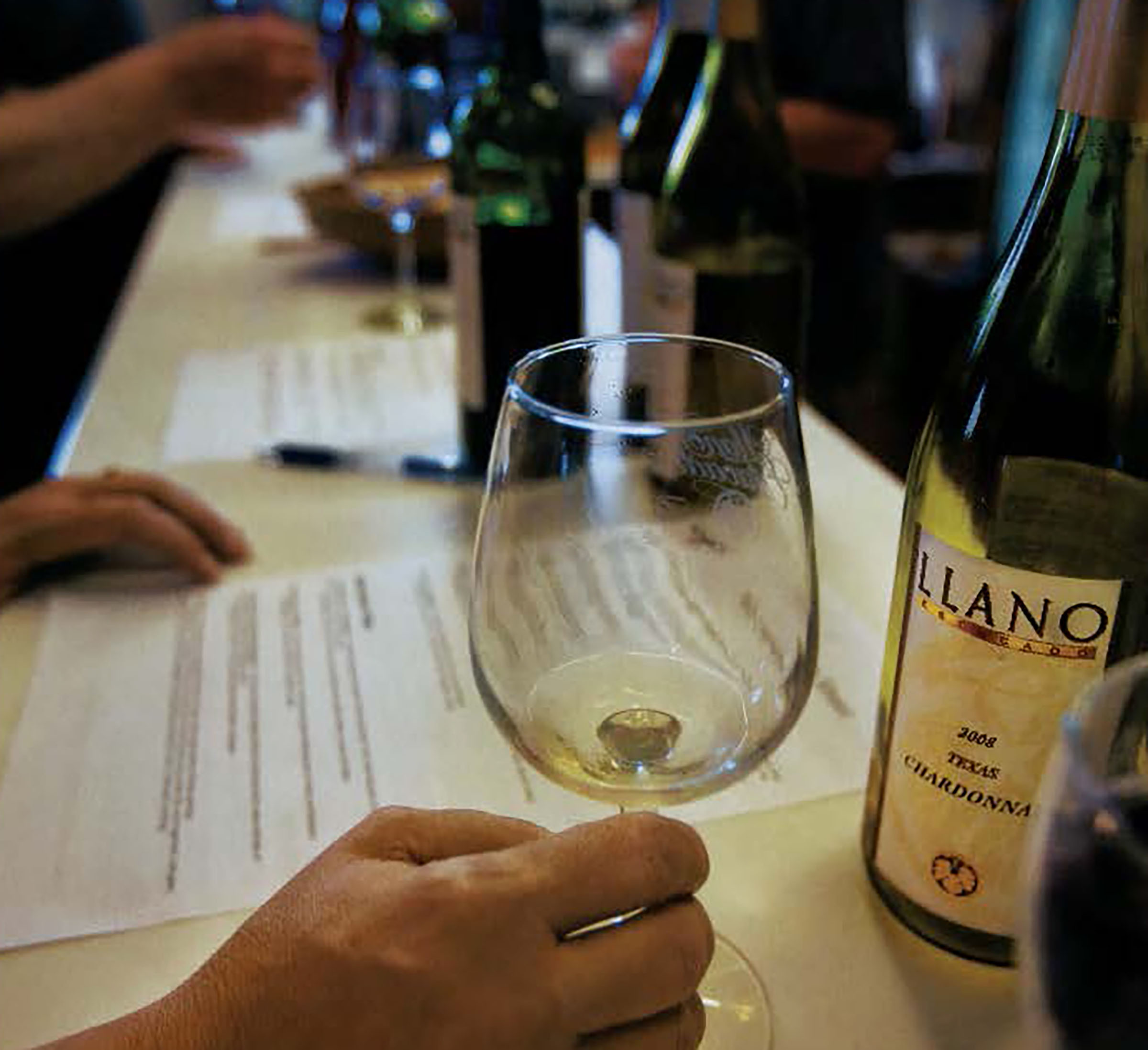 Panhandle grape-growers and winemakers form a tight-knit community united by experience and shared history. They also share an appellation, wine-speak for specific areas where grapes are grown. Roughly 8.9 million acres around Lubbock represent the High Plains American Viticultural Area, one of eight federally designated AV As in Texas. For a winemaker to include an appellation such as High Plains on its label, 85 percent of the grapes used to make it must have grown within the region. Winemakers would love to tout Texas appellations on more of their labels, but even with Texas farmers planting grapevines as fast as they can, they don't yet grow enough to meet the demand.
Texas Tech professors Clint "Doc" McPherson and Bob Reed started growing grapes around Lubbock in 1968. "They had no idea what would grow here;' says Doc's son, Kim McPherson, who has followed in his father's footsteps. "They tried vines from back East, native stuff from South Central Texas, varieties from California." The duo planted dozens of varieties, learning which ones could survive the Panhandle's cold winters, and which ones could handle the heat of its summers.
Texas grape-growers and winemakers still benefit from those early observations even as efforts continue to determine which varieties work best in what areas of the state. This ongoing experimentation makes it fun to be a winemaker right now, Bruni adds. "We feel like pioneers."
Kim McPherson founded McPherson Cellars in 2000, and makes wines from Sangiovese and Cabernet grapes grown in his father's vineyards, as well as Viognier, Syrah, and Grenache grapes grown elsewhere in Texas. The winery occupies a circa-1930 Coca-Cola bottling plant, an airy building with weathered brick walls and soaring
ceilings in Lubbock's historic Depot District. Next door, his wife, Sylvia McPherson, operates La Diosa Cellars, a cozy, bustling bistro that serves area wines by the glass and bottle. Some bear the La Diosa label, including varietals such as Cabernet Sauvignon and Merlot, as well as several house blends.
Kim McPherson notes that when individuals first start drinking wine, they often favor sweet, light varieties—and for those beginners, the winemaker usually recommends his Hook, Line and Sinker label of slightly sweet, blended wines. But more visitors to McPherson Cellars' tasting room these days are asking for drier, medium bodied red wines. "Our Sangiovese is the number-one seller in my tasting room," he says, an indication that the Texas palate is maturing.
"Anything you could want in a wine you can find in a Texas wine," says Bobby Cox. "People who like Chardonnay will probably like Texas Viognier. If you're a fan of Sauvignon Blanc, you might like Vermentino. And if you normally drink Pinot Noir, try Texas-grown Sangiovese—it has the varietal's characteristic expansive flavor."
Great Grapes!
Graper growers in the Texas High Plains report success with many types of grapes, including varieties like Merlot and Dolcetto, but wine consultant Bobby Cox highlights five grapes as Texas superstars: Viognier, Vermentino, Muscat. Tempranillo, and San-giovese—all Mediterranean-area grapes that tolerate the High Plains' temperature swings and benefit from the region's high altitude. "Most of our grapes are grown between 3,500 and 4,000 feet," he says. "When you grow a grape at a high altitude, the wine has better flavor, aroma, and color. Think about it this way-the light has an easier time getting to our grapes." Cox provides this guide to exploring these five varieties. -Lori Moffatt
WHITE
Viognier. "Viognier grapes make a floral, aromatic wine that pairs well with anything you might serve with a butter sauce. If you like Chardonnay, you'll love Texas Viognier."
Vermentino. "This is aromatic, too, but herbaceous instead of floral. I'd call it crisp, like a Sauvignon Blanc. Pair it with grilled fish, or anything that goes well with a slice of lemon."
Muscat. "This is typically sweet. honeyed, extremely aromatic, and refreshing. I like to make a sabayon sauce with Muscat and serve it with berries or peaches."
RED
Tempranillo. "Wines made with Tempranillo grapes are very dark in color, have low tannins, and have a flavor profile that suggests cherries or blackberries. They pair well with grilled meats."
Sangiovese. "Wines made with pure Sangiovese are rich, medium-bodied, and assertive. Sangiovese grapes are often blended with Cabernet Sauvignon and Merlo! grapes to make what we call 'Super-Tuscan' blends—excellent with tomato-based Italian foods."
Viognier wines are aromatic and fruity, he adds. "They have what we would call a tropical fruit flavor, a refreshing taste. They're especially good if it's hot outside, and they complement foods such as grilled chicken, cream-based pastas, and mild cheeses like Provolone and Gruyere. Sangiovese grapes, most commonly used to make Italian Chianti, create a medium-bodied red wine with a little more acid—think 'brightness'—than your typical Merlot. I recommend drinking Sangiovese with foods made with tomatoes, such as pizza, or what the heck, hamburgers."
Tempranillo, a big purple grape native to Spain, make wines with pronounced fruit flavor that Cox likes to pair with steak, grilled meat, and barbecue.
Llano Estacada Winery, founded in 1976, today occupies a sprawling complex of low buildings crouched among rows of grapevines on the windswept outskirts of Lubbock. If you ask Llano Estacada President and CEO Mark Hyman for a wine recommendation, he'll ask what wines you have enjoyed in the past. "It's not about what l like, it's about what you like. If you've been drinking White Zinfandel, I'll suggest one of our sweeter and fruitier wines, like our blush or Cherrin Blanc. If you tell me you enjoy Merlot or Pinot Noir, I'll encourage you to try our signature Melange, a very supple, Cotes du Rhone-style red wine made from grapes grown in far West Texas. It's fruity, yet still dry."
Llano Estacada currently produces 28 types of wine, including the winery's newest, an aromatic white wine called Viviana, a companion to its popular Viviano, the latter an award-winning, Super Tuscan-style blended red wine made in small batches from Cabernet Sauvignon and Sangiovese grapes. Viviana excels in showcasing the High Plains terroir and climate, Hyman says. "It smells like it's going to be sweet, but it's not. The intense sun drives the grape sugars up to a perfect level."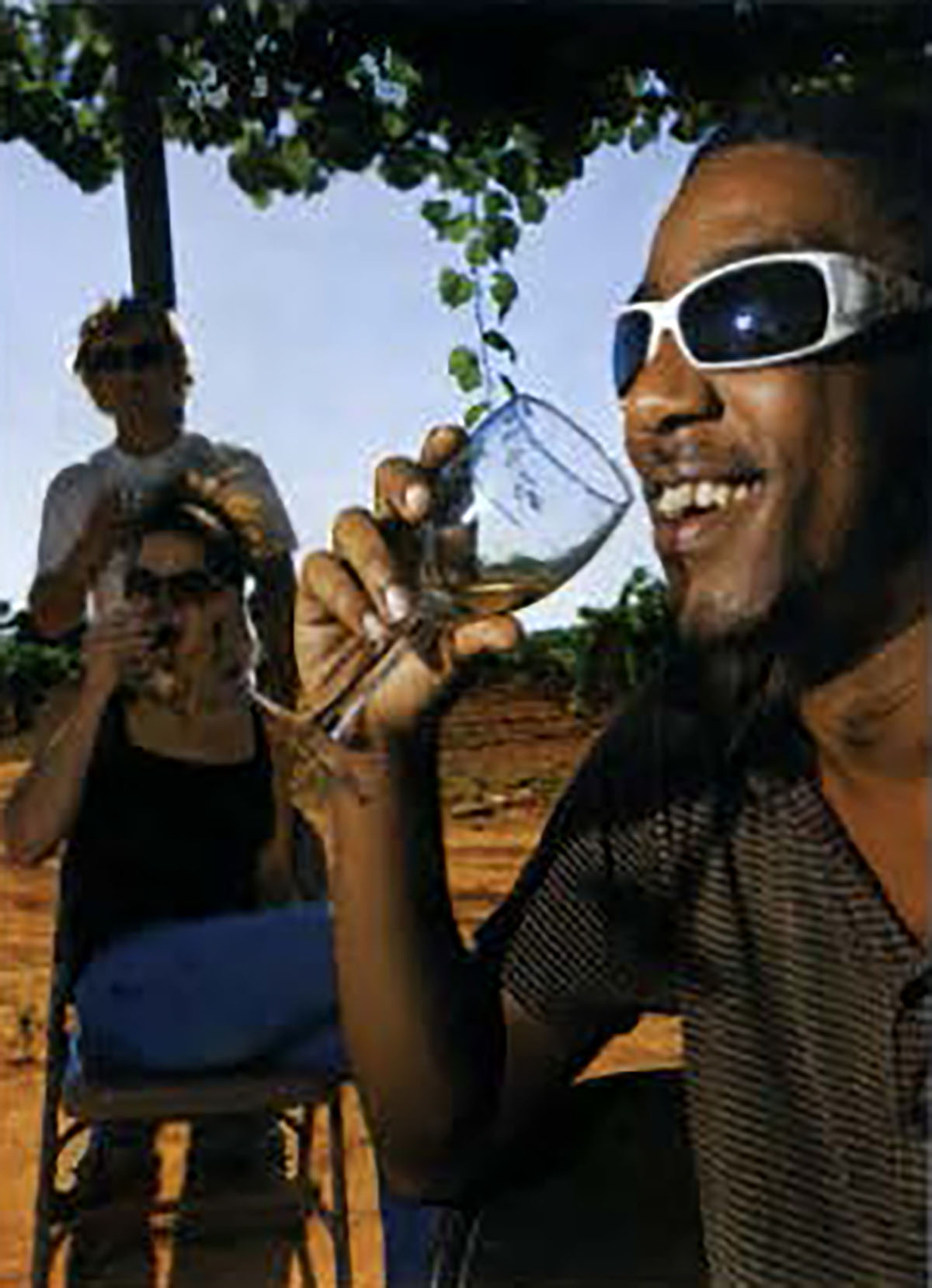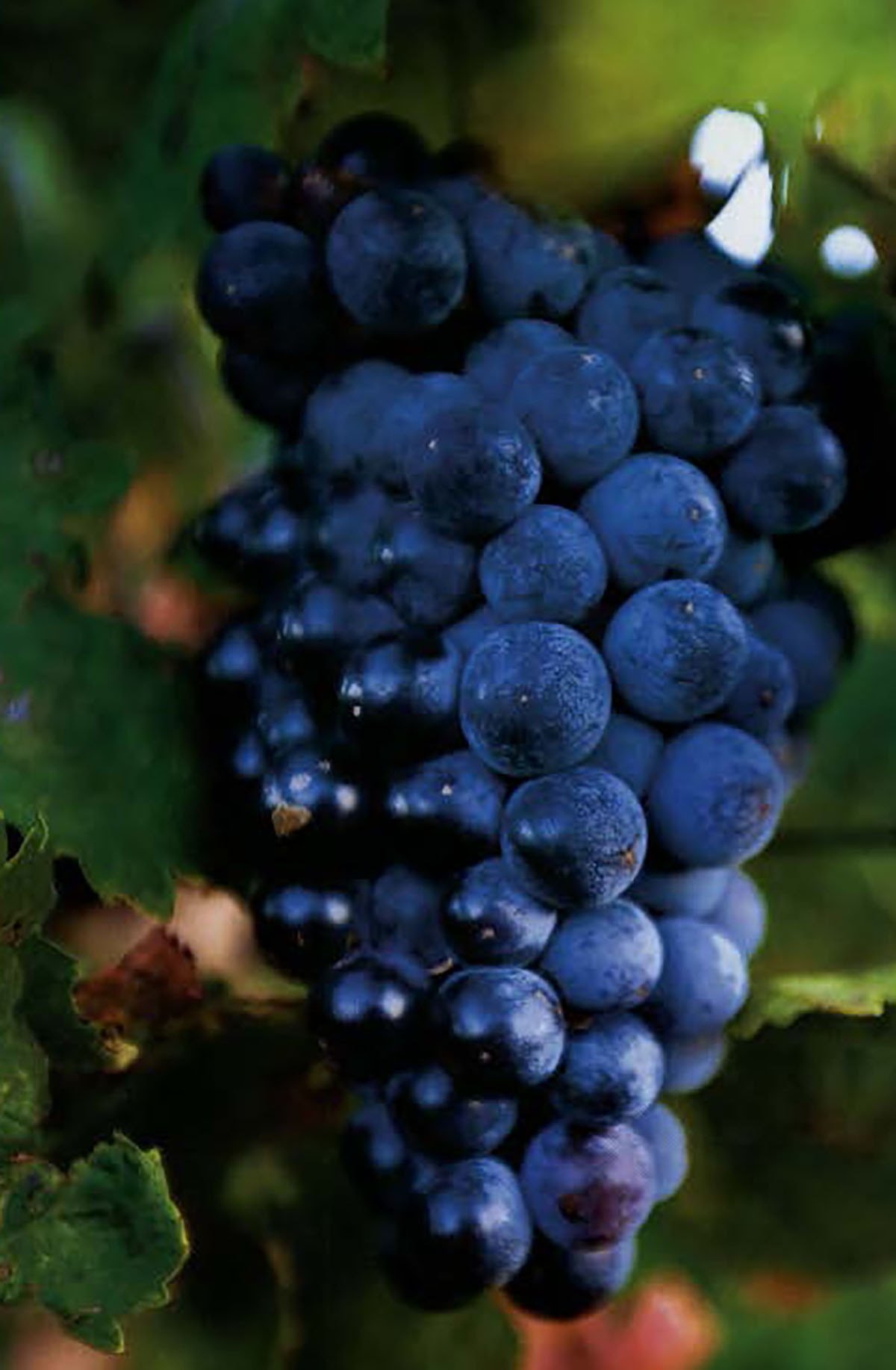 Grapes grown on the High Plains end up not only in the bottles of local winemakers, but also in bottles made across the state, including wines from Mandola Estate Winery and Becker Vineyards, both in the Hill Country. In fact, Becker's popular Viognier contains grapes from the Bingham, Reddy, and Martin vineyards, all High Plains growers.
"We make wine in a climate of extremes- we have extreme heat, cold, and wind, and it's oftentimes very arid. To grow grapes in the High Plains requires application of good science," says Gregory Bruni. But, he says, Texas farmers, and those in the High Plains in particular, definitely grow quality fruit. "As the Texas wine industry continues to evolve, grapes are getting better and wines are getting better," Bruni says. "I like to say the best wine in the state hasn't been made yet."
From the January 2010 issue