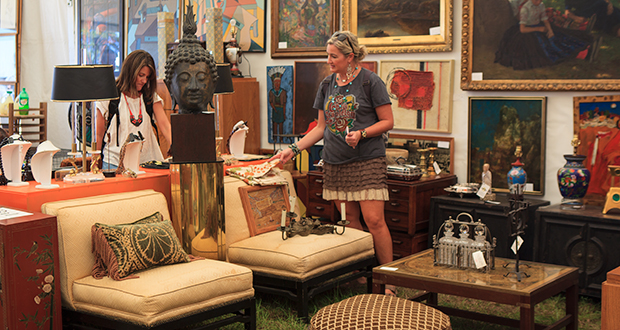 As a first-timer wanting a peek into the enormous emporium that is Round Top Antiques Week, I chose to pack it all in a day at the largest of the lot, the Marburger Farm Antique Show. Marburger is mega eye-candy for those who enjoy getting lost in period furnishings and goods of different eras, along with high-quality repurposed items, often displayed together in whimsical ways.
Because I was there for only one day, I relied on tips from friends, veteran shoppers, and the Marburger website to help me navigate these 43 acres with a minimum of overwhelm and maximum enjoyment. Here's how to get the most out of your shopping experience at Marburger:
Find Your Stay—Soon
If you want the full Antiques Week experience—explore other antiques shows in Warrenton and surrounding towns, have dinner at Royer's Round Top Cafe, or attend the Junk Gypsy Prom at Zapp Hall, you'll want to stay nearby. Note that Round Top and the surrounding towns have limited accommodation, so book lodging months in advance. Go to roundtop.org and click the Lodging tab.
Dress for Outdoor Comfort
Texas weather is particularly fickle in spring and fall: warm and sunny one day, cool and rainy the next. And the temperature can swing from chilly to toasty even in the same day, so dress in layers. Carry a tote or backpack and pack a hat, sunscreen, and sunglasses for the heat, and an umbrella or poncho for rain. Comfortable footwear, preferably closed-toed and durable, is a must for miles of walking among crowds in dusty or muddy conditions.
Handy and Helpful
Even if you don't plan to buy anything, bring a tape measure, and dimensions of wall and floor areas for prospective purchases. I also took photos on my smartphone of rooms in my home that could use some sprucing to help with visualization. (This tip came from a video blog on Marburger's website.) A notepad and pen come in handy for writing down information when talking to dealers. Although there is plenty of food and drink on-site, bottled water and energy bars help revive flagging spirits when you're in the midst of dozens of booths (or deep into a shopping coup). Also, breath mints or gum, hand sanitizer, and towelettes or tissues are nice to have.
Pack It Up
Bring a shopping bag, or several. Pickup of large items can be arranged with dealers, and there are shipping services are on-site. Carts with drivers are available if walking all day isn't an option or desirable.
Mapping Marburger
If you didn't get one at the entrance, pick up a copy of The Howdy, an essential guide with detailed maps of each tent, and dealer information and listings at the Show Office.
Money Matters
Most dealers accept credit cards and checks, but cash will yield better deals. If you need cash, find an ATM at the Show Office. Have a budget in mind, and don't be shy about bargaining—dealers expect it. You can usually get some sort of reduction—possibly 20 to 25 percent off the price.
Hungry (or Thirsty?)
You can find breakfast, lunch, and early dinner choices clustered around the Show Office, along with a large shaded pavilion filled with picnic tables. To start, there's coffee and pastries from Two Sparrows Roasting Co. and breakfast tacos. A variety of hearty sandwiches, salads, and burgers are available at the Legal Tender booth, and The Blue House has vegetarian options. Sliders from Your Mom's and barbecue from Black's in Lockhart round out the menu for meat-lovers. Watch the lines form for Kettle Corn near the tents. In fact, shoot for either an early or late lunch to avoid long queues at noon. Quench your thirst with bottled water, sodas, iced tea (sweet or un-sweet), and lemonade. If you find yourself in need of a drink, the Bingo Hall building has beverages including beer and wine, and wine margaritas, known here as Mar-buritas, of course.
Stay Connected
You're in the countryside, so relax. But should you need it, there is free Wifi. Find "Marburger Shoppers" network on your device.
More Tips
Find more on the Marburger website. Go to the Blog tab for the Insider Tips video and other helpful posts, including web episodes from HGTV's Fixer Upper filmed during Antiques Week.
From the February 2017 issue