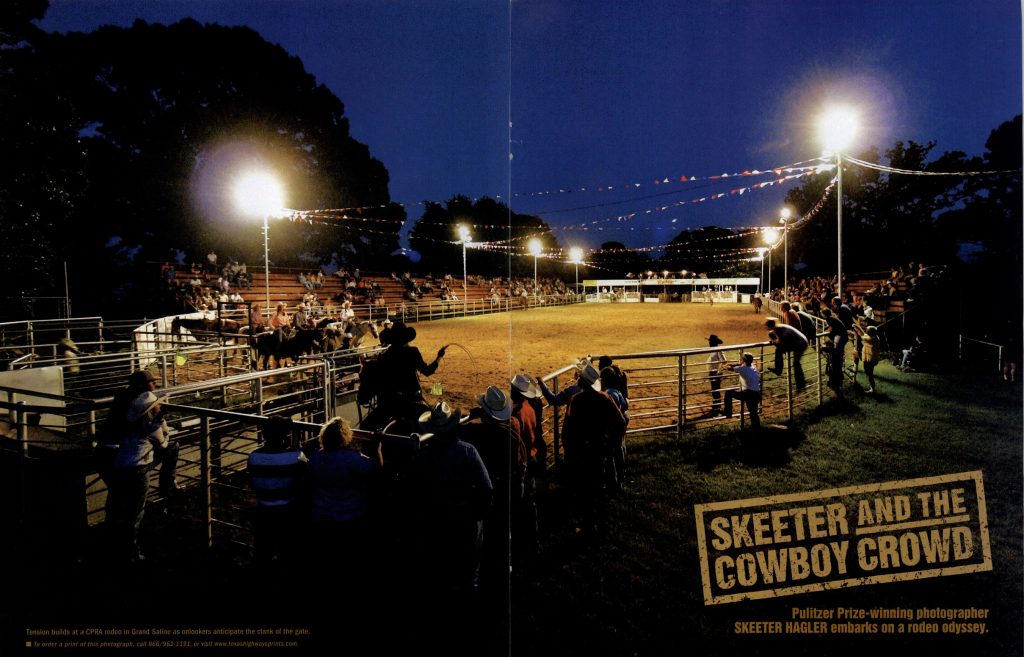 Sweat, blood, guts, and glory. All of these words seem to go together when talking about a rodeo. And as the legend of the cowboy is so closely linked to Texas, so, too, is the rodeo tradition.
But in spite of its pop-culture perception as a Western creation, rodeo's roots extend back centuries to vaqueros on Spanish-Mexican ranches, where competitions were a mixture of cattle-wrangling and bullfighting. (The Spanish word rodeo means "roundup.")The American rodeo developed informally in the late 19th Century with cowboys celebrating the completion of cattle drives across hundreds of miles of vast, open land to various stockyards across the country. Cowboys from different ranches would challenge each other to see who was best at cutting cattle, throwing a rope, or riding a bull. Most likely, drinking and fighting were part of these early competitions, too. Spectators would inevitably gather, and the modern-day rodeo was born. The town of Pecos claims "the [world's] first public cowboy contest," held in 1883, and the West of the Pecos Rodeo is still held there every summer.
As a young-pup photographer, one of my first "real" assignments was to cover the Texas Prison Rodeo in Huntsville. What an indoctrination to rodeo this was: Hardened criminals, given a taste of freedom, if just for eight seconds—with nothing to lose, and sometimes a stay in the comforts of the infirmary to gain—put their all into each event. Under the ever-watchful eyes of guards, the cowboy convicts didn't just compete in events, they attacked them with wild abandon.
From then on, I was hooked. Even though the rodeos I've seen since have proven somewhat tamer than the prison rodeo, they still embody everything American, everything Texan.
Big rodeos, like the Texas Stampede in Dallas, held every fall at the American Airlines Center, and small rodeos, like the one held almost every weekend in Grand Saline, are essentially the same. Men and women with a passion for animals. Men and women pitted against-and in partnership with-animals.
But it's the human drama that prevails. Photographing these rodeos across the state, I saw things that will stick with me forever: Two tough-as-nails cowboys holding hands, praying for safety before a bull ride. A wannabe bareback champion sleeping in the bed of his pickup with his young wife and baby because he couldn't afford a motel room. A cowboy straight out of a Western movie sitting alone by his horse trailer, crying like a baby because of a bad ride and no money.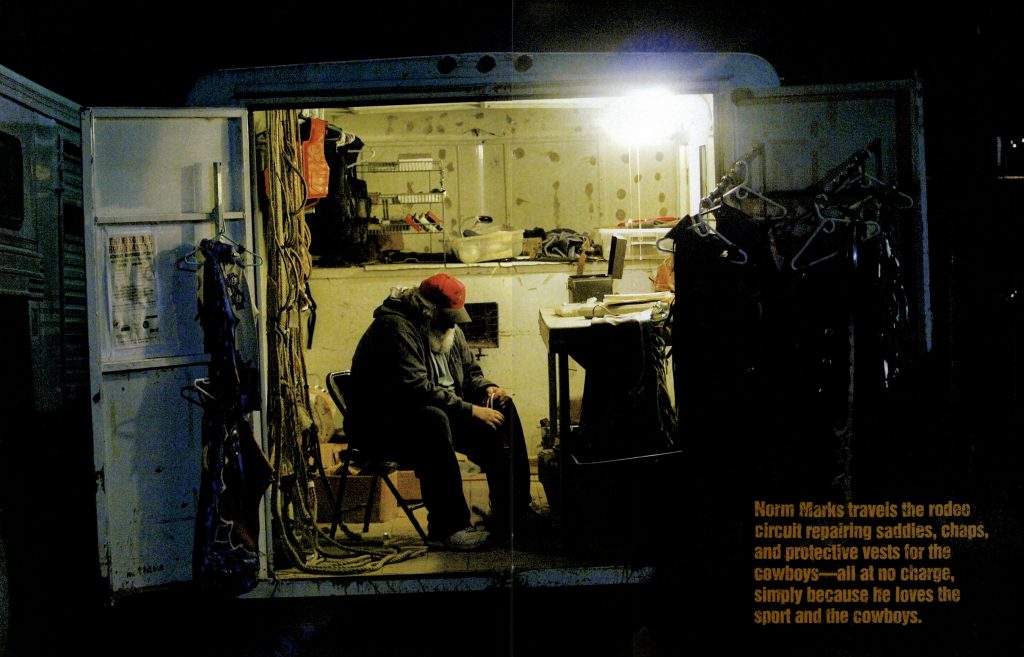 There's Norm Marks, a leather artist with hands aching from years of working and eyesight that is slowly leaving him, who travels from rodeo to rodeo in his well-worn trailer repairing saddles, chaps, and protective vests for the cowboys—all at no charge, simply because he loves the sport and the cowboys.
There's also Cameron Keeton, who  bills himself as a politically incorrect adventures, rodeo clown and barrel man. He's drawn to the smallest of rodeos, like the one in his hometown of Whitesboro, where he considers it a good night if he saves one cowboy from serious injury.
There is no one rodeoer who personifies my odyssey, but rather a composite of everyone I met. They are humble, passionate, and polite people, and all have a strange sense of humor. They say "yes sir" and "yes ma'am" and take off their hats at just the right times. It must be the way they were "brung up."
These images and memories will be etched in my mind forever. I feel humbled and honored to have stood beside, if just for a moment, these modern-day knights of the saddle.
From the January 2009 issue