Sign Up for Our Newsletters
Keep up with what's new from Texas Highways and what's happening around the state. 
Sign up and read more about the kinds of emails we send below.
Behind the Issue
A selection of the stories and photos in each month's print magazine, sent the same day the new issue is available on newsstands.
Read a sample (opens in a new window)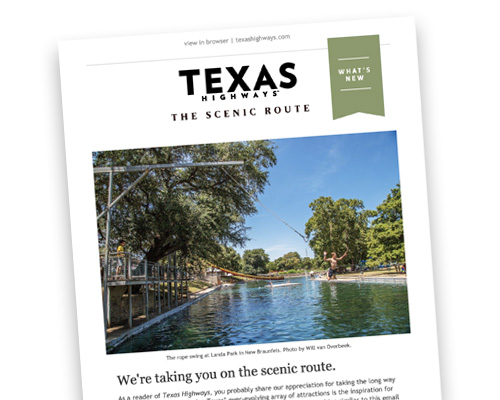 The Scenic Route
A monthly roundup of stories only found on our website. You'll find stories about upcoming events, openings of new museums and venues, inspiration for your next Texas adventure, and more.
Read a sample (opens in a new window)
Events Calendar
Hand-picked selections from the Texas Highways Events Calendar. We choose a variety of events from around the state, so you can find things close to home or plan your next getaway.
Read a sample (opens in a new window)