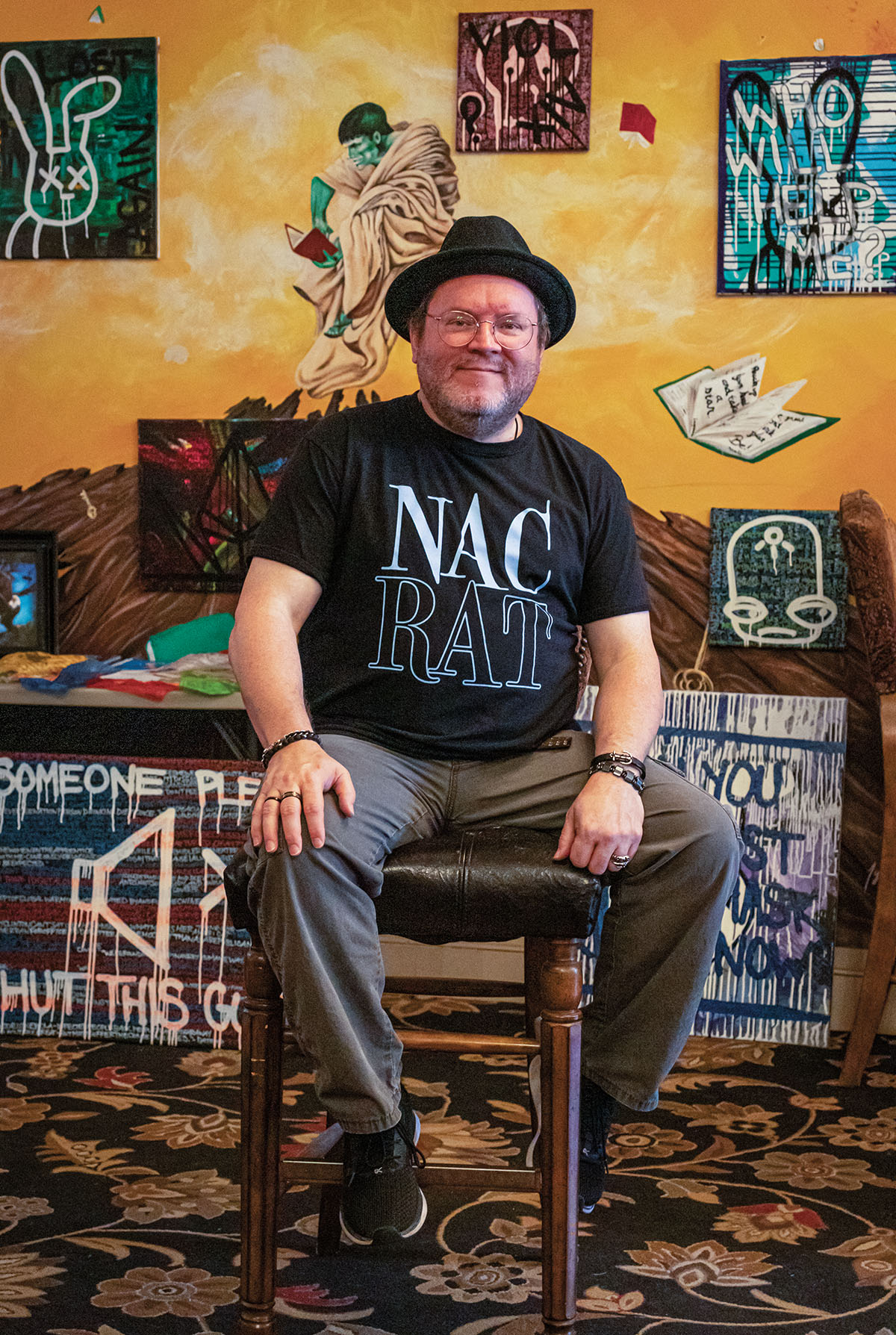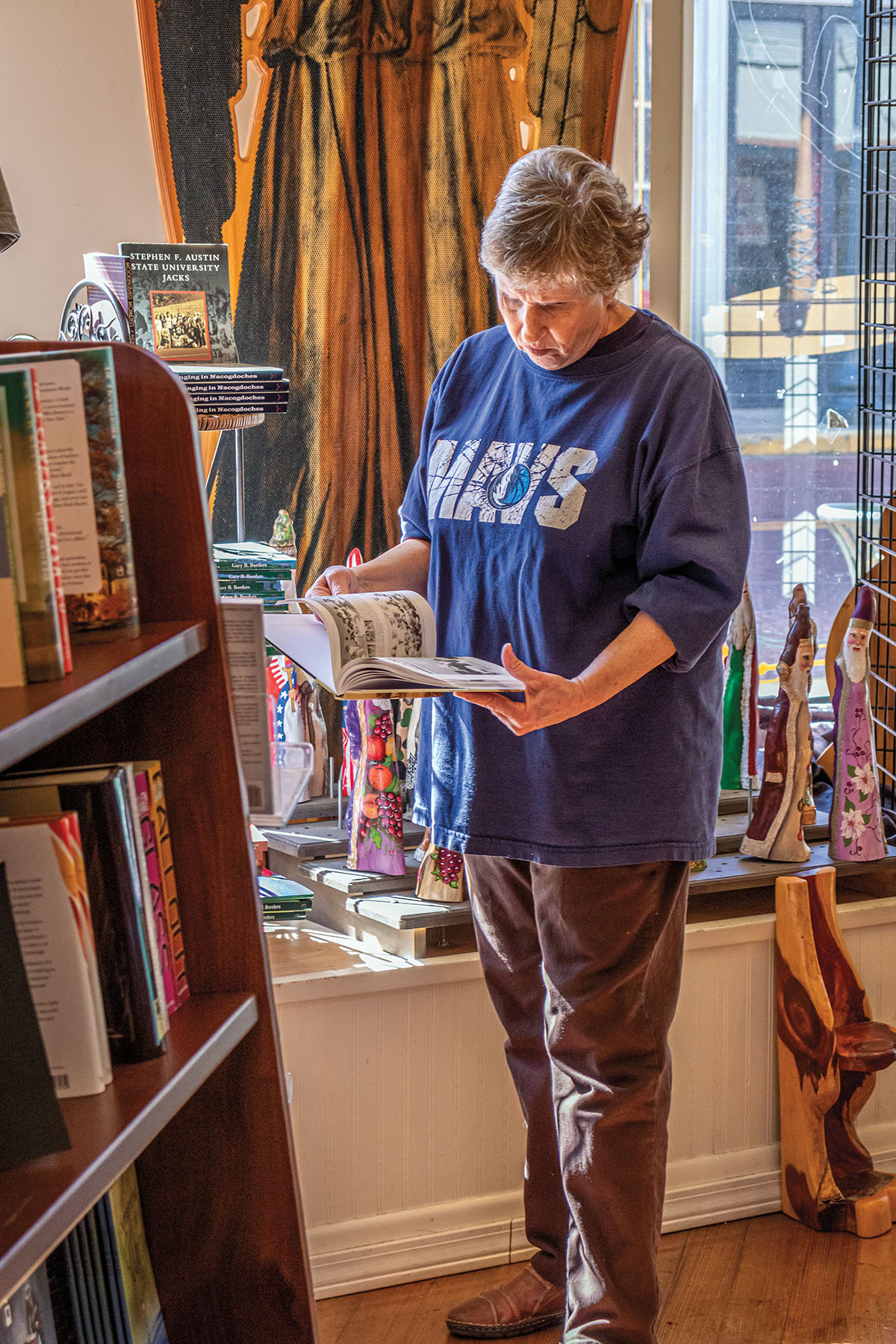 Tim Bryant became a bookstore owner somewhat by accident. In 2010, around the time he published his first novel, Dutch Curridge, he owned a T-shirt shop in Nacogdoches called The Runaway Mule. The store was named for a famed incident in 1910 when a runaway mule upstaged a Marx Brothers performance at a local theater, prompting Groucho Marx to make up a ditty with this chorus: "Nacogdoches is full of roaches." Bryant had to explain the title of his store so often that he eventually printed the story on cards he handed to customers.
The T-shirt business was serviceable, but Bryant, always sporting a porkpie hat, began to do well selling copies of his book at the shop. Soon, other East Texas authors were asking him to carry their books. When Book People, the venerable independent bookstore in Austin, brought Bryant in for a book signing, he saw what a successful book-selling operation looked like. He renamed his place The Bosslight, purposely avoiding a convoluted backstory, and moved it up the street to the old Branch Patton Hardware. The building was constructed in 1888 and beautifully restored by its landlord, who lives in a loft upstairs. This completed Bryant's transformation into a full-fledged bookstore owner.
"We used to be a T-shirt shop with a few books," Bryant said. "Now, we just flipped, and we're a bookstore with a few T-shirts."
Bryant has operated The Bosslight for the past three years on a busy corner in downtown Nacogdoches. Because space is very limited and The Bosslight is essentially a one-man operation, Bryant personally selects all the books, which include works by local and regional writers, bestselling fiction and nonfiction, and Texas history. He also fills special orders nearly daily.
The Bosslight's motto is "Books, Shirts, Community." Bryant fulfills the community aspect by sponsoring various events, including book signings, poetry readings, musical performances, and even a one-act play. "We try to have as expansive a view of local arts as we can," he said. "That's the engine that drives this place."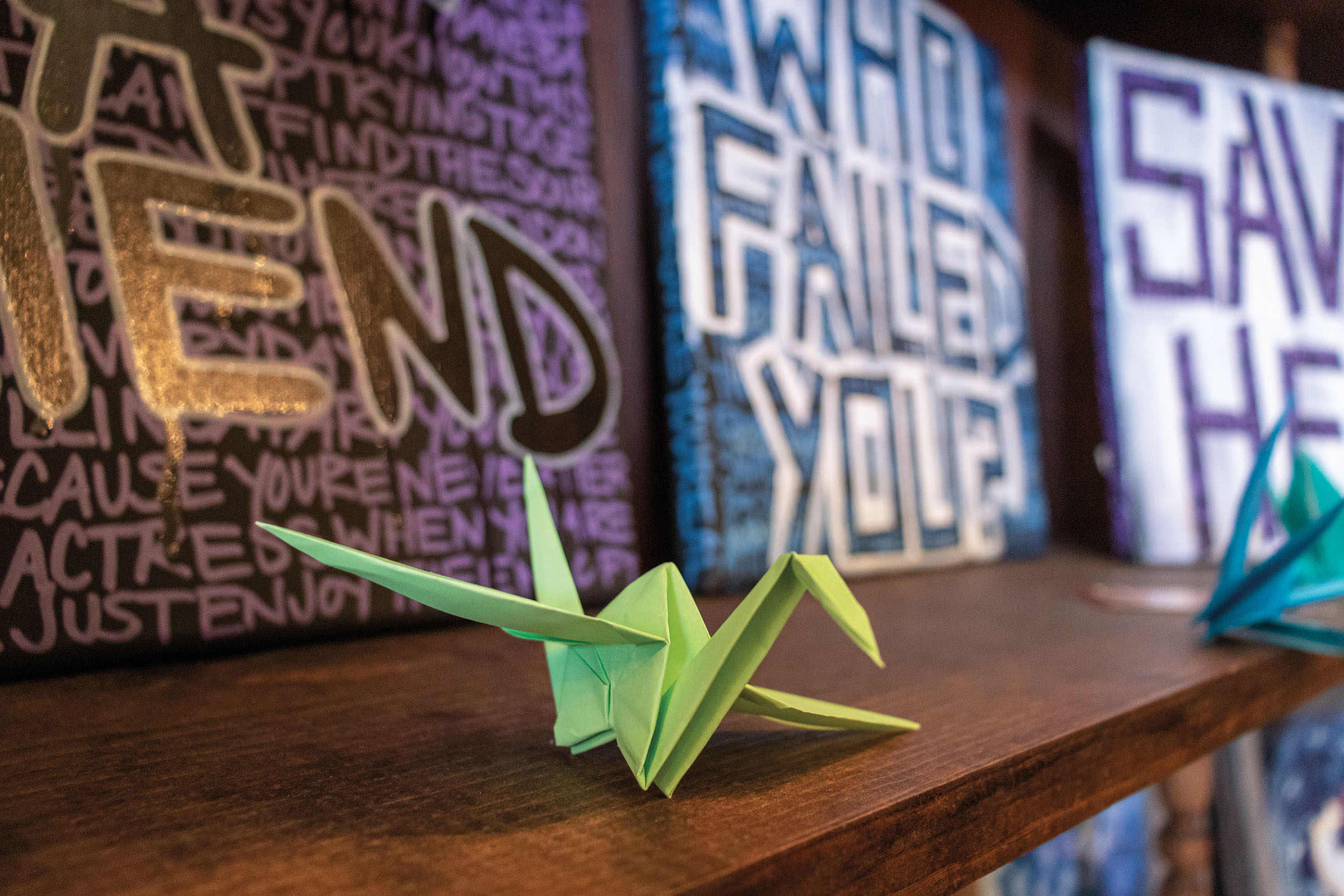 In addition to books, The Bosslight sells T-shirts from the old Runaway Mule, eclectic paintings and sculptures, jewelry, and other items from the sizable artist community in this university town. The bookstore is a popular stop among tourists in a downtown whose mix of restaurants, retail, and art galleries draws visitors year-round.
Bryant's family has been part of Nacogdoches since he was 8, when his father took a faculty position at Stephen F. Austin State University. After high school, he worked as a musician and songwriter, playing piano for a time in New Orleans with an English folk-rock band. (Bryant still plays in a blues-punk band, Thirty Miles of Davis, which performs locally.)
Bryant eventually returned to Nacogdoches and enrolled in SFA's creative writing program. His mentors were John McDermott, who co-founded the program; and Joe Lansdale, a writer-in-residence and author of the Hap and Leonard series. "When I was 12, my grandmother told me I was going to be a writer," Bryant said. "It just took me nearly 40 years to realize she was right." Bryant's ninth novel is with his agent, who is shopping it around to publishers.
Lansdale, a frequent visitor to The Bosslight, said the bookstore is a central gathering place for local artists, writers, and book lovers. Chairs and two tables take up part of the rear of the store, where folks hang out. "The Bosslight for me is a haven for books, art, conversations of all kinds, not to mention book clubs, poetry, and music," Lansdale said. "It's an oasis for the artistic-minded."
Bryant routinely confronts the challenges of running an independent bookstore. He said it's not a profession you get into to get rich, but with his side gig as a novelist, he can "put beans on the table." Ultimately, it comes down to the third word in The Bosslight's motto. "I love books, and I love people," Bryant said. "I love the connection you make when you talk about books with people."
Bookmark This
A number of bookstores have opened in East Texas in the past several years, reflecting a national trend. Oren Teicher, CEO for the American Booksellers Association, contends that customers like the authenticity of a physical store and supporting local business. Here's a sampling of independent bookstores across East Texas:
Absolutely Fiction
Despite its name, this bookstore, opened in 2016, sells nonfiction volumes as well. Owner Becky Jackson, a former librarian and chain bookstore employee, is especially proud of the children's books collection, which is the largest section in the store. "I love selling kids' books because they're up-and-coming readers," she said.
903 S. Redditt Drive, Lufkin.
936-639-4143;
absolutelyfiction.com
The Blind Pig
Manager Christina Meek describes the store, opened in 2019, as a "modern-day speakeasy," with books in the front and a bar in the back. There are used books of all genres, plus the store hosts various events, such as trivia night, kid's readings, and open mic shows.
129 S. Main St., Paris.
903-231-5122;
the-blind-pig-book-store.business.site
The Bookstore in Kilgore
This house turned law office turned bookstore nestled next to the Kilgore College campus opened in 2017 and is filled with approximately 10,000 used books. It also has several shelves of new books by regional authors. Owners Stephen and Paige Woodfin offer a trade program for customers.
1012 Houston St., Kilgore.
903-984-0061;
thekilgorebookstore.com
Gladewater Books
This downtown store, opened in 2007, sells only used books but has an enormous—and searchable—collection of more than 300,000 titles. Owners Pete Adams and Elizabeth DeRieux purchased some of their inventory at auction from Booked Up, writer Larry McMurtry's bookstore in Archer City.
109 E. Pacific Ave., Gladewater. 903-845-4843;
gladewaterbooks.com
From the February 2020 issue