Search results for "bandanas"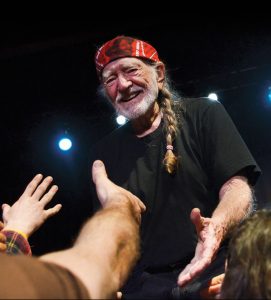 There's nothing like the feeling of stepping onto Willie Nelson's tour bus. Whether you do it once or a hundred times, it's a thrill to be invited onto Willie's rolling roadshow. Stories will be told. New songs may be played. Jokes that may or may not be suitable for print will be exchanged. And laughter will definitely ensue.
It's Saturday night in the Fort Worth Stockyards. A sold- out crowd is already finding their seats just a few steps from Willie's bus, which is parked behind the world's largest honky tonk, Billy Bob's Texas. I've come to see an old friend and to hear what might be my 100th Willie concert. Or maybe my 300th—I lost count long ago.