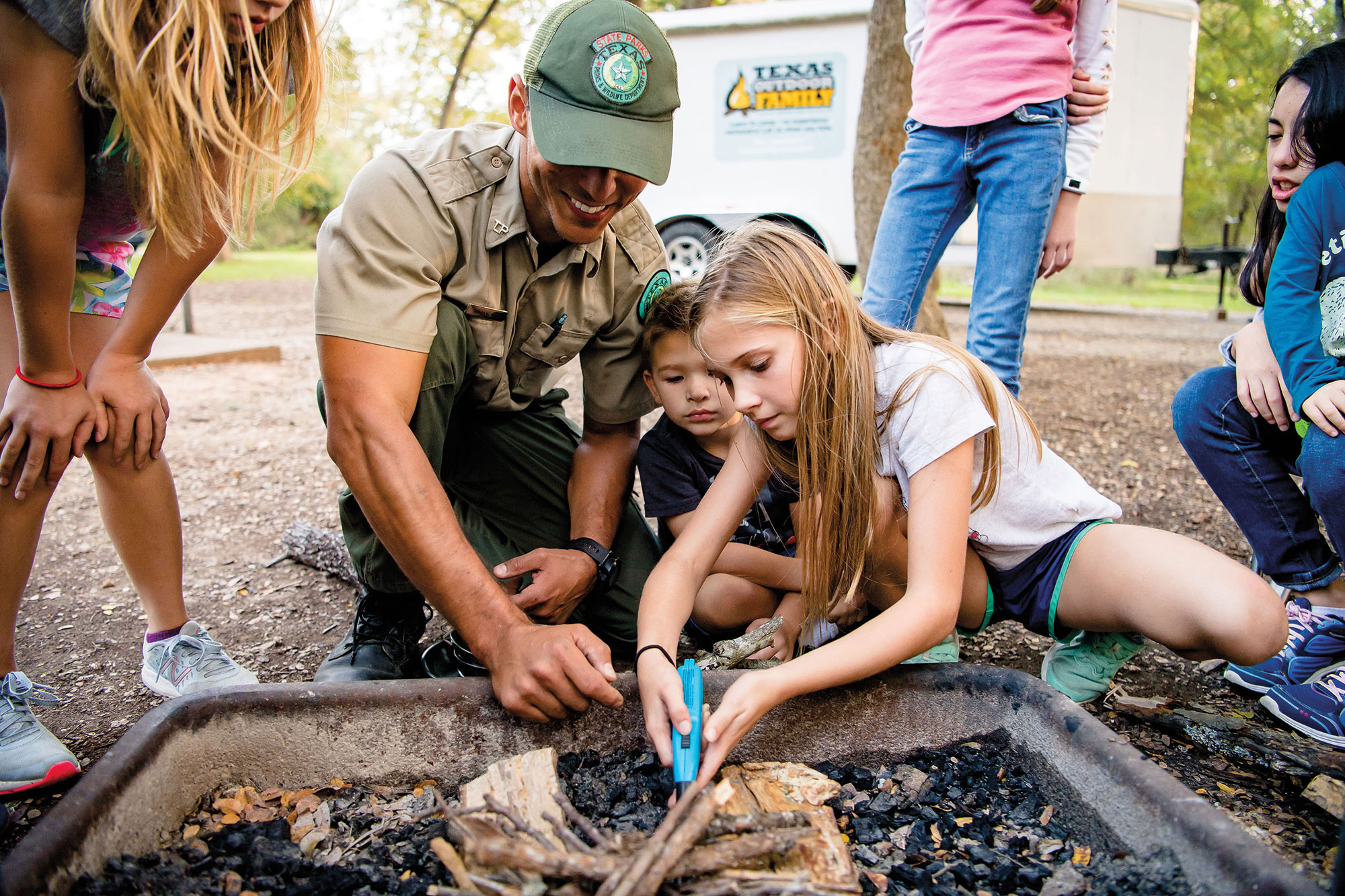 Camping can be intimidating when starting from zero. Just the amount of equipment necessary is bound to make a novice's head spin. Luckily, individuals and families can take advantage of the Texas Parks & Wildlife Department's Texas Outdoor Family program. This guided camping experience led by a TPWD ranger takes place at parks around the state in the spring and fall. Equipment like tents, cots, sleeping pads, propane stoves, and some cookware are provided, so participants can test out the experience before investing in often-expensive gear.
Needing some initial guidance before I tried camping on my own, I attended a TOF weekend at Garner State Park in Concan in late September. My fellow campers were families from Seguin ISD. Elizabeth Moore, an elementary school physical education teacher who's been working for the school district for 23 years, facilitated the event for her students. "Being outdoors and enjoying nature is one major benefit of the program," Moore says. "I also see it as a wonderful opportunity to spend time as a family."
Interspersed with workshops—how to set up and take down a tent, for example—and activities like geo-caching 101 is free time for participants to enjoy the park, from cooking and reading to hiking and swimming. Moore lent me one of the bikes they'd brought along, and I cruised around the asphalt paths and worn trails through fields, feeling as free as a 10-year-old—although considerably less nimble.
"Are there bears in the park?" and "How do we get started?" are two of the most frequently asked questions, according to ranger Immanuel Salas, who's been working for TOF for a year and a half. "Many new campers are intimidated by going camping, and this often leads them to not participate or to do so with trepidation," he says.
Aside from the major how-tos, like setting up a tent and building a fire, rangers clue attendees in on tips first-timers may not have considered—not gathering firewood from the park grounds or identifying different animal sounds.
At one point, Salas gathered everyone around to show how to start a fire with a flint-and-steel starter. The kids, thrilled with actually being encouraged to play with fire, jostled for extra turns, and the adults engaged in their own competition to see who could start a fire the fastest.
"Seeing families bond and make sincere connections through camping is inspiring and invigorating for us," Salas says. "When our guests have aha moments, ask which state park they should visit next, or excitedly tell us about their favorite part of their camping weekend, we can see the impact that engagement with nature has made."
My own aha moment came when I biked down to a section of the Frio River that runs through the park. I cheered on kayakers as they attempted to navigate around a large boulder and observed families splashing in the shallows. The lovely scenery and feel of rushing water against my legs brought about a sense of peace. It's easy to see how TOF converts beginners into enthusiasts.
"Many families attend every time we offer the program," Moore says. "They enjoy it so much they go buy camping equipment, and it becomes a tradition to go camping as a family on their own."
---
Texas Outdoor Family costs $95 per family (up to six people) for a two-night program and $75 for a one-night program. Upcoming events will be held at the following state parks: Lake Corpus Christi (May 3), Inks Lake (May 10), Ray Roberts Lake (May 17), San Angelo (May 18), Garner (June 7), and Eisenhower (June 8). Find out more at tpwd.texas.gov.
From the May 2019 issue